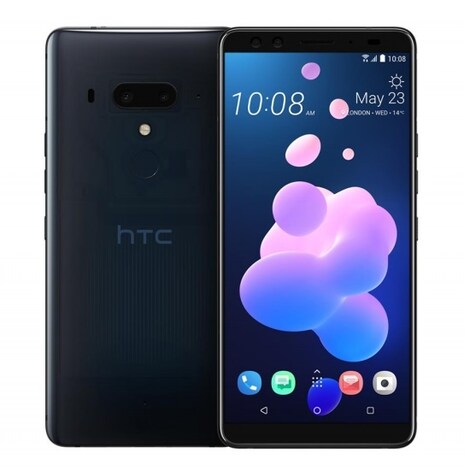 1/1
HTC U12 Plus Dual Sim Niebieski
HTC U12 Plus Niebieski Ekran: 6,0" Qualcomm Snapdragon 845 (8 rdzeni, do 2.80 GHz) Pamięć wewnętrzna: 64GB Pamięć RAM: 6GB System: Android 8.0 Oreo Aparat: 8.0 + 8.0 Mpix - przód, 16.0 + 12.0 Mpix - tył Ba ...
You must be logged in to add products to your wishlist.
Specifications
Specifications
Connectivity:

4G

Contract:

Without Contract

Lock Status:

Factory Unlocked
Product description
HTC U12 Plus Niebieski

Ekran: 6,0"

Qualcomm Snapdragon 845 (8 rdzeni, do 2.80 GHz)

Pamięć wewnętrzna: 64GB

Pamięć RAM: 6GB

System: Android 8.0 Oreo

Aparat: 8.0 + 8.0 Mpix - przód, 16.0 + 12.0 Mpix - tył

Bateria: Litowo-jonowa 3500 mAh
HTC U12 Plus
Oto HTC U12 Plus - zupełnie nowa konstrukcja wyposażona w cyfrowe przyciski wrażliwe na nacisk i reagujące na dotyk. Wyposażono go w inteligentne, interaktywne ramki ułatwiające obsługę jedną ręką oraz najwyżej oceniany podwójny aparat. Na pokładzie smartfonu znalazł się procesor Snapdragon 845, którego wydajność przekroczy Twoje oczekiwania. Zachwyci Cię też dźwięk systemu audio HTC BoomSound. Dodatkowo, klasa szczelności IP68 oznacza, że możesz spokojnie używać telefonu nawet w deszczu i w kurzu bez obaw o uszkodzenia.
Edge Sense 2
Nowa generacja Edge Sense oferuje jeszcze bardziej użyteczne funkcje, a teraz nawet rozpoznaje, której ręki używasz, pozwalając swobodnie obsługiwać urządzenie tak prawą jak i lewą dłonią. Co więcej, oprócz ściskania, dodano nowe funkcje, takie jak dwukrotne dotknięcie i przytrzymanie. Edge Sense 2 działa w niemal każdej aplikacji z Google Play Store. Przybliżj mapy, odtwarzaj oraz wstrzymuj muzykę i znacznie więcej. Funkcja Always-On Voice albo zwykłe ściśnięcie telefonu zapewni Ci dostęp do asystenta głosowego, żebyś mógł uzyskać pomoc zawsze, kiedy będziesz jej potrzebował.
Podwójny aparat doceniony przez DxOMark
HTC U12 Plus ma dwa jasne obiektywy, które zapewniają wyjątkową jakość obrazu i otwierają zupełnie nowe możliwości artystycznej ekspresji. Podwójny główny aparat 16 + 12 Mpix zachwyci Cię bezprecedensowym poziomem szczegółów i klarowności w praktycznie każdych warunkach. Laserowy autofokus, pomoże Ci dokładnie ustawić ostrość, zwłaszcza wtedy, kiedy jest ciemno. Mało tego, ulepszona funkcja HDR Boost 2 zapewnia lepsze, ostrzejsze, bardziej szczegółowe zdjęcia z mniejszą ilością szumu w słabym lub jaskrawym świetle.
Podwójna selfie kamera
Z przodu HTC U12 Plus umieszczono podwójny obiektyw z matrycami 8 Mpix, dzięki czemu poczujesz się tak, jakby towarzyszyło Ci profesjonalne studio fotograficzne. Rób zdjęcia z analogowym efektem Bokeh - najbardziej naturalnym, artystycznym i urzekającym efektem rozmycia tła. Baw się fotografią dodając zabawne efekty AR do swoich zdjęć i filmów w czasie rzeczywistym. Podwójny aparat przedni umożliwia również odblokowanie smartfonu za pomocą rozpoznawania twarzy - Wystarczy jedno spojrzenie.
Uchwyć całą akcję
Kręć żywe, przykuwające uwagę filmy bez względu na swój poziom umiejętności. HTC U12 Plus pozwoli Ci wybrać, pomiędzy nagrywaniem w bezkompromisowej jakości 4K z prędkością 60 kl/s lub rejestrować intrygujące filmy w zwolnionym tempie z rozdzielczością Full HD 240 kl/s. Przy tym najbardziej zaawansowany system optycznej stabilizacji obrazu (OIS) w połączeniu z elektroniczną stabilizacją obrazu (EIS) zapewnia klarowny, stabilny obraz, kiedy jesteś w ruchu. To nie wszystko, bo automatyczny zoom sterowany jednym dotykiem robi płynne zbliżenia na scenę, światło i dźwięk, żeby Twoje wideo wyglądało tak, jakby powstało na planie filmowym.
Znacznie więcej, niż oczekiwałeś
Procesor Snapdragon 845 wsparty układem graficznym Adreno 630 oraz pamięcią 6 GB RAM, zapewnia HTC U12 Plus szybsze przetwarzanie grafiki i danych. To najlepsza platforma mobilna, która zmieni sposób, w jaki widzisz, słyszysz i doświadczasz otaczającego Cię świata. Płynnie przełączaj się między wieloma aplikacjami, pracuj sprawnie na podzielnym ekranie i ciesz się błyskawicznym działaniem gier. HTC U12 Plus zapewnia też pełną obsługę transmisji danych LTE, dzięki czemu pożegnasz wolno lądujące się strony internetowe i zacinające się filmy.
Kinowy obraz pełen barw
Panoramiczny ekran 6" w HTC U12 Plus został praktycznie pozbawiony ramek dając wrażenie nieograniczonego obrazu. Ultraszeroka gama barw DCI-P3 gwarantuje, że wszystko co na nim wyświetlisz będzie bogate w kolory i wiernie odzwierciedlone. Co więcej, obsługa HDR w filmach z YouTube'a pozwoli Ci cieszyć się jeszcze dynamiczniejszym obrazem.
Pozbądź się szumu, powitaj muzykę
Poznaj najgłośniejszy, najwyraźniejszy i najlepszy dźwięk z technologią HTC BoomSound. Konstrukcja z oddzielnym wooferem i tweeterem zapewnia bezprecedensową moc i przejrzystość w całej rozpiętości tonalnej. To brzmienie, które wstrząśnie Twoim światem.
Procesor

Qualcomm Snapdragon 845 (8 rdzeni, do 2.80 GHz)

Układ graficzny

Adreno 630

Pamięć RAM

6 GB

Pamięć wbudowana

64 GB

Typ ekranu

Super LCD6

Przekątna ekranu

6,0"

Rozdzielczość ekranu

1440 x 2880

Łączność

Bluetooth

Wi-Fi

LTE
NFC

System nawigacji satelitarnej
Złącza

Gniazdo kart nanoSIM - 1 szt.

Czytnik kart pamięci - 1 szt.

USB Typu C - 1 szt.

Bateria

Litowo-jonowa 3500 mAh

Zainstalowany system operacyjny

Android 8.0 Oreo

Aparat

16.0 + 12.0 Mpix - tył

8.0 + 8.0 Mpix - przód

Lampa błyskowa

Wbudowana

Rozdzielczość nagrywania wideo

3840 x 2160 (4K)

Grubość

9,7 mm

Szerokość

73,9 mm

Wysokość

156,6 mm

Waga

188 g

Kolor

Niebieski

Dodatkowe informacje

Szkło Corning Gorilla Glass

Akcelerometr

Żyroskop

Czujnik światła

Czujnik zbliżenia

Czytnik linii papilarnych

Skaner twarzy

Funkcja szybkiego ładowania Quick Charge

Active Edge

Dołączone akcesoria

Kabel USB
Zestaw słuchawkowy

Ładowarka sieciowa

Gwarancja

12 miesięcy (gwarancja producenta)