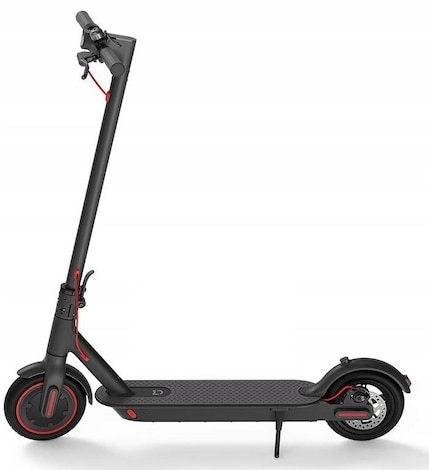 1/1
Hulajnoga elektryczna Xiaomi MiJia M365 Pro
Selected offer from:
Hulajnoga elektryczna Xiaomi MiJia M365 ProTowar jest w 100% NOWY i NIEUŻYWANY. (kupując u nas nie będzie problemu z gwarancją). Zapakowane fabrycznie przez producenta.W skład zestawu wchodzi:hulajnoga elektrycznazasila ...
Product description
Hulajnoga elektryczna Xiaomi MiJia M365 Pro
Towar jest w 100% NOWY i NIEUŻYWANY. (kupując u nas nie będzie problemu z gwarancją). Zapakowane fabrycznie przez producenta.
W skład zestawu wchodzi:
hulajnoga elektryczna
zasilacz
klucz sześciokątny
5 śrub
wężyk do pompowania opon
Instrukcja obsługi po Polsku
Oryginalne opakowanie
Specyfikacja techniczna:
Maksymalna prędkość: 25 km/h
Maksymalny zasięg: 45 km
Maksymalne obciążenie: 100 kg
Średnica kół: 8,5"
Maksymalny kąt nachylenia terenu: 12°
Sterowanie: Kierownica
Zasilanie: Akumulator litowo-jonowy 12800 mAh
Czas ładowania: 9 godzin
Silnik: 300W
Materiał wykonania: Aluminium
Temperatura pracy: -20°C do 50°C
Kolor: czarna
Dodatkowe informacje: Wskaźnik rozładowania akumulatora; Wodoodporność IP54; Zabezpieczenie przed przeładowaniem; Wbudowany moduł Bluetooth; Światła białe z przodu oraz czerwone z tyłu dla bezpieczeństwa; Wyświetlacz LCD; Manetka prędkości w rączce; Hamulec tarczowy na tylne koło; Tylne światło LED; Hamulec przód/tył
Waga: 14,2 kg
Akcesoria w zestawie: Zasilacz; Instrukcja obsługi
Kod produktu: Xiaomi MiJia M365 Pro
Xiaomi MiJia M365 Pro
Maksymalna prędkość: 25 km/h
Maksymalny zasięg: 45 km
Średnica kół: 8,5"
Waga: 14,2 kg
Opis i funkcje
Hulajnoga elektryczna Xiaomi MiJia M365 Pro
Elektryczna hulajnoga MiJia M365 Pro posiada prosty, minimalistyczny design, w którym każdy detal działa na rzecz wygody i łatwości użytkowania. Aby zapewnić najbardziej komfortowe doznania podczas jazdy, hulajnoga otrzymała solidną konstrukcję z odpornością IP54, długą stabilną kierownicę i pneumatyczne opony. W razie potrzeby możesz ją błyskawicznie złożyć i umieścić w bagażniku lub wziąć do ręki dzięki zaledwie 14,2 kg wagi.

Wszystkie funkcje w zasięgu ręki
Na kierownicy Xiaomi MiJia M365 Pro, oprócz manetki przyspieszania, hamulca i dzwonka, znalazł się czytelny panel sterowania. Za pomocą jednego przycisku uruchomisz hulajnogę, włączysz światła i wybierzesz jeden z trzech trybów jazdy: ECO, standardowy i sportowy. Wyświetlacz LCD pokaże Ci aktualną prędkości oraz stan naładowania akumulatorów.
Możesz również połączyć Xiaomi MiJia M365 Pro ze swoim smartfonem dzięki wbudowanemu w nią modułowi Bluetooth i uzyskać dostęp wszystkich ustawień jazdy, jak również zaktualizować oprogramowanie czy obejrzeć statystyki dotyczące Twoich podróży. Otrzymasz także powiadomienia na telefon, np. dotyczące wymaganych czynności konserwacyjnych.

Bezpieczeństwo jazdy o każdej porze
Xiaomi MiJia M365 Pro posiada jasny reflektor z przodu oraz ostrzegawcze czerwone światło z tyłu, dzięki którym jazda będzie bezpieczna również w ciemności. Podwójny układ hamulcowy, składający się ze 120 mm hamulca tarczowego z tyłu oraz przedniego hamulca E-ABS z przodu, zapewnia skuteczne hamowanie w każdej sytuacji. Duże pneumatyczne opony o średnicy 8,5 cala dobrze amortyzują nierówności drogi, pozwalający Ci korzystać z Xiaomi MiJia M365 Pro na wielu rodzajach nawierzchni.

Pojemny i wydajny akumulator
Xiaomi MiJia M365 Pro posiada cichy, bezszczotkowy silnik o znamionowej mocy 300 W, który zapewnia dynamiczny start i płynną jazdę. Hulajnoga z powodzeniem przewiezie osoby o masie do nawet 100 kg, a przy tym może osiągnąć maksymalną prędkość nawet 25 km/h. Dzięki baterii o pojemności 474 Wh, hulajnoga Xiaomi MiJia M365 Pro pozwoli Ci przejechać odległość nawet 45 km na jednym ładowaniu.
Akumulatory posiadają przy tym aż sześć zabezpieczeń, w tym przed przegrzaniem i przeładowaniem, które pozwolą Ci bez obaw rozkoszować się jazdą. Co ważne, hulajnoga posiada specjalny system odzyskujący energię z energii kinetycznej oraz hamowania odzyskowego, co dodatkowo wydłuża żywotność baterii.

CZYTELNY EKRAN I DOSTĘP DO INFORMACJI
Xiaomi M365 Pro to hulajnoga elektryczna wyposażona w wyświetlacz podający najważniejsze informacje dotyczące podróży. Bez problemu można odczytać na nim aktualną prędkość jazdy, uruchomiony tryb poruszania się, a także dowiedzieć się, czy urządzenie podłączone jest do telefonu lub też czy nie występują z nim żadne problemy. Intuicyjna obsługa wyświetlacza sprawia, że jazda hulajnogą elektryczną będzie jeszcze przyjemniejsza.

PODWÓJNY SYSTEM HAMOWANIA
Hulajnoga elektryczna Xiaomi M365 Pro wyposażona została w zapewniający większe bezpieczeństwo, podwójny system hamowania. Poza wysokiej jakości hamulcem tarczowym umiejscowionym przy tylnym kole, elektryczna hulajnoga oferuje hamowanie przy pomocy eABS. Dwa systemu hamowania zwiększają bezpieczeństwo jazdy oraz znacznie skracają drogę hamowania pojazdu elektrycznego.

WIĘKSZA BATERIA, WIĘKSZY ZASIĘG
Z hulajnogą Xiaomi M365 Pro nie musisz obawiać się o to, czy wystarczy Ci baterii na powrót do domu z podróży. Dzięki zastosowaniu pojemnych ogniw wysokiej jakości, na jednym ładowaniu można przejechać nawet 45km. Tak długi dystans pozwoli na bezproblemowe przejechanie trasy z domu do pracy lub szkoły i powrót bez konieczności doładowywania elektrycznej hulajnogi na miejscu!

BEZPIECZEŃSTWO NA DRODZE
Hulajnoga elektryczna Xiaomi wyposażona została w hamulec tarczowy, przedni reflektor oświetlający drogę w gorszych warunkach oświetleniowych, światło pozycyjne i światło hamowania z tyłu, a także dzwonek, by pozostali uczestniczy ruchu wiedzieli o naszej obecności na drodze. Do budowy elektrycznej hulajnogi Xiaomi M365 Pro użyto komponentów najwyższej jakości, by jeszcze bardziej poprawić bezpieczeństwo podczas jazdy!

WYSOKA JAKOŚĆ WYKONANIA
Hulajnoga Xiaomi wykonana jest z wysokiej jakości komponentów.Zastosowanie stopu aluminium zapewnia trwałość konstrukcji, antypoślizgowe rączki oraz powierzchnia podestu sprawiają, że jazda w każdych warunków nie spowoduje przypadkowego ześlizgnięcia się. 8,5-calowe, pneumatyczne opony zapewnią wytłumienie drgań i większy komfort z jazdy niezależnie od powierzchni, po której poruszamy się na hulajnodze elektrycznej.

KOMFORT PODRÓŻOWANIA
Nie ma najmniejszego problemu, by zabrać hulajnogę elektryczną Xiaomi w podróż. Dzięki błyskawicznemu systemowi składania i rozkładania urządzenia, można ją zabrać ze sobą do komunikacji miejskiej, pociągu lub nawet bagażnika samochodu. Wakacje z hulajnogą elektryczną Xiaomi M365 Pro pozwolą na zwiedzenie jeszcze większej liczby miejsc, niż w przypadku konieczności poruszania się pieszo!

More information
More information
Invoices
This seller provides invoices. To receive one, you can contact them once you place an order.