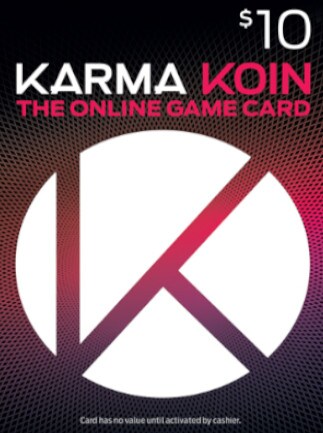 1/1
NORTH AMERICA version
Karma Koin 10 USD Key NORTH AMERICA
Karma Koin is a payment option for online games. Using this online game card, the player will be able to access all the premium content available for a given game. Karma Koin supports such games as World of Tanks, Path of Exile and Warframe.
Product description
Karma Koin offers the user a chance to experience everything online gaming has to offer. Purchasing Karma Koin redeem code allows the player to purchase in-game items for several titles, such as Warframe, World of Tanks, Path of Exile and more. Enjoy enhanced gameplay with 10 dollar worth of purchases using Karma Koin.
What is Karma Koin?
Karma Koin is an online payment option, which the players can use to purchase items in select games. Using Karma Koin, the users transfer money into an online currency of the game of their choice. The player can then use said currency to make in-game purchases, buying anything from items to controllable units. Thanks to Karma Koin, the user doesn't have to worry about revealing their payment data to other parties – by purchasing the online game card, their real-life money is safe.
What can you buy with Karma Koin?
Using the Karma Koin, the player can make in-game purchases for various games. With 10$ online game card, the user is eligible to purchase items, boosts, units, etc. Any premium content of the game that supports payments with Karma Koin card will be available to its holder.
Games supporting Karma Koin
The games supporting payments with Karma Koin online game card include:
World of Tanks –a massive multiplayer online game, where the player controls an armored vehicle, and uses them to fight others. With Karma Koin, the player can purchase vehicles, parts to upgrade them and gold, the game's currency.
Path of Exile – a hack and slash game inspired by the Diablo series. The player can choose from one of several classes and take them onto the battlefield utilizing their strengths against other players. Karma Koin can be used here to purchase items and upgrades for the player-controlled character. 
Warframe – an action RPG, which emphasizes cooperation. The player create their space warrior, called Tenno, and use them in battle, employing stealth, long-range takedowns and elements of RPG. In Warframe, the user can use Karma Koin to purchase various cosmetic alterations as well as Platinum, the in-game currency.
Key features
An easy way of making in-game purchases
Money to spend on premium game content
Support of various popular titles, such as World of Tanks, Path of Exile and Warframe
No expiration date.
Full List where you can use your Code can bt found at:
Karma Koin
To use the Code Visit the site where you'd like to make a purchase, select Karma Koin as your payment method, and follow the steps from there.