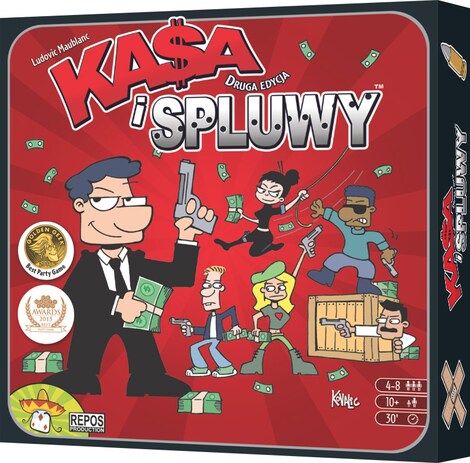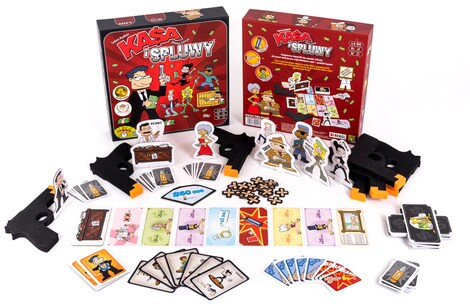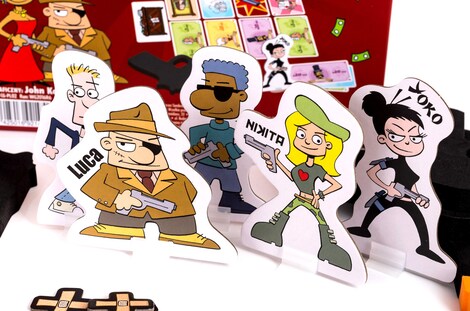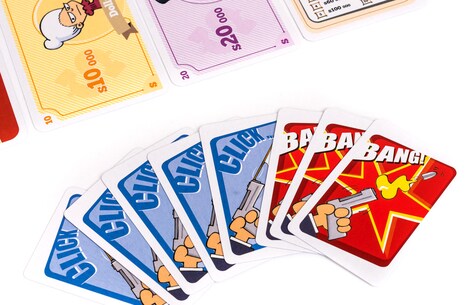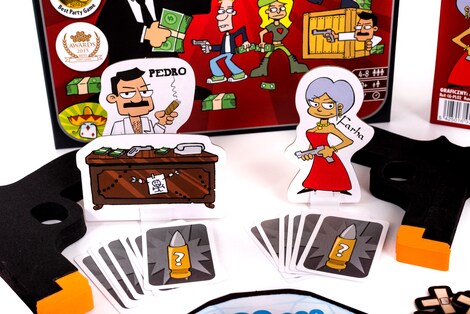 1/5
Kasa i spluwy (druga edycja)
Language:

Polish

Players:

4 - 8

Age Level:

10+

Play time:

less than 30 min
Mordercza kłótnia przy podziale łupów, czyli kultowa gra imprezowa pełna zdrad i nieoczekiwanych zwrotów akcji! W opuszczonym magazynie gangsterzy dzielą łupy z ostatniego napadu. Jednak nie mogą dogadać się co do tego, ...
You must be logged in to add products to your wishlist.
Specifications
Specifications
Min. Number of Players:

4

Max. Number of Players:

8

Mechanics:

Betting, Negotiation

Theme:

Humor

Type of player:

For parties

Age Level:

10+

Language:

Polish

Brand:

Rebel

Play time:

less than 30 min

Game Type:

Action
Product description
Mordercza kłótnia przy podziale łupów, czyli kultowa gra imprezowa pełna zdrad i nieoczekiwanych zwrotów akcji!

W opuszczonym magazynie gangsterzy dzielą łupy z ostatniego napadu. Jednak nie mogą dogadać się co do tego, kto ile dostanie, więc w ruch idzie broń. Każdy mierzy do każdego, padają ostatnie argumenty i w końcu w powietrzu świszczą kule. Co bardziej tchórzliwi chowają się pod stołem, jest kilka ofiar, ktoś właśnie stracił życie i swoje diamenty, ktoś inny wyskoczył przez okno z workiem banknotów. Przy stole zrobiło się luźniej. Czas na kolejną rundę negocjacji...
Jeśli odwiedziliście kiedyś dowolny konwent, to jest spora szansa, że graliście lub widzieliście jak ktoś gra w Kasę i Spluwy. W końcu ciężko przeoczyć grupę osób mierzących do siebie z naturalnych rozmiarów piankowych pistoletów, dodatkowo żywo dyskutujących podniesionymi głosami o podziale zrabowanych kosztowności i decydujących, kogo oszczędzić, a kogo naszpikować ołowiem. Zwłaszcza, że gra pojawia się na wszelkiej maści zlotach już od 2005 roku i od tego czasu zaraża swoją kreskówkową oprawą, intuicyjnymi zasadami i mnogością rekwizytów coraz więcej graczy! Druga edycja wprowadza poprawki do zasad, dodaje karty zapewniające każdemu unikalne zdolności i powiększa grono osób biorących udział w grze!
Gotowi do wystrzału
Rozgrywka w Kasie i Spluwach to osiem pełnych napięcia rund. W każdej wykładamy osiem kart łupu (mogą nam się trafić bezcenne obrazy, rozmaite błyskotki, apteczki pierwszej pomocy lub twarda gotówka). Ci, którzy dotrwają do końca rundy, biorą udział w podziale dóbr. Cała sztuka polega na dotarciu tam w jednym kawałku!
Każdy z graczy rozpoczyna grę z pistoletem, pięcioma kartami Click... i trzema Bang!, którymi ładuje magazynek. Gdy karty łupu zostaną odkryte, każdy w tajemnicy wybiera kartę - decyduje, czy będzie miał pusty, czy załadowany magazynek i kładzie ją przed sobą, zakrytą. Następnie, na trzy, każdy wybiera swój cel i wymierza z pistoletu w ofiarę! Czas sprawdzić, kto jest tylko mocny w gębie, a kto jest prawdziwym twardzielem! Ponownie - na trzy - każdy decyduje, czy zostaje przy stole, czy rzuca się do ucieczki. Jeśli wybierze drugą opcję, to odpada z tej rundy, ale też unika obrażeń. Pozostali wciąż mają szansę na łup.
Po tym, jak wszyscy mieli już szansę się wycofać, odkrywamy karty, którymi w tej turze załadowaliśmy nasze magazynki. Jeśli rewolwer, który w Ciebie mierzył, miał w magazynku kartę Bang!, to nie bierzesz udziału w podziale łupu, za to dostajesz ranę (trzy rany oznaczają odpadnięcie z gry!). Pozostali mafiozi, wciąż utrzymujący się na nogach po oddaniu salwy, na zmianę wyciągają po karcie łupu ze stosu i dodają ją do swojej kolekcji.
W ten sposób możesz zaopatrzyć się w apteczkę, którą usuniesz jedną z otrzymanych ran. Możesz też dobrać więcej amunicji, by nadal stanowić realne zagrożenie. Wreszcie, możesz też skusić się na gotówkę, czy dzieła sztuki (im więcej masz ich w swej kolekcji, tym więcej są warte na koniec gry!). Do wyboru jest też stół Ojca Chrzestnego - ten kto go posiada otrzymuje zdolność zmuszenia jednego z graczy do zmiany celu i dodatkowo jest zawsze pierwszym przy podziale łupu.
Jeśli to wciąż dla Was za mało, to druga edycja wprowadza unikalne zdolności dla bandziorów - szesnaście wyjątkowych kart, które mocno namieszają w Waszych planach. Przykładowo Sęp może zabrać kartę łupu od wyeliminowanego gracza, a Niezniszczalny ginie dopiero po otrzymaniu pięciu ran. Wprowadzenie talentów otwiera nowy wymiar rozgrywki, dodając wątpliwości co do tego jak dobrze znasz przeciwników i co mogą planować.
Myślisz, że masz fart?
Kasa i Spluwy (druga edycja) to kultowa gra imprezowa, która od czasu powstania zdołała zebrać wiele międzynarodowych nagród wśród planszówkowej braci. To gra w której przyjaciele wbijają sobie noże w plecy, a członkowie rodzin odwracają się od siebie (przeważnie tylko do końca rozgrywki).
Co oferuje druga edycja?
- Więcej spluw - więcej graczy. Zamiast sześciu, teraz do podziału kosztowności staje osiem osób.
- Jeszcze szybsze i przystępniej podane zasady gry.
- Kilka trybów rozgrywki - jeden z Was może być gliniarzem pod przykrywką, którego reszta graczy musi wykryć, zanim wezwie policyjne wsparcie.
- Unikalne, różniące się od siebie zdolności graczy.
- Zróżnicowane rodzaje rabowanych dóbr - dzieła sztuki, diamenty, gotówka.