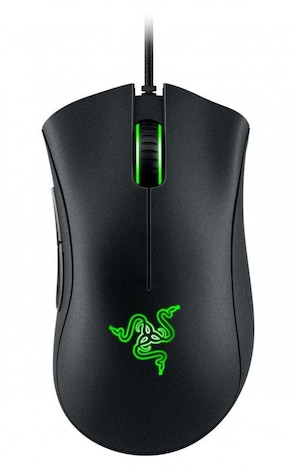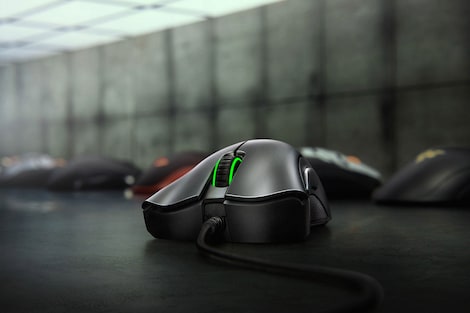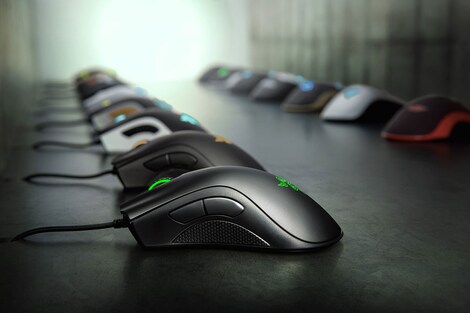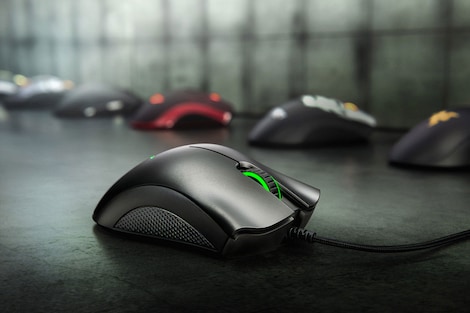 1/4
Razer DeathAdder Essential
Offer from:
Razer DeathAdder Essential is a gaming mouse from Razer, a company specialized in manufacturing and delivering all kinds of gaming-related accessories. The mouse continues the DeathAdder line started back in 2006.The mou ...
Product description
Product description
Razer DeathAdder Essential is a gaming mouse from Razer, a company specialized in manufacturing and delivering all kinds of gaming-related accessories. The mouse continues the DeathAdder line started back in 2006.
The mouse is durable enough to withstand the heavy exploitation coming from playing the clicking-intensive titles, especially real-time strategies and first-person shooters. It has few programmable buttons giving you an edge in competitive online games, and it has green lighting which makes a nice addition to the already superb product.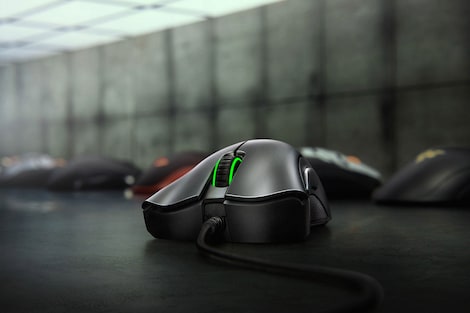 6400 DPI optical sensor
Razer DeathAdder is equipped with a precise 6400 DPI optical sensor. Decrease your reaction time and the amount of unnecessary movements. Now you can react quicker to the enemy trying to sneak in behind you – a slight mouse swipe will be enough to turn your character around in 3D titles. Higher DPI also allows using the mouse conveniently with 4K monitors without experiencing the annoying cursor shaking.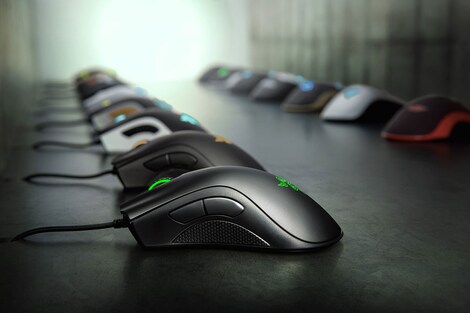 5 programmable buttons
The mouse has 5 programmable buttons ready to be customized to suit your needs best in any game you play. Map single actions or entire macros and execute them with a single button press. Take advantage of additional side buttons. Create separate profiles for every game you play to easily switch between different configurations and adapt to any scenario. The possibilities are practically endless.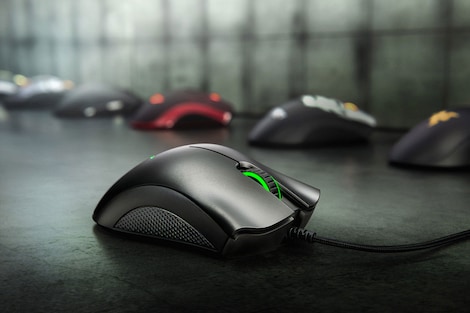 10 million clicks
Razer DeathAdder Essential is a durable product which is guaranteed to last you 10 million clicks on average. Playing even the most clicking-intensive games won't wear the buttons too soon, so hop into your favorite competitive FPS and don't restrain yourself from pressing the trigger when the enemy appears in sight.
Ergonomic shape
Thanks to the ergonomic design, the Razer DeathAdder Essential is comfortable to use, and all of the buttons are easy to reach, giving you an edge when playing competitively. The mouse is easy to grip, especially for large hands, and its weight is properly balanced, reducing the risk of wrist injuries, even when playing for a longer period of time.
Impressive green lighting
The mouse does not only need to work flawlessly. It should also look good enough to not bring shame to your e-sport career. This is why Razer DeathAdder Essential is coming with effective green lighting, the color the Razer company is widely known for. Set the color to static or make it pulse. Beat the others and do it with style.
Cloud-based hardware synchronization
Razer DeathAdder Essential is compatible with the Razer Synapse software. You can use it to store your mouse configuration in the cloud and retrieve it whenever you want. No need to configure the mouse from scratch when using it on a new PC – just download your previous config and quickly get back to playing.
Reception
The mouse received positive reviews and is considered a cheaper alternative to the Razer DeathAdder Elite, with main differences being the lower DPI sensor and 2 programmable buttons less. Otherwise, it is a great and affordable product with the most praised features being the decent sensor performance and excellent buttons, as well as great stock mouse feet.
Razer DeathAdder Essential - Key features
The aim, shoot, win – high-sensitive 6400 DPI optical sensor provides you with enough precision to seamlessly beat your rivals
Programmable Hyperesponse buttons give you an option to customize the mouse to satisfy your individual needs
Durable construction guarantees reliability whenever you may need it
The ergonomic shape of the mouse prevents hand-related injuries from occurring and provides easy access to all of the buttons
Store your mouse configuration in a cloud and retrieve it on any computer with Razer Synapse software
Razer DeathAdder Essential - Specifications
6400 DPI optical sensor
Up to 220 inches per second / 30 G acceleration
5 independently programmable Hyperesponse buttons
Razer Mechanical Mouse Switches with 10 million-click life cycle
The gaming-grade tactile scroll wheel
Ergonomic right-handed design
1000 Hz Ultrapolling
Single-color green lighting
Razer Synapse 3 (Beta) enabled
Approximate size: 127 x 73 x 43 mm
Approximate weight (excluding cable): 96 g
Cable length: 1.8 m
Compatible with Xbox One for basic input
Item 

type

: Brand new  

Warranty: 24 months  

Warehouse: EU countries + free shipping  

Layout: US 
Important:

 

In case of returning the product, the cost of shipping the product is on the buyer's side. 
More information
More information
Invoices
This seller provides invoices. Invoice will be displayed after purchase in section "Bought items".