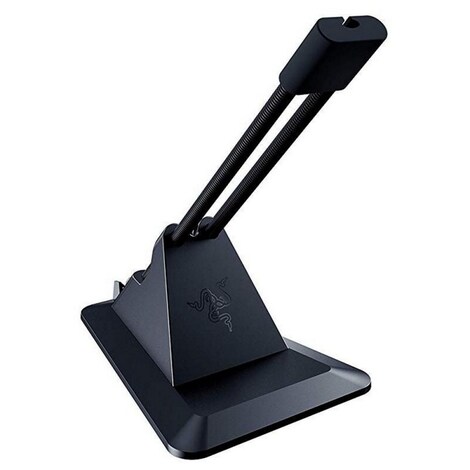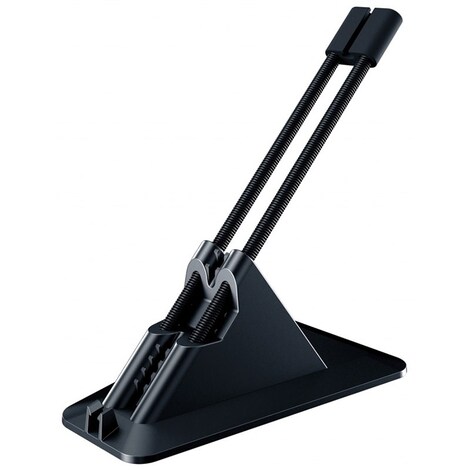 1/2
Razer Mouse Bungee V2
Mouse Bungee V2 from Razer is a little quality of life addition which helps to deal with lengthy cable of your wired mouse. Bungee is used to hold a portion of the cable suspended in the air, making it much easier to mov ...
Product description
Mouse Bungee V2 from Razer is a little quality of life addition which helps to deal with lengthy cable of your wired mouse. Bungee is used to hold a portion of the cable suspended in the air, making it much easier to move the mouse around, especially when you need to make wider slides, as you don't need to forcibly pull the cable hanging behind the desk anymore. Bungee V2 has increased stability due to balanced weight, and it firmly sits in one place, thanks to the anti-sleep feet. V2 is the second version of the warmly welcomed bungee from Razer, with the main difference being the body, which now takes a more solid shape, and the arm being more flexible than it was in the original.
Less Cable Tangling
When it comes to the world of competitive gaming and esports, you need all the advantage you can get in order to increase your chances to defeat your opponents. Cable tangling is one of the elements that may be standing on your way to victory – eliminating this problem should be one of your priorities if you are thinking about taking the professional gamer route. By suspending a portion of the cable in the air, Mouse Bungee V2 from Razer allows you to avoid cable tangling. It gives you enough cable to freely slide the wired mouse around without worrying of either excess cable tangling on your desktop, or about not having enough cable to comfortably make wider moves.
Improved Precision of Wired Mouse
Less cable tangling indirectly translates to more accurate moves. When you don't have to constantly change the amount of cable lying on the desktop, which is usually either too short or too long, you can finally focus on improving your performance by making more precise and smooth slides. The cable won't get in your way anymore – with Bungee V2 you can adjust the available length to your own preferences, so there's always enough of it for your needs.
Durable and Rust-Resistant Arm
The arm of the bungee is made from rust-resistant material which helps to maintain the bungee in good condition after being exposed to moisture from air, water, or other fluids. This ensures your bungee will serve you well for the years to come. Additionally, the arm is spring-based and as such it is very flexible, giving you more freedom when moving your mouse around because the cable needed for further slides is then drawn by bending the bungee arm. It bends quietly and does not cause any disturbance.
Anti-Slip Feet
Mouse Bungee V2 from Razer has anti-slip feet that prevent slipping and holds the bungee in one place. This means the bungee won't move once you placed it on the desk and started using it with your mouse unless you really want to. It's an important feature, especially for people doing a lot of fast moves with their mouse, and for those who don't have the patience to adjust bungee's position over and over again. Simply place the device on your desk and enjoy a tangle-free gaming experience.
Increased Stability
The bungee has a weighted base which helps to maintain its stability and it prevents the bungee from falling over – to a reasonable degree. This is especially useful when you need to make fast and wide mouse movements, such as in first-person shooter games, where you often find yourself in need to rotate the character 180 degrees to check if enemies are trying to stab you in the back. With bungee you can do similar maneuvers seamlessly without worrying about mouse cable being too short.
Key features
Stop fighting the cable – bungee adds more convenience by holding a portion of your mouse cable in the air
Avoid cable tangling on your desktop – no more excess cable getting in your way
The rust-resistant arm makes the bungee more durable and prevents damage caused by contact with water
Balanced weight ensures the bungee won't fall over too easily, even during faster and more rapid mouse slides
Anti-slip feet prevent bungee from slipping and holds it in one place
Razer Mouse Bungee V2 specification
| | |
| --- | --- |
| Type | Mouse Bungee |
| Model | Mouse Bungee V2 |
| Item Dimensions | 12 x 114 x 75 mm/ 0.48 x 4.49 x 2.98 inches |
| Item Weight | 243.8 g / 8.6 ounces |
| Color | Classic Black |
| Additional information | Anti-slip |
Item type: Brand new
Warranty: 12 months
Warehouse: EU countries + free shipping
Important: In case of returning the product, the cost of shipping the product is on the buyer's side.
EAN: 8886419382256
Earn every time someone buys this product using your reflink.