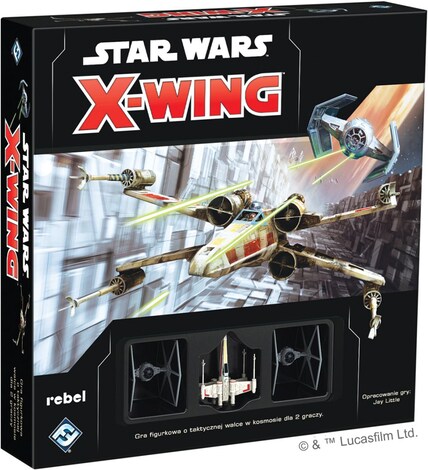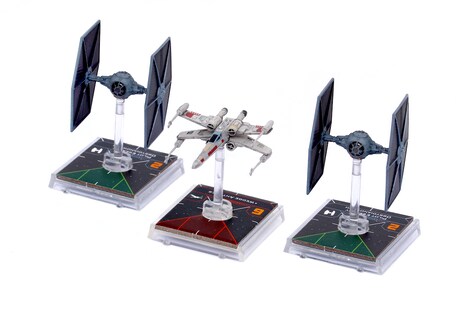 1/2
Star Wars: X-Wing - Zestaw podstawowy (druga edycja)
Selected offer from:
Language:

Polish

Players:

2 - 2

Age Level:

14+

Play time:

30min to 1h
Siądź za sterami statku z uniwersum Gwiezdnych Wojen! Dawno, dawno temu, w odległej galaktyce... Trwa wojna domowa. Galaktyczne Imperium obejmuje zasięgiem swojej tyranii kolejne planety i dąży do zdławienia Sojuszu Reb ...
Specifications
Specifications
Min. Number of Players:

2

Max. Number of Players:

2

Mechanics:

Dice rolling, Miniatures, Variable player powers, Bluffing

Theme:

Movies, Sci-Fi, War

Type of player:

For couples, For expert players, For geeks

Age Level:

14+

Language:

Polish

Game Type:

Strategy, Action

Brand:

Rebel

Play time:

30min to 1h
Product description
Siądź za sterami statku z uniwersum Gwiezdnych Wojen!

Dawno, dawno temu, w odległej galaktyce...
Trwa wojna domowa. Galaktyczne Imperium obejmuje zasięgiem swojej tyranii kolejne planety i dąży do zdławienia Sojuszu Rebeliantów. Niełatwo jednak pokonać nadzieję. Bohaterscy piloci Rebelii zasiadają za sterami X-wingów i ruszają do walki z nieskończonymi falami imperialnych myśliwców TIE. Ważą się losy galaktyki...
Star Wars: X-Wing to szybka gra figurkowa o kosmicznych starciach w świecie Star Wars. Gracze sterują myśliwcami, rekrutują słynnych pilotów, wyposażają swoje maszyny w specjalną broń oraz ulepszenia i ruszają do walki.
W pudełku Zestawu podstawowego znajdziecie wszystkie elementy niezbędne do rozpoczęcia zabawy przez dwóch graczy:
- pomalowane plastikowe statki kosmiczne,
- specjalne kości do gry,
- karty,
- żetony,
- instrukcję oraz streszczenie zasad.
Czym jest Star Wars: X-Wing
Star Wars: X-Wing stawia Cię na czele własnej eskadry statków, związanych w emocjonujących, taktycznych bitwach kosmicznych. W trakcie pojedynków będziecie używać unikatowych zdolności Waszych eskadr, aby uzyskać przewagę nad przeciwnikami. Każdym statkiem w X-Wing lata się inaczej, każdy ma zestaw wyjątkowych ruchów - od delikatnych skrętów do agresywnych manewrów.
Rozpoczynamy manewry
Runda zaczyna się od tajnego zaplanowania ruchu przez każdego z graczy. Służą do tego unikatowe dla każdego statku tarcze manewrów. W czasie manewrów dojdzie do intensywnych pojedynków z przeciwnikiem, gdy obaj będziecie próbowali ustawić się w taki sposób, by móc oddać idealny strzał. Zanim jednak będziecie w stanie strzelić do wrogiego statku, musi się on znaleźć w Waszej strefie rażenia oraz w zasięgu.
W wirze walki
Tak się wykonuje uniki!Sprytne manewrowanie to nie jedyny czynnik, który musisz rozważyć podczas walki na krótki dystans. Tak jak w pierwszej edycji X-Wing, po tym jak Twój statek wykona manewr, możesz wykonać akcję. Niezależnie czy wybierzesz namierzenie wrogiego statku, czy wykonanie beczki, aby uciec z wrogiego pola rażenia - akcje, które wykonasz, będą miały wpływ na przebieg bitwy i zadecydują o losach Twojej eskadry.
W drugiej edycji gry Twoje akcje oferują jeszcze więcej strategicznej głębi. Niektóre z nich są czerwone i powodują dobranie żetonu stresu po ich użyciu. Inne są akcjami łączonymi, pozwalającymi Ci wykonać dwie akcje, aby grać na granicy ryzyka Twojego statku!
Użyj mocy
Karta pilota - władającego Mocą Luka SkywalkeraMoc jest nierozerwalnym elementem uniwersum Gwiezdnych Wojen. Star Wars: X-Wing (druga edycja) wykorzystuje ten element i przedstawia nam sposób w jaki piloci podatni na wpływ Mocy osiągają dzięki niej znaczną przewagę w bitwie.
Piloci z możliwością wykorzystania wpływu Mocy, rozpoczynają grę z ładunkami mocy - żetonami, które mogą wydać, aby wykonać zapierające dech w piersiach akcje, daleko wykraczające poza zdolności zwykłych ludzi.
Podstawowy sposób na użycie ładunku Mocy polega na wydaniu go i poprawieniu celności pilota, albo zwiększenia jego szansy przetrwania nadchodzącego ataku.
Moc jest silnym sprzymierzeńcem w ferworze walki, ale jednocześnie jest surowcem, który może ulec wyczerpaniu. Musisz wybrać odpowiedni moment na to, żeby wydać ładunek, aby mieć pewność, że Moc zmieni losy bitwy na Twoją korzyść.
Druga edycja Star Wars: X-Wing
- to zmiany w balansie, zbierane od 2012 roku na wydanych dotąd 58 statkach, polegające na polepszeniu płynności rozgrywki, ujednoliceniu interakcji pomiędzy statkami i ponownym skupieniu się na manewrowaniu jako głównej mechanice gry
- to wprowadzenie Mocy - jednej z charakterystycznych cech uniwersum Gwiezdnych Wojen, dotąd marginalizowanej, która wpłynie na poruszanie statkiem i zwiększy głębię taktyczną bitew
- to 5 indywidualnych frakcji - w drugiej edycji Szumowiny wyraźnie odróżniają się od Imperium, a Najwyższy Porządek oraz Ruch Oporu zostały przekształcone w osobne frakcje, odłączone od Sojuszu Rebelii oraz Imperium Galaktycznego. Od teraz posiadają swoje wyjątkowe mechaniki, mocne oraz słabe strony!
- to oficjalna aplikacja X-Wing Squad Builder oraz dedykowana strona - wynoszą one tworzenie eskard na jeszcze wyższy poziom, umożliwiając łatwe i szybkie modyfikowanie swoich rozpisek oraz dostosowywanie ich do rozmaitych trybów rozgrywki, a także usprawniają zarządzanie własną kolekcją
Przygotujcie myśliwce i niech Moc będzie z Wami!
More information
More information
Invoices
This seller provides invoices. To receive one, you can contact them once you place an order.