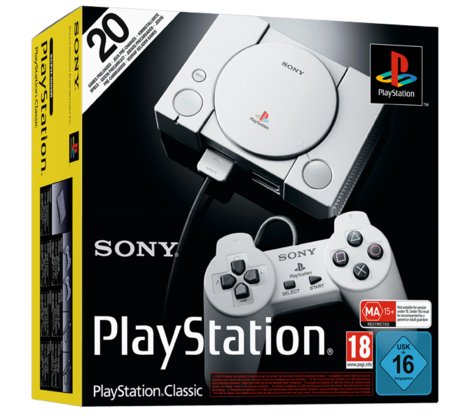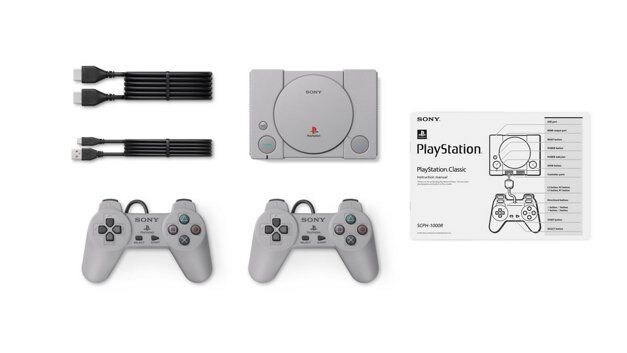 1/3
Sony Playstation Classic
Offer from:
Sony Interactive Entertainment prepared a real gift for all the fans of its PlayStation consoles. On the 24th anniversary of the release of the first PlayStation console, the company has introduced the PlayStation Classi ...
Price
27.24 EUR
46.54 EUR
41%

OFF
14-Day return policy
You must be logged in to add products to your wishlist.
Specifications
Specifications
Brand:

Sony

Connectivity:

HDMI

Dimension:

149 x 33 x 105 mm

Resolution:

720p, 480p
Product description
Sony Interactive Entertainment prepared a real gift for all the fans of its PlayStation consoles. On the 24th anniversary of the release of the first PlayStation console, the company has introduced the PlayStation Classic - a dedicated video game console that is a tribute to the classic original PlayStation console. It looks the same as the first PlayStation bringing great memories who played with it and because it's modernized and adapted to modern screens, plugins, and technology, every gamer can enjoy it freely. 

PlayStation Classic—Nostalgia Revisited
PlayStation Classic is a perfect product for someone who wants to relive their childhood memories of great moments spent with Sony's ground-breaking console. Thanks to its small chassis, only half as big as the original system, it's portable and won't take up much space on your shelves without losing any of the power required to run the games included.
Legends brought to modern screens
PlayStation Classic is the easiest way to play games you remember from over twenty years ago on modern screens. Even if you have your original PlayStation, modern TVs just aren't compatible with the standards typical for the mid-1990s.
PS Classic doesn't suffer from this, however. Sony's blast from the past uses a HDMI cable to connect to your TV or monitor, without the need to juggle adapters and risk them not working at all. The HDMI cable handily resolves any and all connectivity problems you would have had.
Original PlayStation controllers
Do you remember the gaming revolution ushered in by PlayStation 1's controllers? The presence of shoulder buttons and the universally recognizable geometric shapes in place of letters of numbers made these gamepads quite unique when compared to the competition: the Super NES.
PS Classic lets you refresh your memories and show to the younger generation how games were being played back in the day. Without analog sticks and a wireless connection, this is retro gaming for the 21st century.
A library of classics - 20 PS1 games from a golden era
PlayStation Classic's game list includes some of the titles whose legacy lives on to this day. You can play the original Grand Theft Auto and see how Rockstar's flagship series began. You'll be able to play Final Fantasy VII the way it used to be played twenty years ago, and you'll recall how Hideo Kojima changed the action games forever with his Metal Gear Solid.
The game gallery is diverse enough to satisfy fans of several genres, and of several age groups. Younger players can, for example, play the original Rayman the same way their parents and older siblings did. There's a total of twenty carefully selected titles from a variety of genres. Thanks to the best PlayStation 1 emulator, PCSX, all of these games work great with modern technology.
It looks the same, but smaller!
PlayStation Classic looks just right, just on a smaller scale. Everything, from the placement and appearance of the logo to the button layout, and even the way it's packed for distribution looks the same way the original PlayStation did.
The one crucial difference is that PS Classic could actually be called PlayStation Mini, as it's barely half as big as it's legendary predecessor. Measuring at 149 mm x 105 mm x 33 mm it's close to the dimensions of the controllers it comes packaged with and takes just a fifth of the space required by PS1.
Specifications
Release date: 03 December 2018
Dimensions: 149 mm × 33 mm × 105 mm
Storage: 16 GB flash
Controllers: 2 wired PS1 controllers included
Ports: HDMI (TV connectivity), USB (power), 2 controller ports
Item type: Brand new 
Warranty: 12 months 
Free shipping 
Important: In case of returning the product, the cost of shipping the product is on the buyer's side.
You can buy up to five items listed on this auction from Gear_shop. Gear_shop reserves the rights to cancel or limit the ordered items if buyer purchased more than five items on this auction.
3DP: (00029)
More information
More information
Invoices
This seller provides invoices. To receive one, you can contact them once you place an order.