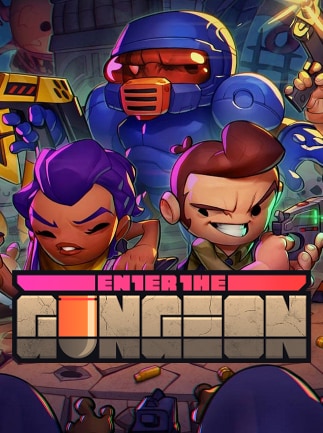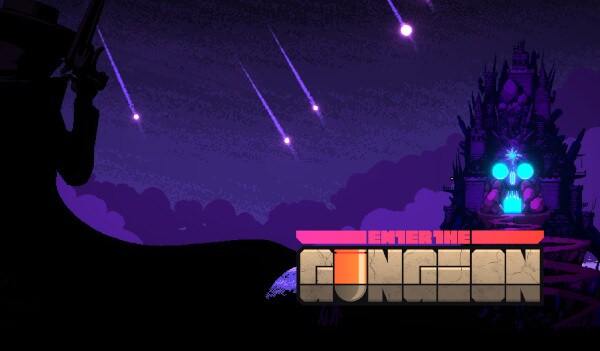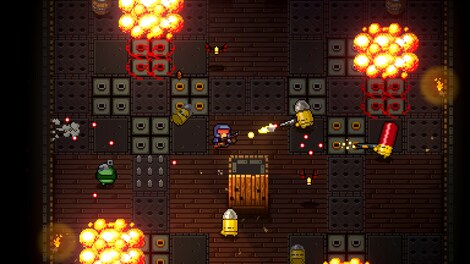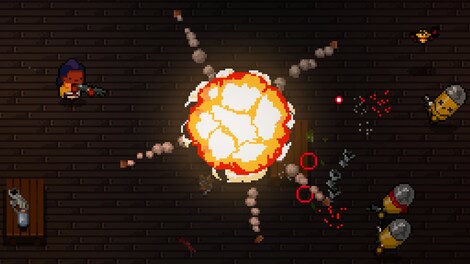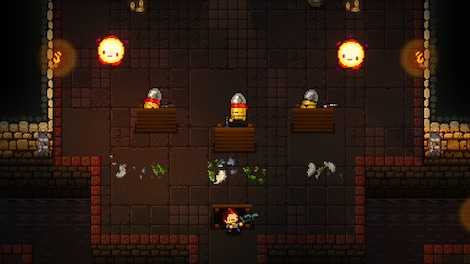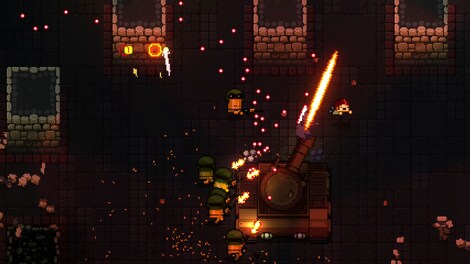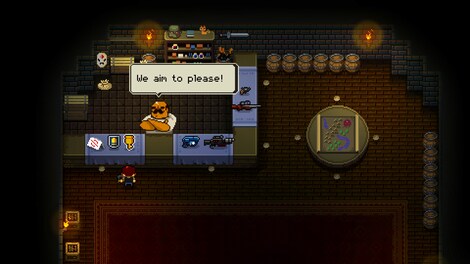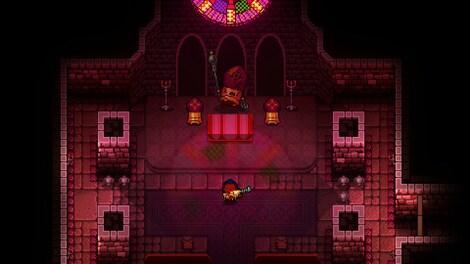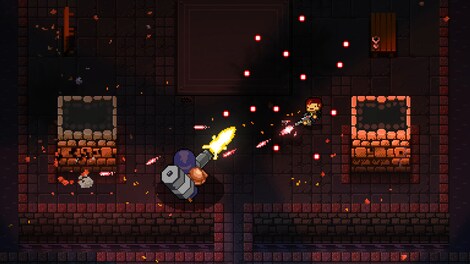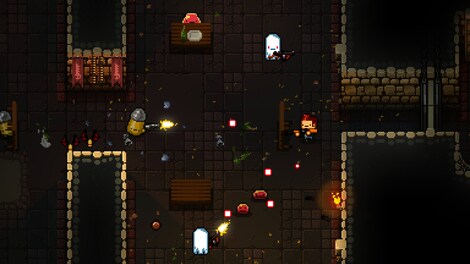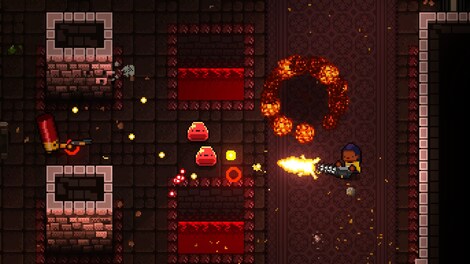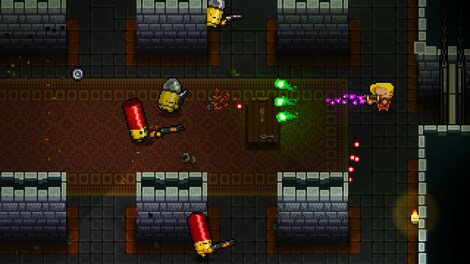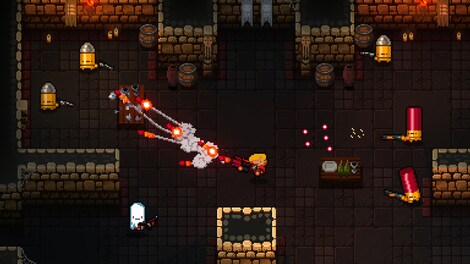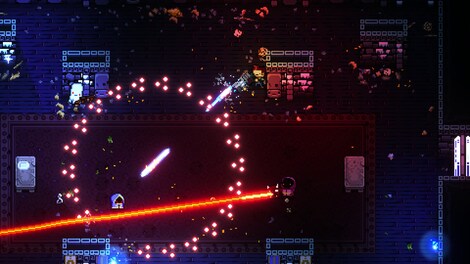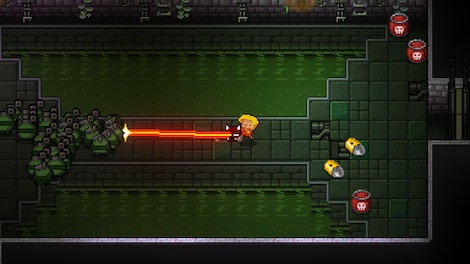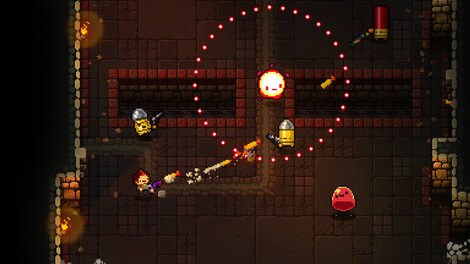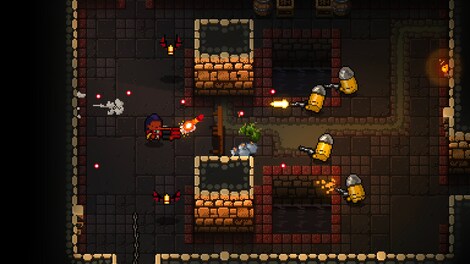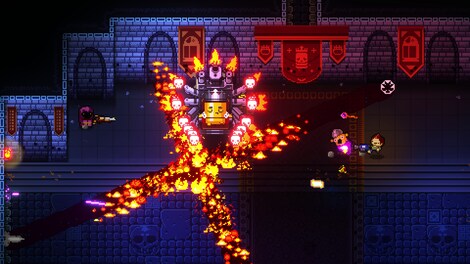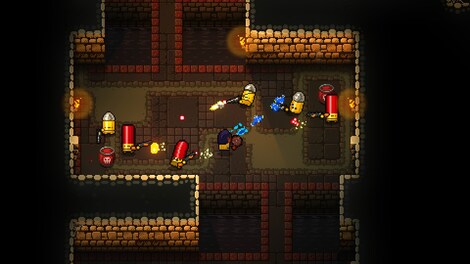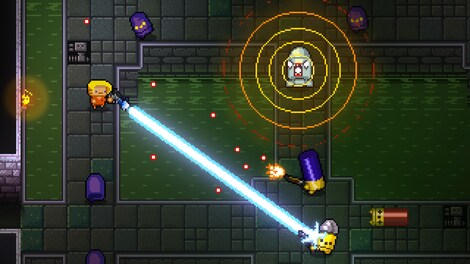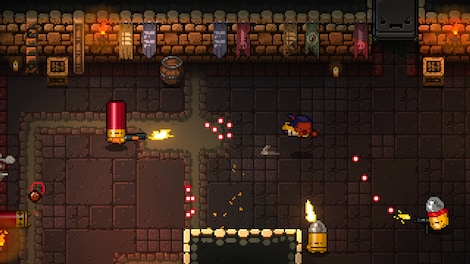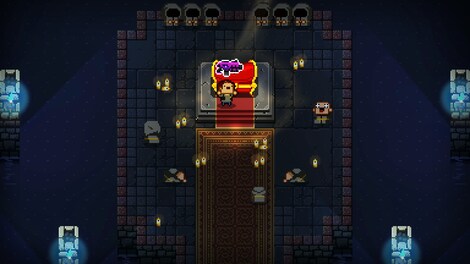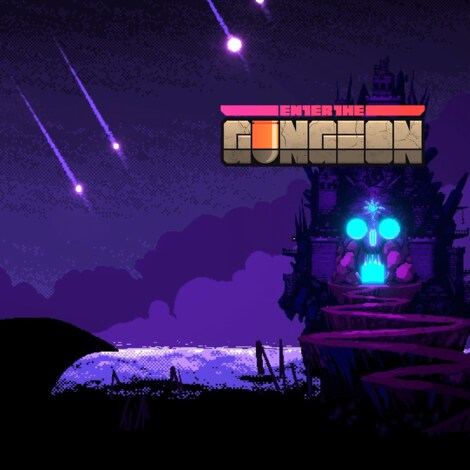 1/24
GLOBAL version
Enter the Gungeon Steam Key GLOBAL
A bullet hell video game with roguelike elements and mechanics like classic shoot'em up games, where four characters try to find truth about their past lives and then kill it with a specific gun. The game is very fast-paced and offers lots of fun with lots of blood and bullets flying high.
Buy it in a bundle, pay less: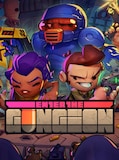 Enter the Gungeon Steam Key GLOBAL
GLOBAL
Offer from: Angelofdeathh73
Offers: 17
Games_federation

Excellent seller

100%

Positive feedback

1276

Bellakey

Excellent seller

100%

Positive feedback

24023

Gamersuniverse

Excellent seller

100%

Positive feedback

28457
Product description
Enter the Gungeon was developed by Dodge Roll and published by Devolver Digital. The game is often compared to Nuclear Throne or The Binding of Isaac. In the beginning the player has to choose which of the four hunters they will play with – each has various skills and abilities, for instance calling for support or lockpicking chests. 
Story and Characters of ETG
The story takes place on a distant island inhabited by living bullets and strange creatures. The player descends into Gungeon where they can meet various NPCs that want to be rescued from there. After being rescued, they reside at the Breach, a safe spot above the Gungeon. Also, the player starts their journey there before starting a new campaign. At the Breach there is possibility to unlock some new items, that can be bought with currency earned after boss fights. 
In the Gungeon, players look for a gun that will be able to kill their past. The gun was hidden in the fortress which was later demolished by a deadly force and brought down to ashes. The fortress was rebuilt and now is a very well-guarded place with six adventures, each with its own story, regrets and etc. The player's character must enter the fortress and seek the gun to kill their past.
Graphics and gameplay of Enter The Gungeon
The game has retro, 2D pixel graphics – a thing typical for shoot'em up genre. Graphics perfectly fit the story and the vibe of the game and give it an old-school touch. The player choose one of four characters in single player mode. In Dungeon, they are set to go through various floors with randomly generated number of rooms in it. Rooms are pre-defined, but characters appearing and treasure are randomly generated. Each room offers various sets of enemies of different skills and style of stack. The player's character performs a dodger roll to dodge the attacks. Each character has limited number of blanks per each floor. 
The protagonist is using guns found in chests of bosses, that have to be defeated, or can buy them at the Breach for currency obtained from defeating bosses. In the game there are more than 300 weapons to choose from. Bosses await for players at the end of each floor. What is great about the gameplay is the fact the player can use furniture and other objects as part of defending themselves or attacking.
Find the secret rooms and play online co-op!
In the multi-player co-operative mode, the second player becomes a fifth character. You can all team up and as unity try to dodge bullets, save your lives and find the gun to kill your past. Throughout the process, the players discover what is hidden inside the Gungeon – a dungeon of guns full of traps, secret rooms and surprises.
Reviews in the gaming industry
Upon the release the game received great reviews from the industry. The game was also very successful among players, as it sold more than 200,000 copies within first week since its release. You can get this one of best games of shoot'em up and roguelike genre! The game is available for your computer – the PC version. Look out for best offers in section above this text
Key features
A mix of roguelike game with shoot'em up genre
Set on a distant planet inhabited by bullets and other strange creatures
Various floors with randomly generated number of rooms
The quest is to find a gun that can kill the past
Fighting bosses, collecting treasure, dodging bullets
2D, pixel graphics
Single player and multi-player mode
Multi-player is cooperative
Four characters to choose from
Over 300 weapons
Possibility to change currency from defeated bosses for weapons
Meeting NPCs that can be helpful in a mission
Release date: 2016-04-05
System requirements
System requirements
Below are the minimum and recommended system specifications for Enter the Gungeon Steam Key GLOBAL. Due to potential programming changes, the minimum system requirements for Enter the Gungeon Steam Key GLOBAL may change over time.
Minimal requirements
Processor

Intel Core 2 Duo E6320 (2*1866) or equivalent

Graphics

GeForce 7600 GS (512 MB) or equivalent

Memory

2 GB RAM

Disk space

2 GB available space

System

Windows 7
Languages
Languages
German, Spanish, French, Italian, Japanese, Polish, Portugese, Russian, English