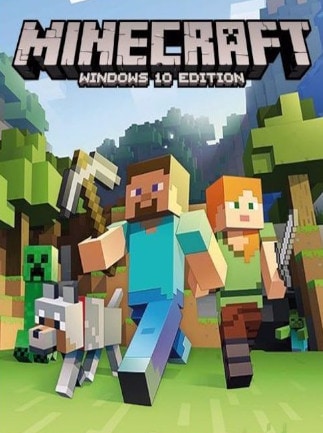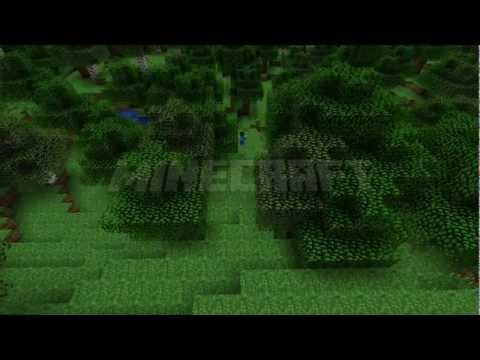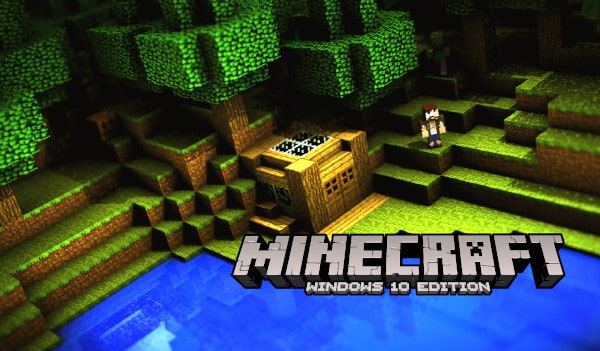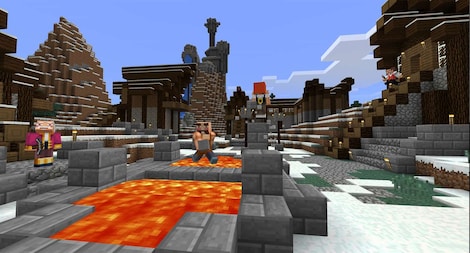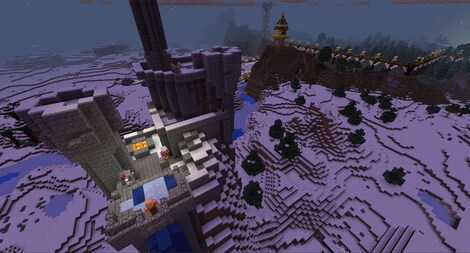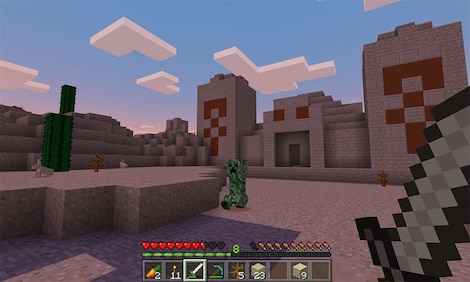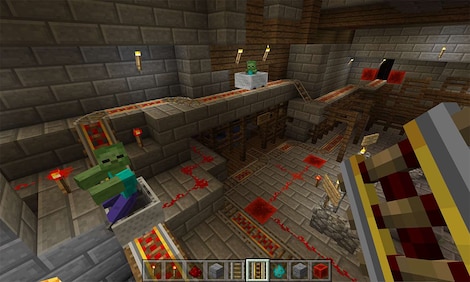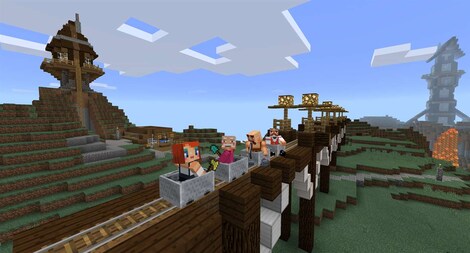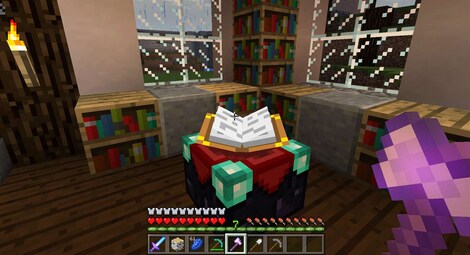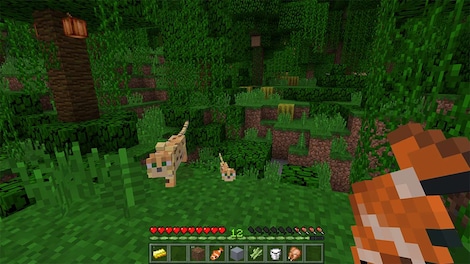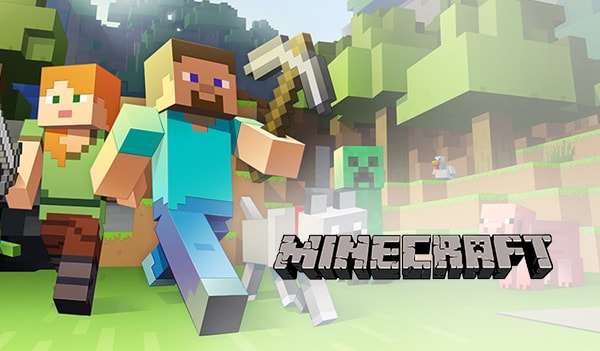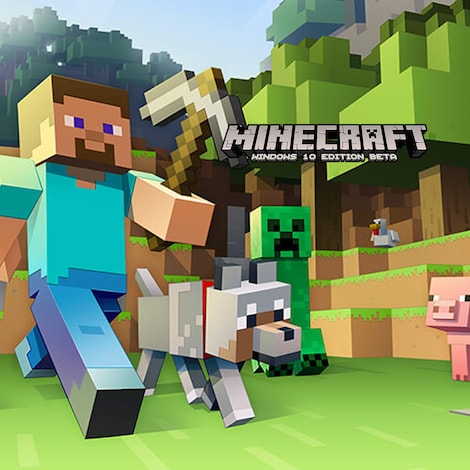 1/13
GLOBAL version
Minecraft: Windows 10 Edition Microsoft Key GLOBAL
Construye lo que quieras con una variedad de bloques diferentes. Crea casas y objetos avanzados, desarrolla ciudades complejas, pueblos, minas e incluso entornos completos. Corta árboles, mina de piedras, recoge hierba y ...
Selected offer from:
Price
What is a Hot Deal?
A great offer when compared to other sites. Get it fast!
Money Back Guarantee
You must be logged in to add products to your wishlist.
Descripción del producto
Construye lo que quieras con una variedad de bloques diferentes. Crea casas y objetos avanzados, desarrolla ciudades complejas, pueblos, minas e incluso entornos completos. Corta árboles, mina de piedras, recoge hierba y lucha con monstruos peligrosos. Un mecanismo de elaboración avanzado y recursos infinitos te permiten crear casi todo lo que puedas imaginar.
¡Siente la satisfacción de construir tu propia ciudad, corrales de animales, tierras de cultivo e incluso una granja de hongos automatizada!
Paisajes impresionantes
Imagina un mundo sin fin lleno de montañas cúbicas, valles y cañones. Todas las imágenes se ven bonitas y naturales y las texturas de píxeles proporcionan un encanto único. Explora desiertos interminables, selvas tropicales, túneles subterráneos y minas, templos ocultos e incluso otra dimensión. Sorpréndete con la abundancia de animales, plantas y materiales de construcción. Sumérgete en el impredecible, salvaje y hermoso mundo de Minecraft.
Infinito y aleatoriedad
Cada vez que comienza un nuevo juego, se genera un mundo completamente nuevo. Surgen todas las nuevas regiones geográficas. Verdes valles, pantanos, montañas y desiertos. ¡Todo en Minecraft es infinito, por lo que puedes disfrutar de toneladas de visitas turísticas!
Sobrevive a la oscuridad
Comienza una nueva partida y aparecerás en un lugar cualquiera de un mundo generado aleatoriamente. Como jugador solitario sin ningún equipo, estás completamente solo, condenado a sobrevivir. Date prisa porque sólo tienes un día para construir un refugio, encontrar comida y evitar encontrarte con monstruos por la noche. Si no puede construir una cama antes de la noche, te verás obligado a esperar y escuchar los sonidos de los monstruos. Cuidado con las enredaderas, son muy furtivas y pueden destruir todo lo que construyes. ¡La primera noche siempre es una experiencia extremadamente emocionante! Construye un refugio seguro y trata de sobrevivir el mayor tiempo posible. Recoge frutas, planta vegetales y hornea carne. Mantente alejado de la oscuridad porque cuando llega la noche, los monstruos se despiertan.
Coloca una trampa, hazte con armaduras y espadas y defiéndete de enemigos peligrosos.
Mina de materias primas
Crea minas bien desarrolladas para extraer carbón, hierro, oro, plata y otras materias primas importantes. Visita cuevas generadas al azar en busca de diamantes raros, destruye los hábitats del monstruo en mazmorras abandonadas y ten cuidado de no caer en la lava.
Paquetes de texturas, mapas y skins
Minecraft es un juego muy popular del que disfrutan millones de jugadores de todo el mundo. Disfruta del Minecraft en sus diversas facetas. Prueba diferentes máscaras, paquetes de texturas y descarga mapas del mundo personalizados creados por otros jugadores extremadamente talentosos. Descubre una cantidad infinita de varias modificaciones que pueden cambiar por completo tu juego.
Modo multijugador para disfrutar
¡Elaborar con tus amigos puede traer horas de entretenimiento! Levanta de la nada, majestuosas construcciones y construye infinitas ciudades y pueblos con jugadores de todo el mundo. Muéstrate en público y muestra tus excelentes habilidades de construcción en línea.
¡Descubre un Minecraft pulido!
Minecraft: Windows 10 Edition es mucho más optimizado, más suave y de aspecto positivo.
Disfruta de un menú de opciones completamente diferente, 56 logros totales más que PC Minecraft.
Compra skins personalizadas y paquetes de texturas en Minecraft Store, conéctate con tus amigos a través de Xbox Live. Puedes cambiar fácilmente tu modo de juego en cualquier momento. Descarga y exporta archivos mundiales con ".mcworld" al final para compartir con otras personas. Invita a tus amigos a jugar en tu propio mundo personal o crea un servidor para jugar online con ellos. Minecraft: Windows 10 Edition es compatible con varios auriculares de realidad virtual y no sólo eso, el equipo de Microsoft trabaja continuamente para que el juego sea más fluido y optimizado, dónde gracias a ello ¡puedes disfrutar de toneladas de nuevas implementaciones!
Key features
Opciones ilimitadas de creación: ¡construye enormes castillos, pueblos, ciudades, minas y muchos más!
Minecraft: Windows 10 Edition presenta soluciones nuevas y mejoradas: disfruta de un Minecraft más pulido, optimizado y más suave con toneladas de nuevos diseños y paquetes de texturas
Juega con tus amigos: crea tu propio servidor y construye construcciones épicas con otros jugadores
Conéctate con otros jugadores a través de Xbox Live
Exportar y descargar archivos mundiales
Mundos infinitos bellamente diseñados y generados aleatoriamente
1 - Click
here
2 - Enter your code and click 'Next'
3 - Confirm your activation by clicking 'Continue'
4 - Proceed with the instruction on screen (you can find and install your game from Microsoft Store)
Warning!
This product is not cross platform compatible with regular PC version of Minecraft. If you want to play the regular version, please check the following link:
https://www.g2a.com/minecraft-cd-key-global.html
Requerimientos del sistema
Requerimientos del sistema
Below are the minimum and recommended system specifications for Minecraft: Windows 10 Edition Microsoft Key GLOBAL. Due to potential programming changes, the minimum system requirements for Minecraft: Windows 10 Edition Microsoft Key GLOBAL may change over time.
Requisitos mínimos
Processor

Intel Core i3-3210 3.2 GHz / AMD A8-7600 APU 3.1 GHz or equivalent

Graphics

Intel HD Graphics 4000 (Ivy Bridge) or AMD Radeon R5 series (Kaveri line) with OpenGL 4.4 / Nvidia GeForce 400 Series or AMD Radeon HD 7000 series with OpenGL 4.4.

Memory

4 GB

Disk space

226 MB

System

Windows 10
Idiomas
Idiomas
BR, CN, DE, ES, FR, IT, JP, KR, PT, RU, UK
Ganar 0.13 EUR cada vez que alguien compra este producto usando su reflink.