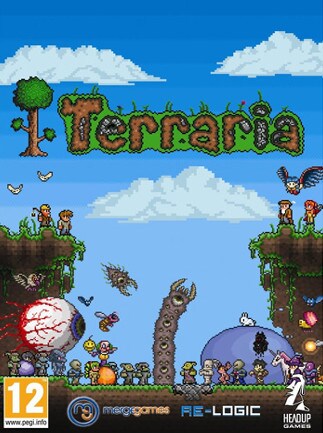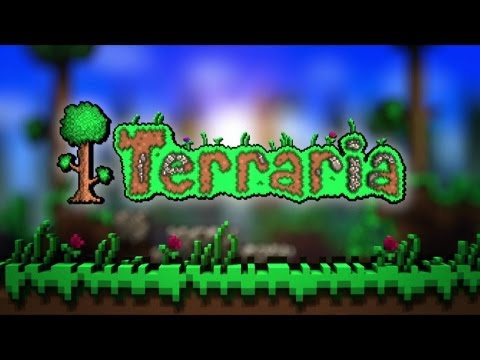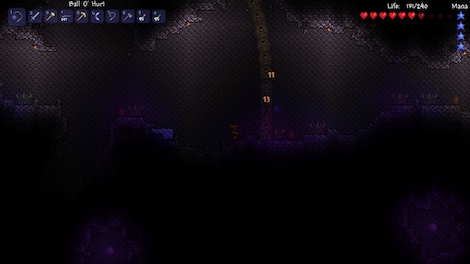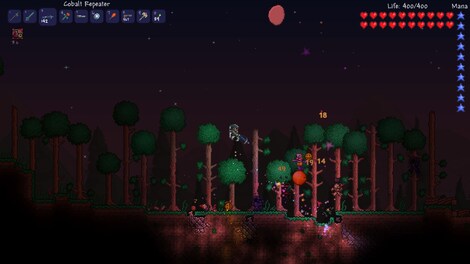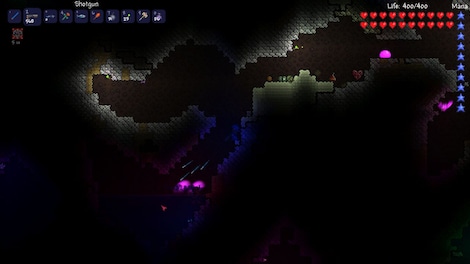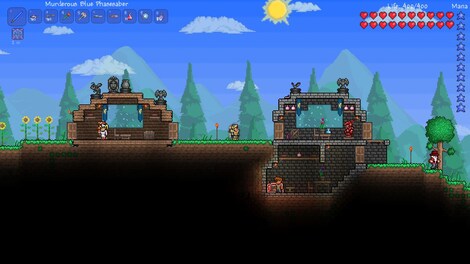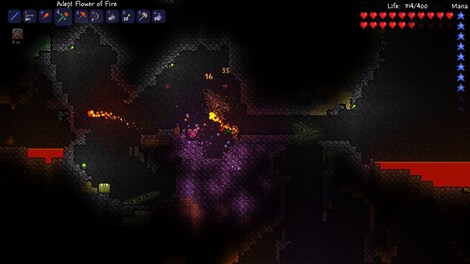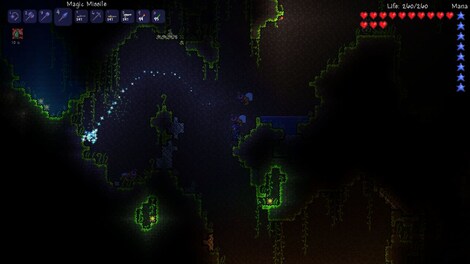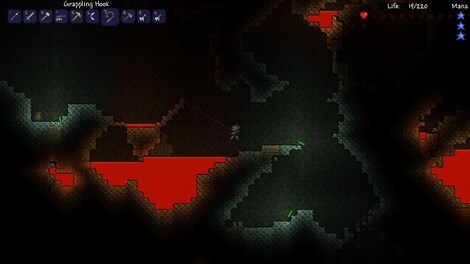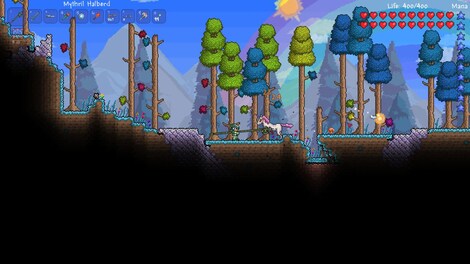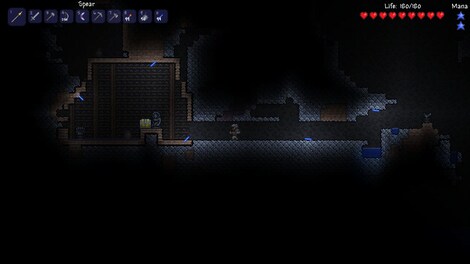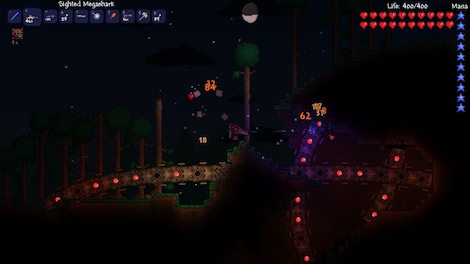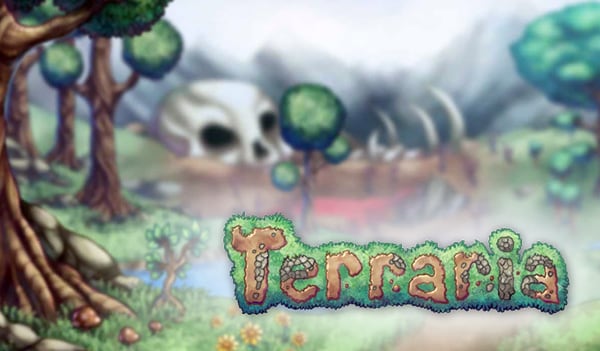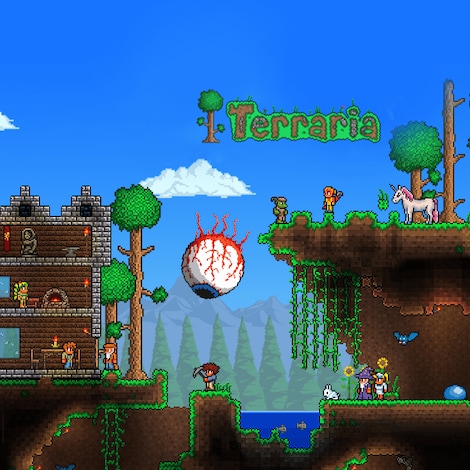 1/14
GLOBAL version
Terraria Steam Key GLOBAL
¿Qué obtienes cuando mezclas un juego de plataformas, un sandbox que te permite moverte libremente por el entorno, un simulador de supervivencia y un rastreador de mazmorra? Obtienes Terraria de Re-Logic. Revienta tu ent ...
Buy it in a bundle, pay less: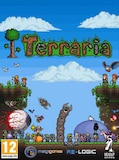 Terraria Steam Key GLOBAL
GLOBAL
Offer from: World_of_games
Free G2A PLUS 1 Month
2.49 EUR
Descripción del producto
¿Qué obtienes cuando mezclas un juego de plataformas, un sandbox que te permite moverte libremente por el entorno, un simulador de supervivencia y un rastreador de mazmorra? Obtienes Terraria de Re-Logic. Revienta tu entorno, construye tu fortaleza, explora unos grandes espacios subterráneos y unas misteriosas islas flotantes en busca de un botín épico y recursos raros. El mundo espera que lo explores.
Mundo inmenso
¡Cada mundo es generado procesalmente solo para ti! y, ¡qué mundos son! Vienen en tres tamaños, el pequeño, el mediano y el grande, pero puedes llamarlos Grande, Inmenso y Enorme, ¡porque esto es lo que recibes! Cada mundo que Terraria genera para ti es diferente a otros con localización de recursos únicos, posiciones de enemigos distintas y condiciones de mazmorras únicas, por lo que tu hambre de exploración puede quedar saciada durante mucho tiempo.
Impresionante elaboración
Reúne recursos en un entorno seguro de tu jornada diaria y trabaja en mejorar tu base de operaciones y en ti mismo de diferentes e innumerables maneras. Elabora una cabaña y trabaja en mejorarla hasta que se convierta en una fortaleza de varios niveles que aloje a todos tus súbditos y mercenarios leales. Forja armas y armaduras para ti, para que mejores tus posibilidades de supervivencia durante la noche y tus expediciones a tierras desconocidas. ¡Y todo esto con una interfaz accesible!¿Cómo moldearás el mundo a tu favor?
Exploración de mazmorras
El mundo de la superficie es precioso y amigable, pero será en el subterráneo donde encontrarás el mejor botín y los mejores recursos. Las grandes mazmorras del subsuelo están llenas de dispositivos mortales, monstruos agresivos y estanques de lava. En el submundo encontrarás cosas que nunca verás bajo el cielo despejado, siempre y cuando sobrevivas el viaje. Y a veces la exploración es una recompensa en sí misma.
Islas en el cielo
Si las mazmorras no te gustan, entonces despega y explora lo que existe muy por encima de la superficie. Los cielos de Terraria (PC) son explorables como todo lo demás. Las islas flotantes requieren que pongas a prueba tus habilidades de ingeniería, pero el botín merece la pena y la experiencia es gratificante.
¡Por lo tanto ve y explora los cielos!
Monstruos y lucha
La lucha en Terraria es rápida, dinámica y recuerda mucho a los juegos clásicos de plataformas. Tu espada puede golpear a muchos enemigos, pero no va a ganar por sí misma. Destroza esqueletos, guarécete de criaturas voladoras, saquea cuerpos y prepárate para enfrentarte al desafío final: los jefes todopoderosos.¿Te atreves a adentrarte en las profundidades del subsuelo para enfrentarte a los habitantes del submundo?
Crea tu propio pueblo
Construye tu hogar y recluta a PNJs para que te apoyen en tus esfuerzos. Construye sus aposentos, protégelos contra los peligros que se ciernen en la oscuridad y benefíciate de artículos y de la ayuda que te proporcionan. Comerciantes, enfermeras, estilistas personales y demás te esperan para que construyas una ciudad y les des trabajo.¿Lo harás?
Key features
Entra en el extenso mundo de Terraria, sus gráficos de arte pixelado, su sistema de elaboración rico y monstruos malvados. ¡Construye tu propia fortaleza, recluta a los NPC, sé el herrero, constructor y explorador de mazmorras más impresionante del mundo!
Características de Terraria
Mundo extenso – incluso en su dimensión más pequeña, el mundo de Terraria es enorme y se expande en las cuatro direcciones, todas ellas para ser exploradas.
Imágenes icónicas – revive tus recuerdos de SNES con gráficos amigables de 16 bits y un mundo en 2D.
Elaboración sólida – ¡elabóralo todo! ¡Terraria tiene cientos de fórmulas de diferentes utensilios de artesanía! ¡Ve y pruébalos!
Mazmorras e islas flotantes –"izquierda" y "derecha" no constituyen las únicas direcciones para seguir. Un submundo grande e islas en el cielo te están esperando para que las explores.
Jefes poderosos – cuando te sientas preparado, puedes desafiar a uno de los tres jefes. Simplemente no esperes que te sea fácil.
Terraria (PC) for Steam platform is a digital product – no box included. The price applies to a digital version of the product.


Release date: 2011-05-16
Requerimientos del sistema
Requerimientos del sistema
Below are the minimum and recommended system specifications for Terraria Steam Key GLOBAL. Due to potential programming changes, the minimum system requirements for Terraria Steam Key GLOBAL may change over time.
Requisitos mínimos
Processor

1.6 GHZ Intel Pentium / AMD

Graphics

128 MB VRAM

Memory

512 MB RAM

Disk space

200 MB HD

System

Windows Xp / Vista / 7
Ganar 0.14 EUR cada vez que alguien compra este producto usando su reflink.