Fallout 4 Steam Key GLOBAL
العرض متوفر لدى بائعين
هناك %d زائر يقوم بمشاهدة هذا المنتج حالياً.
Fallout 4 (PC) for Steam platform is a digital product – no box included. The price applies to a digital version of the product.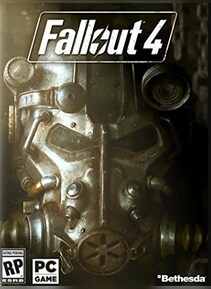 اللغات:

المنطقة:

GLOBAL

المنصة:
اكسب 8٫77 US$ إذا قام شخص بشراء هذا المنتج باستخدام reflink الرابط الخاص بك. إعرف المزيد
قم بالشراء من هذا البائع:
السعر
التصميم الخارجي
المستخدم
كيف يعمل G2A Goldmine؟
أخبر أصدقاءك عن منجم ذهب G2A - كون فريق وضاعف أرباحك!

إجلس واسترخي و شاهد ارباحك تنمو! إستخدم النصائح والأدوات التي وفرناها لك لتحقيق أرباح أكبر .

العمل الرائع يستحق المكافأة. ولكن مازلت لم تبذل الجهد الكافي في هذا العمل؟ إختر خيار الدفع المفضل لديك وأحصل على راتب!
وصف المنتج

Don your vault jumpsuit and come back to the wasteland in Fallout 4, the latest entry in the legendary postapocalyptic role playing games. As a survivor of Vault 111 who remembers the world as it was before the bombs fell, enter the Commonwealth established where Boston used to be.Fallout 4 greatly improves on the tried and tested Bethesda formula, with better crafting, combat, story, and more. It is the essential post-apocalyptic open-world role-playing game, now giving you more power over the world than ever.

Establish settlements

One of the core features of Fallout 4 gameplay is the ability to found new villages from the ground up. Gather resources during your travels and use them to build houses, defenses, and gadgets to equip the settlers with. Create farms, supply routes and elaborate electric systems controlling automated turrets against bandit raids and wild animals. See how the inhabitants and traders grow in numbers as you improve the settlement.

Meaningful progression

Fallout 4 abandons the skillpoint-based progressions of previous Fallouts and introduces a Perk-based system. As you level up, you will gain a Perk point to spend in a convenient and graphic menu on traits that will provide immediate, measurable upgrades to your abilities. Your in-game avatar becomes powerful faster than ever. Without a maximum character level, eventually you will become the master of all disciplines if you wish.

Game-changing crafting system

Use scavenged materials to create modifications to your weapons and armor. Mods not only change, often drastically, how your equipment works, but also provide a significant change to how it looks. So change your laser rifle into a scattergun, add sawblades to your baseball bat, or line your armor with asbestos and see how it changes your experience. The number of possible upgrades and sidegrades is sufficient to keep everyone invested in tinkering.

Diverse, colorful game world

The Boston area is ripe with interesting locations to visit. From developed settlements and urban areas to dying forests, and the famous Glowing Sea, the locales of Fallout 4 are a fascinating reward for daring explorers. The Commonwealth area has also the most color of all Fallout games so far. From rich interiors of wealthy wastelanders to casual outfits and evening gowns, Boston area is closer to civilization than any Fallout area before.

13 unique companions

The companions joining you on your journey through Fallout 4 are as bizarre and one-of-a-kind as the irradiated lands themselves. From a pre-war robotic butler with a buzzsaw arm, to a ghoul in a pirate's clothing, and a synthetic hardboiled detective with all the trappings of the profession. Each of 13 characters has their own likes and dislikes influencing how you gain reputation with them, which unlocks perks unique to each companion.

الميزات الأساسية

Fallout 4 PC is the latest and most diverse entry in the series. From multiple locales other than wasteland, to essential crafting system, and settlement creation, to over a dozen unique companions, there is enough content to keep everyone satisfied.

Fallout 4 features

Perk-based character progression - each level up allows you to select a new ability or significantly upgrade an old one. The development of your character is more visible than ever
Robust crafting system - create mods for your weapons and armor from scraps and see how their functions and appearance change
Bizarre enemies - zombie-like feral ghouls, deadly Deathclaws, massive mirelurks and more wait for you to test your weapons on them
13 companions - your crew is bizarre and diverse enough to fit right in with the Fallout 4 world: robots, mutants and a dog await your orders
Settlement founding - use a solid system provided by Bethesda and create a flourishing settlement in the wasteland, complete with traders, farms and automated laser turrets

الحد الأدنى من المتطلبات

المتطلبات المقترحة

متطلبات النظام:

Windows 7/8/10 (64-bit OS required)

المعالج:

Intel Core i5-2300 2.8 GHz/AMD Phenom II X4 945 3.0 GHz or equivalent

الذاكرة:

8 GB RAM

الجرافيك :

NVIDIA GTX 550 Ti 2GB/AMD Radeon HD 7870 2GB or equivalent

HDD:

30 GB available space

متطلبات النظام:

Windows 7/8/10 (64-bit OS required)

المعالج:

Intel Core i7 4790 3.6 GHz/AMD FX-9590 4.7 GHz or equivalent

الذاكرة:

8 GB RAM

الجرافيك :

NVIDIA GTX 780 3GB/AMD Radeon R9 290X 4GB or equivalent

HDD:

30 GB available space

العمر وتصنيف المحتوى
Frequently bought with this item