For Honor Uplay Key GLOBAL
Available from marketplace sellers
There are %d people looking at this product.
Warning! For Honor is region locked and CAN'T be activated and played in the following countries: United States, Canada, Argentina, Colombia, Japan, Armenia, Azerbaijan, El Salvador, Belarus, Ukraine, Georgia, Kazakhstan, Kyrgyzstan, Republic of Moldova, Tajikistan, Turkmenistan, Uzbekistan, Russian Federation, China, Bangladesh, Bhutan, Brunei Darussalam, Cambodia, Hong Kong, Indonesia, Lao People's Democratic Republic, Macau, Malaysia, Mongolia, Myanmar, Nepal, Philippines, Singapore, Taiwan, Thailand, Vietnam and India, Brazil, Uruguay, Costa Rica, Chile, Mexico, Panama.
For Honor (PC) for UPlay platform is a digital product – no box included. The price applies to a digital version of the product.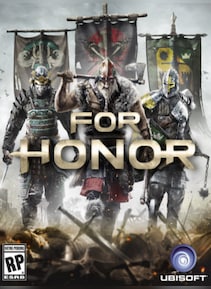 Language available:

Region:

GLOBAL

Platform:
Buy product from these sellers:
How does G2A Goldmine work?
Tell your friends about G2A's Goldmine – build a team and boost your earnings!

2

Watch your profit grow!

Just sit back and relax as your work brings profit now! Use the tips and tools we made for you to maximize the earning potential.

A job well done deserves a proper credit. And still, you have not been working hard to achieve it right? Choose your preferred payment option and receive the paycheck!
Product Description

For Honor (Video Game) answers the classic question. Who would win in a fight- a Viking, a samurai, or a knight? Take part in a millennium-long war as one of the Warborn, the Chosen, or the Legion. For Honor is a third-person action game focused on melee combat in a fantastical land where the three types of warrior can actually interact.

Dynamic gameplay

The combat system in For Honor (PC) is built around simple controls to let you fight your enemies, not the controls. Pick one of three guard forms, which decide on both the direction of your attacks, fast and strong, and which enemy attacks you will be able to block. Add special maneuvers like tackles and throws into the mix to spice things up and diversify your approach.For Honor has an easy to learn-hard to master control scheme, perfect for thrilling duels and unexpected reversals of fortune.

Full singleplayer campaign

For Honor features a gripping singleplayer campaign set in a fantastical world ravaged long ago by a mysterious cataclysm which spurred the three factions into warfare. Learn about the Blackstone Legion led by mysterious Apollyon, who aims to reignite the war for her own reasons.The singleplayer campaign of For Honor is as vital as the multiplayer mode, and adds context to the For Honor game experience.

For Honor multiplayer

Enter the multiplayer and become one of the powerful warriors spearheading the assaults so the grunts can come in their wake. In Dominion you will team up with three more players against the enemy team in an attempt to capture and control important points on the map. Elimination is a hunt for other players with no free respawn. You are either revived by a teammate or not at all. Which team will be the last one standing? The Duel is the essential "versus" mode of For Honor, fully embracing the game systems for a thrilling and deadly one on one combat, the way it's intended to be. Discover other modes on your own as they are released!

Extensive customization

There is no fun in being a carbon copy of other warriors of your class. For Honor knows it as well, which is why it has a solid customization system, letting you create exactly the kind of warrior you want to play. Already impressive from the very beginning and further improved with loot and rewards the more you play, it allows you to change and tweak every part of you warrior's attire. Even the weapons can be customized with new parts and even new materials. Create a warrior perfect for you in every way!

Key features

Ubisoft's For Honor is a third-person melee-focused game, set in a fantasy land allowing three types of warrior to collide. Will you fight for the Chosen, reach Valhalla as the Warborn, or maybe defend the weak as a member of the Legions? The choice is yours.

For Honor features

Focused gameplay - the game's combat system is perfect for intense and tactical duels, where you need to anticipate your foe's moves
Singleplayer campaign - learn about the treachery of Apollyon's army and the story behind all the fighting
Broad and deep customization - unlock new cosmetic elements for your warrior and create the fighter you want
The ultimate match-up - Viking-Samurai-Knight war is brought into a video game form to let you find the deadliest warrior
A game of skill - your gear will not win your fights for you. Be skilled or be dead
Ongoing metagame - when you play, you fight for the glory of your chosen faction in an online fight for supremacy. To the winner go the spoils, so choose a side and fight!
Excellent graphics - For Honor is an impressive visual feast, especially For Honor for PC, enjoying all the benefits of this platform

Minimal requirements

Recommended requirements

System Requirements:

Windows 7, Windows 8.1, Windows 10 (64-bit versions only)

Processor:

Intel Core i3-550 | AMD Phenom II X4 955 or equivalent

Memory:

4 GB RAM

Graphics:

NVIDIA GeForce GTX660/GTX750ti/GTX950/GTX1050 with 2 GB VRAM or more | AMD Radeon HD6970/HD7870/R9 270/R9 370/RX460 with 2 GB VRAM or more

HDD:

40 GB

Other:

Broadband Internet connection

System Requirements:

Windows 7, Windows 8.1, Windows 10 (64-bit versions only)

Processor:

Intel Core i5-2500K | AMD FX-6350 or equivalent

Memory:

8 GB RAM

Graphics:

NVIDIA GeForce GTX680/GTX760/GTX970/GTX1060 with 2 GB VRAM or more | AMD Radeon R9 280X/R9 380/RX470 with 2 GB VRAM or more

HDD:

40 GB

Other:

Broadband Internet connection

Age and content rating