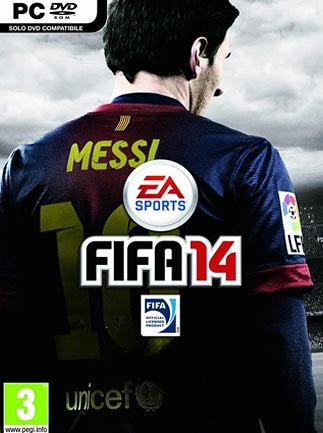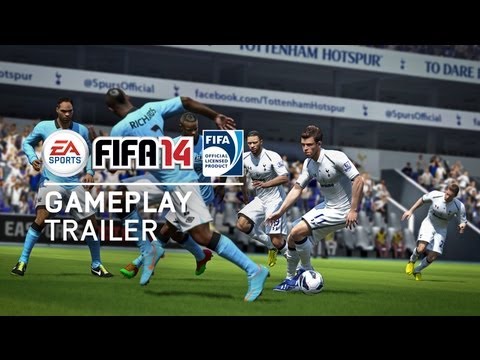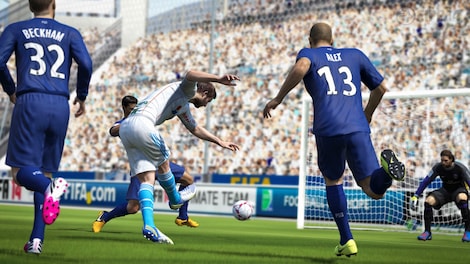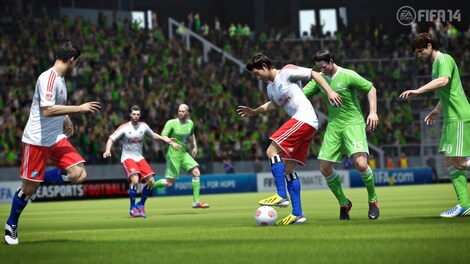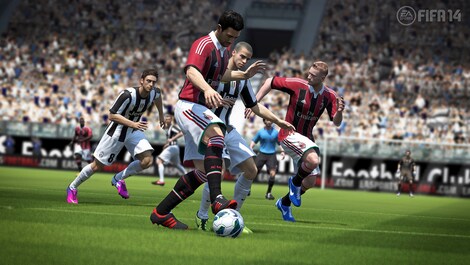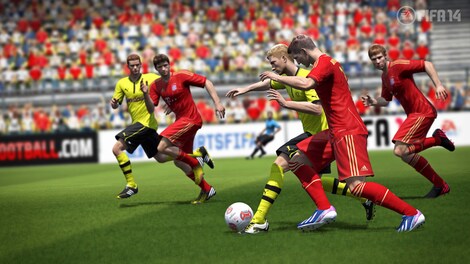 1/6
GLOBAL version
FIFA 14 Origin Key GLOBAL
Vibrez avec FIFA 14 en marquant des buts extraordinaires. Retrouvez toute l'intensité des grands matchs de football et découvrez des innovations apportées à une jouabilité maintes fois saluée par la critique. La construc ...
Description du produit
Description du produit
Vibrez avec FIFA 14 en marquant des buts extraordinaires. Retrouvez toute l'intensité des grands matchs de football et découvrez des innovations apportées à une jouabilité maintes fois saluée par la critique.

La construction du jeu au milieu de terrain, là où tout se joue véritablement, retrouve ses lettres de noblesse. Écoutez votre cœur s'accélérer quand vous vous créez des occasions et vivez toute l'émotion engendrée par vos buts. Avec la nouvelle fonctionnalité Frappes pures et une toute nouvelle physique du ballon, chaque tir et chaque occasion de but deviennent criants de vérité. Ainsi, vous ressentirez la même satisfaction qu'un footballeur professionnel quand il déclenche une frappe imparable.

FIFA 14 vous propose également tout un arsenal de fonctionnalités en ligne et de services en direct passionnants afin de coller en permanence à l'actualité du ballon rond et de rester connecté avec vos amis grâce à la fonctionnalité EA SPORTS Football Club. FIFA 14 est le réseau social du football où les fans peuvent se connecter, s'affronter et partager avec des millions d'utilisateurs à travers le monde.
Key features
• Frappe pure— La frappe de balle a été revue. Les joueurs ajustent leur foulée et leur angle d'approche pour trouver la meilleure position pour marquer. Avec les frappes pures, les buts deviennent gratifiants. Les joueurs peuvent s'illustrer même lorsqu'ils sont en déséquilibre ou pressés.

• Physiques du ballon réaliste— Frappez avec plus de force et de finesse. De vraies physiques de balle déterminent désormais la trajectoire du ballon, permettant aux joueurs de frapper fort de loin, à ras de terre avec précision ou de tenter des tirs plongeants, brossés ou flottants, comme les vrais footballeurs..

• Protection du ballon— Tenez le milieu, dictez le rythme. Prenez le dessus sur les défenseurs en dribblant à n'importe quelle vitesse. Protégez le ballon pour construire au milieu de terrain et dicter le rythme du match. Luttez pour la position préférentielle avant la réception du ballon et éliminez les défenseurs pour des attaques rapides.

• Intelligence des coéquipiers— Les joueurs prennent de meilleures décisions pour un meilleur marquage, plus strict et intelligent. Les défenseurs sentent les occasions pour venir à la récupération du ballon. Les attaquants se démarquent différemment pour percer les défenses plus serrées et intelligentes : appui sur le défenseur, course en suivant la défense et appels.

• Des dribbles explosifs— Jaillissez et slalomez balle au pied pour mystifier les défenseurs lors des un-contre-un. Les joueurs peuvent se déplacer dans n'importe quelle direction pour rester dans le bon tempo et conserver la maîtrise du ballon.

• Des dribbles tout en toucher— La conduite de balle d'un joueur lors des dribbles varie en fonction de sa vitesse. Les joueurs les plus talentueux s'illustreront dans ce domaine alors que ceux dont ce n'est pas le point fort éprouveront plus de difficulté à maîtriser la balle et resteront à la merci des interceptions adverses. La construction du jeu au milieu de terrain sera donc capitale.

• Tacles de la 2e chance— La zone de tacle est plus grande afin de permettre aux défenseurs de combiner différents types d'interventions et de se relancer plus rapidement après un tacle raté. Ils disposeront ainsi d'une seconde chance pour récupérer le ballon.

• Ballons en profondeur lobés avec effet— Les joueurs peuvent enrouler le ballon autour de leurs adversaires pour adresser des caviars à leurs coéquipiers ou les lancer idéalement dans la profondeur.

• Jeux techniques– Un mode d'entraînement, pensé comme une compétition, est mis en place pour permettre aux joueurs d'apprendre ou de maîtriser les gestes fondamentaux pour devenir un redoutable joueur de FIFA 14. Devenez meilleur et plus rapide, quel que soit votre niveau, et affrontez vos amis ou vous-même dans une nouvelle série de mini-jeux.

• Mode Carrière— Partez à la recherche du talent de demain avec le tout nouveau système de recrutement à l'échelle mondiale, comme dans la réalité. Développez et affinez votre propre réseau de recrutement. Évaluez les footballeurs pour découvrir les talents des joueurs pour trouver, lors de la période des transferts, la perle rare qui pourra dynamiser votre effectif. Découvrez une nouvelle interface qui facilite la navigation, engendre moins d'interruptions et vous livre les rapports des recruteurs en direct.

• Une authenticité totale— Retrouvez toute l'authenticité qui a fait le succès d'EA SPORTS avec les clubs et les championnats sous licence officielle ainsi que plus de 15 000 joueurs.
Since  18 October 2017 Online mode is no longer avaliable.

Release date: 2013-09-27
Configuration requise
Configuration requise
Below are the minimum and recommended system specifications for FIFA 14 Origin Key GLOBAL. Due to potential programming changes, the minimum system requirements for FIFA 14 Origin Key GLOBAL may change over time.
Configuration minimale
Processor

1.8 GHz Core 2 Duo

Graphics

ATI Radeon HD 3600 / NVIDIA GeForce 6800GT

Memory

2 GB RAM

Disk space

8.0 GB HD

System

Windows Vista SP1 / Windows 7
Langues
Langues
CZ, DE, ES, FR, IT, PL, RU, UK
Gagnez 1.09 EUR à chaque fois que quelqu'un achète ce produit en utilisant votre reflink.