1/6
Logitech G502 HERO High Performance Gaming Mouse
Selected offer from:
Get ahead of the competition with a professional gaming mouse from Logitech. Adjust its weight to fit your style and use the fully programmable buttons to perform complex actions with a single button press.Logitech G502 ...
Description du produit
Get ahead of the competition with a professional gaming mouse from Logitech. Adjust its weight to fit your style and use the fully programmable buttons to perform complex actions with a single button press.
Logitech G502 HERO HIGH PERFORMANCE GAMING MOUSE
Logitech G502 Hero is a high-performance gaming mouse that aims to significantly improve your gaming experience. It tries to achieve that with a number of useful features one would expect from a mouse in its price range. These features include but are not limited to, a number of fully programmable buttons, adjustable weights, a precise optical sensor, and even RGB lighting you can synchronize with other compatible Logitech products.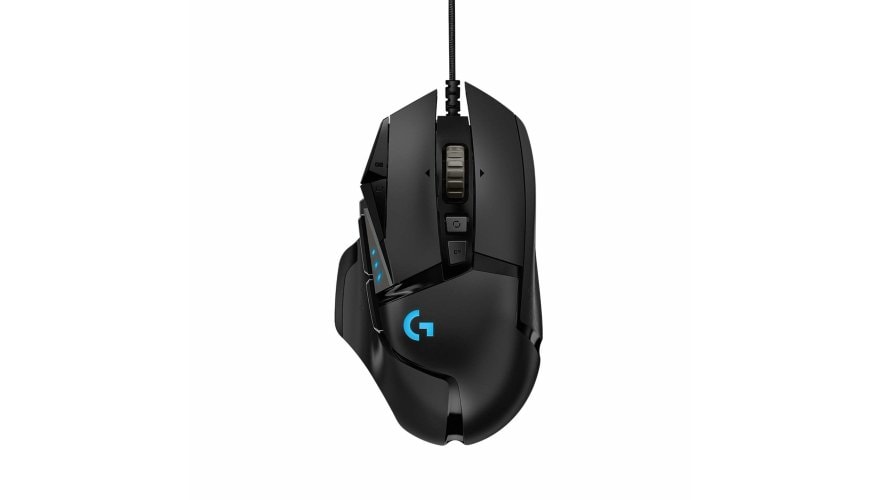 Hero 16K Sensor
Enjoy incomparable precision with the advanced 16K optical sensor and shoot down your enemies whenever they are. The next-gen sensor provides you with deadly accuracy, making you a much more valuable ally on the battlefield, but also a more effective strategist if real-time strategies are your thing. Adjust the mouse's DPI by picking any value from between 100 and 16,000 and take advantage of the ultra-fast responsive level. Wreck havoc upon the battlefield in first-person shooters – become a deadly marksman or engage in close-quarter combat. No matter what you choose, Hero's optical sensor has got you covered.
Programmable Buttons and DPI Switch
The mouse comes with 11 fully programmable buttons you can use to fire your own custom macros – perform complex actions, from sending custom messages to the chat, to automating certain tedious tasks, all with a single button press. Use the buttons to your advantage and map your favorite actions to be able to seamlessly perform them effortlessly anytime you want.
It's also worth noting the presence of a DPI switch that allows you to adjust the mouse's sensitivity on-the-fly during play. It will be especially useful for first-person shooter players, where it may be desirable to use different pointer precision depending on the distance to your target, which can be either far away or may be hiding just around the corner.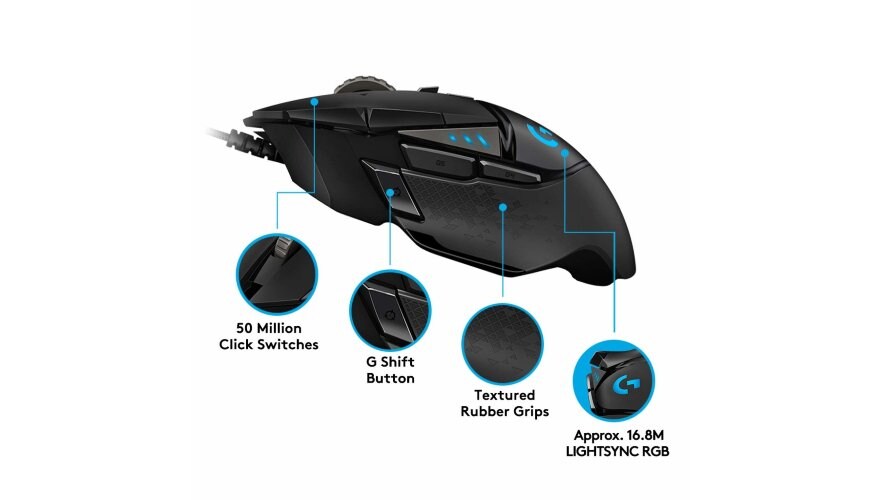 Adjustable Weights
Logitech G502 Hero comes with five adjustable weights, 3.5 g each, you can take out to make the mouse lighter, or put them back inside to do the opposite. Depending on your needs, your own style, and your personal preferences, you may want to adjust the weight to make the mouse fit your current task best. A lighter mouse can be moved around more freely as it requires less force to move, while the heavier one allows to make slower, more precise swipes – with adjustable weights you are given the best of two worlds and you are free to make your own changes whenever you need to.
LIGHTSYNC RGB Technology
Hero's features are not only limited to the functional ones – it also allows you to play with style. Utilize mouse's LIGHTSYNC RGB technology and dedicated Logitech G HUB software to change its colors in any way you like with just a few simple clicks. Additionally, if you own other LIGHTSYNC-enabled gear from Logitech you can synchronize the lighting across all of these devices to create your own unique gaming setup, glowing together and providing an experience that's probably hardly comparable to anything you've seen before.
Key features
Become deadly no matter the distance, thanks to the precise sensor that almost immediately reacts to any move you make
Utilize programmable buttons to make your own macros and get the edge in games
Adjust the weigh to your own preferences – make the mouse heavier for a more steady and accurate movement, or lighter, for faster swipes that require less force
Use onboard memory to store your favorite configuration settings directly on the mouse, so you can use it seamlessly on any other computer
Control the impressive RGB lighting and synchronize it across all of your compatible Logitech G devices
Logitech G502 HERO specification
| | |
| --- | --- |
| Type | Gaming Mouse |
| Model | G502 HERO |
| DPI | 100 – 16,000 |
| Max Acceleration | > 40G |
| Max Speed | > 400ips |
| USB Data | 16bit |
| Polling Rate | 1,000Hz(1ms) |
| Number of Buttons | 11 |
| Main buttons | 50 million clicks |
| PTFE Feet | > 250 kilometers |
| Mouse Size | 132x75x40mm or 5.2x2.95x1.57 inch |
| Mouse Weight | 121g (without tuning weights) |
More information
More information
Invoices
This seller provides invoices. To receive one, you can contact them once you place an order.
Warranty
We accept returns, buyer should contact us within 14 days after receiving the item. Return shipping will be paid by buyer. 2 Years Warranty,please note shipping will be paid by buyer.