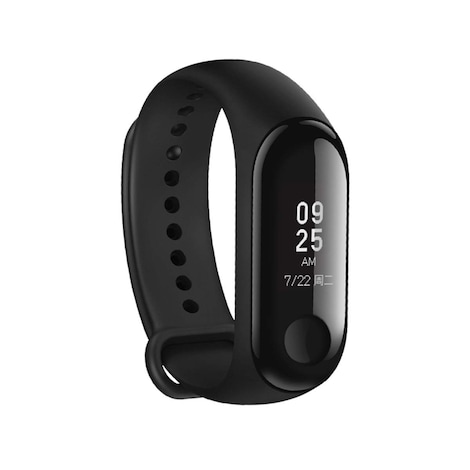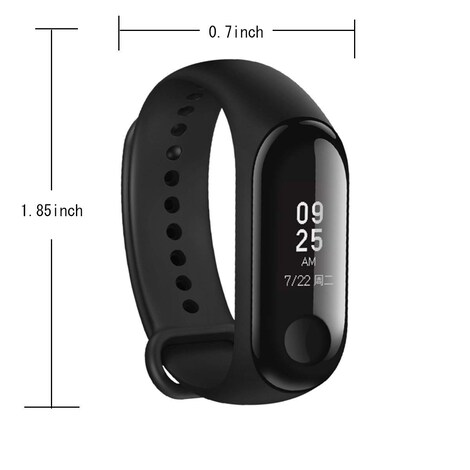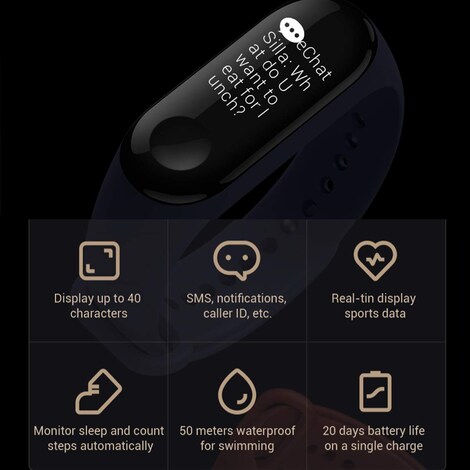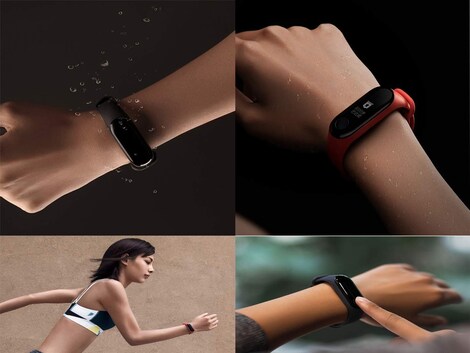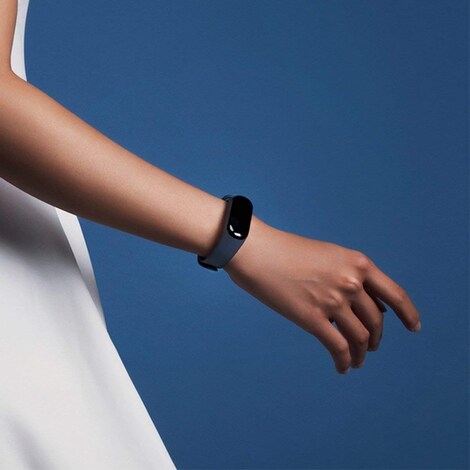 1/5
Xiaomi Mi Band 3 Smart Bracelet
Offer from:
Xiaomi Mi Band 3 Smart Bracelet is one of the best budget fitness trackers – it helps you track your training-related progress and it does it for a relatively low price. Whether you are a runner, a martial artist, a cycl ...
Price
20.33 EUR
46.00 EUR
56%

OFF
14-Day return policy
You must be logged in to add products to your wishlist.
Specifications
Specifications
Material:

Plastic, Thermoplastic Elastomer, Aluminium Alloy

Weight(g):

20 g

All Brands:

Xiaomi

Battery Type:

Li-ion Polymer

Power Capacity:

110mAh

Voltage:

5.0V

Screen Size:

0.78 inches

Resolution:

128 x 80

Sensors:

3-axis, PPG
Description du produit
Description du produit
Xiaomi Mi Band 3 Smart Bracelet is one of the best budget fitness trackers – it helps you track your training-related progress and it does it for a relatively low price. Whether you are a runner, a martial artist, a cyclist or a swimmer, this smartband will provide you with a lot of interesting data, which you can analyze to increase your efficiency.
The smartband comes with a multitude of features you would expect to find inside such device, including – but not limited to – the pulsometer, the pedometer, the sleep monitoring, the personal goals monitoring, and the weather forecast.
Tons of helpful features
Take advantage of the multitude of functions present in the Xiaomi Mi Band 3 Smart Bracelet. Monitor your heart rate in real time and measure the traveled distance. Set your own goals and get notified when you meet them. Check the number of calories burnt. Avoid the unpleasant weather surprises with the built-in weather forecast, and use the DND mode to stay away from distracting notifications and focus on your training.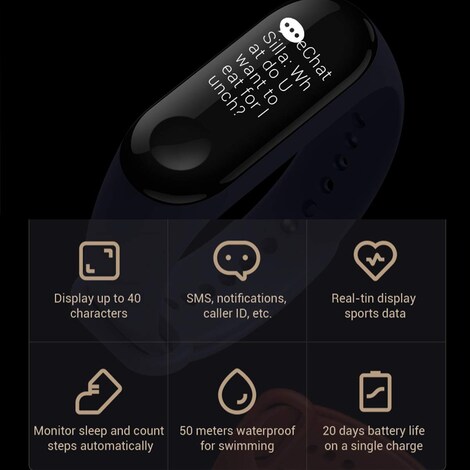 Improve the quality of your sleep
The fit lifestyle requires you not only to regularly exercise – the sleep is just as important as your activity during the day. Sleeping allows your body to regain its strength and to prepare it for the next training. It also lowers the risk of heart diseases, prevents depression, and makes the immune system stronger. With Xiaomi Bracelet sleep tracker you will always get enough sleep to keep the body in perfect shape and condition.
Ultra-low weight
The bracelet weighs just 20 grams. This means wearing it won't have any negative impact on your activity. In fact, it is so light and comfortable to use, you may even at times forget you are still wearing it. Don't get distracted by the oversized alternatives – focus purely on the effectiveness of your exercises with Mi Band 3.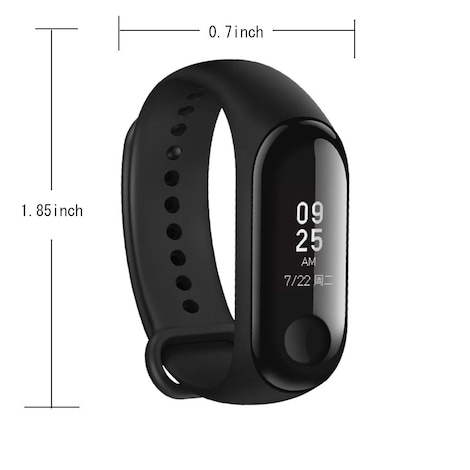 Waterproof construction
Xiaomi Mi Band 3 is waterproof. It can withstand the pressure of 5 atmospheres (50-meters submerge) for up to 10 minutes. This allows you to use the band when swimming, running or cycling during the rain, or simply taking a bath after the training. Keep tracking your activity, regardless of its type and don't mind the weather.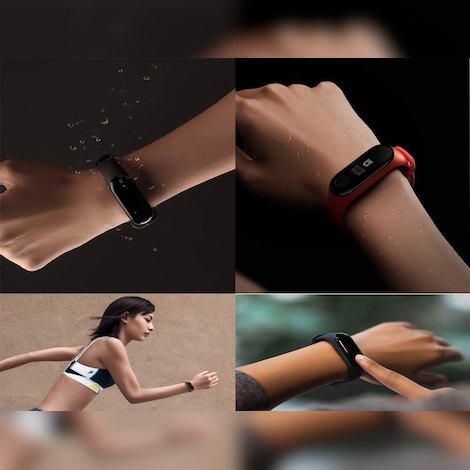 Mi Fit App
Though this fitness tracker doesn't need a smartphone to work, it can still utilize the mobile application Mi Fit. Use it to synchronize your progress with the smartphone and log all the gathered data to better understand the effectiveness of your current training program. Use the collected data to improve it – waste less time on the ineffective exercises and focus on the ones that benefit you the most.
Reception
Xiaomi Mi Band 3 received very positive reviews with reviewers mainly praising the band's value to price ratio. The simple and intuitive GUI was also appreciated. Reviewers also praised the slim design, water resistance, and the sleep tracker, which is not often seen in similar devices in this price range.
Xiaomi Mi Band 3 - Key features
Gather activity data and adjust the training pace to increase its effectiveness. Monitor your heart rate, the distance traveled and the number of steps took each day
Light and comfortable. The smartband weighs only 20 grams – it won't slow you down and it won't negatively affect your performance
Monitor not only your activity during the day, but also during the night. The sleep tracker will give you some insight into the quality of your sleep
Idle alert will notify you after being idle for too long. Take a break from the computer or from watching TV and start moving
Waterproof construction allows you to take the device to the swimming pool. No need to take it off. Keep tracking your activity even in the water
Xiaomi Mi Band 3 - Specifications
Dimensions: 17.9 x 46.9 x 12 mm, strap length: 247 mm, adjustable strap length: 155-216 mm, weight: 20 g
Battery and power: Li-Ion 110 mAh, standby time: approx. 20 days, input: 5.0V/250mA
Construction: Body material: plastic, buckle: aluminum alloy, wrist strap: thermoplastic elastomer, waterproof: 5ATM
Sensors: 3-axis accelerometer, PPG heart rate sensor
Display: 0.78", resolution: 128x80
Connectivity: Bluetooth 4.2 BLE
Compatibility: Android 4.4 or higher, iOS 9.0 or higher
Functions: Time display, lift the wrist to view, vibrating alarm, step counter, sleep monitor, weather forecast, calorie counter, dual screen theme, setting display items, swim and surf, displays/rejects calls, goal reminder, DND mode, phone unlock, phone locator, goal setting, distance, view notifications, low battery alert, smart unlock, view messages, idle alert, follow friends, event reminders, heart rate monitor, app notifications, pace, timer, OTA update
Package contents: Mi Band 3 capsule, strap, charging cable, user guide
Item type: Brand new 
Warranty: 24 months
Warehouse: EU countries + free shipping
More information
More information
Invoices
This seller provides invoices. Invoice will be displayed after purchase in section "Bought items".