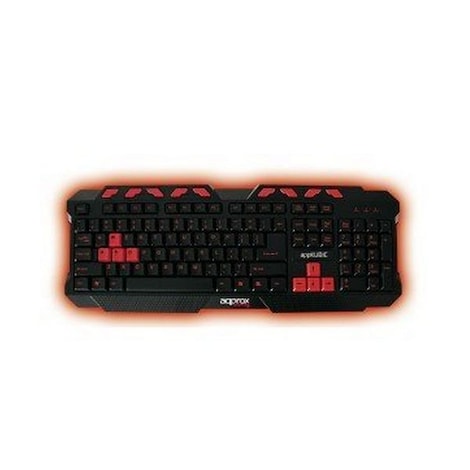 1/1
Gaming Keyboard approx! APPKUBIC
Offer from:
If you're passionate about IT and electronics. like being up to date on technology and don't miss even the slightest details. buy Gaming Keyboard approx! APPKUBIC at an unbeatable price.USB 2.0. 1.4m. 576g. BlackImportan ...
Product description
If you're passionate about
IT and electronics
. like being up to date on technology and don't miss even the slightest details. buy 
Gaming Keyboard approx! APPKUBIC
at an unbeatable price.USB 2.0. 1.4m. 576g. Black
Important information: This keyboard has been made for the Spanish market. and therefore has characters that are specific to that language. such as the letter Ñ. However. the Windows settings allow the keyboard to be changed internally to any other European language.
Device interface: USB
Recommended usage: Gaming
Keyboard layout: QWERTY
Connectivity technology: Wired
Purpose: PC/server
Keyboard form factor: Standard
Keyboard style: Straight
Wrist rest: N
Numeric keypad: Y
Hot keys: Y
Programmable hot keys: Y
Full-size keyboard: Y
Colour of product: Black. Red
Material: Acrylonitrile butadiene styrene (ABS)
Plug and Play: Y
Cable length: 1.4 m
Power source type: USB
Mouse included: N
Windows operating systems supported: Windows 10 Education.Windows 10 Education x64.Windows 10 Enterprise.Windows 10 Enterprise x64.Windows 10 Home.Windows 10 Home x64.Windows 10 Pro.Windows 10 Pro x64.Windows 7 Enterprise.Windows 7 Enterprise x64.Windows 7 Home Basic.Windows 7 Home Basic x64.Windows 7 Home Premium.Windows 7 Home Premium x64.Windows 7 Professional.Windows 7 Professional x64.Windows 7 Starter.Windows 7 Starter x64.Windows 7 Ultimate.Windows 7 Ultimate x64.Windows 8.Windows 8 Enterprise.Windows 8 Enterprise x64.Windows 8 Pro.Windows 8 Pro x64.Windows 8 x64.Windows 8.1.Windows 8.1 Enterprise.Windows 8.1 Enterprise x64.Windows 8.1 Pro.Windows 8.1 Pro x64.Windows 8.1 x64.Windows Vista Business.Windows Vista Business x64.Windows Vista Enterprise.Windows Vista Enterprise x64.Windows Vista Home Basic.Windows Vista Home Basic x64.Windows Vista Home Premium.Windows Vista Home Premium x64.Windows Vista Ultimate.Windows Vista Ultimate x64.Windows XP Home.Windows XP Home x64.Windows XP Professional.Windows XP Professional x64
Mac operating systems supported: Y
Keyboard dimensions (WxDxH): 456 x 165 x 27 mm
Keyboard weight: 576 g
Quantity per master carton: 20 pc(s)
Master carton GTIN (EAN/UPC): 18435099520082
User guide: Y
Number of products included: 1 pc(s)
Package width: 479 mm
Package depth: 185 mm
Package height: 40 mm
Package weight: 640 g
Package type: Box
More information
More information
Invoices
This seller provides invoices. To receive one, you can contact them once you place an order.