Grand Theft Auto V Rockstar Key GLOBAL
Disponibile da venditori sul marketplace
Ci sono %d persone stanno guardando questo prodotto.
Warning! This product (GTA 5) is for Rockstar Social Club platform, it CANNOT be activated and played on Steam platform.
If you wish to purchase a version that is compatible with Steam platform, please follow GTA 5 STEAM LINK.
In order to activate GTA V code:
Please visit official Rockstar page here and log in,
Click the "Activate Grand Theft Auto on PC" button at the bottom left corner of the page.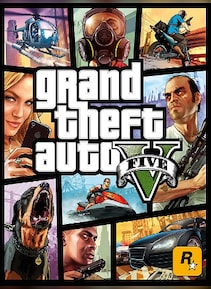 Lingue disponibili:

Regione:

GLOBAL

Piattaforma:
Guadagna 11,67 € Se qualcuno acquista questo prodotto utilizzando il tuo reflink Goldmine. Scopri di più
Acquista il prodotto da questi venditori:
Come funziona G2A Goldmine?
Parla ai tuoi amici di G2A Goldmine – costruisci una squadra e aumenta i tuoi guadagni!

2

Guarda il tuo profitto crescere!

Rilassati mentre il tuo lavoro porta il profitto!

Un lavoro ben fatto merita credito. Scegli il tuo metodo di pagamento preferito e ricevi i soldi!
Descrizione prodotto

Un giovane truffatore, un rapinatore di banche in pensione e uno spaventoso psicopatico si ritrovano nel mirino degli elementi più discutibili del mondo della malavita, del governo e dell'industria dello spettacolo: per sopravvivere dovranno mettere in atto una serie di audaci colpi, in una città spietata dove non possono fidarsi di nessuno, men che meno gli uni degli altri.

Grand Theft Auto V per PC offre ai giocatori la possibilità di esplorare il pluripremiato mondo di Los Santos e Blaine County in risoluzioni fino a 4k e oltre, e di giocare a 60 frame al secondo.

GTAV per PC offre ai giocatori una vasta gamma di opzioni di personalizzazione specifiche, tra cui oltre 25 impostazioni configurabili per la qualità delle texture, gli shader, la tassellatura, l'anti-aliasing e altro ancora, oltre a un ampio supporto e alla possibilità di configurazione per i comandi via tastiera e mouse. Le opzioni aggiuntive comprendono la possibilità di regolare l'affollamento delle strade e l'intensità del traffico, il supporto per monitor doppi e tripli, la compatibilità 3D e il supporto per i controller plug-and-play.

Grand Theft Auto V per PC include inoltre Grand Theft Auto Online, che supporta fino a 30 giocatori e due spettatori. Grand Theft Auto Online per PC comprenderà tutti gli aggiornamenti e i nuovi contenuti creati da Rockstar pubblicati dall'uscita di Grand Theft Auto Online, tra cui i Colpi e le modalità Competizione.

Grand Theft Auto V e Grand Theft Auto Online per PC presentano inoltre la nuovissima modalità in prima persona, che permette ai giocatori di esplorare il dettagliatissimo mondo di Los Santos e Blaine County in un modo completamente nuovo.

Caratteristiche principali

A game of three criminals

Diverging from the single protagonists of the past, GTA 5 presents three different not-at-all heroes, the deranged, the broken, and the determined team up and set out to make the San Andreas state their playground.

Meet Michael, a family man living in a luxurious mansion with his wife and children. The problem is he's bored out of his mind, he lives under witness protection, his wife cheats on him, their kids are hardly any consolation, and the only way out of the ensuing midlife crisis is going back to the only thing that made him feel alive: an intense life of crime with improbable allies.

High five Franklin, a guy from the hood. Franklin just wants to get out of the destructive lifestyle of gangs and crime through earning a good buck as repo man and by joining Michael and a deranged psychopath on a number of heists. The youngest of the three, but not at all incompetent, Franklin will do whatever it takes to not have to do whatever it takes anymore.

Beware of Trevor. Used to fly high in the military, now is usually just high as a kite, he's an old friend of Michael's, or so the story goes. Violent and mentally unstable he fits right in with a thief and a youth who wants out of the game. The crew's designated pilot and the guy to go to when some sniping is just what's needed for the job, Trevor is GTA V's the best guy for rampages.Witness their interactions in the exquisite Rockstar's storytelling.

Fully fleshed world

Grand Theft Auto 5 PC version boasts vastly improved graphics, supporting 4K\UHD resolutions, freely configurable settings and unlocked framerates, going to 60 frames per second and beyond. The sky is the limit, and GTA 5 can render it perfectly to an extent no video is fully able to reflect.Rockstar's stagerring attention to detail shines throughout the locations with thematic design, from loitering gangers to police sweeps to believable random clutter for every location. The player can engange in activites above and beyond the main story. If you fancy yourself a golfer, there is a suitable golf minigame you can play. If you want to see a short film, turn on your in-game TV or visit a cinema. And these are but two of a myriad things you can enjoy when you stray off the beaten path and explore possibilities hiding all around Los Santos and surrounding counties.

Ride across Los Santos, an affectionate satire of Los Angeles, with all its quirks, faults and stereotypes that GTA V (PC) unashamedly mocks. Or leave the urban confines and travel to the neighbouring Blaine county with its deserts, forests and mountains, especially the famed landmark Mount Chiliad.Wherever you go, more secrets will be waiting for you to discover. The entire world is your playground.

Play with others in GTA Online

If the singleplayer experience isn't enough, soon after the base game's release date Rockstar added a solid and varied GTA Online mode.Enter Deathmatch and prove your point by superior firepower and unmatched gunplay. Races will have you riding, sailing and flying against other players to determine who's the best person for rapid getaways with any given vehicle. Or maybe grab a handful of friends and plan a robbery in a co-operative Heist mode, where your planning and leadership skills will decide on your success?For those, who always wanted a multiplayer sandbox version of the single player experience there always is the Free Mode supporting up to 30 players, who can go about their business or set out to wreck somebody else's in a true GTA fashion.So create your unique avatar, and jump into the GTA V's Online game modes, there are enough variations for anyone to pick their favourite poison.

Capture your gameplay and create the best crime movie of all time

Grand Theft Auto V (PC) offers its players a solid film-making toolkit, letting them control camera angles, scene transitions, and more to make even the most mundane drive-bys and city hall rampages into something worthy of history. Even more so, if you step into the Director's chair to pick and choose actors from the vast gallery of models, time of day, or weather, or even control the very laws of reality itself to escape the clutches of gravity. GTA 5 (PC) provides the tools to create a new summer blockbuster and offers them to players to play with.

Transferable progress and First-Person Perspective mode

If you played GTA V on consoles, the PC release offers you a chance to seamlessly transfer your progress to your PC and enjoy all the PC version has to offer without losing anything you have achieved elsewhere.Experience the enhanced graphics of GTA V PC in a First Person Perspective mode, complete with animations for anything that needs them, from steering wheel handling to using the characters' mobile phones. The FPP mode is a whole new way to experience Grand Theft Auto V.

So buy the game now and join the crime trio's shenanigans in the single player, or make your own name heard in the multiplayer modes. Whatever you choose, GTA V is fit to support it and provide plenty of memorable moments.

Customise your gameplay experience with mods

GTA 5 has engine flexible enough to support a number of fan-created content, from graphic overhauls to new characters, weapons, activites and many, many more. The mods are there to make the game fresh again even after finding all the secrets and completing all the activities.

Requisiti minimi

Requisiti consigliati

Sistema operativo:

64 Bit OS - Windows 8.1 / Windows 8 / Windows 7 SP 1 / Windows Vista SP 2

Processore:

2.40 GHz - Intel Core 2 Quad Q6600 / 2.5 GHz - AMD Phenom 9850

Memoria:

4 GB RAM

Grafica:

1 GB VRAM - NVIDIA GeForce 9800 GT / AMD Radeon HD 4870

HDD:

65 GB HD

Altro:

64 Bit OS

Sistema operativo:

64 Bit OS - Windows 8.1 / Windows 8 / Windows 7 SP 1

Processore:

3.2 GHz - Intel Core i5 3470 / 4 GHz - AMD X8 FX-8350

Memoria:

8 GB RAM

Grafica:

2 GB VRAM - NVIDIA GeForce GTX 660 / AMD Radeon HD7870

HDD:

65 GB HD

Altro:

64 Bit OS