Guild Wars 2 Heart of Thorns NCSoft Key GLOBAL
Available from marketplace sellers
There are %d people looking at this product.
Please note that, as of August 29th 2015, Guild Wars 2 has become a free to play game. Game codes now grant special in-game privilages while access to Heart of Thorns content will be granted on October 23.
Guild Wars 2 Heart of Thorns (PC) is a digital product – no box included. The price applies to a digital version of the product.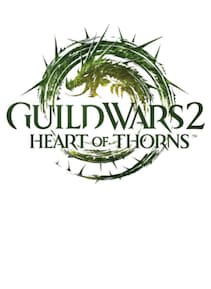 Idioma disponível:

Região:

GLOBAL

Plataforma:
Ganhe 1,20 € se alguém comprar este produto usando o seu reflink Goldmine. Saiba mais
Buy product from these sellers:
Como é que a G2A Goldmine funciona?
Diz aos teus amigos sobre a G2A Goldmine - Contrói uma equipa e aumenta os teus ganhos!

2

Veja o seu lucro a crescer!

Sente-se e relaxe enquanto o seu trabalho lhe dá lucro! Use as dicas e ferramentas que fizemos para maximizar o potencial de ganhos.

Um trabalho bem feito merece um crédito apropriado. E ainda, você não tem trabalhado duro para alcançá-lo certo? Escolha a sua opção de pagamento preferida e receba o salário!
Descrição do Produto

Guild Wars 2 Heart of Thorns (PC) is the first full expansion to NCSOFT's highly rated MMORPG Guild Wars 2. Heart of Thorns adds a large number of improvements to the game, as well as new territories to discover and explore in search of new quests worthy of your character's heroism. Heart of Thorns expands the endgame content of Guild Wars 2, providing new progression without raising the level cap or invalidating the gear your character have.

New regions

Guild Wars 2 Heart of Thorns introduces four new spacious open-world maps. They are expansive in both area and in depth. Descend into the underground of every maps and see new biomes awaiting you there. Each of the levels: the roots, the jungle floor, and the canopy, present their own sets of challenges and it takes a daring hero to explore them all and aid their peoples in their problems. Are you brave enough to go where the light might not shine and the gnarled roots cover the ground you walk?

Specializations

At level 80 you can refine your character by unlocking an Elite Specialization, tailored specifically for each class. Turn your Guardians into Dragonhunters, Rangers into Druids, or Elementalists into Tempests. Every new specialization unlocks a new weapon for your character to use, as well as a unique set of skills, trait lines, and even a revamp of how the given profession works.

Masteries

Even though you are level 80, it doesn't mean you have nowhere to go from there. Heart of Thorns introduces the Mastery system unlockable in every region. Unlock access to a wealth of useful skills, including traversal options expanding the way you can experience the new maps. Jump from one massive mushroom to another, glide gracefully across the vast expanses, or travel by even more bizarre means. The best part: they are unlocked account-wide. Unlock with one character, use with all of them!

Outstanding visuals

Each of the new regions pushes the boundaries of what the Guild Wars 2 engine is capable of. Descend into the Tangled Depths region and see the surrealistic vistas merging the lore and game design in a way that never once detracts from the excellent player experience. Behold all the new sights from your hang glider, which makes traversing the world as engaging as possible.

Características Chave

Guild Wars 2 Heart of Thorns is the first major expansion to 2012's hit MMORPG Guild Wars 2. It provides new regions, expanded progression and overall a selection of new features making this expansion easily worth the price.

Guild Wars 2 Heart of Thorns features



Revenant - Heart of Thorn introduces a new heavy armor profession, who can channel the power of Tyria's legendary figures


Masteries - expand your characters' skillsets with Masteries. Hitting level 80 is no excuse to stop improving yourself!


Four new regions - each of Heart of Thorns' new regions is a multilayered area, full of new visuals, stories, and secrets to discover


Gliding - use a dedicated Mastery track and deploy a hang glider to add style and speed to your exploration of new lands


Specializations - add more depth to your profession. Specializations open up new weapons and abilities you can use



Requisitos

Requisitos do Sistema:

Windows XP SP 3

Processador:

Intel Core 2 Duo 2.0 GHz / Core i3 / AMD Athlon 64 X2

Memória:

2 GB RAM

Gráficos:

NVIDIA GeForce 7800 / ATI Radeon X1800 / Intel HD 3000

HDD:

35 GB HD

Outro:

Broadband Internet connection

Classificação de idade e conteúdo

Outro

NCSoft

Product was created by NCSoft studio. You can find registration process details in product description.

Key Type

This product is available as a CD key carried out via digital means - no shipping fees apply.