H1Z1: King of the Kill Steam Key GLOBAL
العرض متوفر لدى بائعين
هناك %d زائر يقوم بمشاهدة هذا المنتج حالياً.
H1Z1: King of the Kill (PC) for Steam platform is a digital product – no box included. The price applies to a digital version of the product.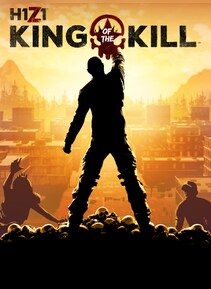 اللغات:

المنطقة:

GLOBAL

المنصة:
قم بالشراء من هذا البائع:
السعر
التصميم الخارجي
المستخدم
كيف يعمل G2A Goldmine؟
أخبر أصدقاءك عن منجم ذهب G2A - كون فريق وضاعف أرباحك!

إجلس واسترخي و شاهد ارباحك تنمو! إستخدم النصائح والأدوات التي وفرناها لك لتحقيق أرباح أكبر .

العمل الرائع يستحق المكافأة. ولكن مازلت لم تبذل الجهد الكافي في هذا العمل؟ إختر خيار الدفع المفضل لديك وأحصل على راتب!
وصف المنتج

H1Z1: King of the Kill is a standalone competitive multiplayer mode for Daybreak Game Company's open-world survival game H1Z1. Get dropped onto huge maps and fight for survival with even a hundred other players. It's kill or be killed, and even the map itself tries to kill you.Are you a tough enough cookie to be the last one standing, or will you crumble to dust under the assault? H1Z1: King of the Kill takes no prisoners.

Battle Royale

Battle Royale is a massive multiplayer battle able to hold even a hundred players at once. Parachute down onto a massive map, find a weapon, and try to spot your opponents before they spot you.If being put without weapons on an arena with a hundred other players is not enough, H1Z1: King of the Kill (PC) has you covered. At set intervals waves of toxic gas are pumped onto the area, making it smaller and smaller, ensuring that you never feel safe and with enough room to take a breath.In Battle Royale you can fight solo, or in teams of 2 and 5, and having somebody to watch your back increases your chances of survival. You just have to play rock-paper-scissors for the only gun you found.

Ignition

Did you ever find yourself in an ATV with a bomb strapped to your back? If you didn't Ignition lets you experience what it's like.You have unseen explosives on you, and your only hope of survival is getting to a safe zone, where the timer doesn't tick down the seconds to your untimely death. You race with other players to the safe zones, and the fewer players are left, the fewer and smaller safezones you have available.Can you balance getting to a safezone, killing other players getting in your way, and finding gear to be even better at surviving? H1Z1: King of the Kill's Ignition mode will test all of these skills in a rapid and high-stakes scenario. Where will you be when the time's up?

Reanimation

Your team can become just as dangerous as anyone else you find on the map. From every player killed spawns an exploding zombie. When the weapons are not plentiful, can you handle dealing with other players AND volatile zombies at the same time? Can you make the split-second decision and score perfect headshots to conserve ammo?H1Z1's Reanimation Skirmish is for those, who want their enemies plentiful and zombies explosive.

Shotgun and sniper

It's one way or the other. This mode removes all weapons from the game but shotguns and sniper rifles. Do you think yourself a sharpshooter, able to shoot the wings of a bee from a mile away? Or maybe you like to get up close and personal with a shotgun, splattering your opponent's guts all over the place? You can be one, or the other, or both, if you find yourself lucky, but these are the only options you get, so make your bullets and shells count.

الميزات الأساسية

H1Z1: King of the Kill is an intense, hectic, and satisfying standalone competitive multiplayer counterpart of H1Z1: Just Survive. Solo or with friends, take up your arms and make sure there can be only one.

H1Z1: King of the Kill features

Battle Royale - drop onto a large map with dozens of other players, find a weapon before others do, and try to survive to be the last one standing
Skirmish - participate in a monthly rotation of modes to take a breath after fighting in the Battle Royale. Ignition, Reanimation and more await you in Skirmish mode
Play solo or with friends - In H1Z1: King of the Kill gameplay you get to play either solo or in teams of 2 and 5

الحد الأدنى من المتطلبات

المتطلبات المقترحة

متطلبات النظام:

Windows 7 / 8 / 8.1 / 10 (64 bit only)

المعالج:

Intel i5 Quad-Core

الذاكرة:

6 GB RAM

الجرافيك :

nVidia GeForce GTX 280 series or higher

HDD:

20 GB available space

متطلبات النظام:

Windows 7 / 8 / 8.1 / 10 (64 bit only)

المعالج:

Intel i5 Quad Core or higher / AMD Phenom II X6 or higher

الذاكرة:

8 GB RAM

الجرافيك :

nVidia GeForce GTX 560 series or higher / AMD HD 6870 or higher

HDD:

20 GB available space

العمر وتصنيف المحتوى