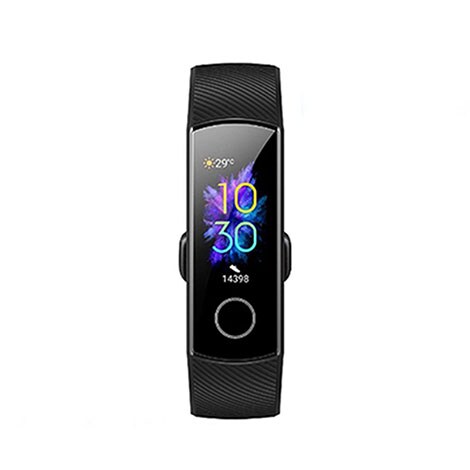 1/1
Huawei Honor Band 5 Smart Wristband
Offer from:
Advertisement: 1. The Dial Market function is supported by the OTA update, only supports an Android phone, an iOS phone does not support; 2. Blood oxygen monitoring is supported by OTA update. The measurement data and re ...
Specifications
Specifications
Operation System:

Android, iOS

Battery Type:

Lithium-Ion

Smart Watch Features:

Blood Pressure Monitor, Bluetooth Enabled, Fitness Tracker, Heart Rate Monitor, Sleep Monitor, Waterproof, Water-Resistant, Waterproof Reisistance, Notifications, Pedometer, Timer, Waterproof Resistance, Health Tracker, Data Synchronism

Connectivity:

Bluetooth, 2.4GHz RF, Micro-USB, Bluetooth Wireless

Screen Size:

1"

Display Technology:

LED LCD, VA LCD, LCD

Electronic Brands:

Huawei

Material:

Plastic, Silicone/Gel/Rubber, Silicone

Weight(g):

20 g

Brand:

Huawei
Product description
Advertisement:
1. The Dial Market function is supported by the OTA update, only supports an Android phone, an iOS phone does not support;
2. Blood oxygen monitoring is supported by OTA update. The measurement data and results of this product are for information only and do not constitute a basis for diagnosis and treatment;
3. Sports mode on a stationary bike only supports Huawei EMUI 5.0 and newer devices and smartphones with iOS 9.0 and newer;
4. The remote control only supports Huawei EMUI 8.1 and newer smartphones;
5. The Honor Band 5 smart band meets water resistance requirements of 50 meters, but water resistance is not permanent. Waterproof 5ATM supports when washing hands, raining, swimming in shallow water, but does not support hot showers, diving, diving, surfing and other scenes. The following scenarios may affect the bracelet's water resistance. When using it, use caution to avoid: the bracelet is dropped, struck or struck; the bracelet is exposed to soapy water, shower gel, detergent, perfume, lotion, oil, etc.; Scene with high temperature and humidity.
Intelligent heart tracking and monitoring
Personalized, intelligent training helps you stay fit. What's more, you'll now see how easy it is to gather information in one device and compare your performance. HUAWEI Band 3 Pro also offers measurement of swimming parameters, such as calories, number of turns and average SWOLF, so you can know your results and consciously improve them. The band also provides water resistance up to 50 meters. The innovative HUAWEI Band 3 Pro band uses infrared light and artificial intelligence support to accurately monitor your heart rate. Thanks to the advanced HUAWEI TruSeen ™ 3.0 heart monitoring system, it can collect heart rate data day and night.
What is oxygen saturation?
Oxygen-linked oxyhemoglobin in the blood for the percentage of total available hemoglobin capacity, i.e. saturation with blood oxygen. This is not only an important physiological parameter of the respiratory cycle, but also an important indicator of the normal functioning of the human body, Associated with oxygen and red blood cells.
Why measure oxygen saturation?
Oxygen saturation is one of the vital life features that can reflect the body's oxygen supply. If the level of oxygen in the blood is low, it is easy to cause symptoms such as fatigue, lack of energy, memory loss. deficiency damages the brain, heart and other organs!
Technical data:
Brand: Huawei HONOR
Model: CRS-B19S
System: Android 4.4 and above, iOS 9.0 and above
Material: silicone
Battery capacity: 100 mAh (typical)
Bluetooth 2.4GHz V4.2
Charging interface: 2 PIN
The theoretical working time is about 6 days (open scientific sleep, open continuous heart rate measurement); about 9 days (open scientific sleep, turn off continuous heart rate); about 14 days (close scientific sleep, turn off continuous heart rate measurement, turn off bright screen gesture)
The theoretical charging time is about 1.5 hours (at 25 ° C ambient temperature)
The theoretical standby time is about 20 days (turn off all adjustable switches, you can see the time and number of recorded steps)
Sensor 6-axis inertial sensor; separate PPG heart rate meter; infrared light consumption detection sensor
Full screen button tap Home
Screen: AMOLED color display
50 meters of water resistance
Working temperature -10 ° C ~ 45 ° C
Supports 5ATM water resistance
The length of the hand strap is approximately 115 mm and the short strap approximately 107 mm.
Control mode: tap the home screen button in full screen
The charging method is connected to the charging base using a buckle
Size: 43 mm × 17.2 mm × 11.5 mm (body size); 115 mm 107 mm (hand strap length)
Weight: 22.7 g (including the armband)
Screen size: 0.95 inch
Screen pixel: 240 pixels x 120 pixels
Software: software for intelligent control of the Huawei bracelet bracelet ver. 6.0
The package includes:1 * Huawei Honor Band 5;1 * user manual;1 * Retail packaging;1 * USB charger
More information
More information
Invoices
This seller provides invoices. To receive one, you can contact them once you place an order.