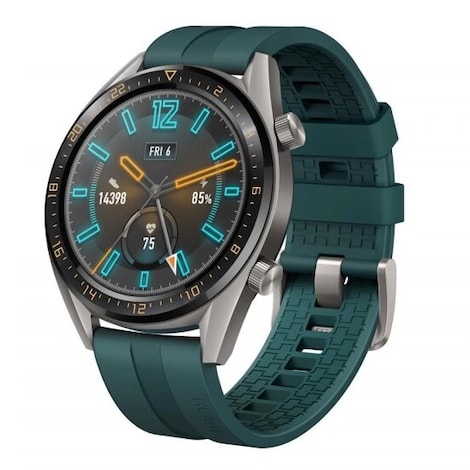 1/1
Huawei Watch GT Active Zielony
Selected offer from:
Huawei Watch GT Active Zielony Ekran: 1,39" Czujnik światła, żyroskop, akcelerometr, barometr, czujnik tętna Nawigacja GPS Ceramiczna koperta Wymienne paski Bateria: Litowo-jonowa 420 mAh Monitoro ...
Product description
Huawei Watch GT Active Zielony

Ekran: 1,39"

Czujnik światła, żyroskop, akcelerometr, barometr, czujnik tętna

Nawigacja GPS

Ceramiczna koperta

Wymienne paski

Bateria: Litowo-jonowa 420 mAh
Monitorowanie tętna
Technologia monitorowania tętna Huawei TruSeen 3.0 zapewnia bardziej efektywny i dokładny, osobisty pomiar tętna w czasie rzeczywistym. Jest to możliwe, za sprawą samouczącego się algorytmu i innowacyjnych czujników.
Co więcej, smartwach potrafi monitorować parametry Twojego snu. Wspólne badania Huawei z Harvard Medical School CDB Center stworzyły genialny program TruSleep 2.0 identyfikujący typowe problemy związane ze snem. Mało tego, podsunie Ci on ponad 200 sugestii, które pozytywnie wpłyną na Twój wypoczynek.
Bogaty zestaw czujników
Huawei Watch GT czarny na bieżąco wyświetla inteligentne powiadomienia o intensywności Twojego dnia. Jest idealny do liczenia kroków, monitorowania trybu siedzącego i aktywności. Powiadomienia o wiadomościach, połączeniach, alarmach i przypomnieniach są zawsze blisko Ciebie.
3 satelity i dokładna lokalizacja
Nowoczesny GPS obsługuje 3 systemy pozycjonowania satelitarnego (GPS, GLONASS, GALILEO) na całym świecie. W rezultacie zapewnia dokładniejsze, szybsze i precyzyjniejsze pozycjonowanie niezależnie od tego gdzie się udasz potrenować. Co więcej, po skończonym treningu możesz zobaczyć na mapie przebytą trasę oraz wyznaczyć kolejną.
Podróżuj bez ograniczeń
Dzięki innowacyjnemu zastosowaniu dwóch energooszczędnych procesorów, zegarek cechuje się bardzo niskim zużyciem energii. W połączeniu z pojemna baterią i najnowocześniejszymi technologiami sprawia to, że Watch GT przy uruchomionym GPS i stałym monitorowaniu tętna, może działać do 22 godzin na jednym ładowaniu. W standardowym trybie pracy gdy pomiar dokonywany jest okazyjnie, czas pracy smartwatcha można wydłużyć nawet do 2 tygodni. To nadal nie wszystko, bo jeśli ograniczysz się tylko do odbierania połączeń i komunikatów, to o ładowaniu baterii możesz zapomnieć nawet na cały miesiąc.
Pamięć RAM

16 MB

Pamięć wbudowana

128 MB

Typ wyświetlacza

AMOLED

Przekątna wyświetlacza

1,39"
Rozdzielczość wyświetlacza
454 x 454 px
Łączność

Bluetooth

System nawigacji satelitarnej

GPS

GLONASS

Galileo

Wbudowane czujniki

Akcelerometr

Barometr

Czujnik światła

Czujnik tętna

Żyroskop

Budowa i wykonanie

Ceramiczna koperta

Pasek wykonany z połączenia gumy i skóry

Wodoszczelność 5 ATM

Funkcje

Powiadomienia o połączeniach, wiadomościach SMS, poczcie e-mail

Monitorowanie aktywności

Monitorowanie parametrów w czasie snu

Pomiar aktywności sportowej

Alert bezczynności

Monitorowanie parametrów fizycznych

Krokomierz

Licznik spalonych kalorii

Monitorowanie tętna

Raporty z treningu

Bateria

420 mAh

Szerokość
46,5 mm
Wysokość
46,5 mm
Grubość
12 mm
Waga
46 g

Obwód nadgarstka

140 - 210 mm
Dodatkowe informacje

Bezprzewodowe ładowanie

Ekran dotykowy

Dołączone akcesoria

Stacja ładująca

Kompatybilność z systemami

Smartfony z systemem Android 4.4 lub nowszym

Smartfony z systemem iOS 9.0 lub nowszym

Gwarancja
24 miesiące (gwarancja producenta)