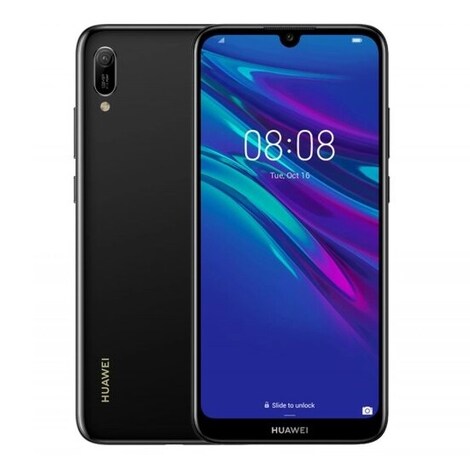 1/1
Huawei Y6 2019 32GB Dual Sim Czarny
Huawei Y6 (2019) 32GB Dual Sim Ekran: 6,1" MediaTek MT6761 (4 rdzenie, do 2.00 GHz) Pamięć wewnętrzna: 32GB Pamięć RAM: 2GB System: Android 9.0 Pie Aparat: 8.0 Mpix - przód, 13.0 Mpix - tył Bateria: Litowo ...
You must be logged in to add products to your wishlist.
Specifications
Specifications
Connectivity:

4G

Contract:

Without Contract

Lock Status:

Factory Unlocked
Product description
Huawei Y6 (2019) 32GB Dual Sim

Ekran: 6,1"

MediaTek MT6761 (4 rdzenie, do 2.00 GHz)

Pamięć wewnętrzna: 32GB

Pamięć RAM: 2GB

System: Android 9.0 Pie

Aparat: 8.0 Mpix - przód, 13.0 Mpix - tył

Bateria: Litowo-polimerowa 3020mAh
Huawei Y6 2019
Elegancka obudowa Huawei Y6 2019 zachwyca luksusowym metalicznym wykończeniem. Prestiżowy wygląd uzupełnia smukła, aluminiowa ramka o zaokrąglonych brzegach. Zachwycająca pięknem konstrukcja, skrywa w sobie świetną wydajność oraz wytrzymałą baterię 3020 mAh, która wystarczy na cały dzień ciągłej pracy. Całość przykrywa tafla szkła, chroniąca panoramiczny ekran, który zajmuje niemal całą powierzchnie frontu smartfonu.
Smartfon stworzony do selfie
Niewielkie wcięcie na szczycie ekranu Huawei Y6 2019 mieści przednią kamerę 8 Mpix. Wokół niej ukryto zestaw czujników oraz lampę błyskową, dzięki której zrobisz świetne autoportrety niezależnie od oświetlenia. Jednocześnie dodatkowe doświetlenie ekranowe, redukuje niechciane cienie, sprawiając, że każde selfie wyjdzie zachwycająco.
Z tyłu obudowy Y6 2019 zagościł natomiast aparat 13 Mpix wyposażony w obiektyw z przysłoną f/1.8. Wpuszcza ona do matrycy znacznie więcej światła, dzięki czemu uchwycisz szczegółowe detale i naturalne kolory nawet po zmroku.
Panoramiczny wyświetlacz Dewdrop
Odkryj świat bez ograniczeń na panoramicznym ekranie Dewdrop 6,09" HD+, zajmującym 87% przedniego panelu. Jego ramki zredukowano do absolutnego minimum, by nic nie odrywało Twojej uwagi od obrazu. Nawet wcięcie mieszczące przednią kamerę zostało zaprojektowane tak, by w minimalnym stopniu wpływać na odbiór wyświetlanych treści. Co więcej, zastosowana w Huawei Y6 2019 matryca, blokuje nadmiar emitowanego niebieskiego światła, w efekcie dbając o Twój wzrok.
Gotowy na wyzwania
Wielozadaniowa praca to dla Huawei Y6 2019 żadne wyzwanie. Doskonała optymalizacja i mocne podzespoły gwarantują mu płynne działanie niezależnie od wymagań aplikacji. Smartfon wyposażono też w pojemną baterię 3020 mAh, która dzięki inteligentnemu zarządzaniu wystarcza na cały dzień aktywnej pracy. Mało tego, całość pracuje w oparciu o system Android 9.0 Pie, wzbogacony o nakładkę EMUI 9.0. Poza odświeżonym interfejsem, oferuje ona bardziej intuicyjną obsługę i nowe inteligentne funkcje, takie jak nawigacja gestami oraz Phone Manager.
Inteligentny Face Unlock
Zadbaj o bezpieczeństwo swoich informacji, stosując niezawodne zabezpieczenia obecne w Huawei Y6 2019. Zapomnij przy tym o hasłach i wzorkach, bo smartfon wyposażono w znacznie bardziej intuicyjne rozwiązania. Pierwsze z nich poznasz spoglądając w ekran - już odblokowane? Tak właśnie działa inteligentny skaner twarzy. Co więcej, to nie jedyna opcja zabezpieczenia smartfonu, bo z tylu obudowy umieszczono czytnik linii papilarnych. Jedno muśniecie palca i menu zostanie odblokowane.
Procesor

MediaTek MT6761 (4 rdzenie, do 2.00 GHz)

Układ graficzny

PowerVR GE8300

Pamięć RAM

2 GB

Pamięć wbudowana

32 GB

Typ ekranu

IPS

Przekątna ekranu

6,1"

Rozdzielczość ekranu

1560 x 720

Łączność

Bluetooth

Wi-Fi

LTE

System nawigacji satelitarnej
Złącza

Gniazdo kart nanoSIM - 2 szt.
Czytnik kart pamięci - 1 szt.
Gniazdo minijack - 1 szt.

Micro USB - 1 szt.

Bateria

Litowo-polimerowa 3020 mAh

Zainstalowany system operacyjny

Android 9.0 Pie

Aparat

13.0 Mpix - tył

8.0 Mpix - przód

Lampa błyskowa

Wbudowana

Rozdzielczość nagrywania wideo
1920 x 1080 (Full HD)
Grubość

8,0 mm

Szerokość

73,5 mm

Wysokość

156,3 mm

Waga

150 g

Kolor
Czarny
Dodatkowe informacje

Szkło Corning Gorilla Glass

Czujnik światła

Czujnik zbliżenia

Akcelerometr

Dołączone akcesoria

Kabel USB

Ładowarka sieciowa

Gwarancja

24 miesiące (gwarancja producenta)