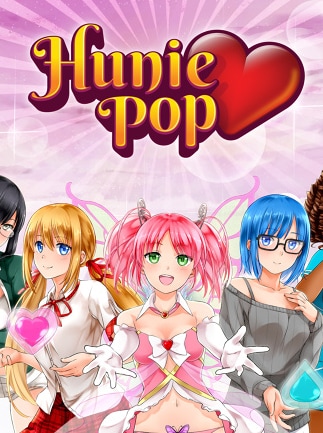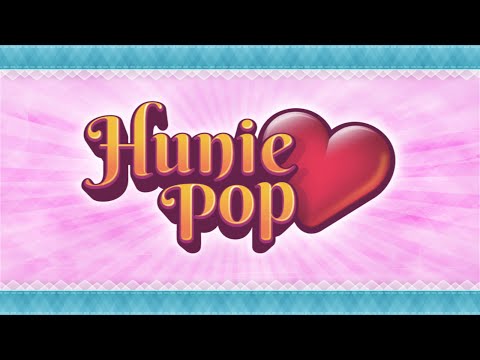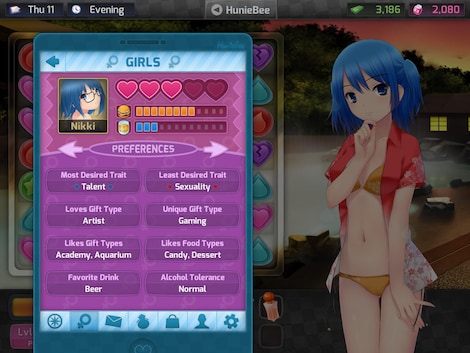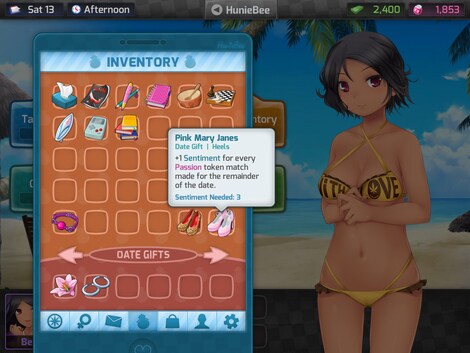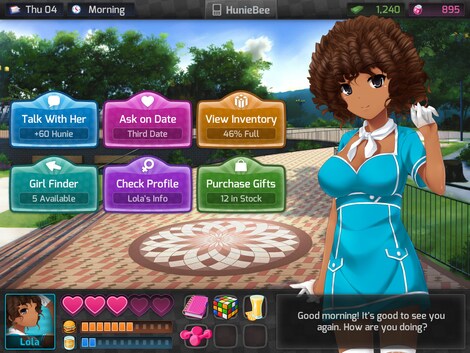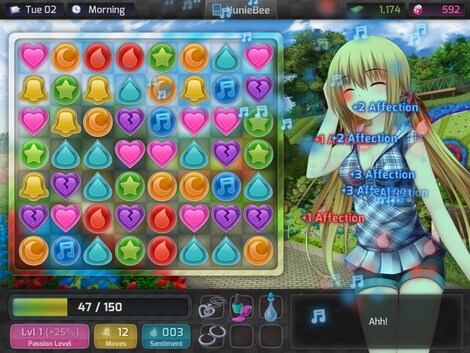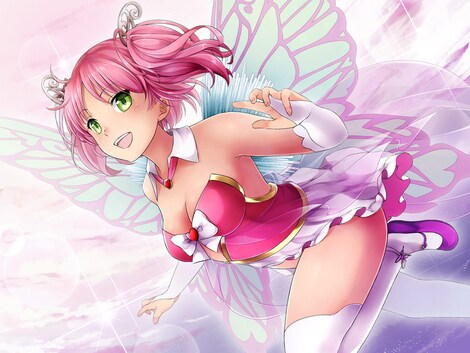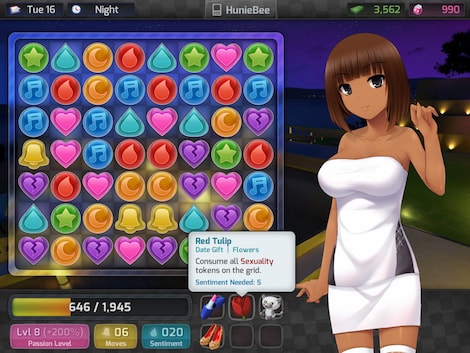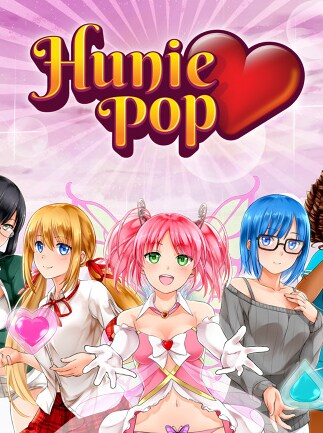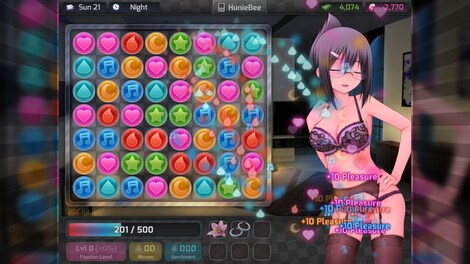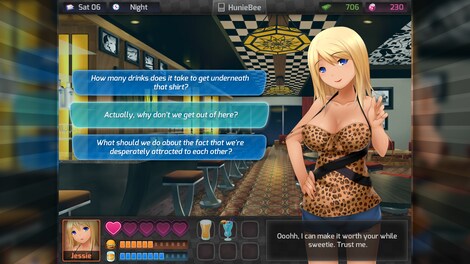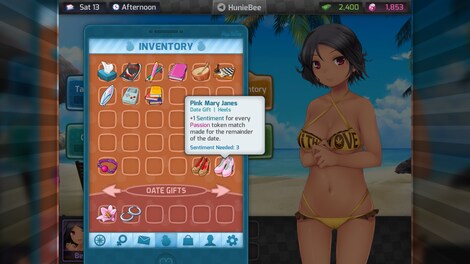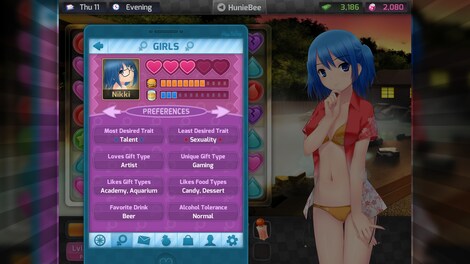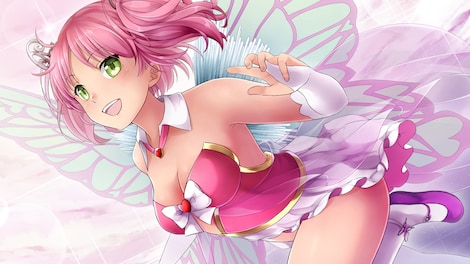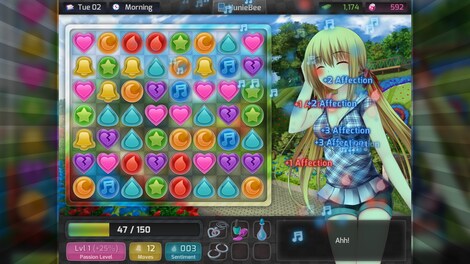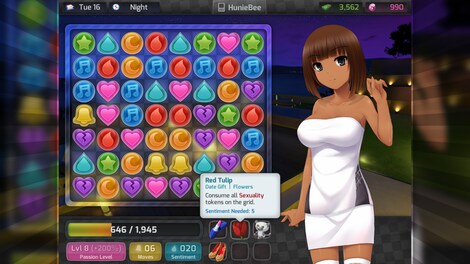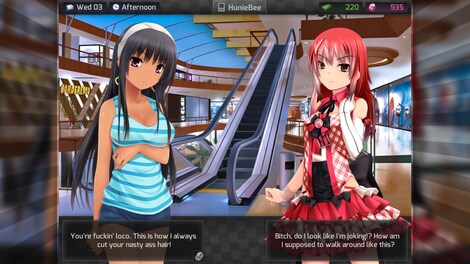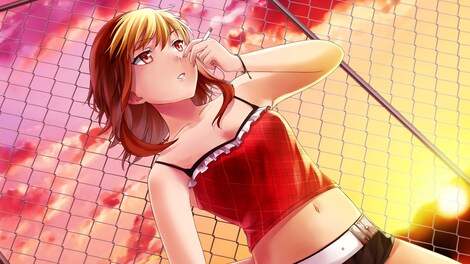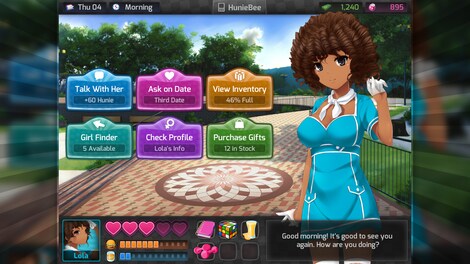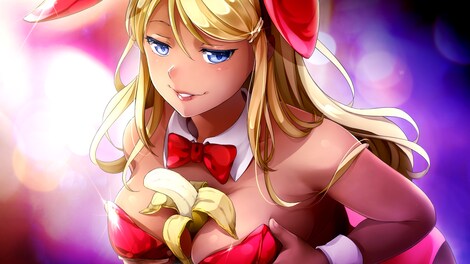 1/20
GLOBAL version
HuniePop Steam Key GLOBAL
Puzzle dateEarn points during a match-three mini games and get ready for some love. Whenever you go on a date, you'll get to play this game's version of match-three.Your task is to build the affection bar below the scree ...
Product description
Puzzle date
Earn points during a match-three mini games and get ready for some love. Whenever you go on a date, you'll get to play this game's version of match-three.Your task is to build the affection bar below the screen, win the day and maybe get lucky!Matching the broken hearts will subtract from your score, matching whole hearts add to your multiplier level, matching bells will give you an additional turn, and matching teardrops gives you sentiment points. Use sentiment points to activate once-per-match items that have different effects. Some effects might break a row, while others increase the spawn rate ofspecific gems or something different. They're fun to use and vital for the later puzzles. To unlock a new one, all you have to do is to give any girl a gift she loves.
8 different, beautiful girls
Go out with a gorgeous professor, a fit gym instructor, a hipster girl or a cute college student. Each girl has a different and complex personality and every time you talk to them, you gain points. Ask them questions you haven't asked before to get some bonus points or properly recall an answer they have given you prior. At the night time, you can also increase those points by using alcohol in some specific locations.
Over 250 unique items
Improve your dating skills by using special items that will increase your points.A special food meter will show you if your girl is hungry. If she is, you better give her something to eat or otherwise your date will end very quickly.Use unique gifts that permanently boost points earned by talking to a specific girl.You can look up preferences of each girl within a game, so there is no challengefinding out who likes what - that goes for food, gifts, drinks and special gifts.Each girl has a preferred kind of food and even different alcohol tolerances.
Enjoy different locations
Visit more than 20 places during your dates. There are many stunning, hand painted locations made by skilled artists. Their appearance changes depending on day/night cycle so you can always feel the suitable mood. There is always a good time and place to meet a gorgeous girl. It doesn't matter if it is inside a fitness club or outside university campus.
Sophisticated sound effects
Enjoyable soundtrack inspired by jazz melodies, eastern pop and bossa nova will put you into a romantic mood. 20 original, different music tracks perfectly blend with the rest of the gameplay. Professional voice acting adds even more realism to girl characters you will date.
50 extravagant CG photos
Collect all lewd, stunning photos of girls in different scenarios after a successful full-affection night date. Fill your personal in-game cell phone by teasing photos of some of the girls and finally get the steamy versions of some very lustful photos of beautiful ladies.
Custom girls appearances
Unlock custom outfits and hairstyles of each girl. Try hard and girls will even dress up for dates or take their clothes down when the night date is over. You can unlock 4/5 outfits through dates. A girl's outfit will always change depending on the date location, regardless of the outfit selected for her by the player.
Key features
Huniepop
is a dating sim and puzzle game available for the PC, Mac and Linux that promises an interesting gameplay.
Addictive match-three, dating simulator with elements of dialog,
8 beautiful girls with different personalities,
Hidden, additional characters that you can unlock,
50 stunning CG photos - date girls and receive a teasing photos between dates,
20 different locations that change during a day/night cycle,
More than 250 unique items - acquire different types of food, gifts, special gifts and alcohol, and use them properly,
Soundtrack and sound effects - enjoy beautiful background music during your dates and professional voice acting
HuniePop (PC) for Steam platform is a digital download product – no box included. The price applies to a digital version of the product.

Release date: 2015-01-19
System requirements
System requirements
Below are the minimum and recommended system specifications for HuniePop Steam Key GLOBAL. Due to potential programming changes, the minimum system requirements for HuniePop Steam Key GLOBAL may change over time.
Minimal requirements
Processor

1.2 GHz

Memory

2 GB RAM

Disk space

1 GB available space

System

Windows XP