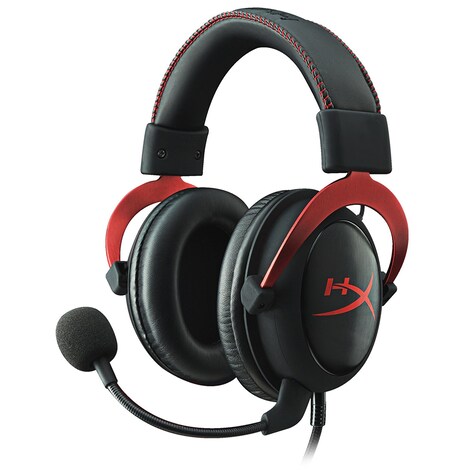 1/1
HyperX Cloud II Gaming Headset PC/PS4/Mac/Mobile, Red
HyperX Cloud II Gaming Headset is a second version of the warmly-welcomed HyperX Cloud headphones from HyperX. The headset is compatible with PC, consoles, and mobile devices and thanks to its superb audio quality and pr ...
Product description
HyperX Cloud II Gaming Headset is a second version of the warmly-welcomed HyperX Cloud headphones from HyperX. The headset is compatible with PC, consoles, and mobile devices and thanks to its superb audio quality and presence of the 7.1 audio support it can be used to not only playing games but also watching movies or listening to all kinds of music.
HyperX is a brand created by Kingston Technology Corporation to mark its gaming-related accessories like headphones, RAM sticks, or solid-state drives. HyperX Cloud II headset is no different and its design clearly tells that the product is made mainly with gamers in mind.
Virtual 7.1 Surround Sound
With 7.1 surround sound support, you can fully immerse yourself in whatever game you are playing or whatever movie you are watching. Dive straight into your favorite title and join your team on the battlefield. No matter the direction of the incoming fire, with headphones supporting the 7.1 audio you will be able to precisely tell the enemy position. Don't get surprised by the opponents shooting from nowhere anymore – now you can strike back when they least expect it.
USB Audio Control Box with Built-in Sound Card
HyperX Cloud II comes with the convenient USB audio control box which can be used to adjust the volume of the headset and the microphone separately or to completely turn off the microphone when it's not needed. The control box also allows toggling the 7.1 surround audio with a press of a single button. But what's the coolest part about it is the built-in premium-quality sound card which helps to achieve a crystal clear audio experience. Why spending additional money on your own sound card, when you can get one bundled with the headset?
Headband Memory Foam and Leatherette Cushions
The headset is very comfortable to wear even during gaming marathons, where you spend hours and hours playing. This is mainly due to the material used for the headband, which is memory foam. It doesn't feel like it's squeezing your head even after longer periods of time, so you can keep playing your favorite titles and stay in the game when your team needs you the most. Leatherette ear cushions also play a significant role in improving the satisfaction of wearing these headphones on your head.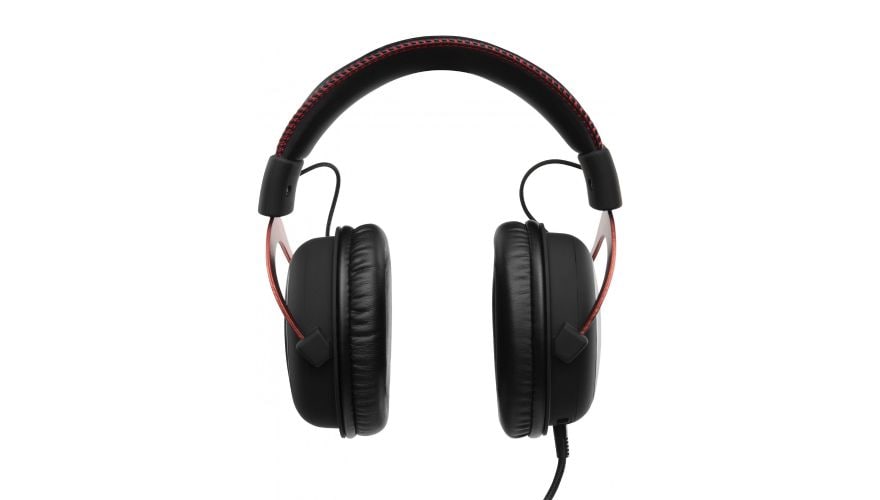 Closed Cup Design
While playing the game you should be fully focussed on it, and it's hard to achieve with headphones that don't stop the outside noise from reaching your ear. That's why HyperX Cloud II Gaming Headset took the closed cup route. Now you can enjoy the game and nothing will be able to disturb you. More importantly, you will be more effective in 3D competitive titles, because you won't confuse the outside noise with sounds coming from the game anymore. No more worrying if that rustle you've just heard was an enemy hiding in the bush, or maybe just a stronger wind blowing outside.
Airlane Adapter
HyperX Cloud II Gaming Headset comes with an airlane adapter, which makes a nice little addition for people planning to regularly travel by plane. Airplanes often allow using the headphones to connect to the seatback screens to watch movies during flight without disturbing the others. The problem is, there is usually a dual-channel port instead of a single one we are used to. It could be very frustrating to take your favorite headphones just to find out you can't even use them because of incompatible output. Now you know – and with HyperX Cloud II you get the adapter that allows to directly connect to the inflight entertainment screens.
Reception
HyperX Cloud II Gaming Headset received very positive reviews and reviewers had quite a hard time to find anything to cavil at. They praised the great sound quality and the luxurious headphones finish, with also positively noting the addition of some small extras in the package, like an airline adaptor and replaceable ear cushions. The closed cup design was also pointed out as it significantly helps in cutting off the outside noise.
Key features
1 surround sound makes the audio-related experience much deeper and more enjoyable
The built-in USB sound card produces much clearer and better audio without the need of making additional investments
Well designed closed cup approach helps in eliminating the outside noise and allows you to focus on the game
Lightweight construction with memory foam headband and leatherette cushions makes the headset comfortable to use for longer periods of time
Airline adapter and replaceable ear cushions included in the package
HyperX Cloud II specification
| | |
| --- | --- |
| Type | Gaming Headset |
| Headphone type | Wired |
| Model | Cloud II |
| Connector | 3.5 mm minijack / USB |
| Cable length | 1,0 m |
| Drivers | 53mm |
| Audio CUE Software | Yes |
| Headphone Frequency Response | 15 ~ 25000 Hz |
| Headphone Sensivity | 98 dB |
| Audio | 7.1 Virtual Surround Sound |
| Microphone Frequency Response | 50 ~ 18000 Hz |
| Color | Black&Red |
Earn every time someone buys this product using your reflink.