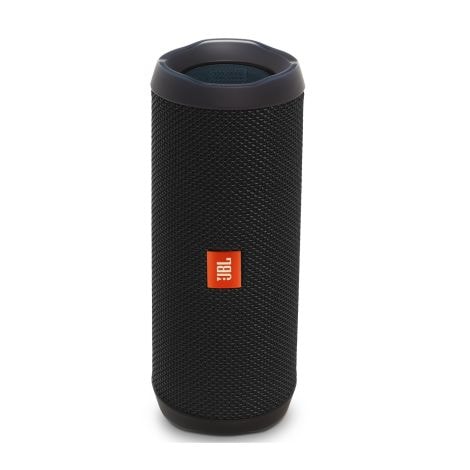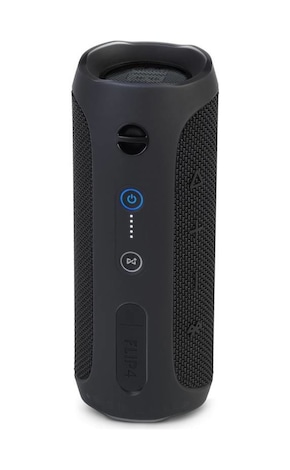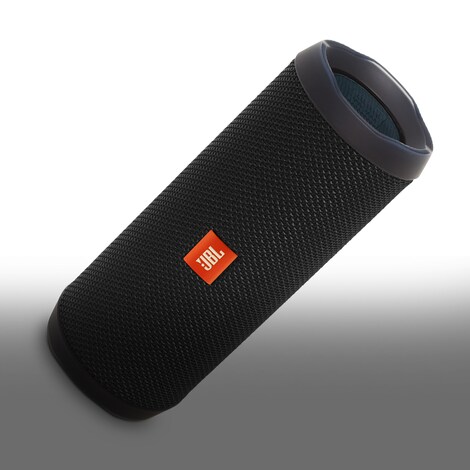 1/3
JBL Flip 4 Black POLAND
JBL Flip 4 is a wireless Bluetooth speaker, which thanks to the solid sound and a capacious battery allowing for 12 hours of playing can be successfully used to listen to music outdoors.
Specifications
Specifications
Brand:

JBL

Power Capacity:

3000mAh

Voltage:

16 W

Connectivity:

Micro-USB, Auxiliary Jack, Bluetooth

Weight(g):

515 g

Dimension:

68 x 175 x 70 mm

Color:

Black
Product description
JBL Flip 4 takes the portability of music to a new level. Thanks to this wireless speaker, you will be able to enjoy quality sound wherever you want – seaside trips, trekking in the woods, pool parties, etc. Thanks to the solutions implanted in Flip 4, the fun doesn't end with listening to music. Flip 4 can be used as a speakerphone and voice assistant, making it a truly versatile device. It's thanks to that JBL's portable speakers received positive reviews from industry critics.
Take your music anywhere
With the Flip 4, the user is not restricted by the access to electric outlets and wired music players. JBL's speaker is portable and relies on a wireless connection with a smartphone or a tablet. All the user has to do is enable Bluetooth on their device and let the speaker do the rest. Flip 4 is also durable, thanks to fiber material and rubber housing, and waterproof, working underwater for 20 minutes at the depth of 1 meter. It is a perfect companion for hiking trips and beach parties.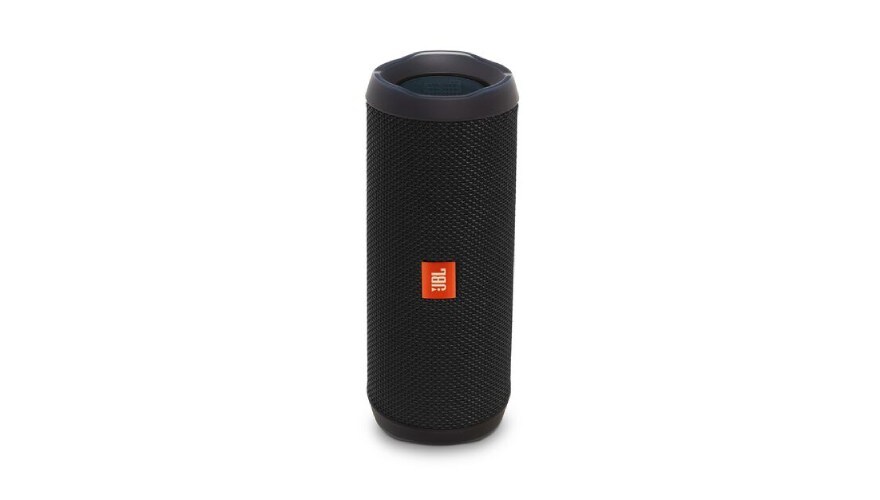 Party on with Connect+
There's nothing like an overkill to turn a boring meeting into a raging fiesta. To help you achieve that, JBL introduced another neat feature in their wireless speaker – the Connect+ function. Thanks to the Bluetooth technology implemented in Flip 4, the speakers can be connected with each other, to create the perfect sound system to liven up any festivity. Combine up to a 100 of JBL speakers into an in-house orchestra. Playing the best tunes and livening the party up by about 200%.
12 hours of fun
Nothing dampens the mood during a party just getting started like a sudden silence. Batter going down or a blown fuse cannot stand in the way of great fun, which is why JBL equipped the Flip 4 with a state-of-the-art Li-ion battery. Packing a whopping 3,000 mAh, this beast will keep the party going for 12 hours straight. After that, you can catch up on some sleep while the battery recharges for another round of extreme fun.
Bass like a boss
Everybody knows that a key to a great party is even better bass. With Flip 4 portable speaker your bass game will always be top-notch. Equipped with JBL's own bass radiators, one on each end of the device, the user will be able to not only hear the music but feel it pulsing through their skin. Flip 4 offers the best bass experience in the smallest package, an excellent combination for an outdoor outing with friends, or a pool party with neighbors.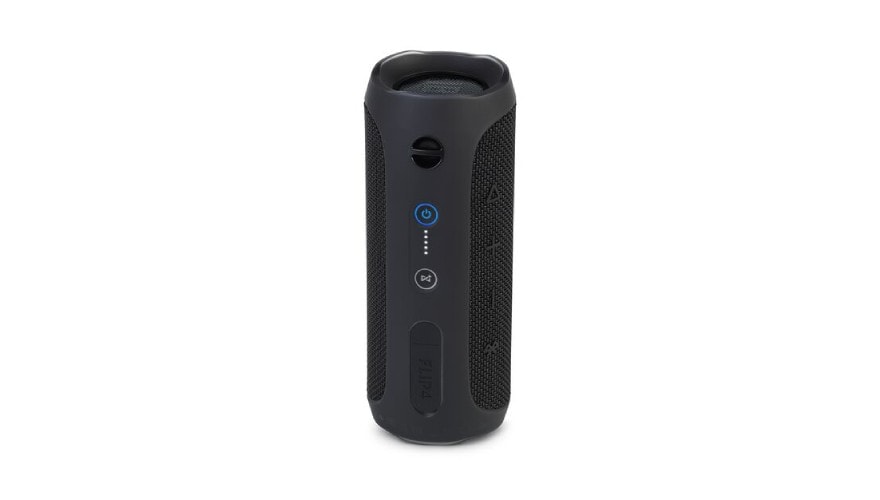 Speakerphone and voice assist
Like many of JBL's portable speakers, Flip 4 features a speakerphone functionality. Using only one button, the user can answer an incoming call and use the speaker as a loudspeaker system. Another feature is the Voice Assistant Recognition. With JBL's portable speakers the user will be able to access Siri or Google. Now to check weather conditions, look up a recipe for excellent guacamole or choose the playlist for the party.
Specification
JBL Flip 4 is a portable wireless speaker. It uses the Bluetooth version 4.2 to connect to the users' devices: smartphone or tablet. Flip 4 features the IPX7 waterproofing (30-minute submersion at the depth of 1 meter), speakerphone and voice assist functions and JBL Connect+ system, for linking multiple devices. The dimensions of the device are 6.8 x 17.5 x 7.0, and the weight is 0.51 kg. The power source used in JBL's portable speaker is rechargeable Li-ion battery, with a capacity of 3000 mAh, lasting approx. 12 hours of playing music.
Reception
The Flip 4 received positive reviews from the critics. The reviewers praised the quality of sound produced by the speakers and the waterproofing solutions. The Connect+ system was noted as one making the speaker stand out among the others available on the market.
Key features
It's time to party! With JBL Flip 4 your event will be a one to remember
Portable and waterproof! JBL's speaker allows you to enjoy music anywhere, anytime.
Let's get loud! With implemented bass radiator, the music will be loud and clear for everyone
Dancing all night! 12-hour battery life will turn your party into an all-out fiesta
Connect 100! The Connect+ system allows you to link Flip 4 devices into an electronic orchestra
JBL Flip 4
| | |
| --- | --- |
| Type | Bluetooth Speaker |
| Model | Flip 4 |
| Connectivity | Micro-USB, Auxiliary Jack, Bluetooth |
| Power Capacity | 3000mAh |
| Voltage | 16 W |
| Charging time | 3.5 hrs |
| Bluetooth version | 4.2 |
| Waterproof | Yes |
| Weight | 515 g |
| Dimension | 68 x 175 x 70 mm |
| Auto-power off | Yes |
| Color | Black |
Item type: Brand new
Warranty: 12 months
Free shipping
Important: In case of returning the product, the cost of shipping the product is on the buyer's side.
You can buy up to five items listed on this auction from Gear_shop. Gear_shop reserves the rights to cancel or limit the ordered items if buyer purchased more than five items on this auction.
3DP: (00061)
EAN: 6925281922442
Earn every time someone buys this product using your reflink.