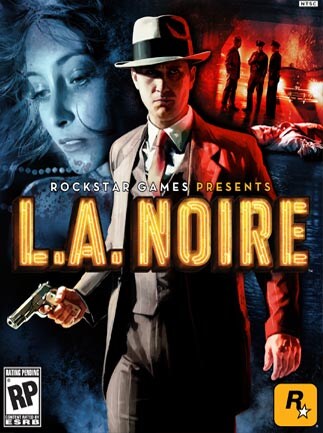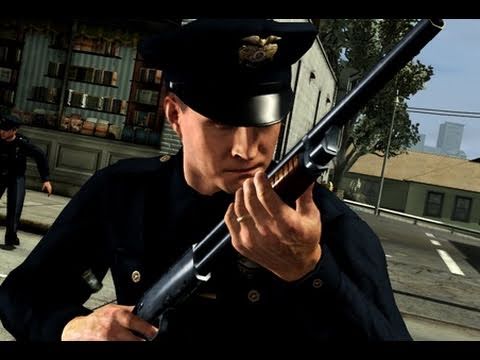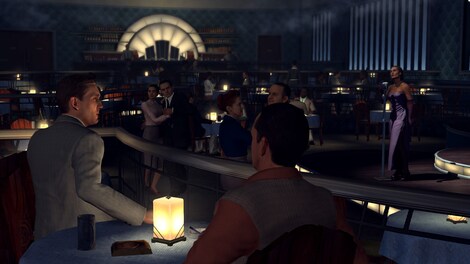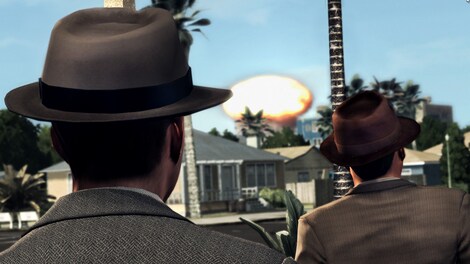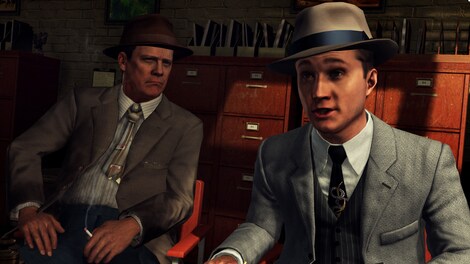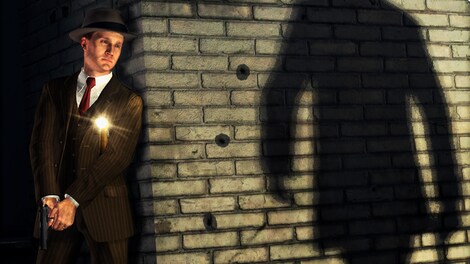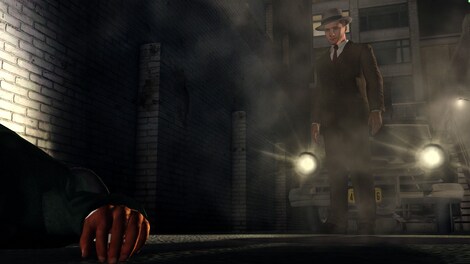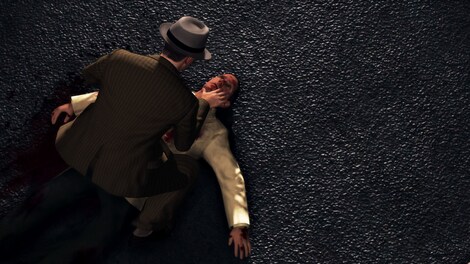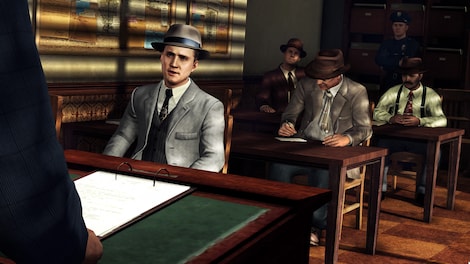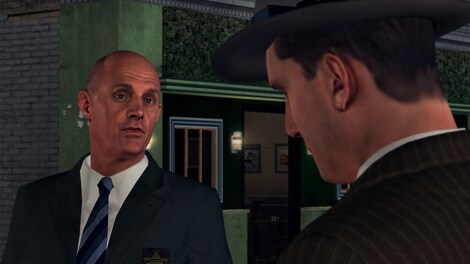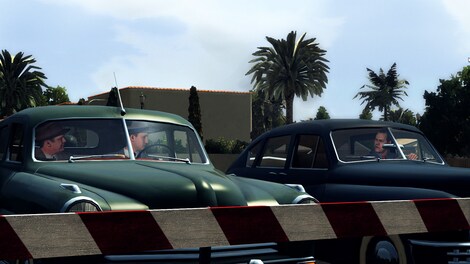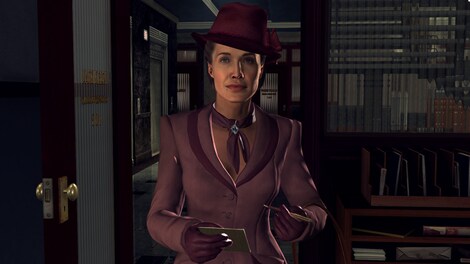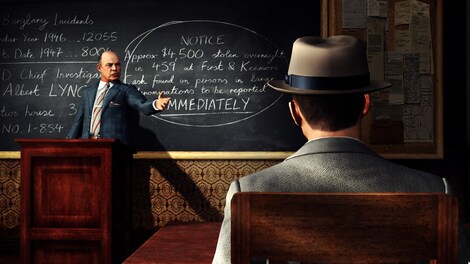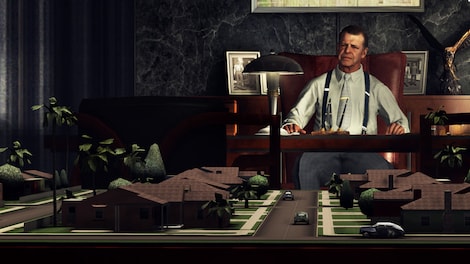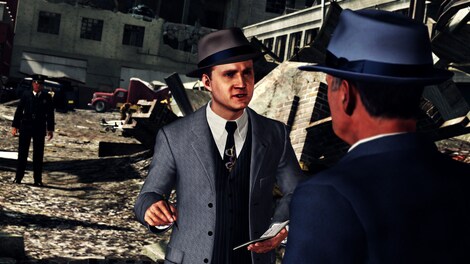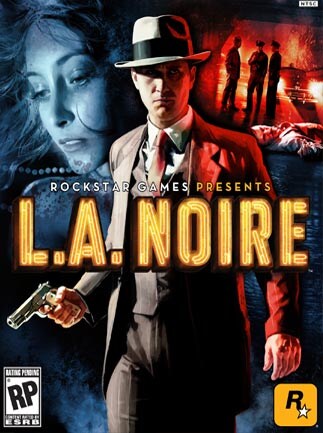 1/17
GLOBAL version
L.A. Noire Steam Key GLOBAL
A detective thriller set in Los Angeles of 40's of the last century. Engage into interrogations, chasing suspects, looking for clues and more activities of a true job of a detective in your search for truth. Will you manage to solve crimes in this brutal, corrupted and rotten city?
Product description
The L.A. Noire game takes place in the Hollywood in times of Golden Age. The storyline follows LAPD detective Cole Phelps who is thrown into middle of chaos: corrupted, brutal city with the highest murder rate ever and blossoming trade of drugs. His job is to narrow down ratings and find suspects of numerous crimes like arsons, murders, drug selling.

True life of a detective
A gameplay mixes detective adventures with action game set in dark noir style. Your character is LAPD detective Cole Phelps. As a newbie, he is expected to solve various criminal cases to climb up in the ladder of his career. Phelps is a veteran of the II World War that joined police in 1947 after coming back from the front. LA Police Department has one of the toughest job in the country with the Golden Age blossoming in Hollywood and sparking a bunch of crimes like corruption, murders, arson attacks. 
The player has a chance to follow closely Phelps' career starting from his stint in the traffic department and then moving up to chase murders and more serious crimes. You will look for suspects together with Phelps by interrogating, chasing down, shooting, looking for clues etc. The gameplay can be divided into two parts. First one requires very in-depth investigation that covers interrogations, looking for clues at the crime spot. The second part is often very dynamic and reminds of real action games as the player chase down – by car or on foot – suspects or engage into shooting with them. 
There are various types of weapon to choose from. Along the way the player is free to move around the huge LA, which has many surprises hidden. There is a chance to follow the main story, solving crimes that are mostly connected, or to look for more extreme experiences in side cases like taking down bandits hiding in a bank behind barricades.
Innovative technology in L.A. Noir
The innovative technology used in the game results in very realistic facial expressions of characters that might be very helpful in interrogation of witnesses and suspects. Some well-known actors were hired to serve as faces of the characters, including John Noble or Greg Grunberg.
Specific vibe
The game has stunning visuals that do great job in terms of recreating the vibe of L.A. in the 40's of the last century. The city's vibe is dark and heavy, you can feel the crime hanging up in the air. The soundtrack perfectly matches this Noir style with the dominant genre being jazz.
Key features
Set in the 40's of the last century in Los Angeles
Detective and action game
Interrogate witnesses, look for clues, chase down suspects
Third person, single player mode
Specific noir vibe and jazz soundtrack
Chasing badges challenges and three suits unlocking various skills
Different types of weapon
Release date: 2011-11-08
System requirements
System requirements
Below are the minimum and recommended system specifications for L.A. Noire Steam Key GLOBAL. Due to potential programming changes, the minimum system requirements for L.A. Noire Steam Key GLOBAL may change over time.
Minimal requirements
Processor

2.4 GHz - Intel / AMD

Graphics

512MB VRAM - NVIDIA GeForce 8600 GT 512MB / Radeon HD3000

Memory

2 GB RAM

Disk space

16 GB HD

System

Windows 7 / Windows Vista SP 1 / Windows XP SP 3\t
Languages
Languages
German, French, Italian, Russian, English
Age restrictions
Age restrictions


This product contains elements of