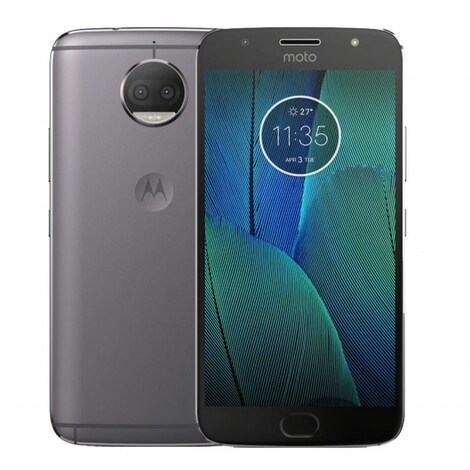 1/1
Lenovo Moto G5s Plus 3/32GB Dual Sim Szary
Lenovo Moto G5s 3/32GB Szary Ekran: 5,5" Qualcomm Snapdragon 625 (8 rdzenie, do 2.0 GHz) Pamięć wewnętrzna: 32GB Pamięć RAM: 3GB System: Android 7.1 Nougat Aparat: 8.0 Mpix - przód, 13.0 - tył Bateria: Lit ...
You must be logged in to add products to your wishlist.
Specifications
Specifications
Connectivity:

4G

Contract:

Without Contract

Lock Status:

Factory Unlocked
Product description
Lenovo Moto G5s 3/32GB Szary

Ekran: 5,5"

Qualcomm Snapdragon 625 (8 rdzenie, do 2.0 GHz)

Pamięć wewnętrzna: 32GB

Pamięć RAM: 3GB

System: Android 7.1 Nougat

Aparat: 8.0 Mpix - przód, 13.0 - tył

Bateria: Litowo-jonowa 3000 mAh

Motorola Moto G5S Plus





Motorola Moto G5S Plus zachwyca dokładnością wykonania i wykończeniem piaskowanego metalu. W elegancką, szczegółowo dopracowaną obudowę typu unibody, zostało harmonijnie wkomponowane szkło ekranu 5.5" Full HD. Płynne przejścia oraz subtelne krzywizny podkreślają piękno i wytrzymałość smartfonu. Z tyłu obudowy znalazło się miejsce dla podwójnego aparatu 13 Mpix, dzięki któremu odkryjesz całkowicie nowe uroki fotografii. Odkryj wszystkie zalety Moto G5S Plus.





Mocny ośmiordzeniowy procesor
W szybkim tempie dnia potrzebujesz najwyższej wydajności, jaką zapewni ośmiordzeniowy procesor Snapdragon 625. Wyposażona w niego Moto G5S Plus poradzi sobie z każdym zadaniem, a nawet wieloma jednocześnie. Duża moc umożliwi płynne odtwarzanie treści w wysokiej rozdzielczości oraz płynną rozrywkę. Co więcej, Moto G5S Plus obsługuje szybką transmisje danych LTE, dzięki czemu odkryjesz uroki błyskawicznego surfowania w sieci.
Widzisz więcej
Czas na film? Z Moto G5S Plus każde miejsce jest dobre by obejrzeć kolejny odcinek ulubionego serialu. Duży ekran 5.5" o rozdzielczości Full HD oferuje żywe kolory i szczegółowe detale. Co więcej obraz jest czytelny w świetle słonecznym, a dzięki matrycy IPS ma również szerokie kąty widzenia.
Podwójny aparat 13 MPix
Moto G5S Plus posiada podwójny aparat 13Mpix. Dodatkowo wyposażono go w autofocus z detekcją fazy (PDAF). Pożegnasz z nim rozmyte zdjęcia, błyskawicznie skupiając ostrość na wybranym obiekcie. Nad jakością kadrów czuwa ulepszony algorytm, umożliwiający wydobycia głębi detali oraz kolorów z Twoich fotografii.
Moto G5S Plus wyposażono również w przedni aparat do selfie. Jego matryca 8 Mpix zapewnia doskonałą jakość zdjęć portretowych, a lampa błyskowa LED rozświetli każdy kadr. Mało tego, szerokokątny obiektyw pozwoli Ci wykonać panoramiczne selfie i uchwycić najlepsze momenty z Twoimi znajomymi.
Obsługuj smartfon jednym palcem
Czytnik linii papilarnych w Moto G5S Plus już nie służy tylko do odblokowywania smartfonu. Teraz zyskał wiele nowych możliwości. Dzięki niemu możesz obsługiwać cały smartfon. Nawiguj po menu przesuwając palcem po płytce sensora i zatwierdzaj wybór dotykiem. To intuicyjne i niezwykle wygodne. Co więcej czytnik linii papilarnych, umożliwi Ci też autoryzacje płatności bez konieczności wpisywania hasła. Zrealizuj mobilne płatności u sprzedawców uczestniczących w programie przyłożeniem palca do czytnika.
Ultraszybkie ładowanie Turbo Power
Nie trać dnia na ładowanie smartfonu, bo Moto G5S Plus działa dłużej. Dzięki baterii o pojemności 3000 mAh, urządzenie ma pokaźny zapas energii na cały dzień pracy. Nie przerywaj swoich obowiązków i rozrywki by naładować telefon. Wystarczy 15 minut podłączenia do ładowarki, a zyskasz dodatkowe 5 godzin działania. Tak działa Turbo Power - technologia szybkiego ładowania w Moto G5S Plus.
Procesor
Qualcomm Snapdragon 625 (8 rdzeni, 2.0 GHz)
Układ graficzny

Adreno 506

Pamięć RAM

3 GB

Pamięć wbudowana

32 GB

Typ ekranu

IPS

Przekątna ekranu

5,5"

Rozdzielczość ekranu

1920 x 1080

Łączność

Bluetooth

Wi-Fi

LTE
NFC

System nawigacji satelitarnej
Złącza

Gniazdo kart nanoSIM - 2 szt.

Czytnik kart pamięci - 1 szt.

Wyjście słuchawkowe/głośnikowe - 1 szt.

Micro USB - 1 szt.

Bateria

Litowo-jonowa 3000 mAh

Zainstalowany system operacyjny

Android 7.1 Nougat

Aparat

13.0 Mpix - tył

8.0 Mpix - przód

Lampa błyskowa

Wbudowana

Rozdzielczość nagrywania wideo

1920 × 1080 (FullHD)

Grubość

9,5 mm

Szerokość

76,2 mm

Wysokość

154 mm

Waga

168 g

Kolor

Szary

Dodatkowe informacje

Czytnik linii papilarnych

Czujnik światła

Czujnik zbliżenia

Szkło Corning Gorilla Glass 3

Akcelerometr

Żyroskop

Dołączone akcesoria
Gwarancja

24 miesiące (gwarancja producenta)