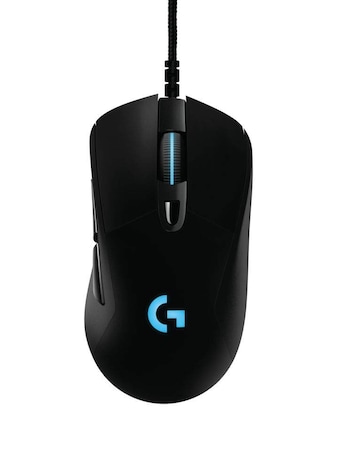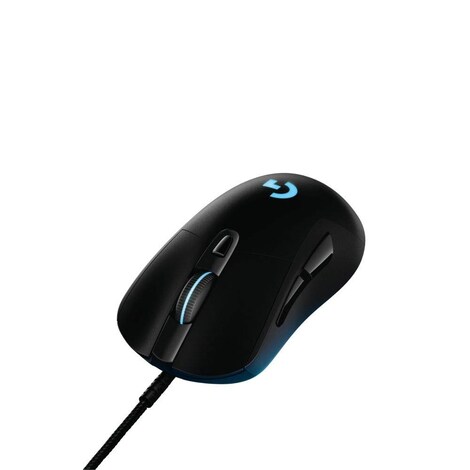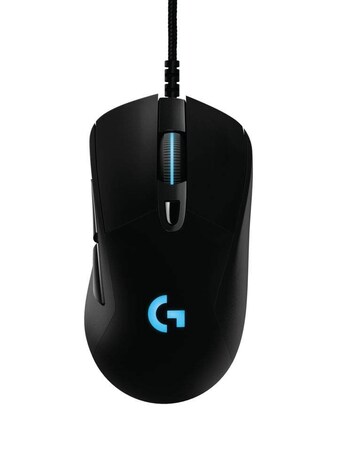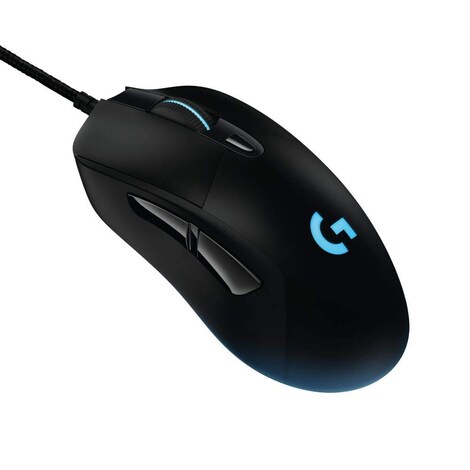 1/4
Logitech G403 Prodigy RGB Gaming Mouse
Logitech G403 Prodigy RGB is a gaming mouse created to give even the most dedicated players an edge when playing competitive online esports games, but it can also serve as a device for more casual gamers who only play oc ...
Product description
Logitech G403 Prodigy RGB is a gaming mouse created to give even the most dedicated players an edge when playing competitive online esports games, but it can also serve as a device for more casual gamers who only play occasionally. The mouse is equipped with a high-quality sensor which provides extra precision. It also has a set of programmable buttons, the on-board memory that can be used to store different mouse configuration profiles, and a stunning RGB lighting.
LIGHTSYNC Next-Gen RGB Lighting
The mouse comes with LIGHTSYNC, a next-gen RGB lighting, which can be customized through the dedicated Logitech G HUB software. You can pick one of the predefined presets or you can create your own – choose from 16.8 million colors and combine different effects to make the device feel truly your own. LIGHTSYNC allows you to synchronize the light across all of the compatible Logitech devices for a more immersive experience. The RGB lighting can also be synchronized with games you are currently playing and with what's currently happening on the screen.
Ergonomic Shape
Logitech G403 is a gaming mouse created for the most dedicated players, and as such, it was a must to make it as ergonomic and comfortable to use as possible. The mouse was designed in a way that allows you to use it for an extended amount of time and during longer sessions of gaming. This directly translates to less resting and more playing, which will turn you into a more valuable ally in competitive games. Don't let wrist pain prevent you from joining your guild on another exciting raid and obtaining that sweet loot you were after for so long.
Extreme Precision
The Logitech gaming mouse works on a PMW3366 sensor, which results in incomparable precision in both games and professional-grade software. Whether you are just a seasoned gamer or an esports player, you will surely appreciate the improved accuracy which comes with the device. The lightweight construction also helps in achieving better results – moving the mouse around requires less force, so the device quickly travels in whichever direction you want it to.
Programmable Buttons
G403 mouse has six programmable buttons you can use to execute custom actions such as typing a custom predefined message in the chatbox with a single click or quickly launching chosen application or game. Record your own macros and gain an advantage in online games or make tedious tasks easier to perform – all of this with a single button press.
Adjustable Weight
Depending on the title you are playing and on the force, you wish to use to move your mouse around, you may want to adjust the weight of the mouse to your personal needs. That's why Logitech G403 mouse comes with an option to change its weight on demand. Simply remove the included weight to make the mouse 10 grams lighter, or put it back in to gain more control over the device – the choice is yours.
DPI Switch
Games sometimes require a different level of sensitivity when performing different tasks. A good example might be the FPS game, where you can either hip-fire your weapon or aim down sights. Aiming at longer distances requires less sensitivity to maintain a high level of accuracy – otherwise the crosshair would fly all over the place on the slightest mouse movement. That's why it's always convenient to have a DPI switch on the mouse to adjust sensitivity on the go. Luckily, G403 mouse has such switch built-in.
Key features
LIGHTSYNC RGB technology lights the mouse up and gives the possibility to synchronize lighting effects with played title, as well as with other compatible hardware from Logitech
Comfortable and ergonomic design allows using the mouse for longer periods of time
DPI switch lets you easily change mouse sensitivity on-demand, allowing to quickly tackle different types of tasks
6 programmable buttons ready to be assigned any custom function you want
Onboard memory lets you store mouse configuration directly on the device
G403 Gaming Mouse specification
| | |
| --- | --- |
| Type | Gaming Mouse |
| Model | G403 |
| Connectivity | Wired |
| Cable length | 2.10 m |
| Prog Buttons | 6 |
| Resolution | 200 – 12,000 DPI |
| Sensor | PMW3366 |
| Sensor Type | Optical |
| LIGHTSYNC RGB | 2 zones |
| On Board Memory | 1 profile |
| Dimensions | 124 mm x 68 mm x 43 mm |
| Weight | 87.3 g, mouse only |
Item type: Brand new
Warranty: 24 months
EAN: 50992060655212
Earn every time someone buys this product using your reflink.