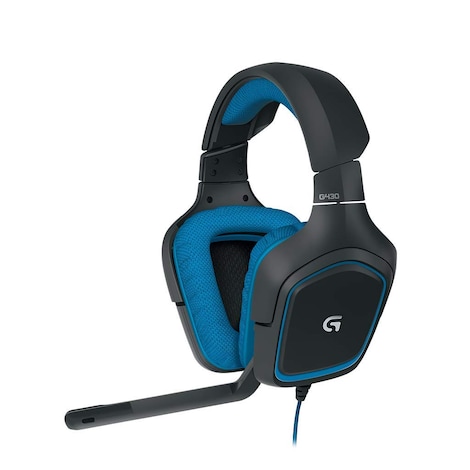 1/1
Logitech G430 Gaming Headset for PC Gaming with 7.1 Dolby Surround, Black/Blue
Logitech G430Logitech G430 is a gaming headset for players who value both comfort and quality. This headset comes with all you would expect from such device: large, rotating ear cups are comfortable to wear and while the ...
Product description
Logitech G430
Logitech G430 is a gaming headset for players who value both comfort and quality. This headset comes with all you would expect from such device: large, rotating ear cups are comfortable to wear and while they aren't fully soundproof, they are still one of the best available on the market. The headband is highly adjustable and outfitted with soft padding, which combined with the comfort and breathability provided by the earcups makes Logitech G430 a perfect companion for long hours of gameplay. The headset comes with an affixed microphone, which can be positioned at various angles.  Logitech G430 is outfitted with on-cable volume controls and USB connection port.
7.1 Surround Gaming Headset
Powered by Logitech Gaming Software (LGS), the Logitech G430 headphones operate on both Dolby Headphones system and DTS Headphone:X. Dolby Headphone system creates virtual surround environment using two-channel headphones. DTS Headphone:X works on a similar basis, creating a 3D sound sphere for better immersion. Both systems provide users with the best quality of sound, working on 7.1 channel. Wearing this headset, the players will feel like as if they were right in the middle of the action, mostly thanks to the 360-degree audio.Built-in microphone works great as well, recording voice with no discernable bass, while remaining highly detailed and providing decent intelligibility. G430's microphone clearly distinguishes between ambient sounds and speech, working even in environments with high noise pollution.
Specifications
SYSTEM REQUIREMENTS:
Windows® 7 or later system PC, Nintendo Switch, PS4™ or Xbox One™

USB port or 3.5mm headphone and microphone ports

(Optional) Internet connection for Logitech Gaming Software
PHYSICAL SPECIFICATIONS:
Height: 172 mm




Width: 81.7 mm




Depth: 182 mm




Weight: (w/o cable): 259 g




Cable Length: 3.2 m



HEADPHONE:
Frequency response: 20Hz-20KHz

Impedance: 32 Ohms

Sensitivity: 90dB SPL/mW
MICROPHONE PICKUP PATTERN
Cardioid (Unidirectional)

Type: P

ressure Gradient Electret Condenser

Frequency response: 50-20KHz
Sensitivity: -40dBV/Pa re: 0dB = 1 Pa, 1KHz
Test conditions: 3.0V, 2.2K Ohm
PRODUCT SPECIFICATIONS
On-cable controls

Dolby/DTS 7.1 surround sound

Lay-flat ear cup

Washable ear pad covers

Noise-cancelling mic

Full-speed, digital USB



Package Contents
Logitech G430 package comes with the:
1 x Headset
1 x USB adapter
1 x User documentation
Drivers & Software
Logitech G430 uses a 40 mm driver, which provides high-quality sound. Users can also download Logitech Gaming Software. LGS allows users to adjust their device as they see fit by setting-up a Logitech Gaming Software profile and managing one's headset surround options such as volume on the headphones and the microphone, adjustable audible volume of the voice on the mic, the volume of the low-frequency sound or the sound of the voice using voice avatars.
Reception
Logitech G430 headset was met with a mixed-to-positive response from critics and users. Critics praised it for having one of the best prices to quality ratios from all similar headsets available on the market. Other positives included the comfortable and breathable design and responsive microphone. Logitech G430 is considered one of the more solid headsets on the market and has quite good reviews among gamers and hardware experts alike.
Product prices on G2A.COM
Logitech G430 headset will suit both most non-professional players and even some pro gamers. This good quality product can be purchased from verified sellers on G2A.COM for really reasonable prices, that may seem like a sale, but are just great deals available at G2A.COM platform.
Before using this gaming headset, remember to test it and customize your audio settings by doing the following actions:
Make sure the headphone cable (marked with green, and with an image of headphones on the jack) is firmly connected to the audio output jack of your source device
If you are connected to a computer, be sure you have properly configured your computer's sound output settings (see your computer's documentation for more information)
Try plugging the headphone connector into a different device, like an MP3 player or into a different computer
Try adjusting the volume or toggling the mute button on your headset, device and application. Adjust the volume or mute in seconds. Audio controls are located on the 2.3 m cable.
Earn every time someone buys this product using your reflink.