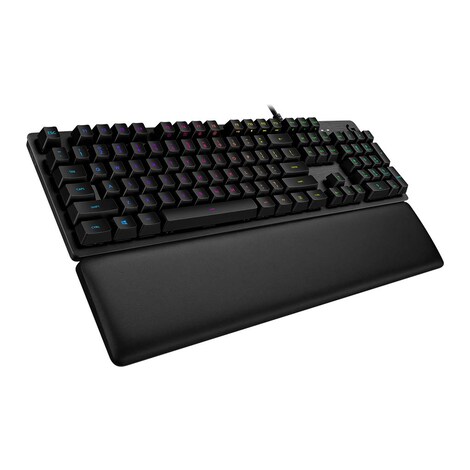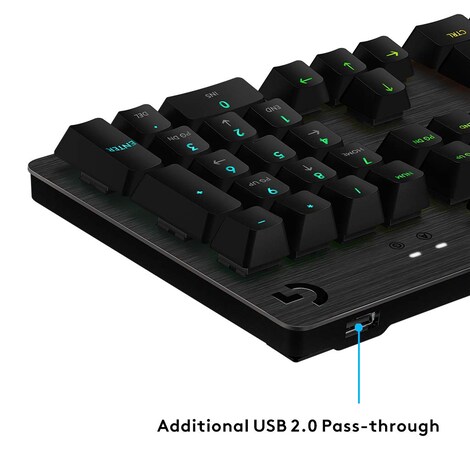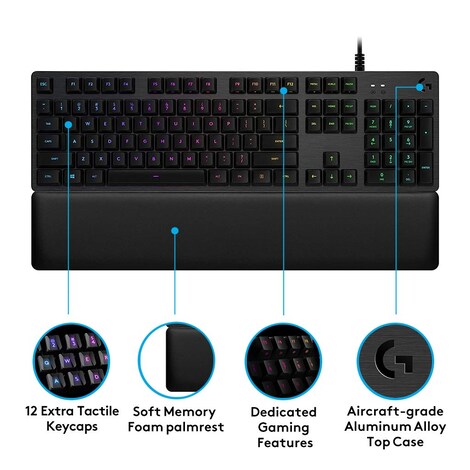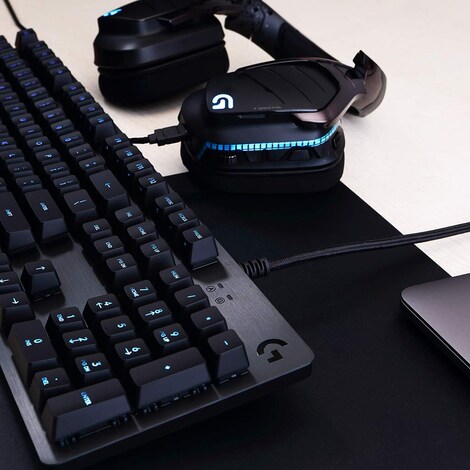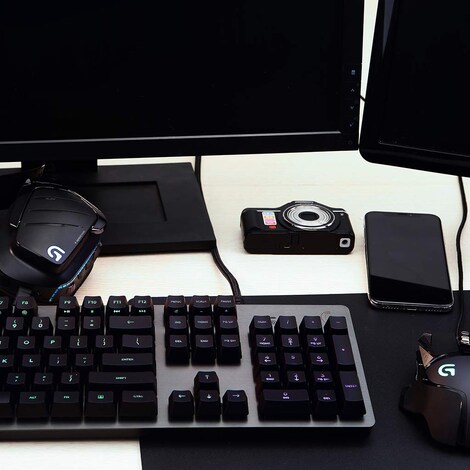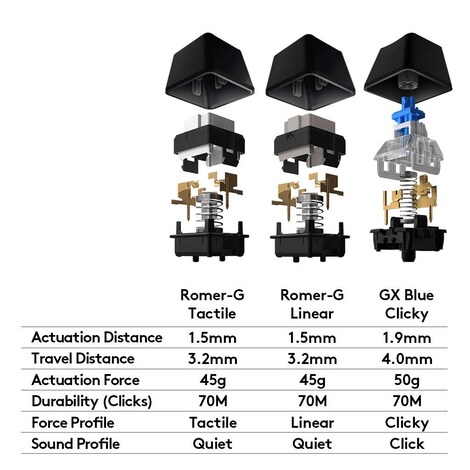 1/6
Logitech G513 Backlit Mechanical Gaming Keyboard US Layout
Logitech G513 is a mechanical RGB gaming keyboard designed to provide players with even better gaming experience. It's sold in 3 different variants, each working on different switches. You can choose from between Romer-G ...
Product description
Logitech G513 is a mechanical RGB gaming keyboard designed to provide players with even better gaming experience. It's sold in 3 different variants, each working on different switches. You can choose from between Romer-G Tactile, Romer-G Linear and clicky GX Blue. Choose the one that fits your needs best and start playing your favorite titles in a completely new and more satisfying way.
Professional Mechanical Switches
Logitech G513 is a mechanical keyboard which works on Romer-G Tactile/Linear or GX Blue switches, giving you the possibility to choose the ones that are best for you. Tactile switches have that little bumping feel before being activated, while linear can be pressed all the way down without noticing any bumps. Tactile are better suited for fast typing while linear are mostly preferred for gaming, especially when pressing the key quickly multiple times is required. GX Blue, on the other hand, are tactile and come with that loud clicky sound beloved by enthusiasts.
Impressive RGB Backlighting with LIGHTSYNC
The keyboard has impressive RGB lighting, which is customizable to the point, where you can manually select the color for each key section or even for each individual key. You can additionally choose from a variety of available lighting effects and create different presets for each played game. The keyboard supports LIGHTSYNC technology and can be synchronized with other supported products to create the most immersive gaming experience available.
Comfortable Wrist Rest
Logitech G513 includes a comfortable wrist rest in the package. The wrist rest adjusts to your wrists, thanks to the memory foam it is made from. Wrist rest allows to use the keyboard for an extended period of time – it reduces the negative effects of prolonged gaming sessions, such as the occurrence of pain or tingling sensation in palms. It also has rubber feet, preventing the keyboard from sliding on the desk.
Durable Design with Aircraft-Grade Aluminum Alloy
The keyboard is made with aircraft-grade aluminum alloy, which ensures extraordinary durability while maintaining relatively low weight. As such it is highly resistant to typical damages caused by everyday exploitation, making it last much longer than some could expect. On top of that its simple design makes it looks amazing on any kind of desk – start playing with style on Logitech G513.
Additional Gaming Keycaps and Keycap Puller
Logitech G513 also comes together with additional gaming keycaps and a keycap puller. In the package, you will find 12 keycaps for keys used most often while playing games. These are number keys 1-5 and letters Q, W, E, R, A, S, D. Gaming keycaps are profiled differently from the rest, giving you the ability to tell by touch you are pressing the right key. No more misclicks and wasted abilities in MOBA titles.
There is also a keycap puller which makes it significantly easier to remove the keycaps you want to swap. It will also make cleaning the keyboard much easier.
Reception
Reviewers warmly welcomed this advanced keyboard. They praised the sensitive mechanical Romer-G switches that turned out to be very precise and responsive, which is especially important for gamers, as well as the presence of the effective RGB lighting, which is always a cool addition in gaming-related peripherals. The fact that Logitech G513 comes together with a wrist rest and alternative gaming keycaps was also noted.
Key features
Different options of mechanical switches – Romer-G Linear, Romer-G Tactile and GX Blue
Customizable RGB lighting which can be synched with other LIGHTSYNC technology products
Multimedia keys allow to conveniently navigate through your music playlist without minimizing the game
Aircraft-grade aluminum ensures extraordinary durability of the keyboard
12 optional gaming-profiled keycaps and a keycap puller for easier keycap swapping
Logitech G513 specification
| | |
| --- | --- |
| Type | Gaming Keyboard |
| Model | G513 |
| Connection Type | USB 2.0 |
| Backlighting | Yes, RGB per key lighting |
| Cable length | 6 ft (0.3 m) |
| USB Ports (Built-in) | Yes, 2.0 |
| Indicator Lights (LED) | 2 |
| Weight | 962 g (33.9 oz) |
| Dimension | 132 mm (5.2 in) x 445 mm (17.5 in) x 35.5 mm (1.39 in) |
| Additional | Palm rest |
| Layout | US Layout |
Item type: Brand new
Warranty: 24 months
Warehouse: EU countries + free shipping
EAN: 5099206078864
Earn every time someone buys this product using your reflink.