Mafia III Steam Key GLOBAL
Available from marketplace sellers
There are %d people looking at this product.
Warning! Mafia III is region locked and it CANNOT be activated and played in the following countries: Asia/Pacific Region, Argentina, Australia, Bangladesh, Brunei Darussalam, Bolivia, Brazil, Bhutan, Canada, Cocos (Keeling) Islands, Chile, China, Colombia, Christmas Island, Ecuador, Falkland Islands (Malvinas), French Guiana, Guyana, Hong Kong, Indonesia, British Indian Ocean Territory, Japan, Cambodia, Democratic People's Republic of Korea, Republic of Korea, Lao People's Democratic Republic, Sri Lanka, Myanmar, Mongolia, Macau, Maldives, Mexico, Malaysia, Nepal, New Zealand, Peru, Philippines, Pakistan, Paraguay, Singapore, Suriname, Thailand, Timor-Leste, Taiwan, United States, Uruguay, Venezuela, Vietnam.
Mafia 3 (PC) for Steam platform is a digital product – no box included. The price applies to a digital version of the product.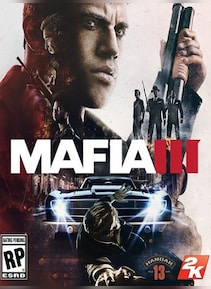 Language available:

Provincias:

GLOBAL

Una plataforma:
Buy product from these sellers:
¿Cómo funciona G2A Goldmine?
Diles a tus amigos sobre G2A Goldmine – forma un equipo y aumenta tus beneficios!

2

Mira como crece tu beneficio!

Basta con sentarte y relajarte, ya que tu trabajo da beneficios ahora! Utiliza consejos y herramientas, que hemos preparado, para que puedas maximizar el potencial de ganancias.

Un trabajo bien hecho merece un crédito apropiado. ¿No has trabajado duro para lograr hacerlo bien? Elige tu opción de pago preferida y recibe el cheque de pago!
Descripción del producto

The classic simulator of a functioning crime family is back with Mafia III from Hangar13 and 2K Games. Set in the troubled 1960s in a fictional version of New Orleans called New Bordeaux. Take control of Lincoln Clay, a Vietnam veteran forging his own mafia to take revenge on those who betrayed the crime family who adopted him.

Open-world of a realistic city

A completely open world divided into ten districts, New Bordeaux is torn apart by the war between several criminal organizations. While some of them are allied with the game's main antagonist, the Marcano family, others decide to join Lincoln Clay's attempt to take over the city from the Marcanos.The city feels close to life, as every district will react to Lincoln's actions in a different way depending on the inhabitants. Mafia III's New Bordeaux reflects the complicated social dynamics of the 1960s.

Realistic gameplay

Mafia 3 separates itself from other open-world crime games like Grand Theft Auto or the Saints Row series. As fits the kind of story it says, the action is toned down for a more authentic recreation of the period. The activities Lincoln has access to all tie into the general theme of taking control of the city from the hands of Marcanos and their allies. Mafia III's gameplay is a thematic and brutal journey back in time, not a playground for outrageous action sequences known from other open-world crime games.

Flexible gameplay

Lincoln Clay during his time in the military was also participating in covert operations and it shows in the options available to him in the gameplay. He can approach missions openly, using the impactful gunplay and cover system to eliminate enemies in a loud and bold declaration of war. The enemies react realistically, so shooting them in the legs will not necessarily make them stop shooting at you, though they will stop moving.On the other hand, a stealthy approach and carefully eliminating your opponents without making a sound is just as possible, and rewarded with brutal execution animations.In time Lincoln will be able to call in allies to help him in combat, often able to take out any enemy on their own, or offer a useful distraction.

Engaging story

Just as the first Mafia 3 trailer suggested, the game takes a mature, serious tone focused on revenge and relations between characters. The game is set in the stunning and troubled setting directly inspired by the 1960s New Orleans. The main character, Lincoln Clay has to deal with hostility towards him as a man of mixed race in the time of civil unrest when white supremacists are one of the organizations controlling the city.The storyline is mature and complex, filled with fleshed out characters with clear motivations. The performances of the actors, and incredible attention paid to facial expressions make Mafia III's narrative feel real and believable.

Key features

Mafia 3 (PC)

revives the franchise dating back to 2002, with a more contemporary setting of USA 1960s in a fictional version of New Orleans.

Excellent driving - the vehicles are authentic period machines, with believable, but manageable handling
Mature story - set in a troubled period in the United States' history, Mafia 3 tackles the complex social dynamics of the time with respect, but without pulling any punches
Thematic activities - all activities on the map tie into the theme of taking over the city from the opposition
Flexible gameplay - tackle your missions head on, guns blazing, stealthily using only your knife, or call in allies for extra destruction and distraction
Believable gunplay - your guns are not one-hit killers, and enemies may be immobilized with a shot to the leg, but still keep on shooting
Frequently bought with this item