Mafia III STEAM CD-KEY ROW
Pazar satıcıları tarafından mevcuttur
%d kişi bu ürünü inceliyor
Warning! This product is region locked and it CANNOT be activated and played in the following countries: Asia/Pacific Region, Argentina, Australia, Bangladesh, Brunei Darussalam, Bolivia, Brazil, Bhutan, Canada, Cocos (Keeling) Islands, Chile, China, Colombia, Christmas Island, Ecuador, Falkland Islands (Malvinas), French Guiana, Guyana, Hong Kong, Indonesia, British Indian Ocean Territory, Japan, Cambodia, Democratic People's Republic of Korea, Republic of Korea, Lao People's Democratic Republic, Sri Lanka, Myanmar, Mongolia, Macau, Maldives, Mexico, Malaysia, Nepal, New Zealand, Peru, Philippines, Pakistan, Paraguay, Singapore, Suriname, Thailand, Timor-Leste, Taiwan, United States, Uruguay, Venezuela, Vietnam.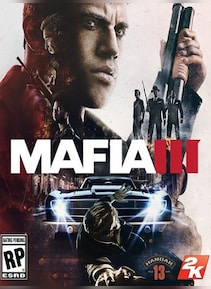 Bu dil seçenekleri mevcuttur:

Bölge:

ROW

Platform:
Buy product from these sellers:
KULLANICI
DIŞ TARAF
FİYAT
G2A Goldmine nasıl çalışıyor
1

Diğerlerini haberdar edin

G2A'in Goldmine'ını arkadaşlarınıza da anlatın - bir takım oluşturun ve kazancınızı güçlendirin!

2

Kârınızın büyüdüğünü görün!

Çalışmalarınız size kârınızı sunarken siz arkanıza yaslanın ve rahatlayın! Kazanç potansiyelinizi en üst seviyeye çıkartmak için size sunduğumuz ipuçları ve araçlardan faydalanmayı unutmayın.

İyi yapılmış iş düzgün bir tebrik gerektirir. Üstelik bu başarı için çok fazla bir şey yapmanıza da gerek kalmadı değil mi? Tercih ettiğiniz ödeme yöntemini seçin ve paranızı alın!
Ürün Açıklaması

The classic simulator of a functioning crime family is back with Mafia III from Hangar13 and 2K Games. Set in the troubled 1960s in a fictional version of New Orleans called New Bordeaux. Take control of Lincoln Clay, a Vietnam veteran forging his own mafia to take revenge on those who betrayed the crime family who adopted him.

Open-world of a realistic city

A completely open world divided into ten districts, New Bordeaux is torn apart by the war between several criminal organizations. While some of them are allied with the game's main antagonist, the Marcano family, others decide to join Lincoln Clay's attempt to take over the city from the Marcanos.
The city feels close to life, as every district will react to Lincoln's actions in a different way depending on the inhabitants. Mafia III's New Bordeaux reflects the complicated social dynamics of the 1960s.

Realistic gameplay

Mafia 3 separates itself from other open-world crime games like Grand Theft Auto or the Saints Row series. As fits the kind of story it says, the action is toned down for a more authentic recreation of the period. The activities Lincoln has access to all tie into the general theme of taking control of the city from the hands of Marcanos and their allies. Mafia III's gameplay is a thematic and brutal journey back in time, not a playground for outrageous action sequences known from other open-world crime games.

Flexible gameplay

Lincoln Clay during his time in the military was also participating in covert operations and it shows in the options available to him in the gameplay. He can approach missions openly, using the impactful gunplay and cover system to eliminate enemies in a loud and bold declaration of war. The enemies react realistically, so shooting them in the legs will not necessarily make them stop shooting at you, though they will stop moving.
On the other hand, a stealthy approach and carefully eliminating your opponents without making a sound is just as possible, and rewarded with brutal execution animations.
In time Lincoln will be able to call in allies to help him in combat, often able to take out any enemy on their own, or offer a useful distraction.

Engaging story

Just as the first Mafia 3 trailer suggested, the game takes a mature, serious tone focused on revenge and relations between characters. The game is set in the stunning and troubled setting directly inspired by the 1960s New Orleans. The main character, Lincoln Clay has to deal with hostility towards him as a man of mixed race in the time of civil unrest when white supremacists are one of the organizations controlling the city.
The storyline is mature and complex, filled with fleshed out characters with clear motivations. The performances of the actors, and incredible attention paid to facial expressions make Mafia III's narrative feel real and believable.

Key özellikleri

Mafia III revives the franchise dating back to 2002, with a more contemporary setting of USA 1960s in a fictional version of New Orleans.

Excellent driving - the vehicles are authentic period machines, with believable, but manageable handling
Mature story - set in a troubled period in the United States' history, Mafia 3 tackles the complex social dynamics of the time with respect, but without pulling any punches
Thematic activities - all activities on the map tie into the theme of taking over the city from the opposition
Flexible gameplay - tackle your missions head on, guns blazing, stealthily using only your knife, or call in allies for extra destruction and distraction
Believable gunplay - your guns are not one-hit killers, and enemies may be immobilized with a shot to the leg, but still keep on shooting

Other versions of Mafia 3

This product is also available in the following versions. They are NOT included in this purchase.

Mafia III OS X
Mafia III Digital Deluxe OS X
Mafia III PlayStation 4
Mafia III Digital Deluxe PlayStation 4

En düşük gereksinimler

Tavsiye edilen gereksinimler

Sistem Gereksinimleri:

Windows 7 64-bit

İşlemci:

Intel I5-2500K / AMD FX-8120

Bellek:

6 GB RAM

Ekran Kartı:

2GB VRAM - NVIDIA GeForce GTX 660 / AMD Radeon HD7870

Sabit Disk:

50 GB HDD

Platform:

PC

Sistem Gereksinimleri:

Windows 7 64-bit

İşlemci:

4.0 Ghz - Intel I7-3770 / AMD FX 8350

Bellek:

8 GB RAM

Ekran Kartı:

4GB VRAM - NVIDIA Gefore GTX 780 / GeForce GTX 1060 / AMD Radeon R9 290X

Sabit Disk:

50 GB HDD

Platform:

PC

Yaş ve içerik derecelendirmesi

Diğer

Steam

Steam - Game can be activated on Steam, enables you to play on official Steam servers and your game will be kept updated with the latest patches via the Steam platform.

Key Type

This product is available as a CD key carried out via digital means - no shipping fees apply.