Minecraft Minecraft Key GLOBAL
Pazar satıcıları tarafından mevcuttur
%d kişi bu ürünü inceliyor
To activate the Minecraft key go to https://minecraft.net/user/redeem and click "register for a Mojang account" or login if you already have an account. Choose "redeem gift code or prepaid card" option and type in your code. Please remember to type the key without spaces nor pauses.
\n
Minecraft is a digital product- no box included. The code must be activated on the official Minecraft website.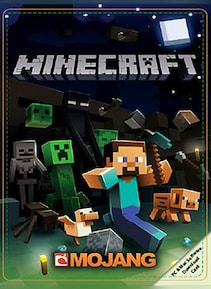 Bu dil seçenekleri mevcuttur:

Bölge:

GLOBAL
Kazanın 15,03 ₺ eğer birisi bu ürünü sizin Goldmine referans bağlantınızı kullanarak alırsa Daha fazlasını öğrenin
Buy product from these sellers:
KULLANICI
DIŞ TARAF
FİYAT
G2A Goldmine nasıl çalışıyor
1

Diğerlerini haberdar edin

G2A'in Goldmine'ını arkadaşlarınıza da anlatın - bir takım oluşturun ve kazancınızı güçlendirin!

2

Kârınızın büyüdüğünü görün!

Çalışmalarınız size kârınızı sunarken siz arkanıza yaslanın ve rahatlayın! Kazanç potansiyelinizi en üst seviyeye çıkartmak için size sunduğumuz ipuçları ve araçlardan faydalanmayı unutmayın.

İyi yapılmış iş düzgün bir tebrik gerektirir. Üstelik bu başarı için çok fazla bir şey yapmanıza da gerek kalmadı değil mi? Tercih ettiğiniz ödeme yöntemini seçin ve paranızı alın!
Ürün Açıklaması

There is no better game on PC or console to capture the joy of holding the forces of creation in your hand. Whether you choose to explore the boundless world or to create a stronghold and rule over the region, Minecraft supplies you with abilities to do so.

\nMinecraft game world\n

The world of Minecraft is constructed entirely of blocks placed on a grid. It stretches across a potentially infinite, procedurally generated plane. As you travel discover new biomes, each rich with new materials for you to harvest. Explore caves and ruins full of monsters out to get you and resources for the taking.

\nMinecraft open-ended gameplay\n

Minecraft gameplay gives you perfect freedom. Explore the world, craft for yourself the tool for survival, or seek rare materials to complete an ambitious construction. Your rewards come from the satisfaction and a sense of power over the environment as you manage to build increasingly more complex structures. Set out goals for yourself and use a robust crafting system to accomplish them. Potentially endless world created by the game is yours to transform.

\nRobust crafting system\n

Minecraft boasts hundreds of crafting recipes for the players to discover and use. From tools to weapons and armor to aesthetic additions to your households, it is enough to keep playing for years. Add to this materials with special properties and you will be crafting complex mechanised arrangements and logic engines in no time.

\nMinecraft game modes\n

There are several game modes to choose from. The Survival mode throws you empty-handed into a hostile world, where you have to carve a place for yourself with your bare hands and increasing number of tools. Its extreme version is the Hardcore mode, with just 1 life and permanent death of your avatar and the world created for it. Creation mode unleashes your imagination, giving you unlimited resources, immortality and ability to fly allowing you to reshape the face of the world as you please. Spectator mode makes you a ghost, freely phasing through the blocks to explore what lies beyond.

\nMinecraft online modes\n

Adventure mode creates controlled environment placing customisable restrictions of the participants, to have them experience the world in a way the creator intended. Or set up a server an enjoy the full scope on Minecraft PC online multiplayer with your friends and likeminded players, together creating incredible projects.

Key özellikleri

\nMinecraft features\n

\n
Potentially endless world for the players to explore. Procedurally generated as you travel further, always keeps something to surprise you with.
\n
Several game modes, each catering to a different gameplay, from survival to exploration to boundless creation. Join up with friends and together create wonders.
\n
Interact with mobs, from wildlife to monsters, Minecraft makes sure you never feel alone in its vast world. Fight them, herd them or eat them, you are the king of the land.
\n
Other dimensions to explore, the Nether and the End Realm wait just on the other side of portals you can create.
\n
Day and night cycle changes the game between safe exploration and a fight for survival when the monsters come at night.
\n
Robust online community sharing advice and obscure crafting recipes.
\n

\n

If you feel the constraints of other games too limiting, you have boundless imagination waiting for an outlet or you enjoy crafting-heavy survival games, Minecraft is the game for you.

\nOther versions of Minecraft\n

This product is also available in the following versions. They are NOT included in this purchase.

\n

\n
PlayStation 4
\n
OS X
\n
Linux
\n
Android
\n
iOS
\n
Windows Phone
\n
PlayStation Vita
\n
Raspberry Pi
\n
Universal Windows Platform
\n
Wii U
\n

\nMinecraft system requirements\n

If you can run your operating system, you can run Minecraft. Reminiscent of 8-bit games, a block-and-grid based world with simple but clear textures and simple physics engine allow you to play on almost any modern system. Minecraft was released on all essential platforms from Windows PCs to mobile devices.

Yaş ve içerik derecelendirmesi