October the 5th, 2021. From the morning, I had a feeling this would be a long day at the office. 
Around 8:00, just I was drinking my first coffee this morning, I heard the phone ring. It was my contact, a journalist. He was in a hurry, said something about a big scoop, ten suspects, needed a favor. He said this time he would pay, same old, same old. Call me stupid, but I said yes. He said that they would show up throughout the day. I should interview them as carefully as possible, then write up my opinion and mail it over to him. Then he hung up. "This ought to be good," I thought to myself, and then I heard the knock on the door…
L.A. Noire
| | |
| --- | --- |
| Release: | 2011-11-08 |
| Genre: | Adventure |
| Developer: | Rockstar Leeds |
The first suspect was simply stunning. Never before have I seen someone so good-looking. As they sat down, their features began to shift. Uneasiness, discomfort, fear – all that I could read from their face like from the palm of my hand. This was new; I usually had more trouble getting such a clear read of someone so early into the investigation. As they started to tell their story, I was already making my opinion of them.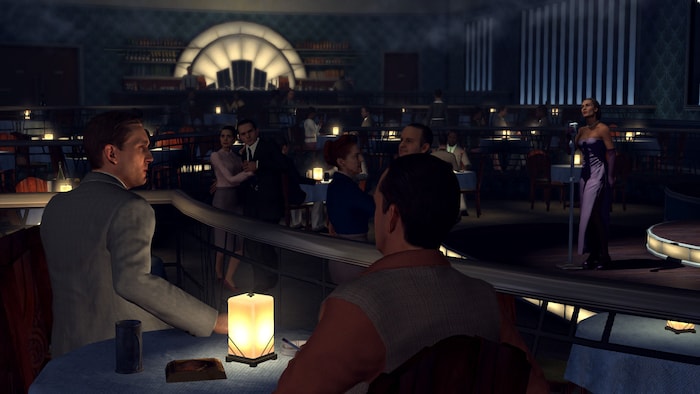 L.A. Noire is a unique noire game. The story of a former soldier turned police detective, set in the sun-blasted streets and dark alleys of 1940s Los Angeles I pretty standard for the genre, as is the GTA series-inspired gameplay. But the main feature of the game is the way the player carries out the investigations. Finding clues at the crime scene, following leads, and finally interrogating witnesses and suspects is what makes L.A. Noire so unique. The interrogation gameplay is worth noting, as it relies on the player to read the expression of the interrogated person to deduce their truthfulness. It was a never-before-seen solution, possible thanks to the at-the-time pioneer graphics engine.
Key features
The atmosphere of the 1940s Los Angeles, the city of angels and devils
Solving crimes and climbing up the police ranks
Never-before-seen mechanics of face reading help deduce the honesty of the witnesses and suspects
Max Payne series
| | |
| --- | --- |
| Release: | 2001-07-25 |
| Genre: | Adventure |
| Developer: | Remedy Entertainment |
Not long after the first client had left, in came the second one. And then the third, and fourth. Three siblings. Each with a different story to tell, each with bigger baggage than the other. The first one wanted to avenge the murder of their wife; the second one wanted to atone for their failures by helping a woman in trouble; the third one wanted to give it all up to drugs and booze. I knew that there was more to them than they let on, so I listened to their stories carefully.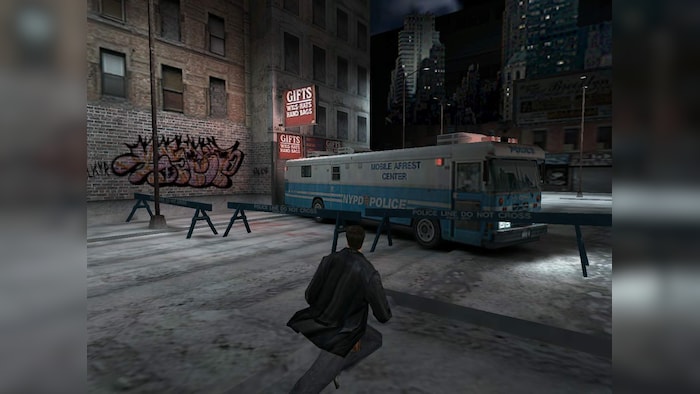 Remedy's Max Payne series is probably one of the most classic noir games. The story of a New York cop tracking the murderers of his wife and getting involved in a bigger scheme is ready-made for a noir movie. But what made the Max Payne series stand out among other similar titles was the use of bullet-time – the player could slow down the time to deal with enemies with ease. The first game in the series is now considered a cult classic for this very reason, with the two sequels trying but ultimately failing to recapture the atmosphere of the original.
Key features
Neo-noir story of a fallen cop
The shifting setting – from the snow-covered streets of New York to the clubs and favelas of Sao Paulo
The use of bullet-time that defined the mechanic for years to come
The Wolf Among Us
| | |
| --- | --- |
| Release: | 2013-10-11 |
| Genre: | Adventure |
| Developer: | Telltale Games |
The following client was a…little weird and says it someone who saw pretty much all of it during the 20 years on the beat. They were feral and calm at the same time. It seemed like they were struggling with two different personalities, unsure which one was right to show to the world. I could tell this one was going to be complicated, so I took a sip from my cup and listened to what they had to say.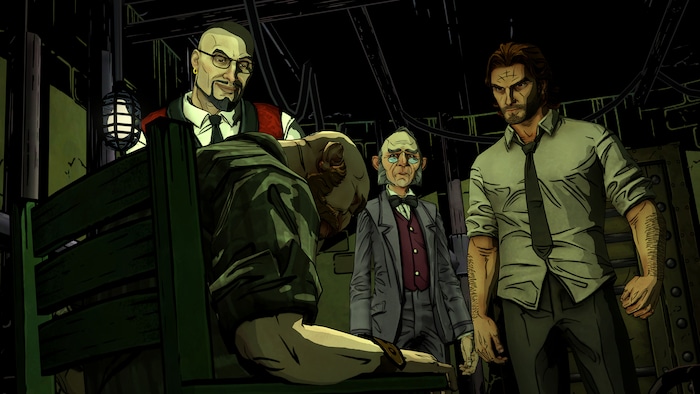 Based on the Fables comic book series, The Wolf Among Us is a graphic adventure game from the creators of The Walking Dead video game series. The game takes place in the 1980s New York, a perfect setting for a neo-noir story. The main protagonist, Sheriff Bigby (a.k.a. the Big Bad Wolf), is investigating a series of murders in the community of fairy-tale characters who found refuge in the Big Apple. The game wins the player over with its atmosphere, surprising plot twists, and excellently written characters, especially Bigby and his partner Snow White.
Key features
A new take on popular fairy tales
A well-written, engaging murder mystery story
Well implemented adventure game mechanics
Grim Fandango Remastered
| | |
| --- | --- |
| Release: | 2015-01-26 |
| Genre: | Adventure |
| Developer: | Double Fine Productions |
When I thought that the last client was the weirdest thing I was gonna see this day, in comes this fella. I had no idea what to think about him, considering his very, uh, "unique" appearance. And the story he had for me…phew, I wasn't sure if the guy wasn't pulling my leg with it. But he was so convinced of it that I decided to give it a chance. Boy, am I glad I did.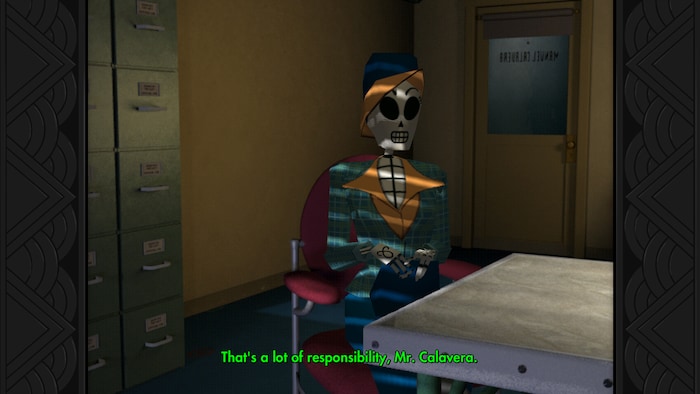 Grim Fandango Remastered is a refreshed version of LucasArts' classic point-and-click adventure game. The story takes the player to the Land of the Dead, inspired by Mexican folklore. There, as a travel agent for the recently departed, the player will have to solve a mystery that will change his world forever. The game's graphics, heavily inspired by Mexican culture, and story are its main selling points. The rest is a classic point-and-click fare, perfect for the fans of the genre.
Key features
A remastered version of the classic adventure game
Unique graphics style inspired by Mexican folklore
Funny if a bit macabre story and characters
Heavy Rain
| | |
| --- | --- |
| Release: | 2020-06-18 |
| Genre: | Action |
| Developer: | Quantic Dream |
Four clients in, and I still couldn't make heads nor tails of this story. I was hoping the next one would be easier to crack. No way, Jose. They came into my office a real mess of plot points and character arcs, all tangled, connected, blending into each other in ways that I couldn't make sense of initially. As I listened, it all became clearer, but still…there was something a little odd about this one. Like their story was to have more than one epic finale. Ugh, I need more coffee…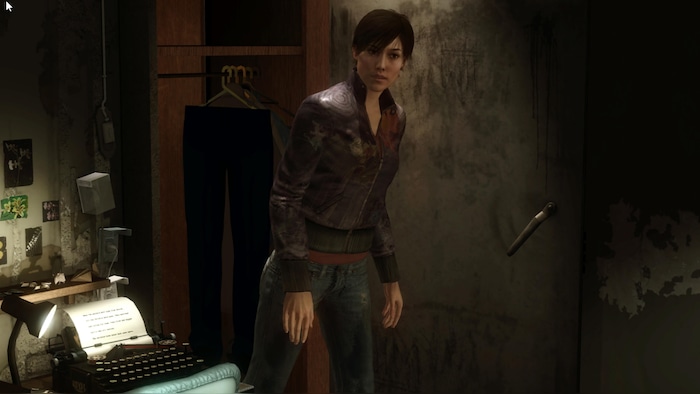 Heavy Rain is the second game from Quantic Dream, the studio that put itself on the map with another excellent neo-noir thriller – Fahrenheit. Heavy Rain is an interactive drama that focuses on giving the player a lot of choices. Each of them leads the story in different directions and it is up to the player to decide whether all protagonists of the game will live to see its conclusion. The plot follows four protagonists – a grieving father, an intrepid journalist, an FBI agent, and a private detective – as they try to solve the case of a serial killer. Their fates intertwine with each other creating a complicated web of relationships and secrets.
Key features
An interactive dram in which the player decides the fate of four protagonists
The gameplay focused on completing quick-time events and making crucial choices
Lifelike graphics blend the video game and cinematic experience
Deus Ex: Human Revolution
| | |
| --- | --- |
| Release: | 2013-10-25 |
| Genre: | Action & Shooter |
| Developer: | Eidos Montreal |
According to what my journalist contact said, I was halfway through the list of the clients and nowhere closer to figuring out what this whole thing was about. The next client was definitely not going to make figuring it out any easier – he was completely different than anyone I've seen before. As we sat down to talk, he told me about his life and, jeez…was that a story ready for a sci-fi movie treatment. But deep beneath the laser guns and mechanical implants, I saw something more, something very human That told me to listen to what this guy had to say. Maybe this one will be the breakthrough I have been waiting for since morning.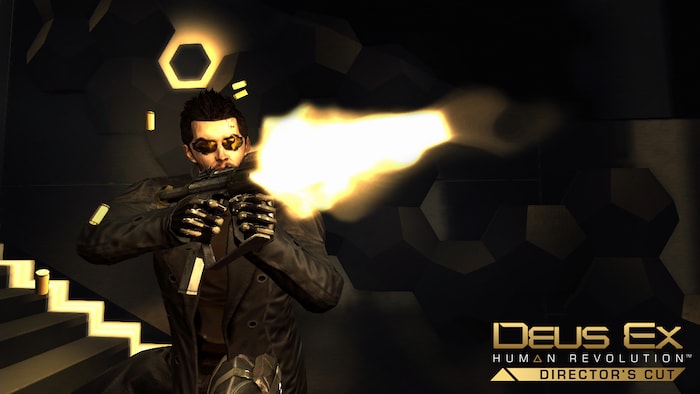 Deus Ex: Human Revolution is the third game in the series of cyberpunk action-RPGs. It is the prequel to the original Deus Ex and tells the story of shown humankind slowly gave themselves up to their addiction to cybernetic implants. On top of interesting gameplay mechanics, blending the action-RPG elements and stealth, the game tries to answer some serious questions – what makes us human, and how much of our humanity are we willing to give up. In any case, the player can expect a lot of decent action and intriguing story beats (some of which they will be able to influence) in Deus Ex: Human Revolution.
Key features
The third installment in a classic cyberpunk game series
A combination of action-RPG gameplay and stealth mechanics
A story that asks questions about human condition and how far are we willing to go in search for perfection
Murdered: Soul Suspect
| | |
| --- | --- |
| Release: | 2014-06-05 |
| Genre: | Adventure |
| Developer: | Airtight Games |
After all the weird stuff I've heard from the previous few clients, I was ready for some palate cleanse—a nice typical client with down to Earth problems. But, no. When the next client came THROUGH the door, I knew that this one would be the weirdest yet. The story he had for me was nothing short of supernatural, and I was having a hard time believing any of it. Then again, I just saw him phase through the closed door, so maybe I should suspend my disbelief a little bit higher.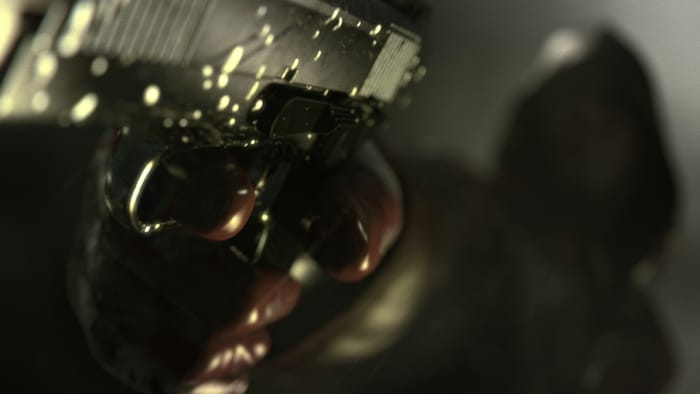 Murdered: Soul Suspect blends the neo-noir detective story with supernatural elements. As Ronan O'Connor, a detective who died in the fight with a serial killer and returned to find out his identity, the player will explore the fictionalized version of the town of Salem, collecting clues that may move the case forward. Aided by the ghost of a puritan girl, O'Connor learns to navigate the spiritual and mortal realms to find clues and crack the case. The game is full of collectibles, so the fans of poking around every corner of the map in search of trinkets should be satisfied as well. 
Key features
Exploration of the city of Salem in search of clues leading to solving the case
The use of the mortal mind and ghostly powers to collect evidence
A dense atmosphere of the neo-noir ghost story
The Saboteur
| | |
| --- | --- |
| Release: | |
| Genre: | Adventure |
| Developer: | |
Finally, someone normal came through my door. Well, maybe not exactly normal. He looked like he came from the pages of Alistair Maclean's novel, but who am I to judge his fashion choices. His story was also more down-to-Earth than most of what I've heard today. After he finished talking and was ready to leave, I noticed something odd about him. At first, I thought it was due to the dim lights of my office, but the colors on the guy were somehow washed out as if he came out of black-and-white TV. Ooookay, then…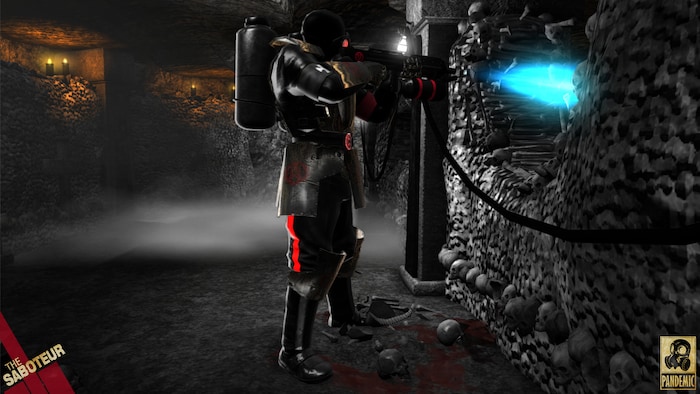 The Saboteur is set in 1940s Paris, a city occupied by Nazi Germany. The protagonist of the game, Sean Devlin, is a race car driver-turned-spy who decides to join the resistance after his friend is murdered by the SS Officer and Devlin's racing rival. The gameplay of The Saboteur focuses on Devlin carrying out various missions to decrease the Nazi influence in the city. Such missions include assassinations, blowing up Nazi facilities stealing documents, etc. Freeing an area of the city from the Nazis will decrease their presence and encourage people to their own acts of disobedience. It will also affect the game's visuals, as the color will return to previously black-and-white areas.
Key features
An espionage-themed game set in the Nazi-occupied Paris
The plot focusing on liberating the city from the Nazi hands
Various perks allow easier completion of missions
Contrast
| | |
| --- | --- |
| Release: | 2013-11-15 |
| Genre: | Adventure |
| Developer: | Compulsion Games |
This little one looked like she came out of a different time as well. All 19th-century chic and all that. While we were talking, I noticed something out of the corner of my eye. Someone was watching us from the shadows, some other girl. She told me not to worry about it, so I tried not to. But it was hard not to notice the other girl appear and disappear suddenly around different shadowed parts of my office as if she was taunting me to pay attention to her. Ugh, kids…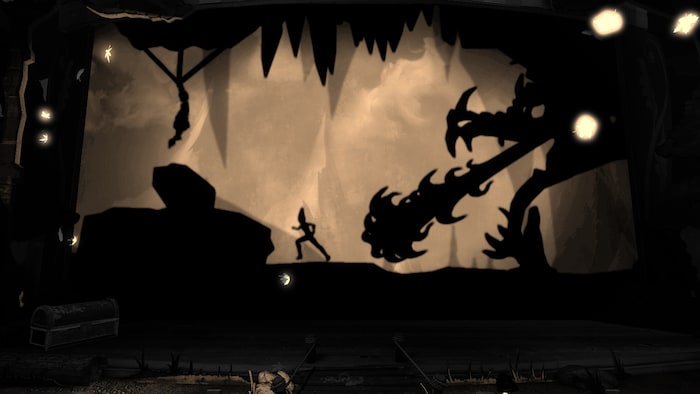 The key mechanic of Contrast is the manipulation of light and shadow. The player controls Dawn, the imaginary friend of the protagonist Didi. Dawn can jump between the 3D "real world" and two-dimensional "shadow world" using the shadows cast by various objects. The player can manipulate light sources in the real world to create shadows that Dawn can use to move around. The game features various collectibles, which will require the player to think outside the box when manipulating shadows.
Key features
A noir story, with the style inspired by Art Nouveau and Belle Epoque
Clever gameplay mechanics based around shadow manipulation
A combination of 3D and 2D presentation
BioShock Infinite: Burial At Sea
| | |
| --- | --- |
| Release: | 2013-11-12 |
| Genre: | Horror |
| Developer: | Irrational Games |
As the day was coming to an end, I was visited by my last client or rather clients. There were two of them – one looked like something terrible was weighing him down. The other was a determined young woman with a glint of sadness in her eyes. Their story was another one of those fantastical tall tales I've heard so many of today, but the whole thing felt different. It felt real and very, very sad.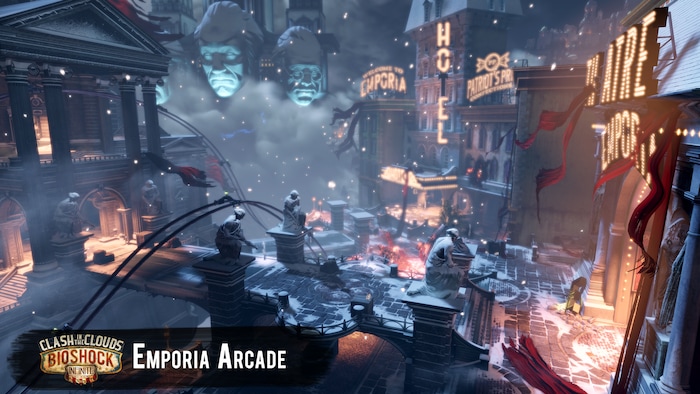 Burial At Sea is a downloadable expansion to Bioshock: Infinite that focuses on Elizabeth's mission to stop Comstock in any reality. The first episode leans heavily on the noir themes as Elizabeth hires a private detective, Booker DeWitt, to help her solve a case of missing girls in the underwater city of Rapture. The second episode gives the young woman, trapped all her life within an endless sea of possibilities, a closure she so deserves. Both episodes of the DLC future drastically different gameplay mechanics – Episode 1 is more of the action-packed FPS gameplay of the core Bioshock games, while Episode 2 (in which we control Elizabeth) is more focused on stealth.
Key features
A continuation of Bioshock: Infinite's story
A blend of action gameplay and stealth mechanics
Return to Rapture during the peak of its glory
Case closed
When the last client left my office, I sat down to think. What was my contact thinking? There was nothing that would connect these people, these completely different individuals, aside from…and then I got it. Eureka, I was enlightened! I sat down to write up my discoveries and opinion on each of these great noir-themed games. Each of them had a different setting, different mechanics, and different stories. Each of them was good in its own right. What connected them was the atmosphere – that dense climate of suspicion and uneasiness, so important for the noir genre. And, again, each other titles that came through my office today had that in spades. 
There, done! I click the send button and close my computer. I'm done for today. I grab my coat and head towards the door – the same ones that saw so many excellent noir games come through them.