Party video games, like Gang Beasts, are the perfect choice for a relaxing evening with your gamer pals. Such games allow buddies to enjoy some friendly competition, where being the best doesn't matter as much as it would in popular e-sport-oriented titles. All that matters is the time spent with your friends while playing your favorite games together.
But Gang Beasts is only one example of a cool party video game in the seemingly endless sea of other joyful titles. Sounds fun? Then take a look at some of the best games like Gang Beasts on the list down below.
| | Name | Developer | Release | Genre | Discount | |
| --- | --- | --- | --- | --- | --- | --- |
| | Human: Fall Flat | No Brakes Games | 2016-07-22 | Adventure | 82% | Read more |
| | Overcooked! 2 | Ghost Town Games Ltd. | 2018-08-07 | Indie | 77% | Read more |
| | Castle Crashers | The Behemoth | 2012-09-26 | Adventure | 33% | Read more |
| | Ultimate Chicken Horse | Clever Endeavour Games | 2016-03-04 | Adventure | 56% | Read more |
| | Fall Guys: Ultimate Knockout | Mediatonic | 2020-08-04 | Casual | 58% | Read more |
| | Totally Reliable Delivery Service | tinyBuild | 2021-04-01 | Indie | 88% | Read more |
Human: Fall Flat
PC
| | |
| --- | --- |
| Genre | Adventure |
| Developer | No Brakes Games |
| Release date | 2016-07-22 |
Let's start with a game that could be simply described as a puzzle-platform version of Gang Beasts. Similar visuals, similar gelatinous characters, and goofy physics, but with puzzles – no fighting.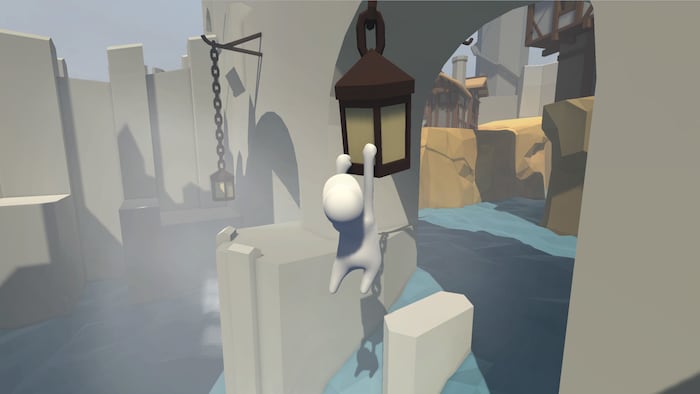 If you loved Gang Beasts but now would like to try something different than fighting, then Human: Fall Flat is a game for you. It looks incredibly similar graphics-wise, but the core gameplay is not the same. Instead of fighting to death on small arenas, here you will be tasked with solving a number of increasingly challenging puzzles. The game's nature allows players to complete the given tasks in a variety of different ways, which makes finding your own solution to the puzzles incredibly rewarding.
Key Features
Addictive puzzle-platform action with wobbly characters – a recipe for a ridiculous experience
Open-ended gameplay with multiple solutions to the physics-based puzzles
Simple yet adorable low-poly visuals
Encourages creative approach and thinking out of the box
Overcooked! 2
PC
| | |
| --- | --- |
| Genre | Indie |
| Developer | Ghost Town Games Ltd. |
| Release date | 2018-08-07 |
Overcooked is a fun indie video game that is so unique that it's quite difficult to define its genre. It's kind of a cooking and serving simulation, but it doesn't even try to be realistic, so the "simulation" part may sound a bit off.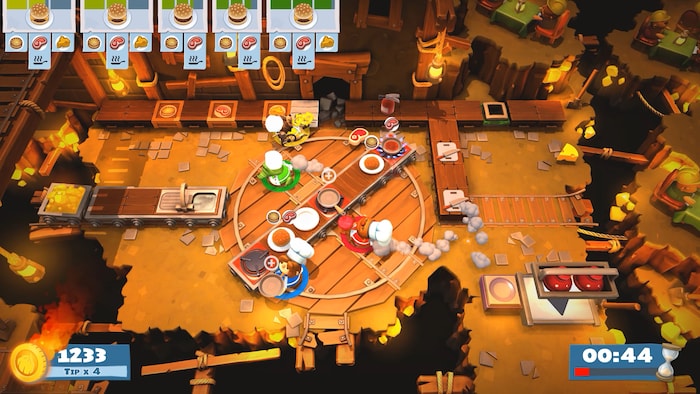 Overcooked lets a group of up to 4 players cooperates in order to serve a variety of dishes as fast as possible. It's important for everyone to focus on doing his job, so the team can achieve the goal faster – someone could be chopping vegetables, while someone else could be doing the dishes, for example. The cooperation is even more important during later stages, where certain platforms can shift and make some areas temporarily inaccessible. It would be wise to send someone in while the passage is still opened, so he could stay there and toss the necessary items over to his friends. This way the team won't have to wait until the passage opens again to enter the place themselves.
Key Features
A fun cooking simulation that doesn't take cooking too seriously
Fast-paced gameplay, where cooperation with other team members is invaluable
Casual and joyful atmosphere
Colorful visuals with numerous different levels to beat
Castle Crashers
PC
| | |
| --- | --- |
| Genre | Adventure |
| Developer | The Behemoth |
| Release date | released-date |
For those who are looking for some role-playing action, Castle Crashers is an amazing party game – choose your heroes and conquer the fictional medieval universe.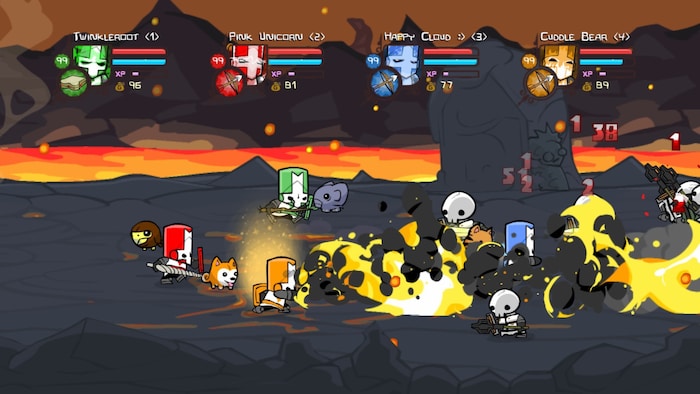 Castle Crashers is an action role-playing game, where you can choose your character's class from a variety of different available ones, and then join forces with your friends to begin a dangerous side-scrolling journey. Gameplay focuses on fighting hordes of enemies with the use of various combo attacks and making your character stronger as the game progresses. Keep in mind, however, that your own might means nothing without your friends – teamwork plays a crucial role in your team's survival, and only as a team, you will be able to complete all the challenging tasks. Get ready for an epic adventure with up to 3 other people – do you have what it takes to save the kidnapped princesses and bring justice to the evildoers?
Key Features
A great combination of what's best about party games and the role-playing genre
Surprisingly addictive combat-oriented gameplay
Character progression with experience levels and unlockable abilities
Adorable 2D cartoon-stylized visuals
Ultimate Chicken Horse
PC
| | |
| --- | --- |
| Genre | Adventure |
| Developer | Clever Endeavour Games |
| Release date | 2016-03-04 |
We had some single-player games on the list already, so now let's take a look at some multiplayer ones – get ready for ultimate fun in Ultimate Chicken Horse.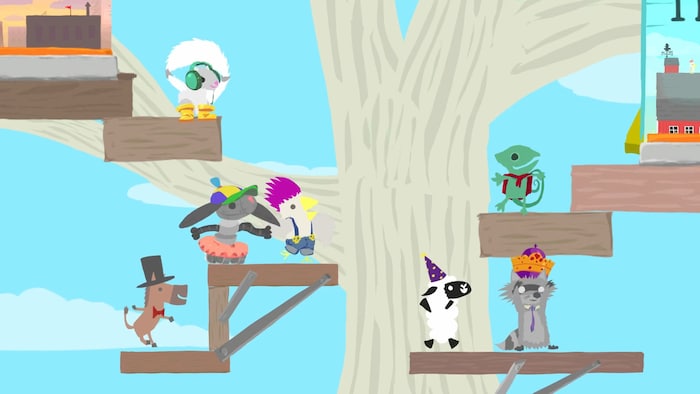 Ultimate Chicken Horse is a 2D platform game, but there's much more to it than meets the eye. Although the core idea is rather simple – beat the level and get to the objective before the others – the execution is what makes this title stand out from the crowd. Before each round, all players are able to place a variety of items on the stage, such as traps and obstacles, to hopefully make the course harder for the opponents and easier for themselves. Be cautious, however, or you might get a taste of your own medicine.
Key Features
Fun 2D platformer action that's meant to be experienced with other players
Unique gameplay mechanics that allow players to freely place obstacles for increased replayability
The doodle art style that fits the game's casual atmosphere
Cross-platform support
Fall Guys: Ultimate Knockout
PC
| | |
| --- | --- |
| Genre | Casual |
| Developer | Mediatonic |
| Release date | 2020-08-04 |
For the last game similar to Gang Beasts, we've got Fall Guys – another multiplayer game but designed to be played simultaneously by a lot more people.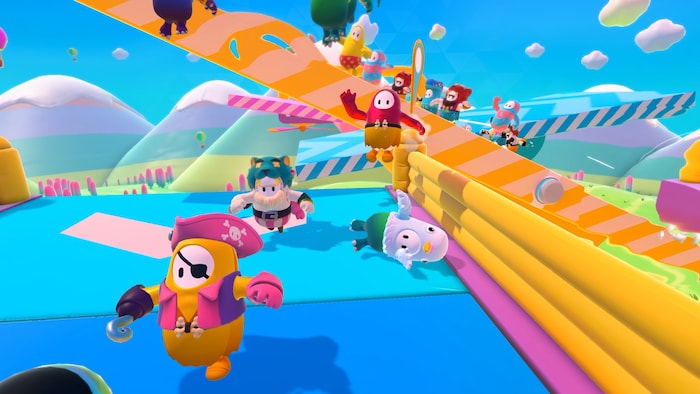 Fall Guys quickly became crowned the king of party games – overwhelmingly positive reviews on the Steam platform are enough of proof. What makes Fall Guys incredibly fun and unique is the fact that it allows up to 60 players to compete against each other in real-time. Each game consists of several rounds, and each round is a different minigame that requires fast reflexes and quick thinking. Each round lets only a certain number of best players advance to the next stage, hence the battle royale genre – there can only be one true winner, which makes the title quite competitive at times. No one wants to be a loser, right?
Key Features
The one-of-a-kind combination of battle royale genre and 3D platform minigames
Support for simultaneous play of up to 60 players
Beautiful graphics full of bright colors
Online battle royale means that the game can be very competitive
The Best Gang Beasts Alternatives
If you love playing video games and you have some like-minded friends, there's hardly a better way to spend an evening than playing some fun party games together. It doesn't matter if you prefer to cooperate with your gamer buddies or if you're looking for a more competitive experience, there's a game for everyone.
For example, Gang Beasts is a great choice if you're into physics-based fighting titles, but if you already played it, you may be interested in finding other similar games. If that's the case, then you're in the right place. We took some of the best titles and compiled a list of 5 games like Gang Beasts for your convenience – now you can easily pick your favorites and choose the next perfect game for a relaxing gaming session with friends.