Although the boom has ended, Battle Royale video games are here to stay, and the uncontested star in the genre is Fortnite by sheer popularity. From fast-paced gameplay to vast gallery of skins to customize your character with, Epic Games' game has a lot on offer.
Fortnite features plenty of epic skins from various franchises and areas of pop culture, such as Marvel, God of War, Halo, Rick and Morty, and many more. DC Comics joined this legendary assembly in 2019 with the Catwoman skin.
From that point on, more and more DC characters kept arriving to Fortnite, available in the in-game shop if you'd like to get them directly from the source,. But if you're interested in getting good deals, we've got you covered. Check out the best G2A.com deals to get your dream skin right away!
Aquaman
Thanks to Jason Momoa's presence in DC movies, Aquaman unexpectedly, but unsurprisingly became much more popular than he'd been for years. No wonder why — he presented a truly badass version of the famous character.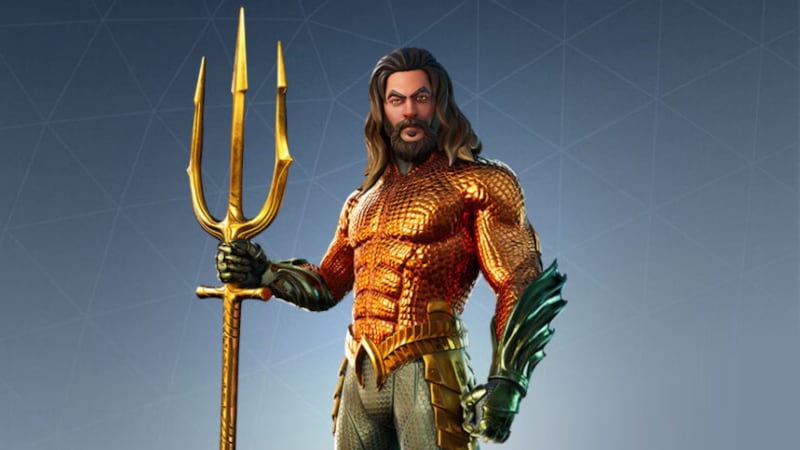 The Aquaman skin came to Fortnite during Chapter 2: Season 3 and was available after completing a series of challenges. You had to purchase the Season 3 Battle Pass to unlock exclusive items, including the Aquaman skin. With this outfit, you could also engage in a quest that gave you access to the Arthur Curry skin.
Unfortunately, this skin is no longer available as the Aquaman Challenges were only open in 2020.
Key features
An exclusive Aquaman skin based on the movie
Originally available through a series of challenges by purchasing the Season 3 Battle Pass
There was a bunch of unlockable  items to complete the look
An additional side quest also unlocked the Arthur Curry skin
Batman Comic Book Outfit
This Batman Skin is a part of the Batman Caped Crusader Pack, released in 2019. Make your friends jealous and criminals terrified with the classic Batman outfit!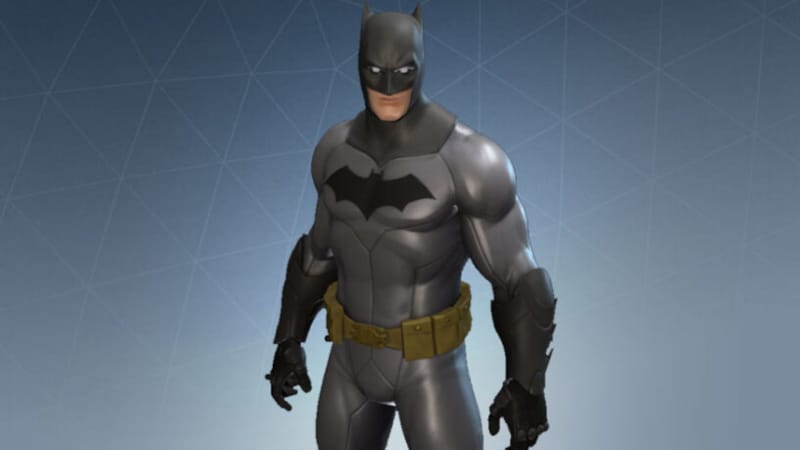 This skin was released alongside others like Harley Quinn and Catwoman outfits, allowing players to lose themselves in Gotham City-style roleplay. In addition to the outfit, the pack also included things like the cape or a batarang-shaped pickaxe skin.
Key features
The Batman Comic Book Outfit allows you to become the Caped Crusader of Fortnite
The full content of the Batman Caped Crusader Pack completes your Batman vibe
Works great with other outfits from the Gotham City set
The pack also included The Dark Knight movie costume!
Armored Batman Zero
This skin is available in the Fortnite Item Shop for, but could also be unlocked after completing all six Batman / Fortnite: Zero Point releases. If the regular Batman suits don't look protective enough, armor up!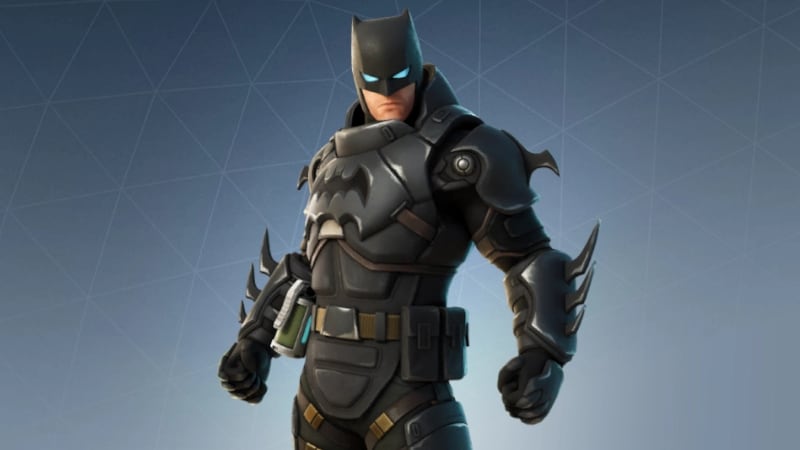 If you'd also like to get the set of extras for this skin, get the Armored Batman Zero Skin Bundle for a gnarly axe and cooler glider, among others. Improve your style and spread fear among the archvillains in Fortnite!
Key features
Other characters got the Zero-treatment as well
You could complete the six Batman / Fortnite: Zero Point editions to collect this skin for free
Comes with cool extra stuff, like a batarang axe
Enjoy darker DC vibe
Batman Zero
Find the balance between the Armored Batman and Comic Book Batman by choosing Batman Zero. With this unique skin, you will instantly impress and inspire all your enemies!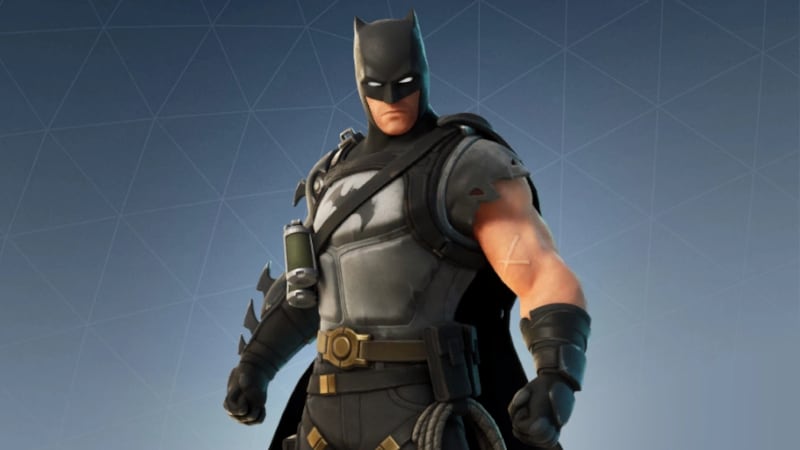 You can also get the Batman Zero Bundle and unlock the skin with some extras! In addition to the outfit, you will find Battle-Worn Cape, Grappling Axe, Batman Zero Wing, and a new loading screen. Level up your entire Fortnite gameplay with the best Batman skin!
Key features
Choose an epic Batman: Zero Point Set skin
Buy only the skin or unlock additional accessories with a bundle
Have fun with the new cosmetics to the Batman Zero skin
Spread fear of the Bat on any Fortnite battlefield
Beast Boy
Are you a fan of Teen Titans and Fortnite? You will surely be glad to hear you can find a Beast Boy skin in this game! Become the iconic shapeshifter and make your gameplay greener!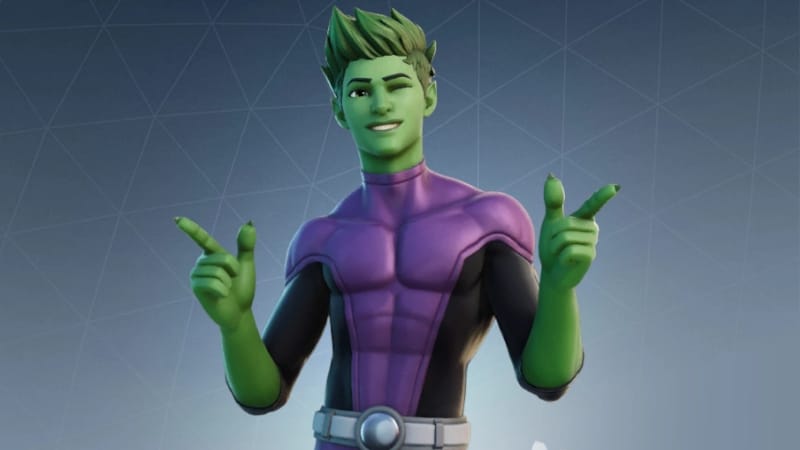 Buy a Beast Boy skin or choose the Beast Boy Bundle and play with tons of cosmetic accessories for this original outfit. This set includes Couch Titan, BB's Beast Bat, and Go Ape Emote! Choose from three unique styles: Classic Beast Boy, Garfield Logan, and Gorilla Form, and join the action-packed Battle Royale gameplay.
Key features
Play Fortnite Teen Titans-style
Get a Beast Boy, Garfield Logan, or Gorilla Form skin
Select Beast Boy Bundle to unlock cosmetics
Make your gameplay more fun with DC's famous shapeshifter
Black Manta
Play as Aquaman's greatest enemy and side with the villains. Use your extraordinary skills in the exciting Fortnite gameplay, delighting everyone with your Black Manta Skin!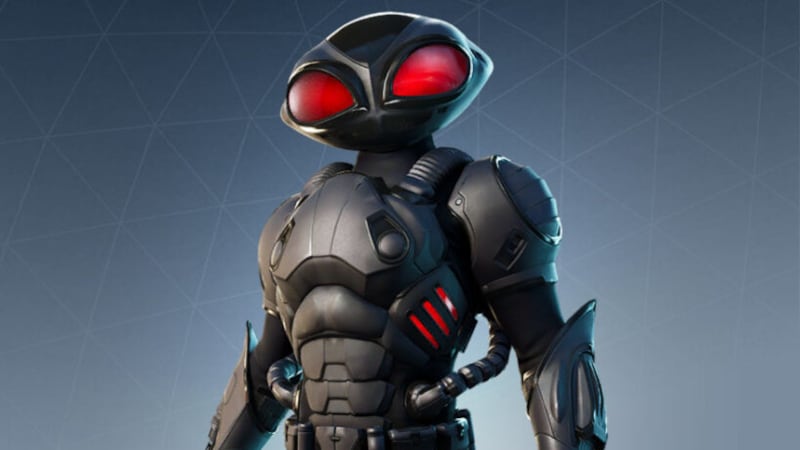 Pick Black Manta Set to get Black Manta Skin and Manta Pack. To complete your dark look, you can also grab Manta Blades and spread terror on the Fortnite battlefield. Why be nice if you can become one of the best villains in DC Comics?
Key features
Play as one of DC's most famous villains
Enjoy the dark Black Manta Skin
Complete the look with the Manta Pack and Manta Blades
Make your friends jealous of your epic Black Manta Skin
Bloodsport
Suicide Squad introduced a whole bunch of new heroes loved by gamers all over the world. And Bloodsport is one of them!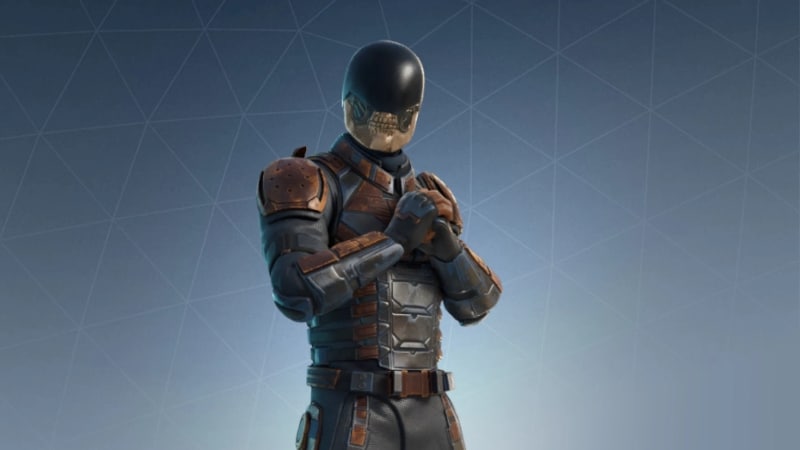 Demonstrate your unimaginable determination as the infamous Task Force X team member. Buy your Bloodsport skin in the item shop, or go one step further and get the entire bundle — you will receive Starro Specimen, A.R.G.U.S. Saber and many extra cosmetic accessories.
Key features
Join Suicide Squad fans as Bloodsport
Buy only the skin or the whole set
Enjoy additional Bloodsport Bundle content
Impress everybody else on the map
Catwoman Comic Book Outfit
Play as one of the most iconic DC characters. Choose a beloved classic and join Fortnite as the clever and sexy Catwoman!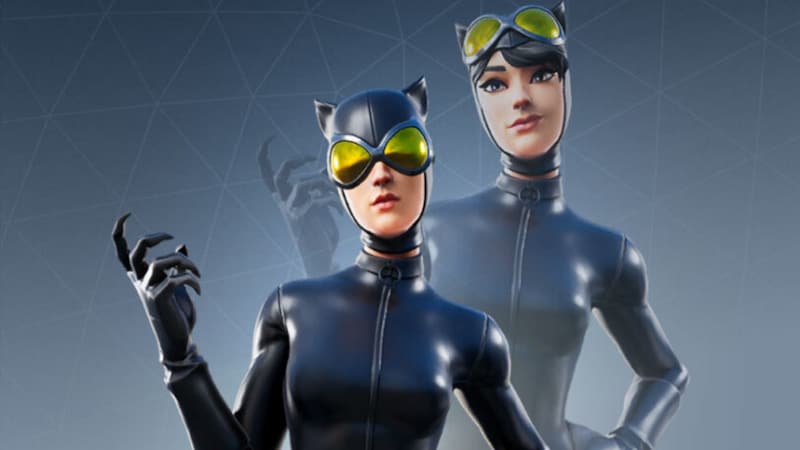 You can support Batman in his heroic fight against the villains in Gotham. Catwoman Comic Book Outfit is part of the Gotham City Set, which you can buy as a standalone item or as the Catwoman Bundle to get additional cosmetic accessories like Jeweled Cat Back Bling, Cat's Claws, and a unique Whipcrack emote!
Key features
Become one of the classic DC heroes
Get Catwoman Comic Book Outfit as a Standalone item
Select the Catwoman Bundle to unlock additional accessories
Become part of Batman's team fighting the villains in Gotham
Catwoman Zero
Make your Fortnite gameplay even more fun with an outfit of DC Comics' most famous thief! Choose Catwoman Zero Skin and join the lucky owners of skins from the epic Batman: Zero Point set.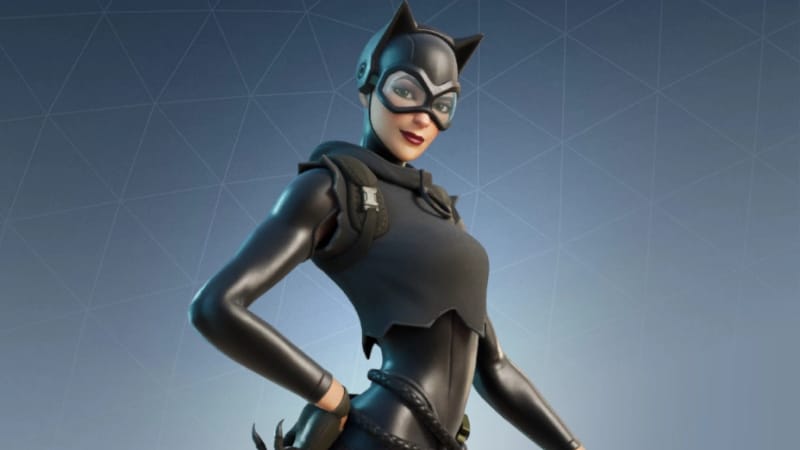 If you didn't get to unlock this skin for free, you can just buy Catwoman Zero skin in the Fortnite in-game shop, or add a few more V-bucks to get the Catwoman Zero Bundle and add Catwoman's Grappling Claw to your awesome look.
Key features
Play as the legendary DC Comics thief
If you're interested just in the suit you can get Catwoman Zero skin solo…
…but if you want extras, choose Catwoman Zero Bundle
Spice up your gameplay with DC's most famous heroes
Superman
This legendary hero was unlockable as part of Chapter 2: Season 7 Battle Pass. Players could complete a series of quests to get the Clark Kent skin with many epic additional cosmetics.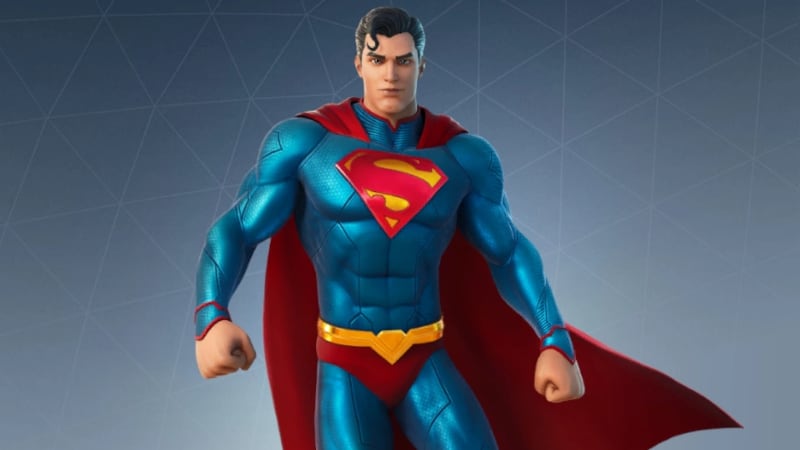 By completing the Superman Quests, players received cosmetic extras and a chance to unlock Shadow Edit Style and Superman Edit Style. Additional items were accessories like various graffiti, emotes, gliders, and a loading screen. It's been a very fruitful season for active Fortnite players!
Key features
Play as the fearless Superman
Choose between skin variants
Unlock iconic skin cosmetics
Enjoy the legendary character of the DC universe
Deathstroke Zero
Deathstroke is one of the most beloved anti-heroes in the DC world – and the deadliest at the same time. There is nothing better than appearing in his outfit on the Fortnite battlefield!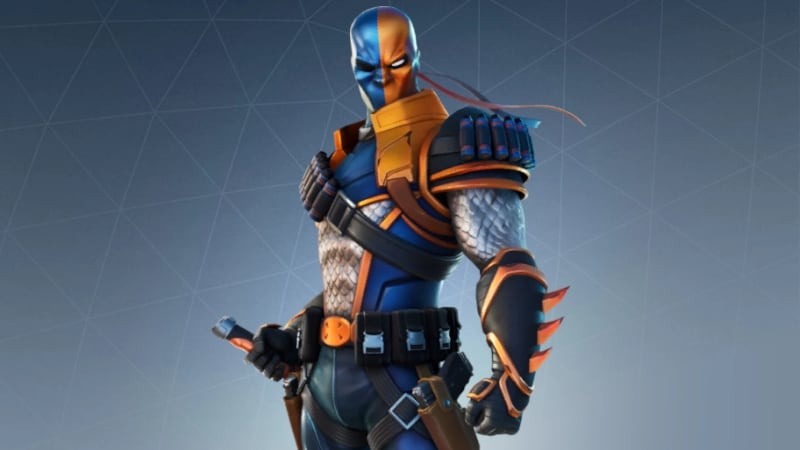 The Deathstroke Zero skin was available for the Deathstroke Zero Cup winners in Chapter 2: Season 6. But you can still have it as a standalone item in the in-game shop, or the entire set with the Deathstroke Zero Bundle. In addition to this epic skin, you'll also get Deathstroke's Katanas Back Bling, Deathstroke's Katanas Harvesting Tool, and Deathstroke Destroyer Glider.
Key features
Get the skin based on one of Batman's most powerful enemies for yourself
Grab just the skin and impress other players with your new style, or…
…choose Deathstroke Zero Bundle to complete your iconic outfit with matching items
Wreak havoc on your targets
Green Arrow
Fight for survival as the master archer Oliver Quinn! The Green Arrow skin is a unique way to express yourself through one of the most famous characters in the DC world.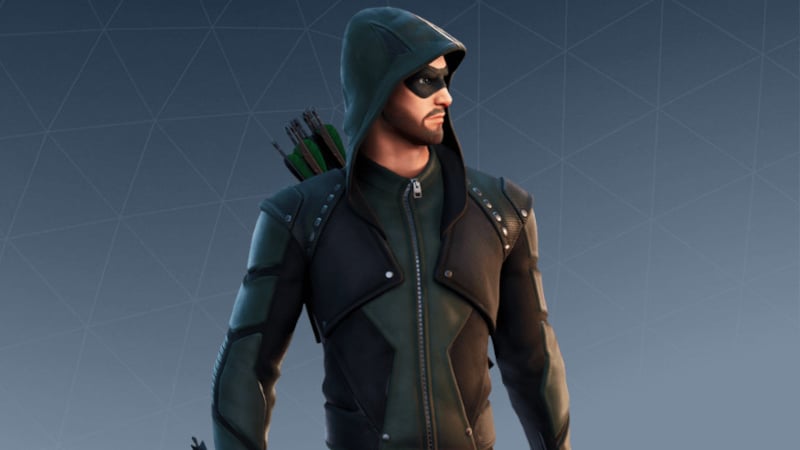 If you are a fan of Green Arrow, you would surely like to have this unique skin. Unfortunately, you cannot purchase it for V-Bucks in the store as it was exclusive to the Fortnite Crew Pack in January 2021. Congratulations to everyone who got it!
Key features
Play as the heroic Oliver Queen
Surprise everyone with your unique green outfit
Enjoy the cosmetic accessories from the Arrow set
Awaken your inner archery master
Harley Quinn
What would Fortnite DC be without Gotham's craziest anti-heroine? Inspired by the Suicide Squad and Bird of Prey movies, Harley Quinn comes in two fantastic selectable styles!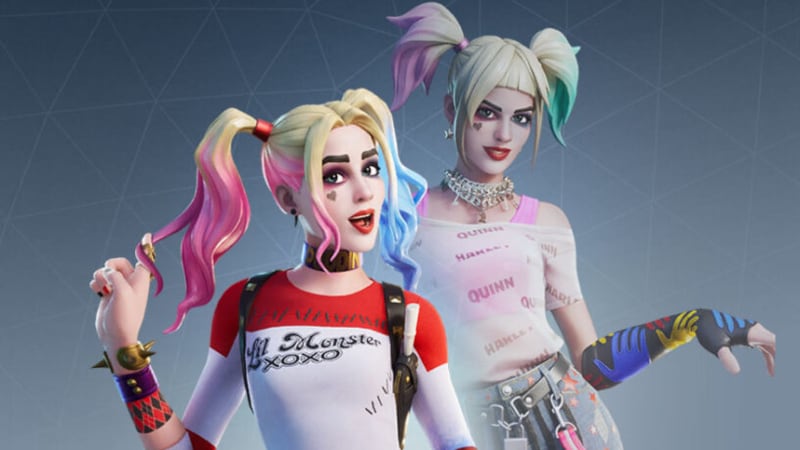 As part of the Gotham City Set, Harley Quinn is available as a standalone skin or in the Harley Quinn Bundle for a few more V-Bucks. The second set includes iconic harvesting tools like Punchline and Harley Hitter. Moreover, the Harley Quinn skin comes in two selectable styles: Lil Monster XOXO and Always Fantabulous, with which you will stand out during any match!
Key features
Play as the legendary Harley Quinn
Discover a single skin in two selectable styles
Choose the Harley Quinn Bundle for extra accessories
Enjoy Lil Monster XOXO or Always Fantabulous styles
Poison Ivy
For those who want to wreak havoc on the Fortnite battlefield, there are skin bundles to play the greatest villains in history. See how to get Poison Ivy and become the queen of poisonous plants!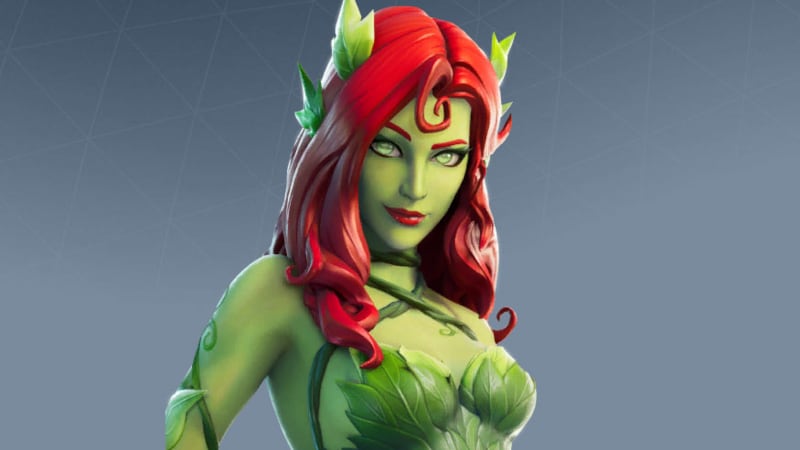 Poison Ivy skin is part of The Last Laugh Bundle, in which you will receive three skins: Poison Ivy, The Joker, and Midas Rex. And there is more! The set also includes cosmetics like Laugh Riot, Midas Crest, Ivy Axe, and Joker's Revenge! There is no better way to enjoy Fortnite's pack of classic villains.
Key features
Get your Poison Ivy Skin
• Get The Last Laugh Bundle for extra stuff
Enjoy three skins in one set
Choose your favorite cosmetics
Rebirth Harley Quinn
Express yourself with the most stylish version of Harley Quinn skin ever. Make other players jealous and always stand out in the best Battle Royale gameplay ever!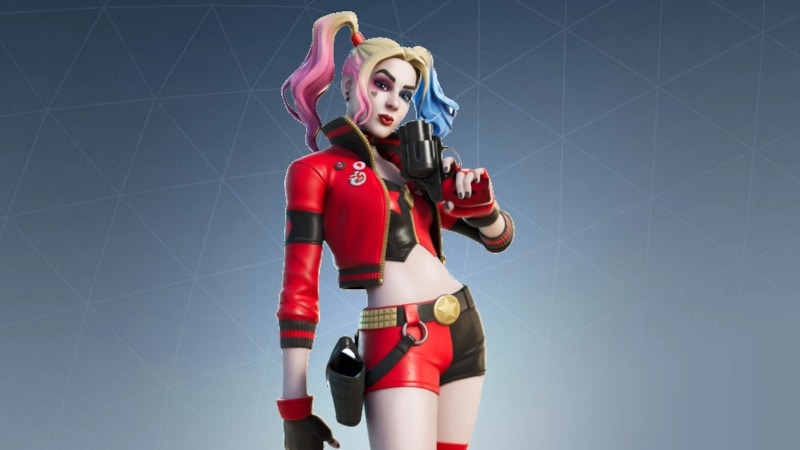 Buy only the Rebirth Harley Quinn skin, or choose the exciting …And Red All Over Set bundle to get the skin with Harley Quinn's Revenge Back Bling. This unique skin is also available in Rebirth Harley Quinn and Picky Sicky Harley Quinn styles, with which you will personalize your Fortnite character!
Key features
Enjoy your Rebirth Harley Quinn skin in Fortnite
Collect the entire set to receive another cosmetic accessory
Choose from two selectable styles
Play as a legendary villain from the DC universe
Rebirth Raven
Raven is one of the classic Teen Titans characters that everyone should want to play in Fortnite. Unfortunately, the skin is no longer available as it was part of Chapter 2: Season 6 Battle Pass.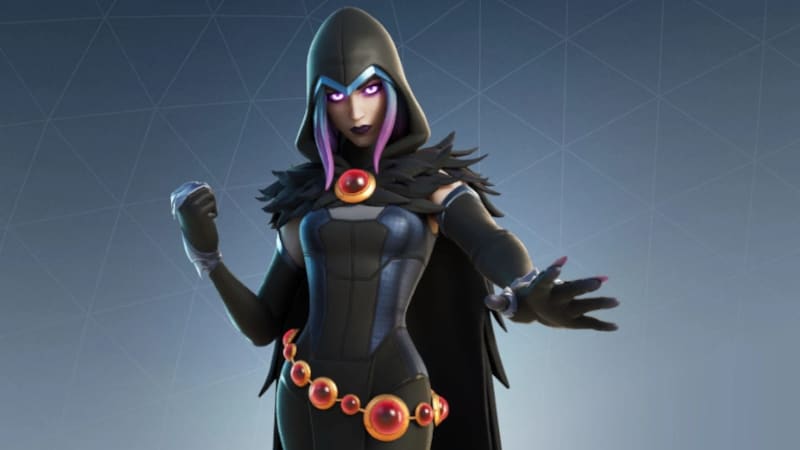 Rebirth Raven appeared in three selectable styles: Default, Classic, and Rachel Roth. She was also part of the Teen Titan Set alongside Beast Boy and several exciting cosmetics!
Key features
Play as the famous Raven
Choose from three selectable styles
Check out the Teen Titan Set
Embrace the darkness
The Batman Who Laughs
If you want to become unforgettable, be sure to choose this skin. There might be no darker outfit in the entire game!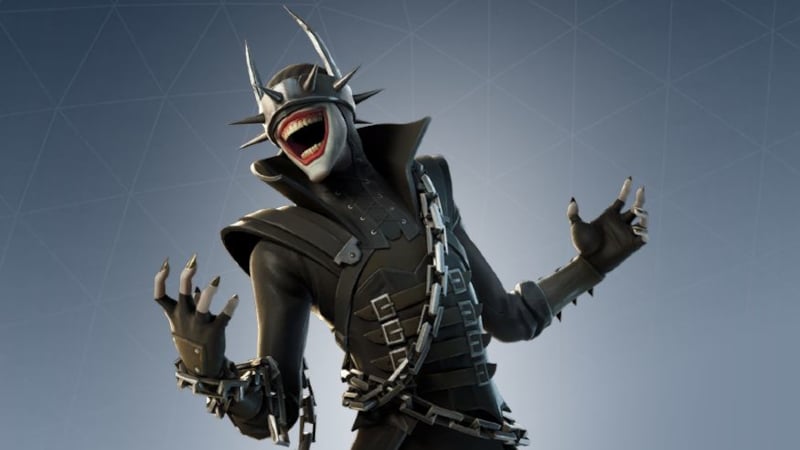 Batman Who Laughs is part of the Dark Multiverse Set, which you can get in many ways. Buy the skin alone or select The Batman Who Laughs Bundle to unlock wicked cosmetic accessories.
They also include Robin's Perch Back Bling, Death Metal Scythe, and Wings of Madness to create a truly memorable Fortnite experience! You can also get it by buying Batman / Fortnite: Foundation comic book and learning more about the diabolical The Batman Who Laughs at the same time.
Key features
Choose the darkest Fortnite skin ever
Play as The Batman Who Laughs
Select the bundle to get extra cosmetics
The Flash
The Flash is the fastest DC hero in the universe, but first appeared in Fortnite as late as Chapter 2: Season 5. It was also a skin award in the exclusive The Flash Cup!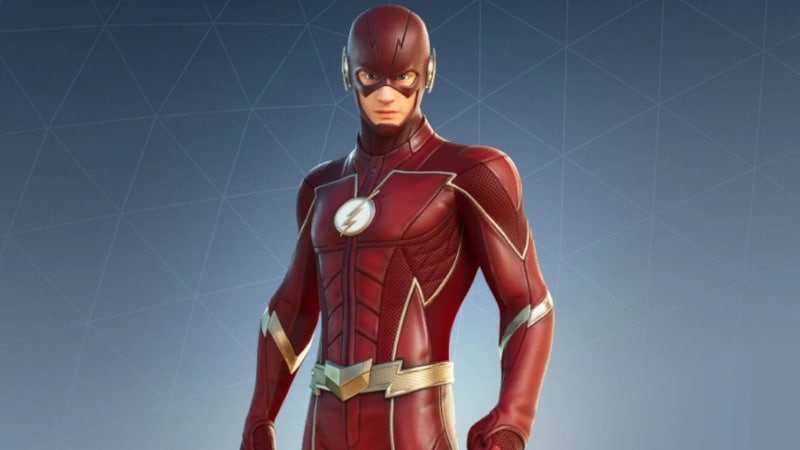 If you want to play as the Speedster, then The Flash skin is a must-have. Or pick The Flash Bundle and enjoy a set of skins and cosmetic accessories. You will also unlock Back Bling, Speed Force Slashers, Quick Bite emote, and the My name is Barry Allen loading screen.
Key features
Play as the fastest DC hero
Get your The Flash Skin in Fortnite
Check out The Flash Bundle
Have fun with the coolest accessories
The Joker
There is no DC without the Joker – Gotham's most famous villain! Play as Batman's mortal enemy and show what you can do on the Fortnite battlefield!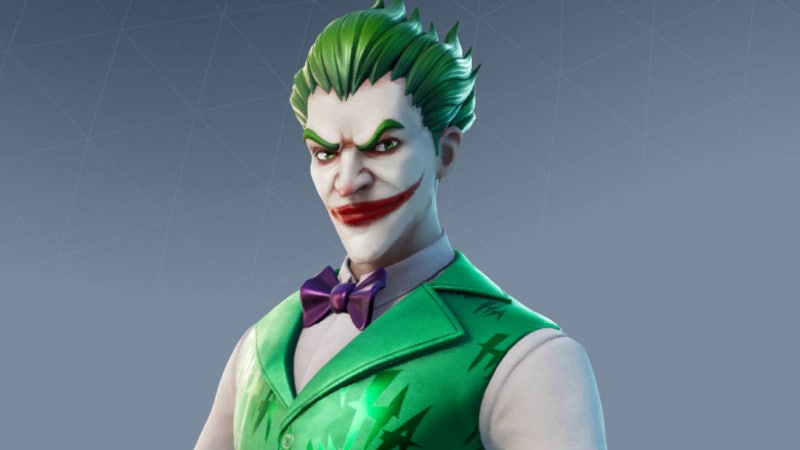 To enjoy the epic Joker skin even more, get The Last Laugh Bundle for several extra items. You will get a Joker skin, a Poison Ivy skin, and a Midas Rex skin! The Joker comes in three selectable styles: Default, Jacket, Jacket no hat. You will also find many fantastic accessories to make your gameplay more fun!
Key features
Play as the most famous comic book villain of all time
Enjoy becoming Batman's greatest enemy
Choose from three selectable styles
Discover the rich content of The Last Laugh Bundle
Wonder Woman
Here comes DC's most powerful warrior! This skin first appeared during the thrilling Wonder Woman Cup, but don't worry! You can still get it now to crush your opponents in Themysciran style.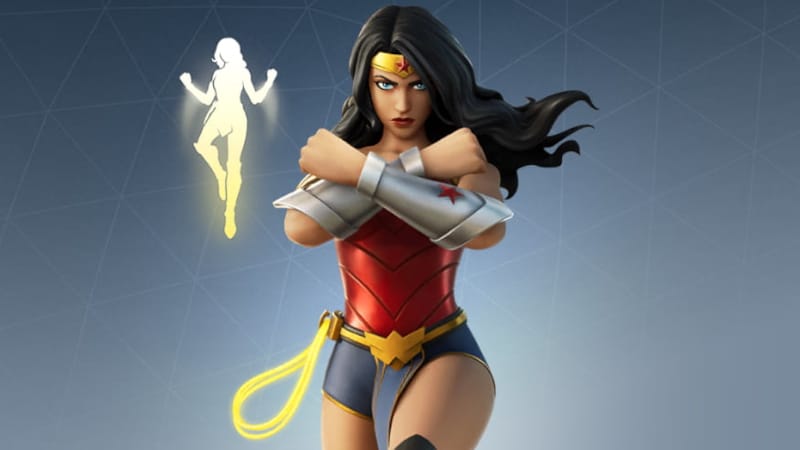 Buy Wonder Woman skin only, or choose the Wonder Woman Bundle to access the dedicated cosmetics. This divine set includes Diana's Mantle Back Bling, Athena's Battleaxe, Golden Eagle Wings, DC Trinity loading screen, and Bracelets of Hephaestus emote.
Key features
Play as the undefeated Wonder Woman
Enjoy fantastic cosmetics
Choose from two selectable styles
If you're a fan of DC comics and movies, these skins are the best way to express it in the famous Battle Royale video game.
By choosing your favorite heroes, you can personalize the gameplay and enjoy it even more, because the plentiful exciting cosmetics will help you stand out! So be sure to check out DC-related skins and items in Fortnite and pick your favorite one to transform your entire gameplay experience right away.