For such a simple-looking game like Minecraft, it may be surprising how successful it became.
However, players clearly enjoy the unrestricted, open-ended sandbox experience more than the visuals, ultimately proving that you shouldn't judge a book by its cover.
Minecraft's popularity spawned numerous spin-offs – today we'll take a closer look at all Minecraft games and what they're all about.
All Minecraft Games & Spinoffs
Minecraft
| | |
| --- | --- |
| Release date: | 2013-11-19 |
| Genre: | Action |
| Developer: | Mojang |
The original Minecraft is still incredibly popular – the core gameplay idea doesn't get old and there are tons of mods to further alter the experience to make it fresh again.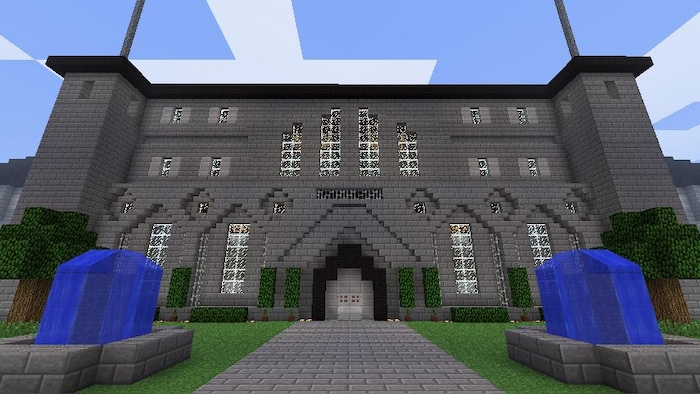 Minecraft combines sandbox and survival elements in voxel-based worlds, giving players full freedom in terms of reshaping the world. Although crafting and mining will probably take most of your time, the most interesting aspect of the game is, undoubtedly, building. You can mine virtually any block from the world and process it in some way or place it back wherever you want to make any construction imaginable, from a simple treehouse to entire cities. More ambitious players can even play around with built-in electronics and wires to make their own automated systems.
Key features
Open-ended gameplay with lots of possibilities
Virtually infinite, procedurally generated worlds
The distinctive, blocky visual style
Puts emphasis on survival, crafting, mining, and building
Minecraft: Story Mode
| | |
| --- | --- |
| Release date: | 2015-10-13 |
| Genre: | Adventure |
| Developer: | Telltale Games |
The original Minecraft lacks the story, so if you'd like to have that in the Minecraft universe, you'll have to try this spin-off instead.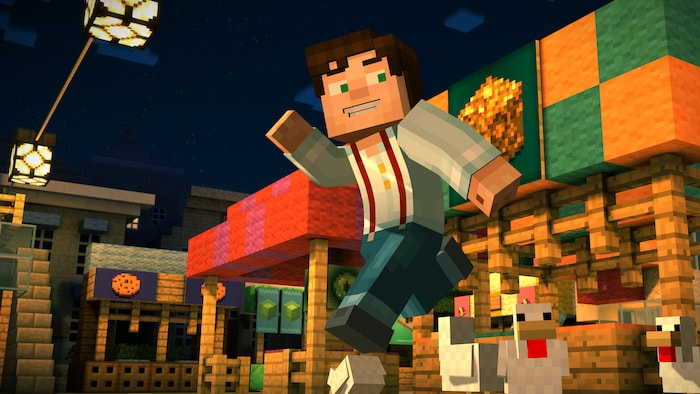 Minecraft: Story Mode is a completely different game from the original Minecraft, as it focuses entirely on the story element and throws a bit of quick-time events into the mix. Instead of a sandbox experience, where creativity plays a crucial role, you get a game with a branching storyline, where your decisions will yield different outcomes, sometimes impacting not only the current episode you're playing, but also the later ones as well. The importance of story choices is even clearer once you realize you can compare your choices to the choices made by the entire community to see if you made the same decisions or had an entirely different view of certain things.
Key features
A story-driven game set in the Minecraft universe
Impactful choices that shape the story and the plot
Quick-time events that will test your reflexes
Amazing music that helps to build the right atmosphere
Minecraft Earth
| | |
| --- | --- |
| Release date: | 2019-10-17 |
| Genre: | Augmented reality, sandbox, location-based |
| Developer: | Mojang Studios |
Minecraft Earth is a discontinued game, so you won't be able to download or play it anymore, but it's worth being mentioned on the list nonetheless.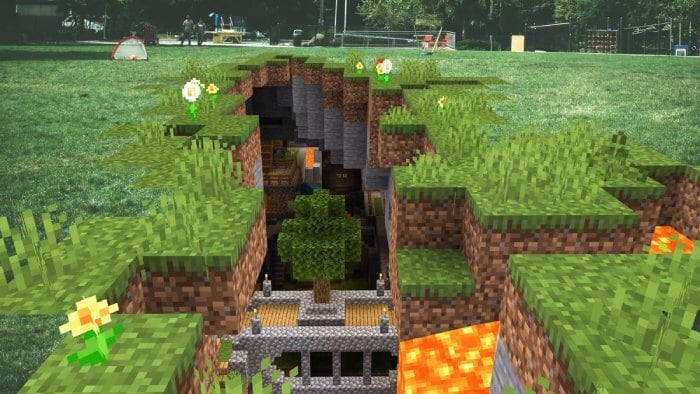 Minecraft Earth was Mojang's attempt at making a free location-based mobile game, possibly due to the overall hype for these kinds of games in recent years, like Pokemon GO. What made this particular game fun and unique when compared to similar titles was the possibility to make augmented reality constructions – whatever you built became a part of the world, making it possible for other players to see it and even build together.
Moreover, location-based games are actually beneficial for health as they encourage players to go out and take a walk to the nearest points of interest and interact with them. You could even make some friends along the way, who may happen to be visiting the same place for the exact same reason.
Key features
A location-based game with augmented reality functionalities
Allows players to build and explore together
A huge variety of the creatures known from the original Minecraft
Simple puzzles and tasks for a more varied experience
Minecraft Dungeons
| | |
| --- | --- |
| Release date: | 2020-05-26 |
| Genre: | Adventure |
| Developer: | Mojang |
For a more dynamic and fast-paced experience set in the Minecraft universe, we can strongly recommend checking out Minecraft Dungeons.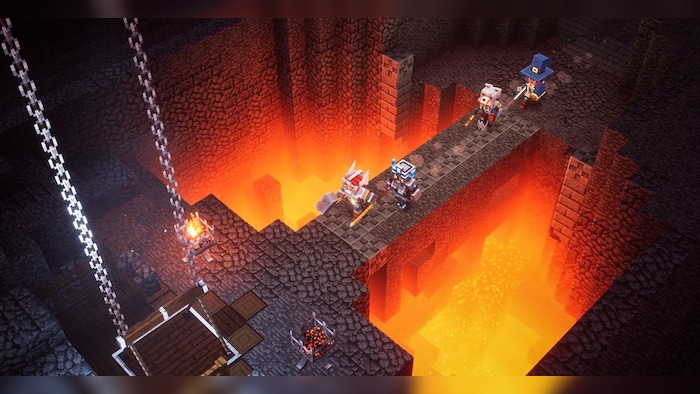 Minecraft Dungeons sacrifices the open-world environment and building aspects of the original game in favor of a dynamic hack-and-slash experience, where your objective is to cut through hordes of enemies and conquer randomly generated dungeons in order to earn valuable rewards and make the character stronger. It's a simple yet addictive game that can be played in short sessions – it's a perfect choice to launch when you don't have too much time to play.
The game features a 4-player multiplayer mode, allowing people to party and tackle challenges as a team, which undoubtedly makes the experience more fun. Get through the traps and puzzles, defeat scary bosses, and claim the treasures. How far can you get?
Key features
Fast-paced action in a hack-and-slash style
Familiar cubic visuals known from the original Minecraft
No class system, making it possible for players to easily try different approaches
Local and online multiplayer for up to 4 players
Minecraft Legends
| | |
| --- | --- |
| Release date: | 2023-04-18 |
| Genre: | Action, strategy |
| Developer: | Mojang Studios, Blackbird Interactive |
Let's not forget about Minecraft Legends – one of the most recent Minecraft spin-offs that will put your strategy and leadership skills to the test.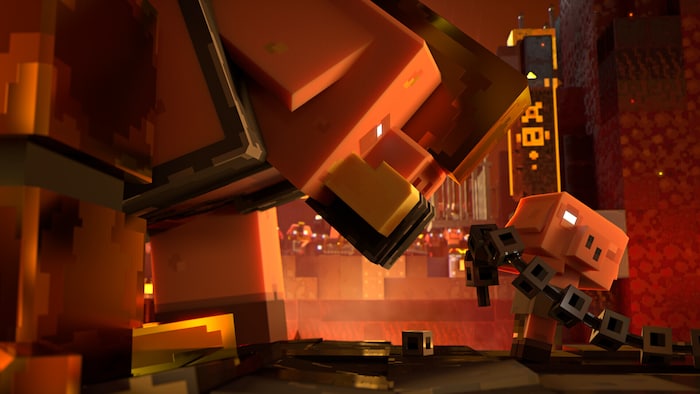 The Minecraft franchise constantly grows and explores new possibilities and niches to reach even more people. Minecraft Legends takes a completely different approach to gameplay than other Minecraft games – here you'll be tasked with building and fortifying a settlement that will have to survive the invasion of evil piglins from the Nether. The building part is simplified, so you'll only be able to create pre-made buildings from the blueprints found throughout the game. The structures you'll make are mostly related to resource gathering, defenses, and troop recruitment.
When the night comes, you'll have to gather your army and lead them against the invading forces and stop the spread of corruption. When the battle starts, things can get quite intense, so be prepared for some fast-paced action.
Key features
A real-time strategy with elements of tower defense and commanding troops
Can get intense, especially at night when the invasions occur
Lots of useful pre-made structures to utilize during play
A fresh take on the classic Minecraft visual style with a subtle touch of cel-shading
Conclusions and Final Thoughts
Minecraft is an incredibly popular game so it's not surprising that it gave life to a number of spin-offs that are trying to reach even more people. As a result, you don't have to be a huge fan of the creative sandbox experience the original Minecraft provides – you can pick a different Minecraft game that may be more to your liking and you'll still get some Minecraft-flavored entertainment to enjoy.
Explore video games related to the Minecraft universe and pick the ones you like the most. Which Minecraft spin-off you would consider being worth playing the most?