A wise man once said: 'Spider-Man, Spider-Man, does whatever a spider can' – and it's true. As Marvel's most popular comic book character, he went above and beyond to receive tons of film, animation, and video game adaptations.
His fame dates back to 1962 when Stan Lee and Steve Ditko created the wall-crawling spider-like hero and introduced him in the Amazing Fantasy #15 comic book. This fresh plot about teenage Peter Parker instantly became an absolute sensation, resonating with young people like nothing before. Soon, the heroic – but still very human – Spider-Man inspired many movies, collectibles, toys, cartoons, and of course — video games. And he still does! If you want to know more about old and new titles dedicated to this friendly character, welcome to our ultimate list of the best Spider-Man games in order.
Spider-Man (1982)
| | |
| --- | --- |
| Release date: | 1982 |
| Genre: | Action |
| Developer: | Laura Nikolich |
It is the first-ever Spider-Man game released for Atari 2600 and Magnavox Systems. Today this title looks simple, but it is surprisingly challenging!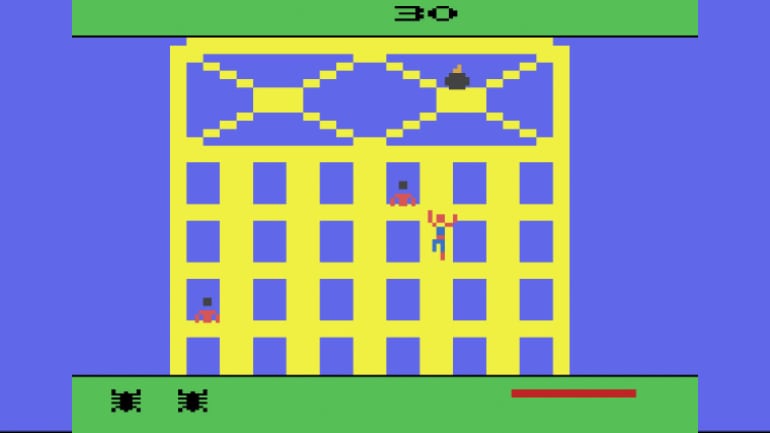 The plot of this retro masterpiece features Spider-Man trying to stop the Green Goblin from blowing up the Empire State Building. To stop him, our superhero must climb skyscrapers using his spider web. But of course, there are obstacles – bandits, bombs, and limited web fluid. The eventual victory and defeat of the Green Goblin mean starting a new level featuring the same rules – so we can safely say this gameplay is quite repetitive.
Key features
Play the first Spider-Man game
Climb the skyscraper to stop the Green Goblin
Capture criminals or avoid any encounters
Monitor your limited spider web
The Amazing Spider-Man (1990)
| | |
| --- | --- |
| Release date: | 1990 |
| Genre: | Platformer |
| Developer: | Oxford Digital Enterprises |
This slightly more dynamic side-scroller launched on GameBoy and personal computers like Amiga, Atari, and Commodore 64. And it revealed bits of a love story!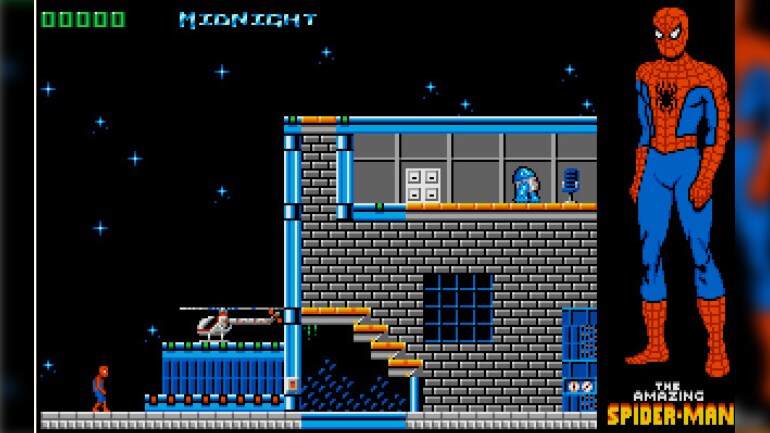 The evil Mysterio kidnaps Mary Jane, and Spider-Man must save his beloved. There is one problem – his opponent designed a series of twisted levels inspired by cinema classics and full of various puzzles. This game is famous for its terrible controls and animations but features one highlight – a really catchy soundtrack!
Key features
Explore movie-inspired levels
Save Mary Jane from the evil Mysterio
Solve challenging puzzles
Enjoy fun, retro gameplay
Spider-Man (1995)
| | |
| --- | --- |
| Release date: | February 13, 1995 |
| Genre: | Side-scrolling action game |
| Developer: | Western Technologies |
Inspired by the widely popular animated series of the same time, 1995's Spider-Man delivers a far longer gameplay experience than its predecessors. You can expect over twenty bosses!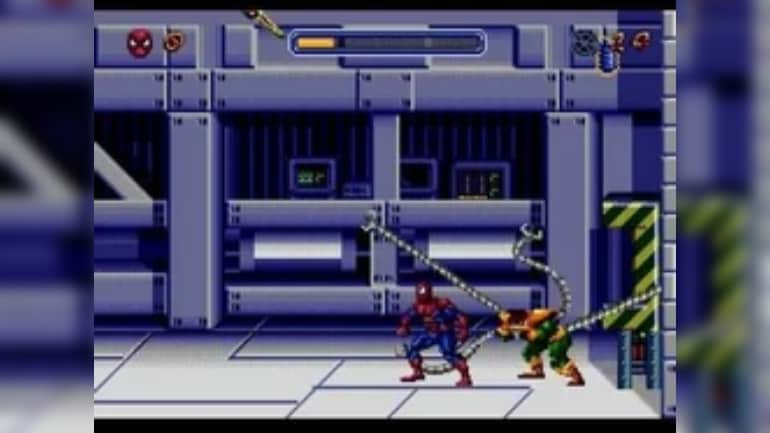 The plot follows Doctor Octopus and Green Goblin ally to wreak utter mayhem on the New York City streets. Soon other criminals join them, and Spider-Man fights to restore the once-lost peace. The title came out for SNES and Sega Genesis, and it's not the prettiest in terms of graphics but offers quite an engaging storyline with a lot of action.
Key features
Play a game based on the popular animated series about Spider-Man
Explore the New York streets to defeat criminals
Battle over twenty bosses
Have fun with extensive gameplay and an engaging storyline
Spider-Man: The Movie (2002)
| | |
| --- | --- |
| Release date: | 2002-04-20 |
| Genre: | Action |
| Developer: | Treyarch |
Based on a movie of the same time, this game came out for Xbox and PlayStation 2. With Tobey Maguire and Willem Dafoe voicing their characters!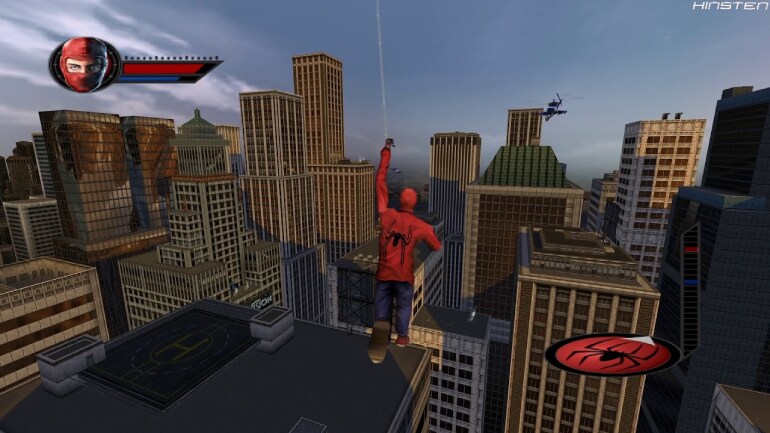 Young genius and social outcast Peter Parker discovers his new spider skills and is starting to learn how to use them. But injustice doesn't wait, and a new threat appears in the city – the Green Goblin. Torn between his private life and destiny, Spider-Man fights back and discovers shocking secrets about the surrounding world. It is a highly dynamic adaptation of the comic book hero adventures, with outdoor and indoor action, unlockable bonuses, and spectacular combat, set in a gripping storyline.
Key features
Discover the gaming adaptation of a movie with Tobey Maguire and Willem Dafoe
Unravel the Green Goblin origins
Explore the city and learn spider skills
Enjoy great audiovisuals on PS2 and Xbox
Spider-Man 3 (2007)
| | |
| --- | --- |
| Release date: | 2007-05-04 |
| Genre: | Action |
| Developer: | Beenox Inc. |
Featuring ten campaigns, loosely incorporated plots from the movie of the same name, hilarious narrator commentary, and even more cast from the source, Spider-Man 3 shines on this list as a must-play for any fan.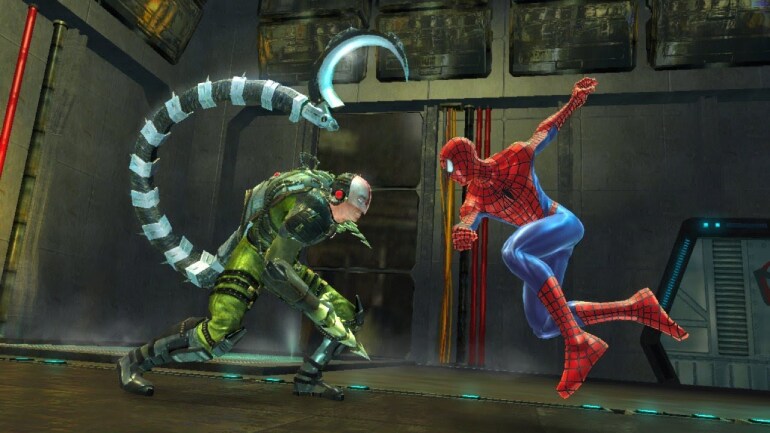 Just like in the movie, Spider-Man has to face Green Goblin, Sandman, and Venom. But there are still more enemies! Prepare for brutal encounters with Scorpion, Kingpin, and Lizard, set in an open world full of plot twists and unexpected events. With powerful combos, new powers, and improved combat! Surprisingly, this title didn't get as enthusiastic reception as the previous ones, but that may have been caused by Spider-Man being literally everywhere at the time.
Key features
Experience the events based on the third Spider-Man movie
Explore an open world to battle new enemies
Make moral choices and become the ultimate hero
Enjoy smooth graphics and perfect voice acting
The Amazing Spider-Man (2012)
| | |
| --- | --- |
| Release date: | 2012-06-26 |
| Genre: | Adventure |
| Developer: | Beenox |
Based on the movie of the same year and name, Amazing Spider-Man represents a slightly different take on the story of the young superhero. And surprisingly, the action takes place after the movie events, so it is a pleasant supplementary.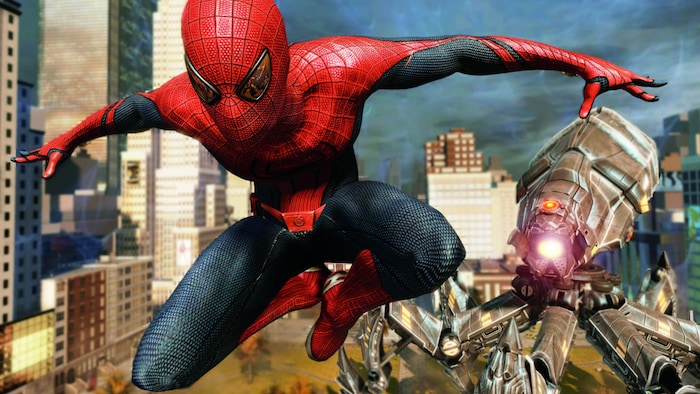 When a deadly virus hits the Manhattan streets, Gwen Stacy finds herself among the infected. Spider-Man must free Curt Connors from the mental institute and convince him to cooperate and create an antidote to save his beloved. It's easy to guess that the boy needs to prepare himself for even more threats to battle! With such a fresh storyline, impressive graphics, and an exciting 3D open world, this game received exceptionally high notes from critics and long-time Spider-Man fans!
Key features
Play the sequel to the 2012 Spider-Man movie
Fight a deadly virus and new enemies
Work with Connors to save the world
Enjoy a dynamic combat system inspired by the Batman: Arkham series
The Amazing Spider-Man 2 (2014)
| | |
| --- | --- |
| Release date: | 2014-05-02 |
| Genre: | Adventure |
| Developer: | Beenox |
Due to the unenthusiastic reception, it was the last Spider-Man game developed by Beenox. However, this title is a perfect extra to the previous plot, and again – it is based on the movie of the same name.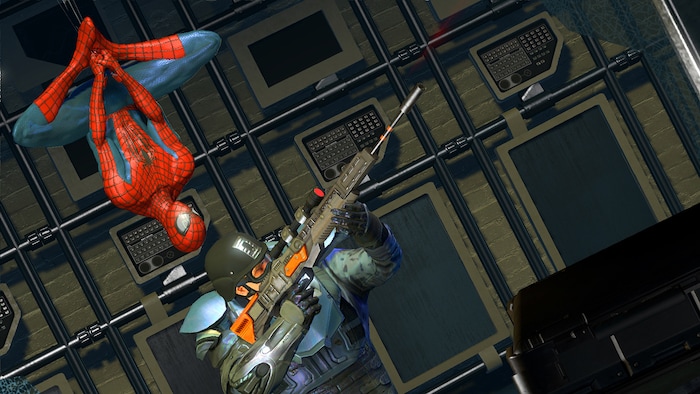 Compared to its predecessor, Spider-Man 2 features a better 3D open world, more exploration opportunities, and improved graphics. This time, the hero is searching for Uncle Ben's killer leading him to some rather intriguing secrets. The game balances the combat system with the story details, offers more customization options for equipment or outfit, and adapts to the play style. So everyone can play however they like!
Key features
See the continuation of the intriguing plots from the 2012 game
Explore an enhanced 3D open world and find Uncle Ben's killer
Sneak, customize your weapons, and have fun with lots of side quests
Use the improved Web-Rush bullet time to surprise your opponents
Marvel's Spider-Man (2018)
| | |
| --- | --- |
| Release date: | 2018-09-07 |
| Genre: | Adventure |
| Developer: | Insomniac Games |
Coming from creators of games like Ratchet & Clank and Resistance, this title leaves the strong influence of movies or comics to deliver an entirely new story.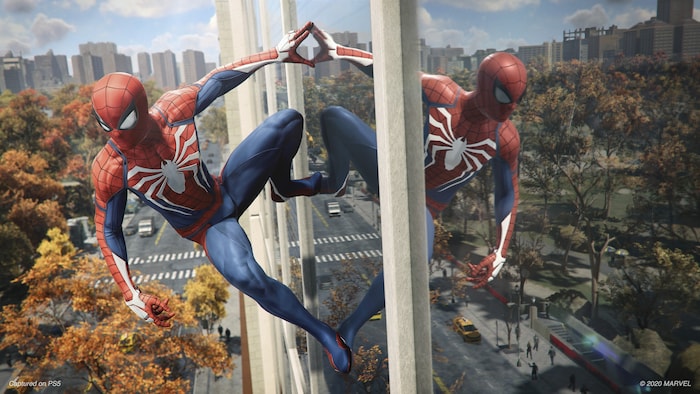 And it does it well! Delivering a more mature Spider-Man still balancing his personal life with superhero responsibilities, the game earned the Best Super-Hero Game Of All Time title and sold 3.3 million units. The plot follows 23-year-old Peter Parker, who is about to graduate from college and has been using spider powers for eight years. But soon, the hero will face criminals dangerous as never before!
Key features
Experience a brand-new Spider-Man story
Team up with other characters to fight powerful criminals
Use a multitude of gadgets and practice your spider combat skills
Solve puzzles and unlock new abilities
Marvel's Spider-Man: Miles Morales (2020)
| | |
| --- | --- |
| Release date: | 2022-11-18 |
| Genre: | Adventure |
| Developer: | Insomniac Games |
Matching the impressive capabilities of the PS5 console, the 2018 sequel dares to introduce a whole new hero in the role of our favorite Spider-Man. And it's a clever idea!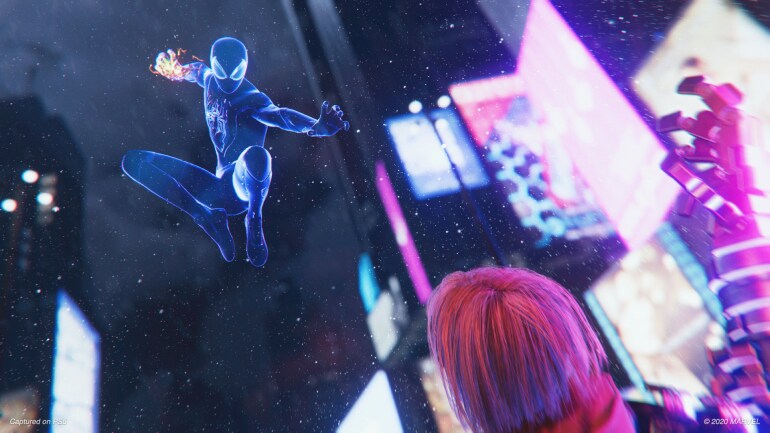 Miles Morales — a young Spider-Man apprentice — takes over his master's duties. Including defending New York from the multiplying criminals! And let us tell you – this game looks absolutely fantastic. Spectacular views, dynamic combat, a sense of freedom in an open world, realistic textures, and the ability to see the same story from a new perspective are all that fans needed. Especially since the entire experience takes place in a refreshing winter setting!
Key features
Feel the Christmas spirit as Spider-Man's successor
Freely roam the exciting open world of New York
Solve a new, increasingly serious conflict
Enjoy the latest Spider-Man game
Spider-Man is the ultimate hero, and everyone knows it. He's not some kind of god, a revenge-seeking millionaire, an overpowered mutant student, or a guy who turns green when angry. He's just a simple teenager trying to juggle his school life, first loves, family responsibilities, and spider powers – which aren't even super powerful. All this makes him remarkably relatable. At the same time, he never loses hope, helps regular people, and has everyday human problems. That's why all Spider-Man video games, movies, and comics are so successful. Everyone can identify with this ordinary boy who, by the way, is also a superhero.