We live in a digital age, where access to all kinds of data and information is easier than ever, thanks to the internet. Moreover, most of us own a device that's already millions of times faster than computers that were used during the Apollo mission – a modern smartphone.
But this whole digital world, no matter how wonderful it is and how it makes our lives more convenient, it's also home to malicious users whose only intent is to cause damage, steal valuable data, and profit off of illegal activities.
Avast vs AVG - Comparison Review
With all the dangers that await us on the internet, it's only natural to be concerned about security and think about potential risks related to browsing the web. Although the best antivirus is a responsible and well-educated user, it wouldn't hurt to set up an additional layer of defense. We're all just human, after all, and humans do mistakes. Antivirus software is here to help us mitigate the negative effects of such accidents.
Choosing the right antivirus may be a daunting task, especially considering how many antivirus solutions are available right now on the market. Which is better? Which one to choose? Today we'll compare products from two renowned security-related brands – AVG and Avast.
AVG and Avast – is Avast and AVG the Same?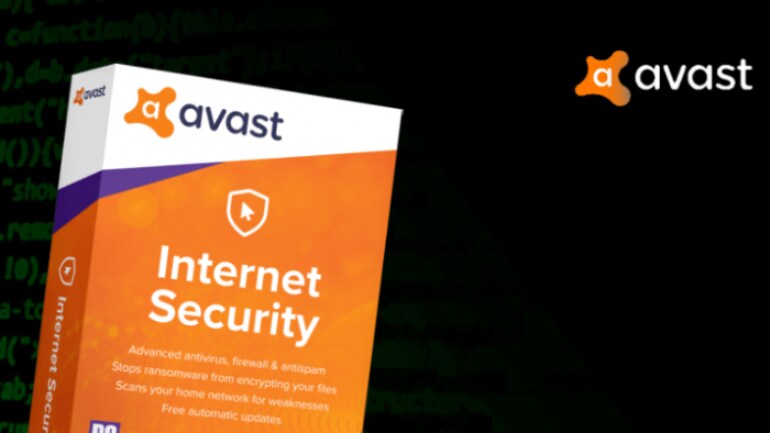 AVG and Avast are both parts of the same Czech company, Avast Software, which acquired AVG Technologies in 2016. Although now both brands are controlled by one company, it doesn't mean that their products are exactly the same. There are some important differences to be aware of when choosing the best antimalware protection – we'll take a look at some of the most important features down below.
Better Security – AVG or Avast?
Various antivirus solutions usually work more or less the same and are equally good when it comes to dealing with malicious and harmful programs. It's even more true in the case of Avast and AVG, which both happen to be among the leading brands when it comes to internet security.
According to independent tests from av-test.org in real-world conditions, both Avast and AVG antivirus software managed to quickly identify threats and neutralize them, successfully preventing malicious code from doing any kind of harm to the user's system. Software from both brands scored 6 out of 6 in protection tests, which translates to effective protection against not only the most common dangers, but also 0-day malware attacks, web and e-mail threats, and widespread prevalent malware discovered in the last 4 weeks.
AVG vs Avast – Performance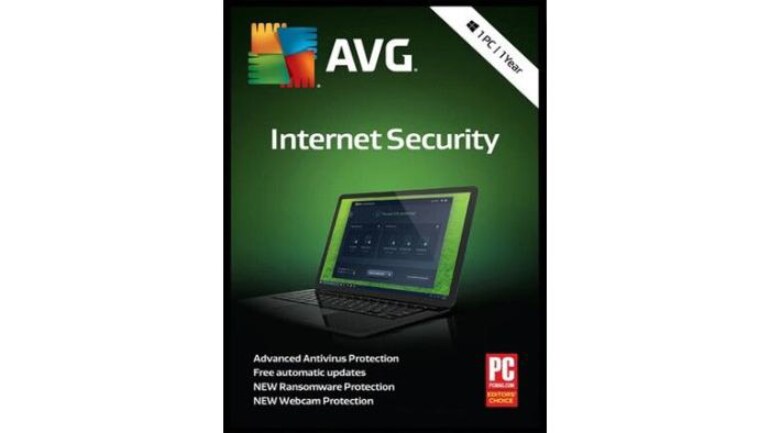 Solid antivirus software should not only be effective at taking care of digital threats. It's supposed to run 24/7 in the background of your computer's system to provide a real-time shield against malware, so it should also be easy on your computer's CPU. In a perfect world, you shouldn't be even able to tell if the antivirus is currently running or not – it shouldn't noticeably affect the computer's performance.
As it turns out, there is no clear winner in this category, either. Both Avast and AVG antiviruses run silently in the background without affecting your system's performance in a significant way, allowing you to comfortably continue to use the computer.
It should be noted, however, that according to av-test.org reviews, AVG is at a slight disadvantage here. It's a marginal difference that means unnoticeably slower installing of frequently-used applications, slower launching of standard software applications, and more slowing down when launching popular websites on a standard PC when compared to Avast.
Ease of Use
Being able to easily access all important options and features should also be considered when choosing the best antivirus software. The program's interface should be simple and present all the data in a way that's easy to understand even for those who are not overly familiar with computers and modern technology.
Once again, it's difficult to pick a winner, as both brands come with a simple and elegant dark-themed interface that's easy to understand since the first run of the program. Both Avast and AVG antiviruses present the data neatly, without bombarding the user with unnecessary technical details while giving more advanced users the tools to analyze everything more thoroughly.
AVG versus Avast – Pricing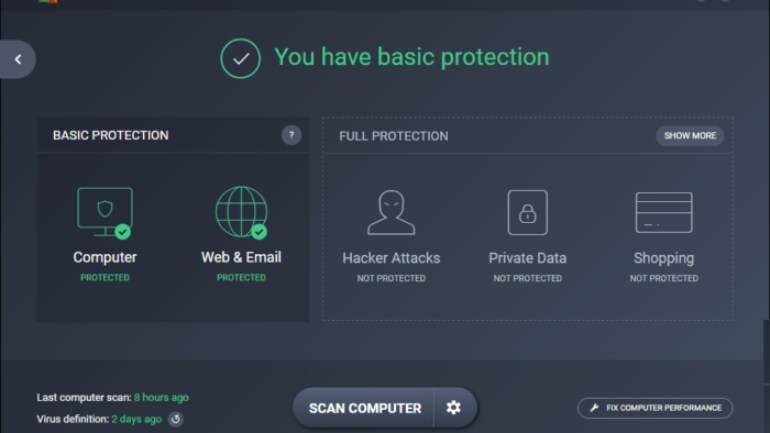 Both AVG and Avast offer basic protection free of charge and are comparably good at defending your system from digital threats, such as viruses, malware, trojan horses, spyware, ransomware, and more. There's no catch – they are entirely free antiviruses and they will effectively protect your PC, even against the latest harmful programs. What this free software lacks, however, is a number of additional tools and features that can make your life much easier – these can be found only in paid versions of AVG and Avast software.
Speaking of paid software, both AVG and Avast offer two levels of paid security – AVG Internet Security and Avast Premium Security are entry-level subscription-based solutions, while AVG Ultimate and Avast Ultimate are the brands' top-tier all-in-one bundles. The prices don't differ significantly, so picking the better antivirus is usually just a matter of preference when it comes to pricing. As long as discounts and sales are not taken into account, you will have to pay $69.99 a year per 1 device or $89.99 a year per 10 devices for the cheaper licenses, and $119.99 a year per 10 devices or, in case of Avast Ultimate, $99.99 a year per 1 device for the ultimate licenses. However, it's more than likely that different regions have different pricing plans, which may tip the scales in favor of one brand or the other. As other sources report, AVG may be at a slight advantage in this department.
It's also worth mentioning that AVG Internet Security and Avast Premium Security can be tried for free for 30 days, so there's nothing stopping you from checking them both out before making your final decision.
Additional Features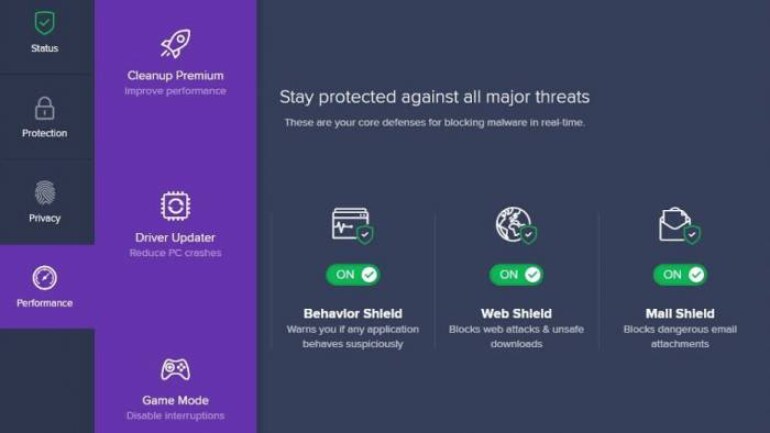 As it was mentioned above, paid versions of Avast and AVG antivirus software come with additional features that can't be found in the brands' free software.
On top of all the free features that are focused on effectively detecting and removing malware and other threats, AVG Internet Security gets additional ransomware protection, wi-fi security checks, and unsafe and phishing websites avoidance for increased security, while AVG Ultimate adds performance and storage space improvement options and Secure VPN to the mix.
On the other hand, Avast Premium Security also adds a variety of useful tools to their reliable free antivirus software, which includes fake website avoidance, sandboxing of potentially harmful applications, a firewall, webcam spy prevention, a file shredder, and an auto-updater for apps. The Ultimate version also includes performance optimization tools, SecureLine VPN, and AntiTrack for anonymizing your digital fingerprint.
Although AVG offers some important features in their subscription plans, it's hard not to notice Avast's superiority.
Conclusion and Final Thoughts
AVG and Avast are currently run by one company, so the lack of major differences between the two brands was to be expected. Still, choosing one or the other may not be an easy choice. Avast can be slightly more expensive in certain regions, but its price is justified by slightly better performance and more useful features in their subscription-based plans. As far as effectiveness against malicious software is concerned, both brands are equally good at taking care of all kinds of digital threats and both will undoubtedly keep your computer's system in good health.