Alright, the next school year is about to begin sometime soon(ish), but we're not giving up on playing video games, are we?
Here's a small selection of the best deals that you get on G2A Marketplace. Nah, don't worry – these games are super fun to play, none of that boring educational stuff is featured here.
Take a look at our picks:
| | Game | Release | Genre | Sale |
| --- | --- | --- | --- | --- |
| | Marvel's Spider-Man Remastered | 2022-08-12 | Action | 52% |
| | Minecraft Java Edition Minecraft | 2013-11-19 | Action | 36% |
| | F1 Manager 2022 | 2022-08-30 | Action | 30% |
| | Two Point Hospital | 2018-08-29 | Action | 73% |
| | Planet Zoo | 2019-11-05 | Action | 80% |
| | Firewatch | 2016-02-10 | Action | 52% |
| | Farming Simulator 22 | 2021-11-22 | Action | 56% |
| | Sid Meier's Civilization VI | Platinum Edition | 2016-10-20 | Action | 87% |
| | FIFA 23 | 2022-09-30 | Sport | 73% |
| | Monster Hunter Rise: Sunbreak | 2022-06-30 | Action | 48% |
| | Monster Hunter Rise | 2022-01-12 | Action | 80% |
| | Stray | 2022-07-19 | Adventure | 6% |
| | No Man's Sky | 2016-08-12 | Adventure | 60% |
| | Minecraft: Windows 10 Edition | 2015-07-29 | Adventure | 13% |
| | Elden Ring | 2022-02-25 | Action RPG | 37% |
| | Risk of Rain 2 | 2019-03-28 | Indie | 56% |
| | Grand Theft Auto V | 2015-04-14 | Adventure | 60% |
| | The Elder Scrolls V: Skyrim Special Edition | 2016-10-27 | Adventure | 75% |
| | Hell Let Loose | 2019-06-06 | Indie | 19% |
| | God of War | 2022-01-14 | Action | 56% |
| | World Of Warcraft: Dragonflight | Epic Edition | 2022-11-28 | MMORPG | 67% |
| | Company of Heroes 3 | 2023-02-23 | Strategy | 47% |
| | Call of Duty: Modern Warfare II | Cross-Gen Bundle | 2022-10-28 | FPS | 48% |
Minecraft
| | |
| --- | --- |
| Release date: | 2015-07-29 |
| Genre: | Adventure |
| Developer: | Mojang |
Let's start with probably the best educational game of all time. Minecraft took the entire world by storm. Its formula, inspired by the Lego bricks, has proven to be truly fantastic and ageless.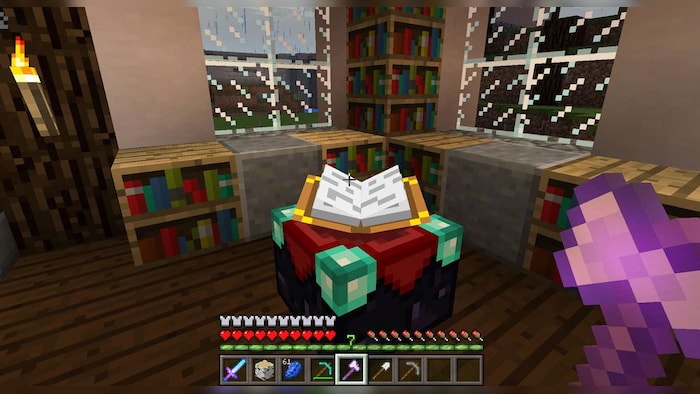 There are two basic modes in the game: Survival and Creative. The former pits you against all sorts of dangers in a procedurally-generated world. You need to collect resources, build and craft things, as well as manage your hunger bar. You'll also encounter all sorts of monsters along the way, including the famous creeper.
The probably even more iconic Creative mode is basically like a Lego playground. People have used it to craft insane stuff, including replicas of famous buildings and locations, and so can you! Still, if you're more action-inclined, you can always stick to the survival mode and its two variations (Hardcore and Adventure) instead.
Key features
Two main game modes, one all about survival against all the odds, the other about unrestricted creative freedom
Probably the best Lego game that is not Lego
Creepers and other nasty fellows are here to ruin your day
Did you know that pain during childbirth is so great that a woman can experience what a man feels when he accidentally kills his dog in Minecraft?
Elden Ring
| | |
| --- | --- |
| Release date: | 2022-02-25 |
| Genre: | Action RPG |
| Developer: | FromSoftware |
This is obviously a FromSoftware game, with insane difficulty level and all that jazz, but there is something special about this one. It's…more accessible, perhaps? Anyway, Dark Souls' creators' latest outing introduces some new elements to the famous formula, making the mix feel pretty fresh.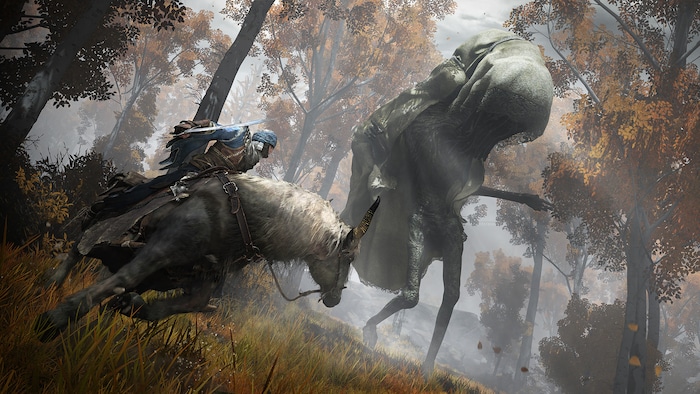 One of the things responsible for that is the open-world format. If you can't beat a particular boss, there's no need to grind your teeth and attempt that for the umpteenth time. Instead, you can simply move on to the next one and try your luck someplace else.
As far as other stuff is concerned, the game features a dark fantasy world known as the Lands Between. There is combat involving several types of weapons and magic spells, there is a trusty mount to help you roam this realm, there is crafting and there is summoning various allies to aid you in battles. All in all, it's a fantastic FromSoftware game, so if you're a fan, you'll love this one.
Key features
The Lands Between are an open-world environment that lets you roam it as you please
You even have a pretty cool mount
All sorts of approaches to combat are viable, including stealth tactics and summoning allies
It's just as great as other FromSoftware's games
Risk of Rain 2
| | |
| --- | --- |
| Release date: | 2019-03-28 |
| Genre: | Indie |
| Developer: | Hopoo Games, LLC |
Risk of Rain 2 is both similar and quite different from the previous game. The core gameplay features remain the same: it's a quite punishing roguelike shooter where monsters get tougher the longer you play.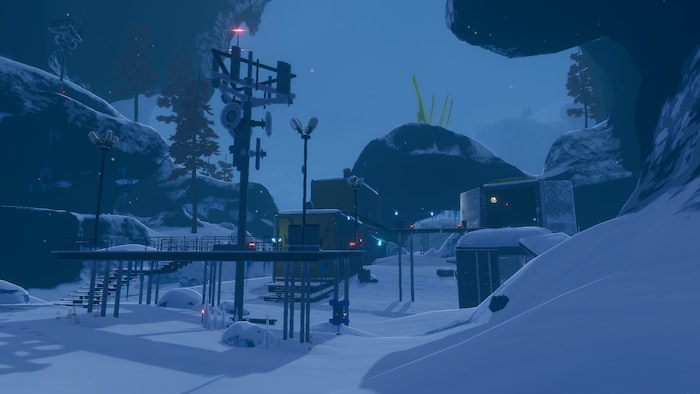 The main difference is that the game shifted from 2D to 3D. As one of fourteen available Survivors, your task is to progress through several levels, taking out alien beasts attacking you, using special abilities at your disposal (each character features a different set of skills), collecting useful items that boost your stats, and locating a teleporter that leads to the next area, until you reach the final one.
Once you activate a teleporter, all hell breaks loose. You need to defend yourself from enemy swarms and dangerous bosses. Risk of Rain 2 is a simple, fun and pretty addictive game. Try it especially with a bunch of friends (the coop mode supports up to four players).
By the way, an expansion titled Survivors of the Void was released in March 2022.
Key features
Fun gameplay consisting of traversing levels full of monsters to find a teleporter to the next area
Monsters get tougher and more deadly every couple of minutes, so it's best if you spend as little time playing as possible (or the opposite, if you're in for a decent challenge)
A simple, but evocative visual style
Fourteen different Survivors to unlock and play as, each with a different set of special abilities and a unique playstyle
Monster Hunter Rise: Sunbreak
| | |
| --- | --- |
| Release date: | 2022-06-30 |
| Genre: | Action |
| Developer: | Capcom |
Speaking of expansions, Monster Hunter Rise has just received one. Sunbreak is a major content update that features lots of new stuff for the fans of the game. If you own and love Rise, you can't miss out on this one!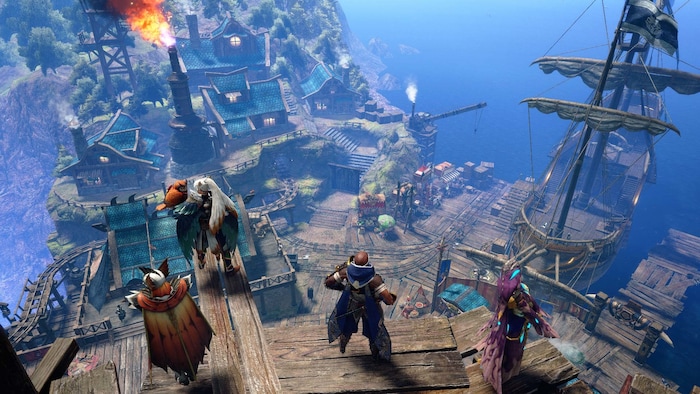 For starters, Sunbreak features a fresh storyline that continues the tale told in the base game. This means that you'll get to encounter and kill several new monsters (and a bunch of returning ones), including the Three Lords, powerful beasts inspired by Western horror classics. Elgado Outpost will serve as your new base of operations.
When it comes to combat, it has also received some new features and tweaks. The Wirebug makes a return as well. All in all, this is an expansion that you must get if you have Monster Hunter Rise. If not, you might as well grab a copy anyway!
Key features
New and returning monsters for you to kill
New additions to combat mechanics
A set of new locations to explore
Magnamalo also returns (to get killed once again, of course)
No Man's Sky
| | |
| --- | --- |
| Release date: | 2016-08-12 |
| Genre: | Adventure |
| Developer: | Hello Games |
If you're looking for a really good space exploration game, look no further. No Man's Sky has all you need. Simply grab a copy and embark on a journey through a vast, procedurally generated galaxy!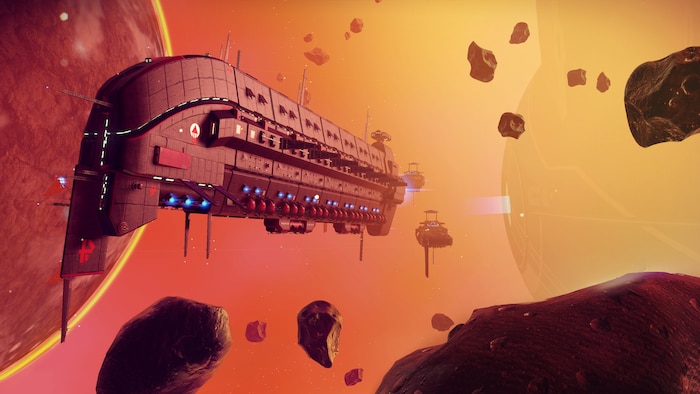 No Man's Sky is no longer the debacle it was upon release. It has become what it was always meant to be following a major overhaul.
In the game, you get to travel from planet to planet, each with its unique fauna and flora, as well as alien bases and other features. Discovering a particular species first means you get credited with this achievement. This is also an opportunity for you to name a particular animal or plant!
It's a pretty complex game that features survival and crafting mechanics. Your space traveler needs to be protected from various dangers, such as toxic atmosphere, extremely high temperatures, dangerous, unpredictable weather, as well as all sorts of hostiles.
If you still haven't played No Man's Sky, now's your chance. Grab it now and embark on an unforgettable cosmic adventure!
Key features
A giant galaxy to explore – it consists of over eighteen quintillion procedurally generated planets!
You can build bases and manage your space fleets
There's cross-platform play
There's virtual reality support, too
So, these are some of the best deals available during our Back to School sale!
Also, be sure to check out some other pieces we wrote for the occasion: the best games set in a school, the best educational games for kids and the best games that can teach you some pretty useful stuff.