Every year a huge number of new and fresh games are being released, but only a handful of new titles manage to catch our attention. Some games are simply so good that they completely overshadow the competition.
So, how it was in 2001? What video game stole the spotlight back then?
Check out our list of the best 2001 video games for PC
Grand Theft Auto III
| | |
| --- | --- |
| Release: | 2001-10-22 |
| Genre: | Adventure |
| Developer: | Rockstar Games |
We get a new Grand Theft Auto game every few years on average – sometimes it's hard to believe that the series not only wasn't abandoned yet but still tops the popularity charts.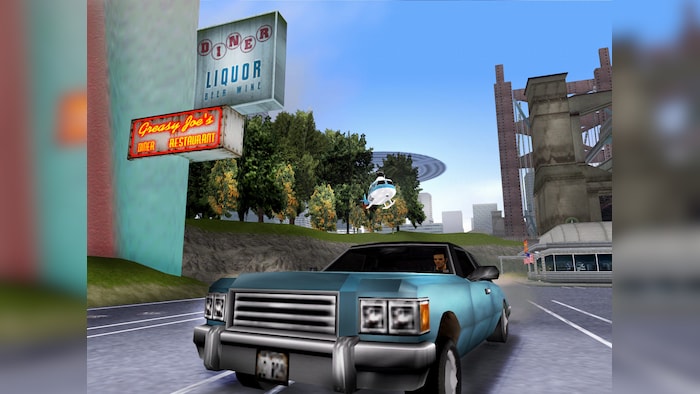 GTA III is a third-person action-adventure game set in a modern environment where players get the opportunity to explore the fictional Liberty City that is loosely based on New York City. The game's sandbox nature gives players a lot of freedom, and it's undoubtedly one of the reasons for its popularity. However, what made this particular game especially interesting is the fact that it was the first time in the series that we were given a 3D world to explore, as opposed to previous 2D top-down gameplay. It was a major change and a risky move – thankfully it turned out to be just what the players wanted. This, combined with the game's excellent story and addictive gameplay that involves a lot of action, gunplay, and vehicle driving, allowed the game to secure a place on the list.
Key features
Action-packed gameplay that gives players a lot of freedom
An open-world environment that can be freely roamed and explored
An addictive storyline that involves dealing with gangsters, cartel members, and even mafia
Lots of various weapons to use and vehicles to drive
Stronghold
| | |
| --- | --- |
| Release: | 2001-10-19 |
| Genre: | Economy |
| Developer: | FireFly Studios |
The real-time strategy genre also has its representative on the list, and it's nothing else than the legendary Stronghold.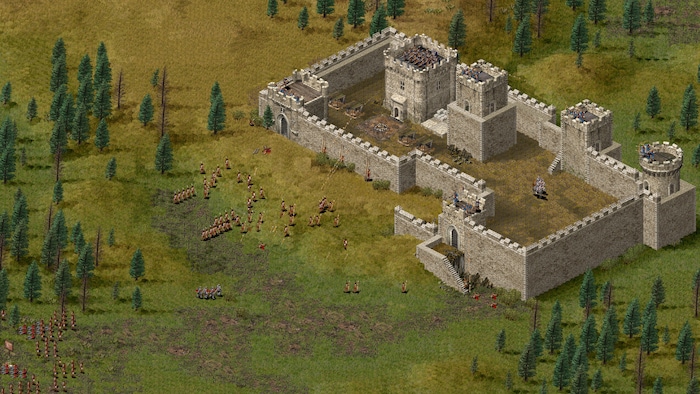 Stronghold is the first game in the Stronghold series. It was a successful game and it met with praise and critical acclaim – its popularity is what allowed the series to grow into possibly the best and the most known strategy franchise focused on building the titular stronghold.
The idea is simple – gather resources, design your perfect castle, build defenses, and train troops to defend your people from invading armies. The gameplay is not overly complex but allows for a lot of creativity when it comes to choosing what to build and where, according to your current needs. It's also worth noting that the game looks surprisingly good, even today, so you should definitely give it a try if you didn't play it yet.
Key features
A real-time strategy focused mainly on designing, building, and defending a stronghold
Both combat and economic missions available, as well as the full-fledged military campaign
Realistically-looking buildings and units from the medieval era, which builds the immersion
A built-in map editor that makes it really easy to create custom scenarios
Max Payne
| | |
| --- | --- |
| Release: | 2001-07-25 |
| Genre: | Adventure |
| Developer: | Remedy Entertainment |
Max Payne also made its way onto the list and it's not without a reason. Matrix-style shooting sequences in slow motion combined with intriguing story and cutscenes in form of comic panels – what's not to love?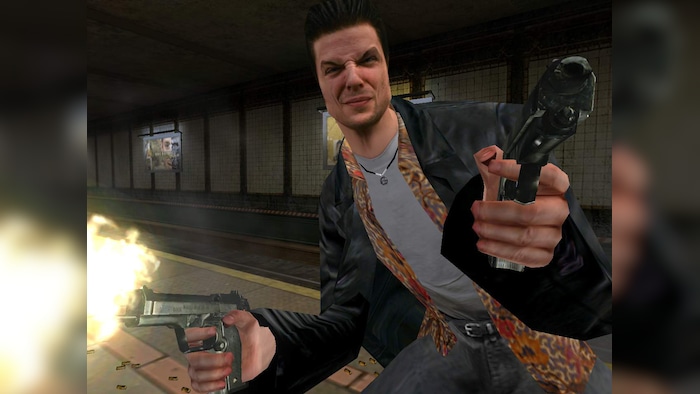 The game tells the story of a man, whose wife and daughter got murdered by some drug addicts. Driven by revenge, Max tries to learn more about what happened and he reveals a plot that far surpasses his initial expectations, forcing him to deal with some exceptionally dangerous people.
Gameplay-wise, Max Payne is best known for its Matrix-style bullet time that allows players to alter the flow of time and surprise the enemy, but the cutscenes in form of comic panels also deserve a mention.
The game won numerous prizes, including the BAFTA award, and it was cited by some as the best video game ever made, which should give you an idea of how good it actually is.
Key features
An iconic first-person shooter with a touch of noir
An intriguing detective story with elements of Norse mythology, presented in form of comic panels
A gunplay-heavy game that encourages the use of bullet-time mechanic
The optional challenging difficulty for those who are looking to break a sweat
IL-2 Sturmovik
| | |
| --- | --- |
| Release: | 2001-11-18 |
| Genre: | Combat flight simulator |
| Developer: | 1C:Maddox Games |
If you love video games that allow players to fly fighter planes from the Second World War era, then 2001 also has something for you in the store. Although today we have more flight simulator options to choose from, IL-2 remains a solid choice despite its old age.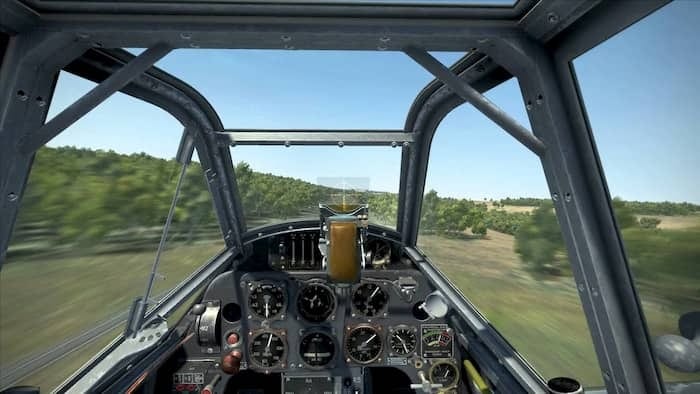 IL-2 Sturmovik is widely considered one of the best, if not the best, combat flight simulators set in the Second World War era. Named after the iconic Soviet ground-attack fighter, the game gives players the opportunity to pilot a wide array of planes in a surprisingly realistic environment.
Today's combat planes are all about electronics that can take care of a number of tasks during flight, but back in the day, it was the pilot who had to do most of the job. If you want to experience a difficult life of a WWII pilot, this game is made for you.
Key features
Advanced flight simulator that revolves around one of the most disastrous wars in the history
Dozens of planes from the WWII era to choose from, originating from both Axis and Allies countries
Customizable controls that can be adjusted to make the experience easier and more approachable, or the exact opposite
Mission builder that allows players to choose the starting map, weather, loadout, add allies and enemies, and more
Return to Castle Wolfenstein 
| | |
| --- | --- |
| Release: | 2001-11-20 |
| Genre: | Horror |
| Developer: | Gray Matter Studios |
Even though Return to Castle Wolfenstein is two decades old already, it aged exceptionally well. Maybe not in terms of visuals, but gameplay certainly makes up for it.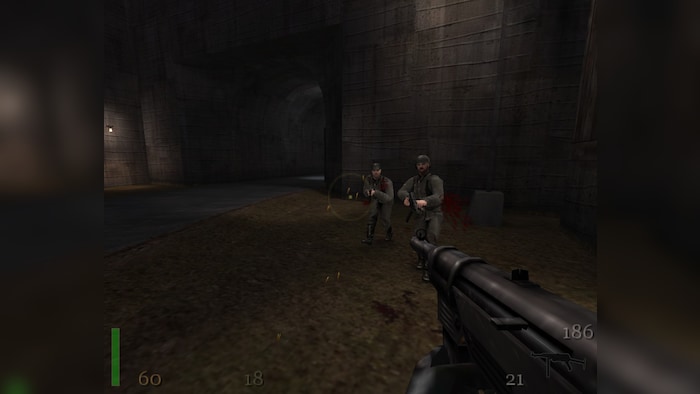 Return to Castle Wolfenstein is one of the games that paved the road for future generations of first-person shooters. It combines action with stealth elements and assassination missions and takes place during the Second World War era.
Because of the game's age, you won't be able to enjoy the original multiplayer mode, which was one of the most addictive things about Wolfenstein. However, due to the game's legendary status, if you dig hard enough you may be able to find some active private servers, where people still gather and are having a blast together to this day.
Key features
A classic first-person shooter in a Second World War setting
Satisfying gunplay – with each fired bullet you can almost feel like using a real weapon
Several classic WW2 weapons to choose from, including Luger and Colt pistols, as well as MP40, Thompson, and even explosives
Highly-addictive multiplayer mode
Gothic
| | |
| --- | --- |
| Release: | 2001-03-15 |
| Genre: | RPG |
| Developer: | Piranha – Bytes |
Finally, there's also something for fans of fantasy open-world adventures focused on exploration, learning about the story, and making your character as strong as it's humanly possible.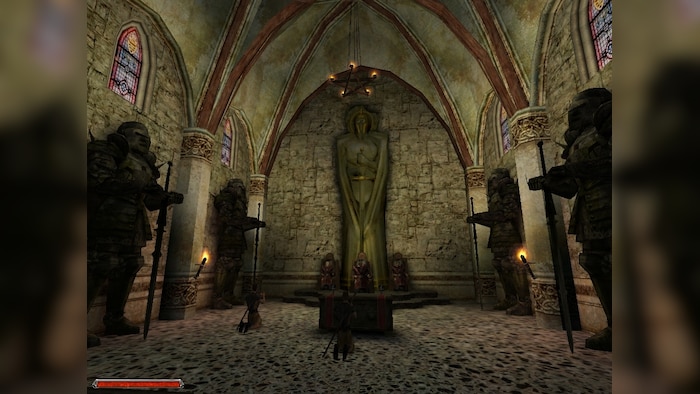 Gothic is an old game but it can still become a source of hours of entertainment, thus it appeared on the list as a final game of the year 2001. It features quite a big and open world, where you can find all kinds of treasures and dangers. You will probably spend most of your time doing main missions, but don't be afraid to occasionally take a break and explore the surroundings – you never know what kind of rare artifact may be hidden in the nearby cave.
The game has some issues, such as controls that can be quite confusing for newcomers and could definitely use some rework, but once you figure it out, it becomes intuitive and natural.
Although it was the sequel, that got people more excited in general, it wouldn't be possible without the original game's success, so let's take a minute to appreciate this little RPG gem.
Key features
An exciting third-person perspective fantasy RPG adventure with an open-world environment
Three alternate paths to follow – pick your side in the conflict and decide your character's fate
Satisfying combat that allows the use of both melee and distance weapons, as well as magic spells
Lots of mysteries to uncover, places to visit, people to talk to, and opportunities to make your character stronger
The Best 2001 Video Games for PC
2001 gave birth to many great video games we used to play on our old computers. Thankfully, most of the old games are receiving a second life lately, either because of some community-based mods that turn these old games into a more modern version of themselves, or official remasters that significantly improve the original idea.
For this reason, now it's a better time than ever to try out some of the classics. Depending on how old you are, you can return to your childhood memories, or experience what your dad played when he was younger. Either way, pick your favorite games from 2001 and have a blast once more.