Keeping up with all modern games and game-related news and announcements can be exhausting. It can also lead to disappointment if a game we were waiting for turns out to not be as good as we hoped. Sometimes it's worth it to take a break and travel back in time to give old classics a shot instead – pick the games that proved to be amazing, and you are guaranteed to have fun.
With that being said, let's dive into the list of some of the best 2002 video games for PC – hopefully this will encourage you to give some iconic titles a little bit of a much-needed love.
The Elder Scrolls III: Morrowind
| | |
| --- | --- |
| Release: | 2002-04-29 |
| Genre: | RPG |
| Developer: | Bethesda Game Studios |
Firstly, let's take a look at one of the most successful entries in The Elder Scrolls franchise – Morrowind was undoubtedly an important milestone for the series.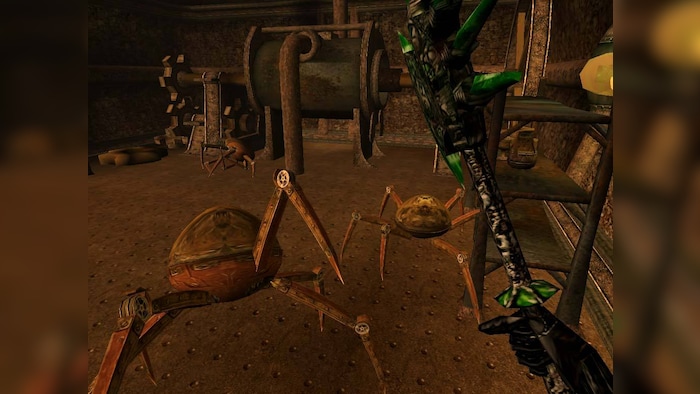 The Elder Scrolls III: Morrowind is an action role-playing game and a sequel to TES II: Daggerfall. It's a true masterpiece and offers the ultimate RPG experience in a fantasy world, where you are free to play the game the way you want. The game offers a huge open-world environment that is not restricted by invisible walls, which means that you can go anywhere you want from the very beginning. Proceed with caution, though – these lands are full of dangers that can easily end an inexperienced adventurer's life. Choose your race, train your character, explore dangerous places, defeat ferocious beasts, steal, join guilds, complete side missions, brew potions, trade, and tailor your own story – an epic journey awaits you.
Key features
A fantasy action role-playing game from a wildly popular RPG franchise
A huge open-world environment that can be roamed and explored freely in its entirety
Open-ended gameplay that gives players a lot of freedom in terms of how they want to interact with the world
Rich character progression and customization
Grand Theft Auto III
| | |
| --- | --- |
| Release: | 2002-05-21 |
| Genre: | Adventure |
| Developer: | Rockstar Games |
PC players had to wait for almost a year for GTA III, which was originally released in 2001 for PS2 consoles. But let me tell you, the wait was well worth it.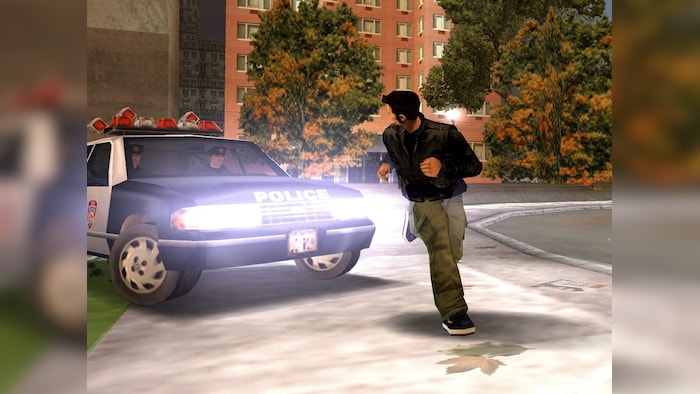 Grand Theft Auto III is an action-adventure game that paved the road for future generations of GTA games. For the first time in the series, GTA developers decided to ditch the original 2D design of GTA III's predecessors and embrace the world of possibilities hidden in the 3D approach. A bold move, but masterfully executed, which inspired other creators of more ambitious open-world games. The game is played from a third-person perspective and takes place in a city based on NYC. Here, in Liberty City, your criminal adventure full of action, illegal activities, and police chases, begins.
Key features
An action-adventure game set in Liberty City based on New York City
3D open-world environment that can be freely explored
An engaging story that could easily serve as a scenario for a Hollywood movie
Action-packed gameplay that revolves around all sorts of criminal activities
Star Wars Jedi Knight II: Jedi Outcast
| | |
| --- | --- |
| Release: | 2003-09-16 |
| Genre: | Adventure |
| Developer: | Raven Software |
Fans of the Star Wars universe got a precious gift in 2002 in form of a new game. Jedi Outcast was and still is a real treat for a number of reasons.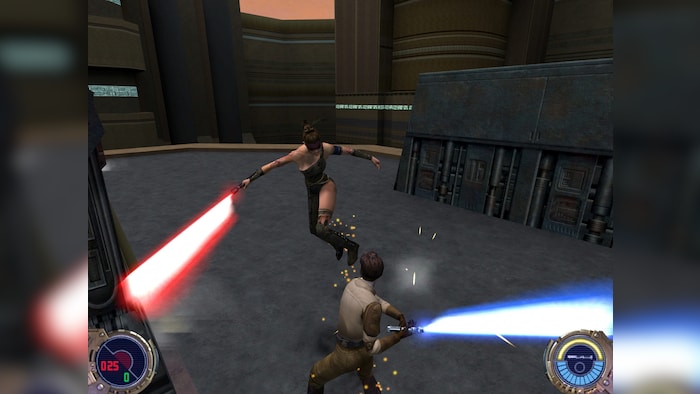 Star Wars Jedi Knight II: Jedi Outcast is a hack and slash game with shooter elements, which is a major design change when compared to the game's predecessor. Developers decided to put emphasis on lightsaber combat and polished this element to the point, where even today it's considered one of the best in the entire SW video game series. There are different fighting styles available and combo attacks also exist in the game. You can even use your lightsaber to deflect blaster shots as a true badass Jedi would. Developers didn't forget to include some Force abilities, as well. If you didn't have the opportunity to play this game before, maybe now is the time.
Key features
A hack and slash game with shooter elements in the Star Wars universe
Gameplay that puts emphasis on melee combat with the use of iconic lightsabers
Force abilities that can assist players during their missions and make their life easier
Force abilities that can assist players during their missions and make their life easier
Warcraft III: Reign of Chaos
| | |
| --- | --- |
| Release: | 2022-07-03 |
| Genre: | Strategy |
| Developer: | Blizzard |
It could be hard to find someone who didn't hear the word "Warcraft" before. Warcraft III, one of the most successful games from Blizzard, went live in 2002, and quickly became a source of joy for strategist minds all over the world.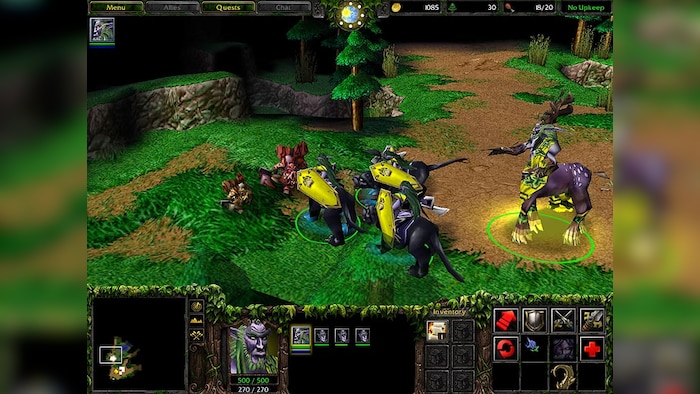 Warcraft III: Reign of Chaos is a real-time strategy game that centers on the events in the fictional world of Azeroth. The Burning Legion threatens the safety of the commonfolk and thus must be stopped – failing to do so could have terrible consequences and lead straight to unimaginable catastrophe. Gameplay-wise, the biggest change was the introduction of heroes – powerful units capable of dealing with numerous enemies by themselves. Heroes can gain experience and equip items to make themselves even more effective in combat. They can also use a few abilities, including the one that is extremely potent but is not available right away. This concept was later further explored by the modding community, giving birth to what we know today as MOBA games.
Key features
A classic, old-school real-time strategy experience
Introduction of powerful heroes and neutral creeps that add an additional layer of gameplay
4 well-designed single-player campaigns, one for each faction
Incredibly addictive multiplayer
Battlefield 1942
| | |
| --- | --- |
| Release: | 2002-09-10 |
| Genre: | Multiplayer. shooter |
| Developer: | Digital Illusions CE |
For a pure and historically accurate FPS experience in the WW2 era, Battlefield 1942 would be an obvious choice in 2002. Now, two decades later, it's still an amazing game to kill time, but it can be harder to find people to play with.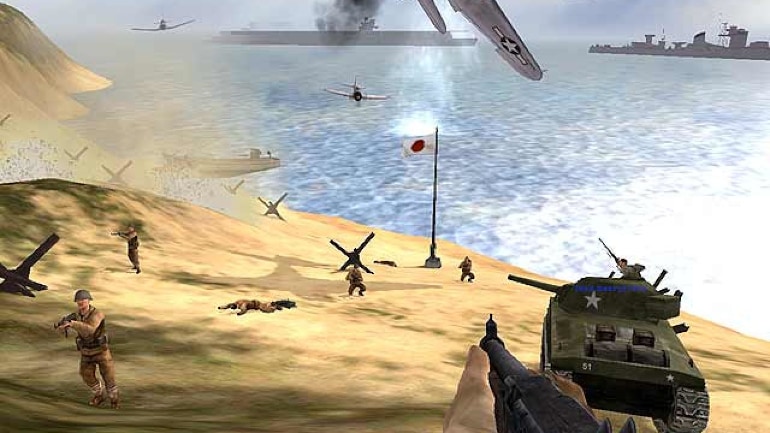 Battlefield 1942 is a first-person shooter set during the Second World War period and as such it allows players to dive right into the heart of the action to experience one of the deadliest conflicts in modern history. Players can play as the Allies or join the Axis' forces – no matter which side you pick, you'll be able to choose your character class, and depending on that choice, your role on the battlefield will be different. The game puts emphasis on team play and rewards cooperation – holding key points and supporting teammates is just as important as eliminating enemy soldiers and preventing the opposing army from advancing. For this reason, it's recommended to bring some friends and play together, as the game really starts to shine in multiplayer.
Key features
A first-person shooter game from one of the most popular FPS series up to date
Realistic maps and environments based on Second World War events
Several different character classes to choose from, including assault, medic, and engineer
Full battlefield experience with playable vehicles and usable mounted weapon systems
Kingdom Hearts
| | |
| --- | --- |
| Release: | 2002-03-28 |
| Genre: | jRPG |
| Developer: | Square |
Kingdom Hearts wasn't originally available for PC for quite some time, but since there's a remastered PC edition available to play now, we decided to put this one on the list.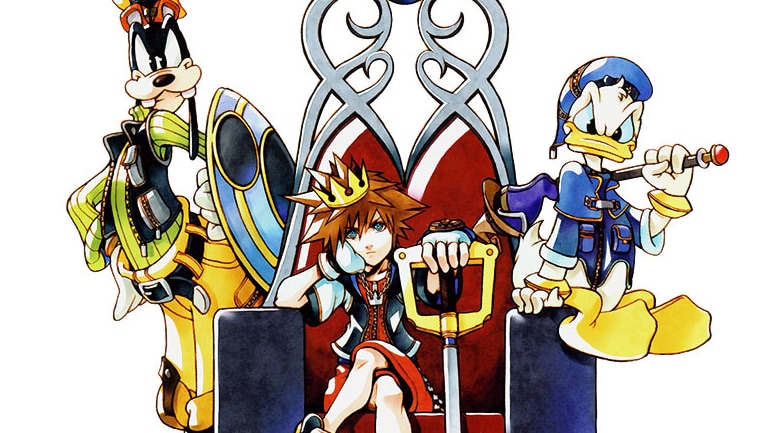 Kingdom Hearts is an action role-playing game that allows players to embark on an epic fantasy journey in a world full of familiar faces from the Disney universe, including Donald Duck and Goofy, most of which are voiced by their official voice actors. It's a pleasant experience suitable for players of all ages – gameplay is relatively easy, the surroundings are colorful, and everything is accompanied by a soundtrack that perfectly fits the theme. It's worth noting, that although the original game was available exclusively on PlayStation 2 consoles, there's an easy way to enjoy Kingdom Hearts on PC. All you need to do is to get Kingdom Hearts Final Mix edition, which is a remastered version that brought this shiny gem to personal computers and a wider variety of consoles.
Key features
A fun action role-playing game with a light-hearted and joyful atmosphere
Several explorable fantasy worlds based on Disney works, with each having an entirely different vibe to it
The gameplay focused on simple combat and exploration in a party with computer-controlled Donald Duck and Goofy
A simple and easy to understand character progression system
Tony Hawk's Pro Skater 3
| | |
| --- | --- |
| Release: | 2001-11-15 |
| Genre: | Sport |
| Developer: | Neversoft |
There are not too many skateboarding video games, not to mention good ones. However, the Pro Skater franchise never ceased to amaze us with new releases, and the third installment in the series is easily among the best skateboarding games ever made.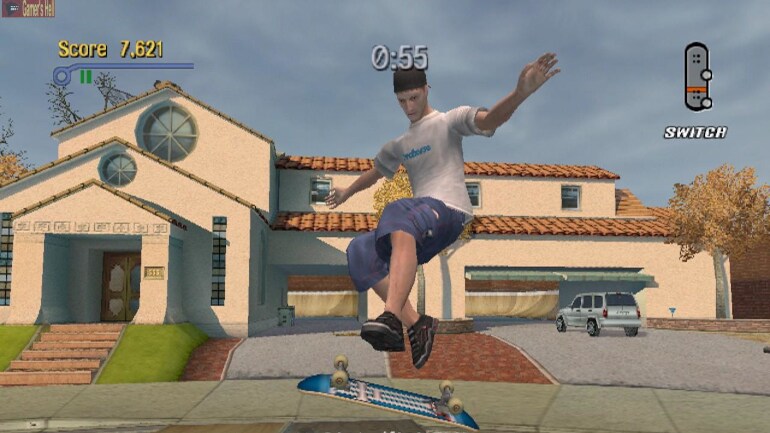 Tony Hawk's Pro Skater 3 is a skateboarding video game with a simple goal – perform as many difficult tricks and stunts on your skateboard as possible to earn points and beat the competition. The time is limited, encouraging players to go full bananas in an attempt to chain multiple tricks into long, breakneck combos for extra point multipliers. With high rewards comes high risk, though – fail a trick, and the entire combo will go to waste, netting you no points. To make things even more interesting, developers prepared a number of extra objectives, challenges, and hidden secrets for players to complete – try to finish them all to unlock some additional rewards.
Key features
Probably one of the most popular and successful skateboarding games ever made
Well-designed levels that allow players to creatively use the environment to perform a variety of skateboard stunts
Realistic representation of real-world skateboard tricks
Numerous challenges and hidden objectives for completionists
Neverwinter Nights
| | |
| --- | --- |
| Release: | 2018-03-27 |
| Genre: | RPG |
| Developer: | Beamdog |
2002 was also a good year for true role-playing game fans, as that's exactly when Neverwinter Nights was released.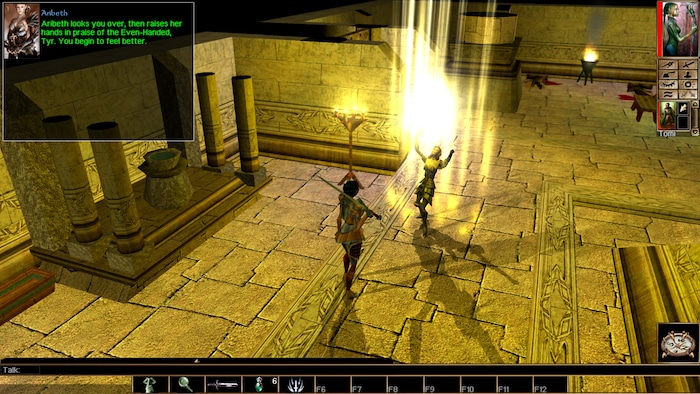 Neverwinter Nights is a role-playing game that utilizes Dungeons & Dragons rules, which makes it a great alternative for those who don't have friends to play the classic tabletop game. Usually, the biggest challenge in real-world RP sessions is finding a fair and competent gamemaster that could lead other players and tell the story in a compelling way. Neverwinter Nights solves that problem, as here it's the computer that will play that role. There is also no need to throw dice, as everything is automated and calculated behind the scenes. Sure, it leaves less room for imagination and improvisation, but it's a convenient way to experience some D&D without the need to find other people to play with. And if you finish the main story, there are tons of player-made scenarios to try.
Key features
A true role-playing experience based on one of the popular tabletop Dungeons & Dragons settings
Deep character customization and progression system
Well-designed multiplayer mode that allows groups of players to enjoy virtual role-play sessions
A huge number of player-made scenarios for possibly endless replayability
Mafia
| | |
| --- | --- |
| Release: | 2020-09-25 |
| Genre: | Action |
| Developer: | Illusion Softworks |
2002 was also the year when a popular action-adventure series was born. The first Mafia game turned out to be nothing short of a masterpiece, and thus it made its way onto our list.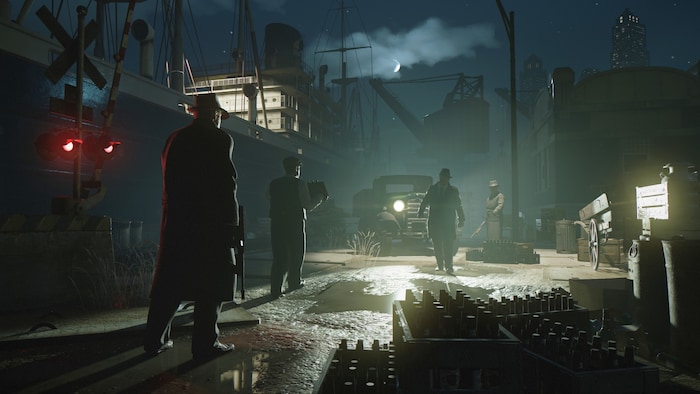 Mafia is an action-adventure game that follows the story of Tommy Angelo as he gets involved in a conflict between two major mafia families and involuntarily becomes a gangster himself. The game takes place in 1930 within a fictional city with architecture based on what cities such as Chicago, New York, and Los Angeles looked like at that time. The gameplay revolves around completing missions of varying difficulty in a rather linear fashion and experiencing the story, which is easily one of the game's strongest points, together with a relatively high level of world realism.
Key features
An action-adventure game that marked the beginning of the Mafia series
An engaging and well-written criminal story that takes place in the '30s, somewhere in the United States
Over 50 classic cars, loosely based on their real-world counterparts, to try
Impressive vehicle damage physics
RollerCoaster Tycoon 2
| | |
| --- | --- |
| Release: | 2002-10-15 |
| Genre: | Strategy |
| Developer: | Chris Sawyer Productions |
Finally, we have a game for those who prefer tycoons and similar management-oriented games. RCT 2 is a real treat and you wouldn't want to miss the opportunity to play it.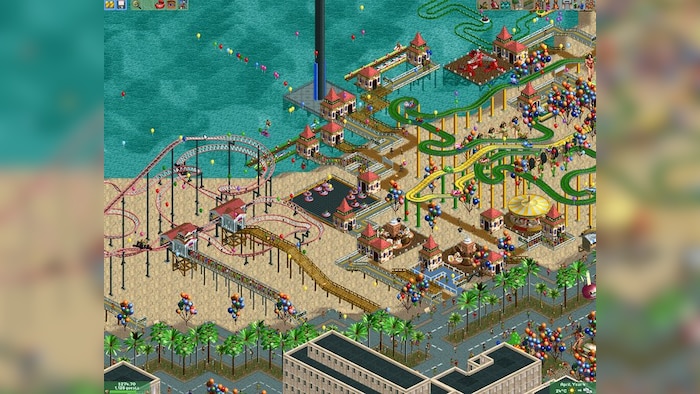 RollerCoaster Tycoon 2 is a management simulation game where players are tasked with making the most successful amusement park with all kinds of attractions for the visitors to use. Although it may sound easy, designing a profitable and well-optimized place takes some practice. It will surely come with time as you play more and learn about all the game's intricacies and in-game systems, and once you finally figure out how to squeeze every last dollar out of those who are looking for an unforgettable rollercoaster ride, it will feel like a real achievement – your effort will be rewarded with a pleasant experience, which is watching a prosperous amusement park as it grows and becomes an attraction no one wouldn't be able to resist.
Key features
A business simulation game focused on building and managing amusement parks
The gameplay focused on striking a balance between the park's income and expenses
Numerous types of attractions to utilize
Scenery tools, customizable rides, and a scenario editor for virtually endless fun and replayability
The Best Video Games 2002
The year 2002 spawned numerous great titles for us to enjoy. In fact, some of these games were so good, that players still return to them, despite the fact that the aforementioned titles are already two decades old. If one chooses such an old classic title over modern and more technically advanced alternatives, you know it's a really good one.
If you're looking for some of the best and most popular games from 2002, take a look at our list above.