The video game industry is already a few decades old, so maybe it's about time to give some old classic titles from 2003 a bit of attention. Let's appreciate together these cut diamonds that shaped the gaming scene and inspired developers all over the world to create entire generations of new games for us to enjoy.
Take a look at the list down below to find some of the best video games released in 2003.
Grand Theft Auto: Vice City
| | |
| --- | --- |
| Release: | 2002-10-29 |
| Genre: | Adventure |
| Developer: | Rockstar Games |
Today it could be difficult to find a person who didn't at least hear about the Grand Theft Auto series, even if he didn't have the opportunity to play it ever before.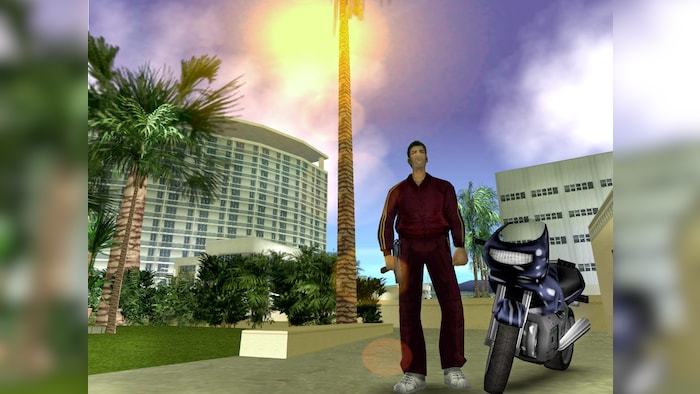 Grand Theft Auto: Vice City is an action-adventure game that takes place in a city based on Miami and Miami Beach. The GTA franchise is known for the amount of freedom that players are given in the game, and Vice City is no different – jump into Vice City and enjoy the unique atmosphere of 1980s America. Crimes, gangs, drugs, and inspiration taken straight from the most popular crime movies and dramas of the era, including Scarface and Miami Vice – this is Vice City. Follow the story of Tommy Vercetti as he tries to build his own crime empire and face the most dangerous and influential people in the city if they ever dare to try to thwart his plans.
Key features
An action-adventure game that takes place in the '80s in a fictional American city
An open-world environment that can be roamed freely
Engaging story and a lot of action that makes the game feel like a good Hollywood movie
Amazing atmosphere that is further enhanced by a solid selection of perfectly fitting songs
Star Wars: Knights of the Old Republic
| | |
| --- | --- |
| Release: | 2003-11-19 |
| Genre: | RPG |
| Developer: | BioWare |
Both role-playing and Star Wars fans had a serious reason to rejoice in 2003, as that's exactly when Star Wars: KoTOR went live.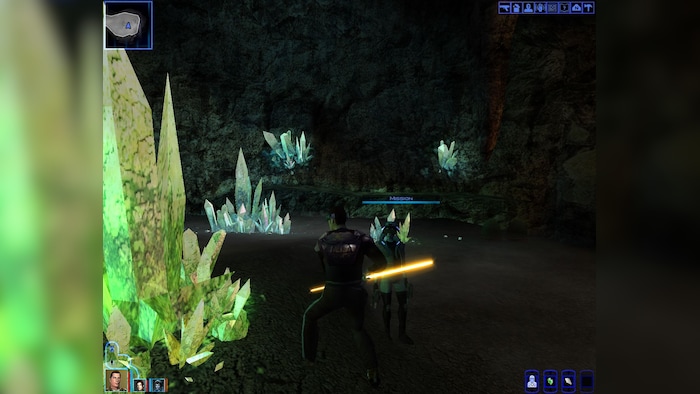 Star Wars: Knights of the Old Republic is a role-playing game set in the iconic fictional sci-fi universe of Star Wars, which means that you will have the opportunity to play your part in the Jedi story. The game takes place roughly 4,000 years before the Galactic Empire was forged and centers on the character of Darth Malak, a Dark Lord of the Sith, who threatens the Republic and thus must be stopped by the player. KoTOR is a rich role-playing experience and as such offers an engaging story, character progression, tactical round-based combat, and meaningful choices that will determine the character's alignment with either the dark or light side of The Force.
Key features
An addictive role-playing game set in the well-known sci-fi universe
Open-ended gameplay – to a certain degree
Turn-based combat that utilizes D&D's d20 system
Character progression and player choices that can affect certain in-game mechanics
Call of Duty
| | |
| --- | --- |
| Release: | 2003-10-29 |
| Genre: | Action & Shooter |
| Developer: | Infinity Ward |
2003 was also the year when one of the most popular FPS franchises started. This is when the first installment in the Call of Duty series was born.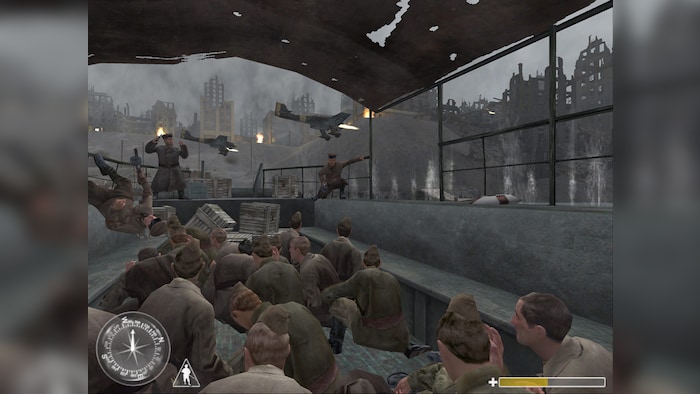 Call of Duty is a first-person shooter game that represents one of the most popular FPS series up to date. The series is still going strong, with new releases coming out regularly, but it wouldn't be possible without this one particular title from 2003, which, thanks to its success, marked the beginning of the franchise. The first Call of Duty game won several "Game of The Year" awards, and that alone should be enough of a proof of how good the game actually was. Experience an ordinary soldier's life in one of the three available single-player campaigns, or jump into multiplayer – finding some private online servers shouldn't be a problem, since people still love to return to this classic WW2 shooter.
Key features
An iconic first-person shooter set in the Second World War era
Constant action, historically accurate weapons, and bigger emphasis put on squad-based play
Satisfying shooting mechanics with realistic sounds and recoil
3 single-player campaigns and a surprisingly addictive multiplayer mode
Prince of Persia: The Sands of Time
| | |
| --- | --- |
| Release: | 2003-12-02 |
| Genre: | Adventure |
| Developer: | Kudosoft |
If you're a fan of platform games, Prince of Persia most likely rings a bell. If you're not – then maybe it's time to give it a shot. You may be surprised how much fun this old gem can still provide you with.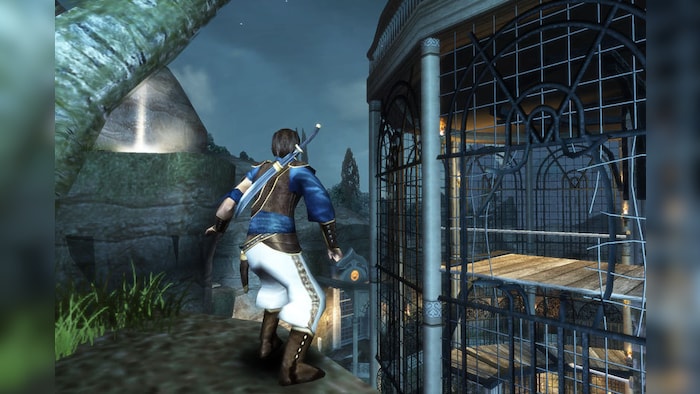 Prince of Persia: The Sands of Time is an action-adventure platform game that follows the story of a certain Prince from a kingdom in Persia. The game's unique feature is the ability to rewind time – once you make a mistake or get into a sticky situation, you can resort to this little trick and attempt to fix your mistakes. You can treat it as a Get out of Jail Free card, but its use has limits, so don't feel overconfident and always keep your guard up. On top of that, combat in Prince of Persia is just as important as puzzles and finding a way to get to the new location – the game is a great test of not only your battle prowess but also your wits and perception. Climb, jump, avoid traps, try wall running, and discover the game's secrets.
Key features
A combination of action-adventure and platform genres set in 9th century Persia
The gameplay focused on flashy melee combat, exploration, and solving a variety of environmental puzzles
A time rewind ability that could make the game more approachable for newcomers
A great oriental-themed atmosphere and eye-catching architecture design
Max Payne 2: The Fall of Max Payne
| | |
| --- | --- |
| Release: | 2003-10-14 |
| Genre: | Adventure |
| Developer: | Remedy Entertainment |
Speaking of games with time-altering capabilities, one can't forget about Max Payne, which is famous for its bullet-time and time-slowed gunplay.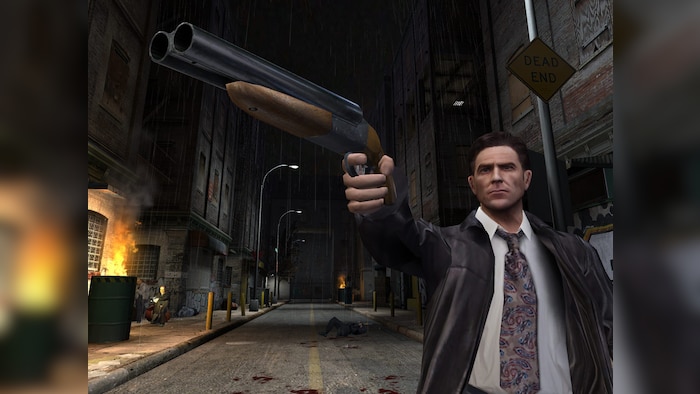 Max Payne 2: The Fall of Max Payne is a third-person shooter and a sequel to the original Max Payne game. As an NYPD detective, Max Payne, you will have the opportunity to continue the story centered on conspiracy theories, vengeance, and betrayal – a story that could be easily used as a scenario for a good American crime movie. The game returns with its iconic bullet time system, enhanced and improved to make gameplay even more fun. The bullet time gauge now increases with each consecutive kill, which encourages a more aggressive approach and creates a more fast-paced experience when compared to the game's predecessor.
Key features
A first-person shooter with a touch of noire style
An engaging story that could easily serve as a scenario for a Hollywood crime movie
Improved bullet time system that works smoother and encourages a more aggressive playstyle
Better visuals when compared to the original game
Star Wars Jedi Knight: Jedi Academy 
| | |
| --- | --- |
| Release: | 2003-09-16 |
| Genre: | Adventure |
| Developer: | Raven Software |
We already mentioned one Star Wars game, but there was one more cool SW title that came out in 2003 – a game made with a slightly different audience in mind, as this one is not an RPG.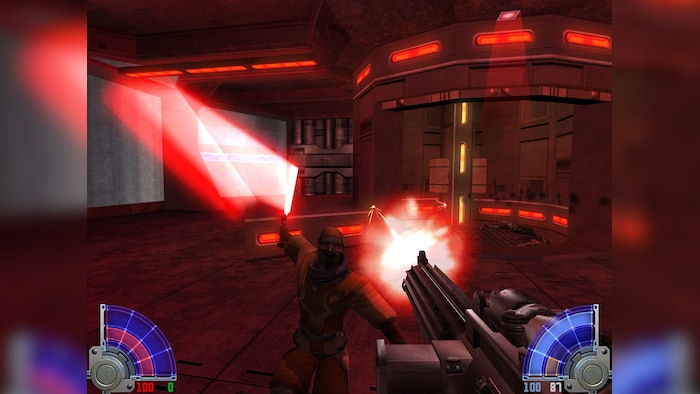 Star Wars Jedi Knight: Jedi Academy is a first- and third-person shooter that takes place two years after Jedi Outcast, a previous game from the series. One of the game's most praised features is lightsaber combat which is often cited as the best in the entire Star Wars video game franchise, even today, which is quite a feat. Combined with more open-ended gameplay, various customization options, powerful Force abilities, and competitive multiplayer mode, Jedi Academy stands out from the crowd of similar games and provides players with not only an amazing Star Wars title, but a great, action-packed shooter in general.
Key features
An addictive shooter set in one of the most popular sci-fi universes
Top-class lightsaber combat that outclasses even the most recent Star Wars games
Rich customization options, both in terms of visuals and in-game abilities
More freedom when it comes to gameplay, compared to the game's predecessors
Postal 2
| | |
| --- | --- |
| Release: | 2003-04-13 |
| Genre: | Adventure |
| Developer: | Running With Scissors |
Although Postal 2 may appear as a shockingly inappropriate game, it turns out that it's up to players to decide how crazy they want to be and how far they want to go in their Postal adventure.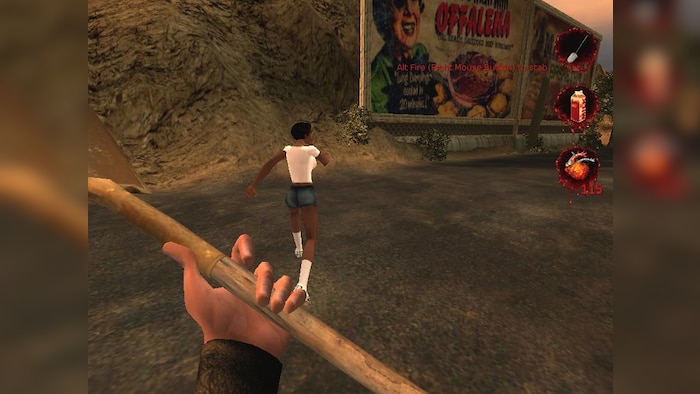 Postal 2 is a first-person shooter game that focuses on the story of The Postal Dude who must carry out all kinds of mundane tasks, including ones given by his annoying wife. The game takes an in-game week to complete, and each day brings an entirely new set of increasingly difficult missions to do. The game was famous for its violence, brutality, and ridiculously obscene elements, such as the ability to piss on yourself to put out a fire or use cats as shotgun silencers. The fact is, however, that the entire game can be completed without killing a soul – there is even a special achievement for doing so. This made Postal 2 an interesting case of a social experiment that showed what people could do if they were given more gameplay freedom than usual. Are you a psychopath or the complete opposite? The game will even try diagnose you at the end, based on your playstyle.
Key features
A first-person shooter with an open-world environment
A wide selection of weapons to choose from, including some interesting ones, such as scissors or cow heads
A solid portion of black humor, satire, and political incorrectness
Can get incredibly obscene if one wishes to role-play a psychopath
SimCity 4 Deluxe Edition
| | |
| --- | --- |
| Release: | 2003-09-22 |
| Genre: | Strategy |
| Developer: | EA - Maxis |
City-builder fans also had a good reason to enjoy 2003, as this happened to be the year when SimCity 4 was released. The game turned out to be so good, that people still occasionally return to build their dream city.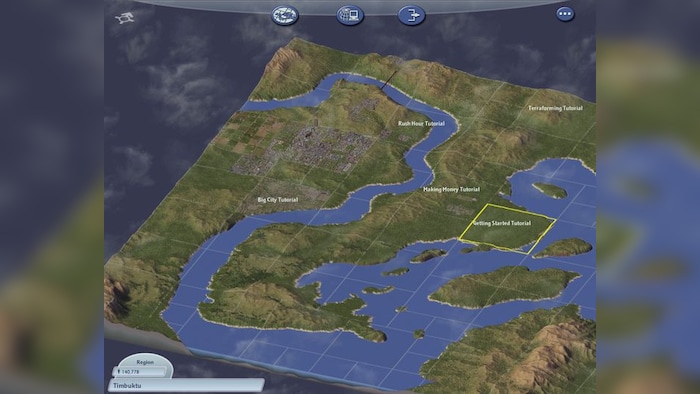 SimCity 4 is a city-builder game that allows players to create a city from scratch and become its mayor. Your job is to build the roads and allow people to build their homes and businesses. You can't build anything directly, except for special buildings and services, such as police stations, schools, critical infrastructure, and such – instead, you are responsible for planning where and what the town's inhabitants can build. You can also modify taxes and choose policies. The coolest feature, however, is probably the fact that you can build multiple cities and then build the roads to connect them all. Deluxe Edition is a convenient package of the base game and Rush Hour expansion pack. The expansion added and improved numerous transportation-related elements, making an already incredible game even more enjoyable to play.
Key features
An addictive and surprisingly complex city-builder
Easy to learn but hard to master, especially if one tries to build a huge and well-optimized city
An entire region of cities at your disposal – create multiple cities and create connections between them
An option to personally participate in certain events – control vehicles to catch criminals, extinguish fires, deliver ice cream, and more
XIII
| | |
| --- | --- |
| Release: | 2003-11-18 |
| Genre: | Shooter |
| Developer: | Ubisoft Paris |
XIII wasn't considered a particularly successful game at the time of its release, but as time passed, players started to appreciate this little gem.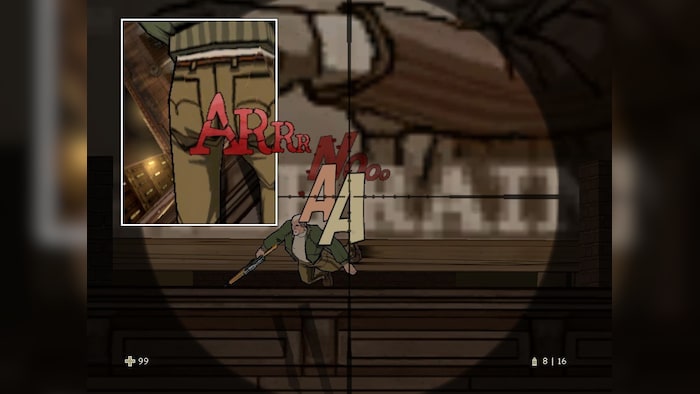 XIII is a first-person shooter that stands out thanks to its comic book-style presentation. When characters talk, we can see comic book speech bubbles, and when there's a cutscene or something objective-related or otherwise important needs to be relayed to the player, it usually takes a form of a comic book panel. It goes without saying that the graphics themselves also look like they were taken out straight from a comic book. However, XIII is not only about gorgeous cel-shaded visuals – we've also got a great story and satisfying gameplay here. Interestingly enough, all these elements happen to be the ones that can hardly get old, making XIII a solid choice to kill some time even today.
Key features
A first-person shooter with stealth elements
An engaging story loosely based on the Belgian novel series of the same name
Unique presentation – the game feels and looks like an interactive comic book
A fitting soundtrack that helps to build the atmosphere
Railroad Tycoon 3
| | |
| --- | --- |
| Release: | 2003-10-23 |
| Genre: | Strategy |
| Developer: | PopTop |
Last but not least, we've got a game from a very specific niche. Surprisingly, it can easily grab the attention of not only train enthusiasts but also strategy fans in general.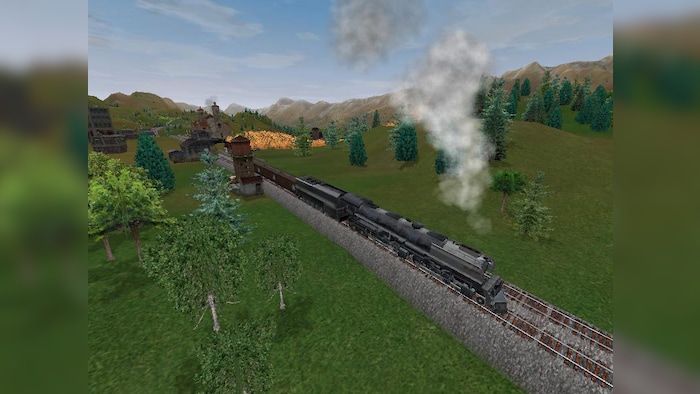 Railroad Tycoon 3 is a business simulation game that allows players to create and manage their own railroad network, starting in the early decades of the recently formed United States of America. Alternatively, one can choose to play the Europe or the World campaign, or even try the futuristic setting. Establish connections between towns and earn money by transporting all sorts of goods. Upgrade your network to increase its efficiency and watch your profits explode as more and more people start to use your services.
Key features
A business simulation game focused on building and managing a railroad network
Highly addictive gameplay
Dozens of realistic locomotives to utilize
16 different missions to complete in a single-player campaign, starting from the Industrial Revolution era
The Best PC Video Games of 2003
The year 2003 was undoubtedly a successful one for the video game industry, as it spawned a number of cool games from a variety of different genres, making most players happy and giving everyone something to enjoy. Shooters, strategies, action-adventure games – there was a great number of interesting titles to choose from, and some of these games were so good that people still occasionally return to them.
If you're interested in checking out some of the best games of 2003, take a look at the list above – it's a careful selection of games prepared for your convenience.