Sometimes it's hard to believe how time flies. Can you imagine that games like Half-Life 2, World of Warcraft, and the original Far Cry are already 2 decades old? But we won't push any depression-inducing buttons – we won't ask if you're feeling old yet, but instead, we'll show you some good old classic games that you may be interested to return to or try them for the first time if you didn't have the chance to play them ever before.
Without further ado, let's take a look at some of the coolest games released in 2004.
Best games released in 2004
Half-Life 2
| | |
| --- | --- |
| Release: | 2004-11-16 |
| Genre: | Action & Shooter |
| Developer: | Valve |
Let's start with a good old FPS – a sequel to the game that not only revolutionized the market but also caused the entire generations of new games to appear later on.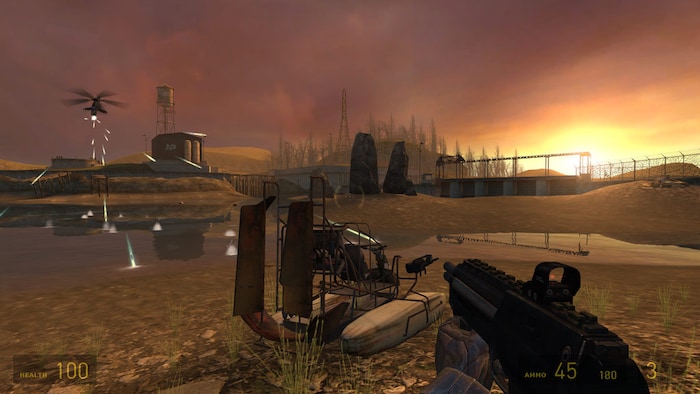 Half-Life 2 is a first-person shooter that provides a more polished and enhanced experience as opposed to the original game. Valve always tried to give players new and refreshing ways to enjoy video games by creating innovative adventures that could leave their mark on the entire video game industry and be remembered for years to come. Half-Life 2 is no different – with a virtually unlimited budget, the team managed to create a first-person shooter with more open-ended gameplay and physics-based puzzles, giving players new kinds of challenges to tackle.
Key features
An award-winning sequel to the iconic first-person shooter
More open-ended gameplay with fast-paced dynamic encounters
Physics-based environmental puzzles
Extremely satisfying shooting mechanics
Unreal Tournament 2004
| | |
| --- | --- |
| Release: | 2004-03-16 |
| Genre: | Adventure |
| Developer: | Epic Games, Inc. |
Those who remember Half-Life 2 surely do remember another addictive FPS – Unreal Tournament. Unlike HF2, however, this one was focused on multiplayer.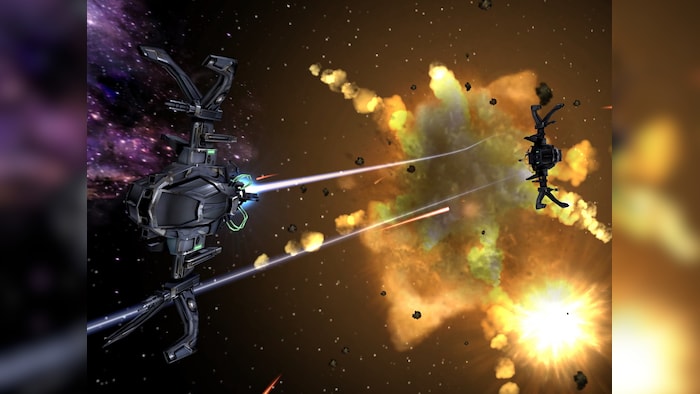 Unreal Tournament 2004 is a first-person shooter video game that requires fast reflexes and constant focus, as there's hardly a moment without some kind of crazy action going on. The game came with numerous improvements over its predecessors, both technical and gameplay-related, and it even added some new major features, such as vehicles that play a crucial role in the newly introduced Onslaught mode, where players can participate in large-scale battles in outdoor environments.
Key features
An insanely addictive first-person shooter
Dynamic action that is emphasized by fast movement speed and bonuses scattered around the arenas
Several fun game modes to try, including Onslaught, Bombing Run, and a survival mode called Invasion
Designed to be played online with other players, but single-player is also a possibility
World of Warcraft
| | |
| --- | --- |
| Release: | 2020-11-23 |
| Genre: | MMO |
| Developer: | Blizzard Entertainment |
2004 was also the year when a hugely popular MMORPG was released. It could be hard to believe, but after all these years World of Warcraft still receives regular updates and has a loyal community.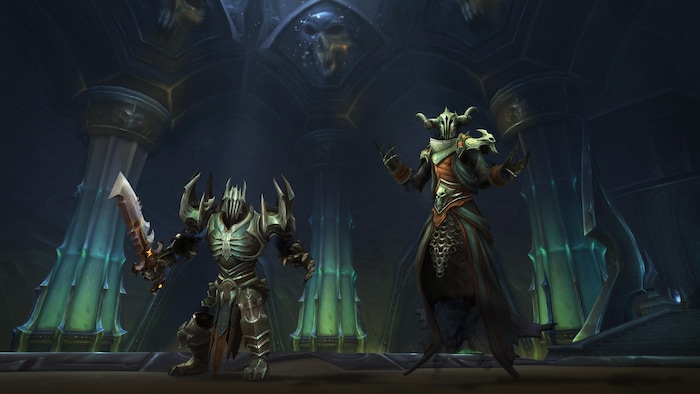 Judging by how much care World of Warcraft receives even these days, it's safe to assume that this game is probably Blizzard's most beloved child, but it's also a game that was and still is appreciated by players from all over the world, and not without a reason. WoW offers a seemingly never-ending journey in a beautiful fantasy world full of breathtaking places, powerful magic, treacherous beasts, and mind-blowing treasures. If you're a fan of classic fantasy settings, you shouldn't sleep on this one – it's never too late to embark on an epic adventure. In fact, now it's a better time than ever, considering the fact that you can try out World of Warcraft for free.
Key features
An iconic MMORPG with two decades worth of content under its belt
A beautiful open world that awaits brave adventurers like yourself
Rich customization options, character progression, difficult challenges to tackle, PvP, factions, and more
A solo-friendly adventure for those who prefer to play alone
Rome: Total War
| | |
| --- | --- |
| Release: | 2004-09-22 |
| Genre: | Strategy |
| Developer: | The Creative Assembly |
If you prefer strategies and games focused on ruling entire nations, maybe it's time to revisit Rome: Total War?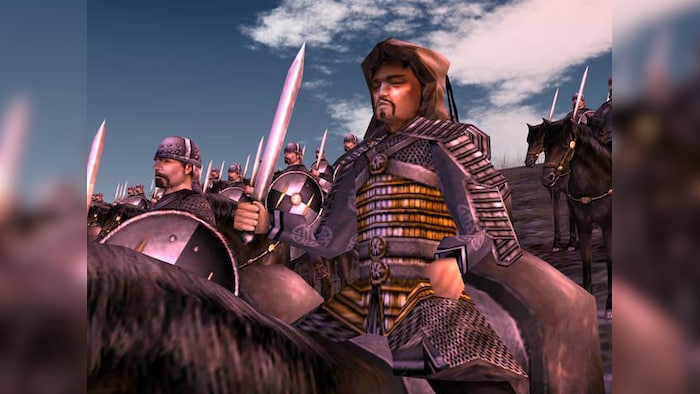 Rome: Total War is a strategy game that perfectly mixes real-time encounters with turn-based empire management gameplay. The game takes place during the last centuries of the Roman Empire and allows players to control one of three Roman families or other unlockable factions and restore glory to their nation by conquering those who are unwilling to cooperate, and by cooperation, we mean surrendering to your will completely. Considered not only a game of the year but also one of the greatest games of all time, it's certainly worth giving a whirl.
Key features
A masterful combination of real-time and turn-based strategies
Roman Empire setting with all of its architecture and military units
Large-scale encounters, where thousands of soldiers can fight simultaneously
A campaign mode, custom battles, and historical battles with a number of unique playable factions to choose from
Far Cry
| | |
| --- | --- |
| Release: | 2004-03-23 |
| Genre: | Adventure |
| Developer: | Crytek Studios |
Far Cry is also worth being mentioned on the list – the original game caused massive jaw drops when it was released, and it's still a good-looking and fun title to play, despite its age.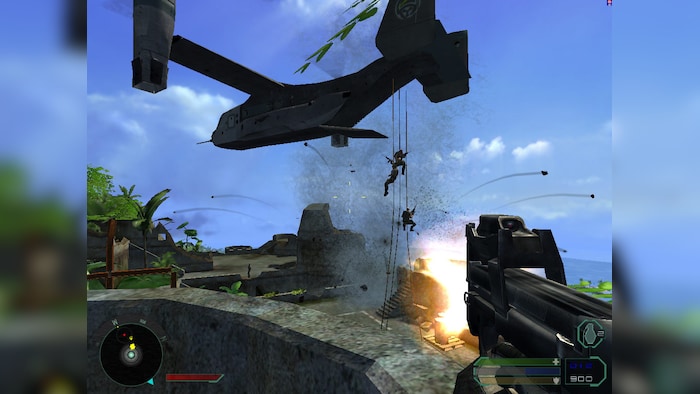 Far Cry is the first game in the Far Cry franchise – a first-person shooter game series where players are usually thrown into hostile environments, such as tropical islands ruled by gangs or other types of unfriendly military forces, and the player's job is then to find out what's going on, but most importantly, he must fight for his survival. Although more recent Far Cry games are much more approachable and offer all sorts of cool gameplay additions and supreme visuals, as well as truly open-world environments, the original game is still worth returning to, even if just to appreciate the way the franchise needed to go through to find itself where it is today.
Key features
A first-person shooter set on a secluded tropical island
The gameplay focused on stealth, but a more direct approach is also possible
Realistic environments that encourage long-range gunplay
Destructible terrain, dynamic lighting, and advanced physics
The Chronicles of Riddick: Escape from Butcher Bay
| | |
| --- | --- |
| Release: | 2004-06-01 |
| Genre: | Shooter |
| Developer: | Tigon Studios |
The Chronicles of Riddick is also worth being mentioned on the list. If you remember Pitch Black or The Chronicles of Riddick movies, you'll know exactly what to expect from this game.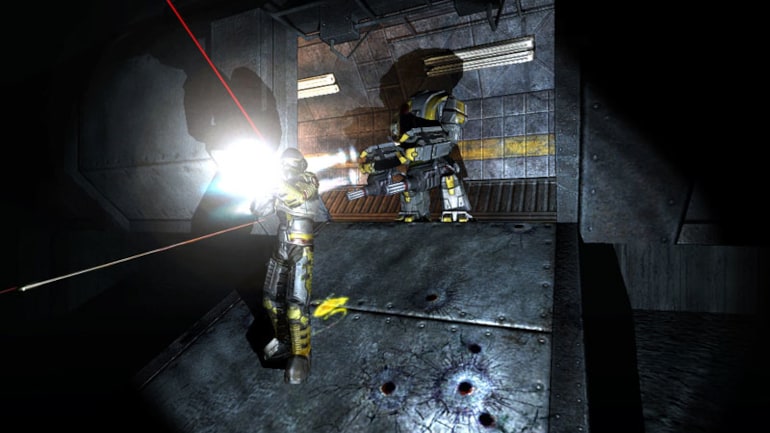 The Chronicles of Riddick: Escape from Butcher Bay is a game that combines action-adventure with stealth elements and follows the story of the titular anti-hero, Riddick, as he tries to escape the Butcher Bay prison. The task won't be easy, as the place he found himself in is one of the most secure facilities out there, but he'll try anyway – his unnatural strength, stealth skills, and weapon expertise may be just what it's necessary to warrant success. Don't rush into combat mindlessly, though – it's a prison, after all, and there are guards everywhere. Help other prisoners to gain their trust and they'll help you by providing you with intel and valuable tools.
Key features
An addictive story focused on the popular anti-hero
Stealth-oriented gameplay that takes place inside a high-security prison
Satisfying shooting mechanics and smooth melee combat
Detailed visuals that play a crucial role in creating an unforgettable atmosphere
Sid Meier's Pirates!
| | |
| --- | --- |
| Release: | 2005-07-11 |
| Genre: | Adventure |
| Developer: | Firaxis Games |
Ever wanted to become a pirate? Sid Meier's game from 2004 is one of the possibilities – join your crew and conquer the Caribbean.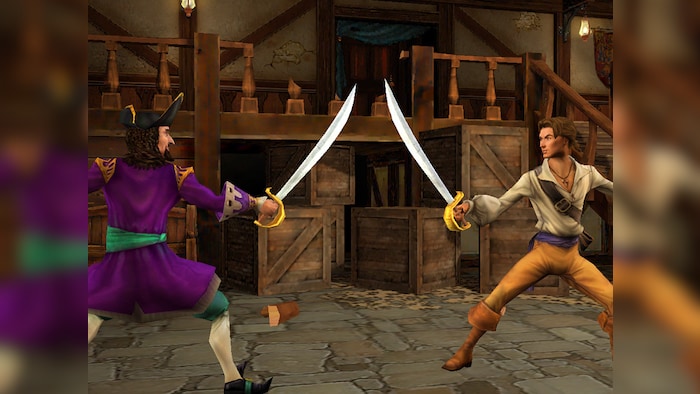 Sid Meier's Pirates! is a game that combines elements of strategy and action-adventure and allows players to begin their pirate careers. Starting from scratch, with no reputation, and with just the most basic ship at your disposal, you will have to work hard to climb the fame ladder. You will spend most of your time sailing the seas and picking vulnerable targets to attack, but you can also march through the lands in search of buried treasures. You may also focus on trading goods between cities and try to become rich this way. Complete missions, explore the map, and earn gold to upgrade your ship – doing so will open new opportunities for making even more profit.
Key features
A pirate-themed game that takes place on the Caribbean islands
Open-ended gameplay focused on sailing the seas and performing various tasks to earn gold and fame
Several unique ships to find and make use of
A great, light-hearted atmosphere that is further enhanced by the game's music
Warhammer 40,000: Dawn of War
| | |
| --- | --- |
| Release: | 2006-01-01 |
| Genre: | Strategy |
| Developer: | Relic Entertainment |
One can't forget about the Warhammer series – the year 2004 happens to be the one when one of the most popular entries in the franchise went live.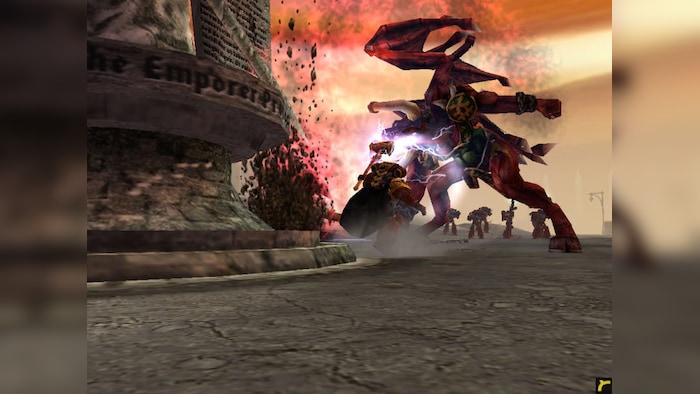 Warhammer 40,000: Dawn of War is a real-time strategy game that revolves around a conflict between humanity and various alien races. In the sci-fi Warhammer universe, people were able to forge an empire that conquered distant planets and drew the attention of hostile forces, leading to fierce wars and bloodshed. The game features four playable armies, each with its own unique units and playstyle – learning how to efficiently use the strengths of each one is part of the fun and adds a lot of replayability. If you have friends to play with, make sure to check out the game's multiplayer, which is widely considered the game's best part.
Key features
A real-time strategy inspired by the popular sci-fi tabletop game
4 unique playable factions to choose from – each requires a slightly different approach and playstyle
Realistic animations, unit customization, and gameplay that rewards good strategy and micromanagement skills
Addictive multiplayer for virtually unlimited fun
Vampire: The Masquerade – Bloodlines
| | |
| --- | --- |
| Release: | 2004-11-16 |
| Genre: | Adventure |
| Developer: | Troika Games |
If we're on the topic of the best 2004 PC games, it's worth mentioning a certain vampire-themed title as well.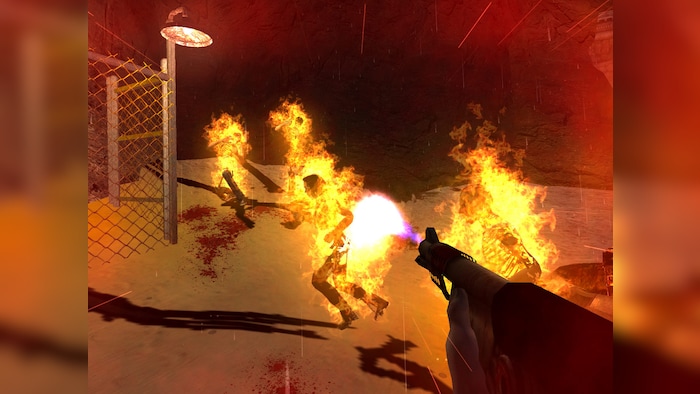 Vampire: The Masquerade – Bloodlines is an action role-playing game that was praised for many reasons, including highly influential player choices, deep narrative, and amazing voice acting. The game focuses on the story and role-playing elements, so you can expect an interesting adventure, where you need to carefully think about what you're saying to other characters. As the game progresses, your character will gain experience, allowing him to grow stronger. Choose your favorite skills and tailor your own journey – play the game the way you want and create a fearsome vampire, whose power no one would dare to question.
Key features
A great vampire-themed action role-playing game
Engaging story, character progression, and multiple viable ways to get through the game
Meaningful player choices that affect a number of in-game systems and elements
Excellent voice acting
Star Wars: Battlefront
| | |
| --- | --- |
| Release: | 2004-09-21 |
| Genre: | Action |
| Developer: | Pandemic Studios |
For the final game on the list, we chose Star Wars: Battlefront. The game's last position doesn't determine how good or bad it is – there is no particular order on the list, and all of the mentioned games are equally amazing.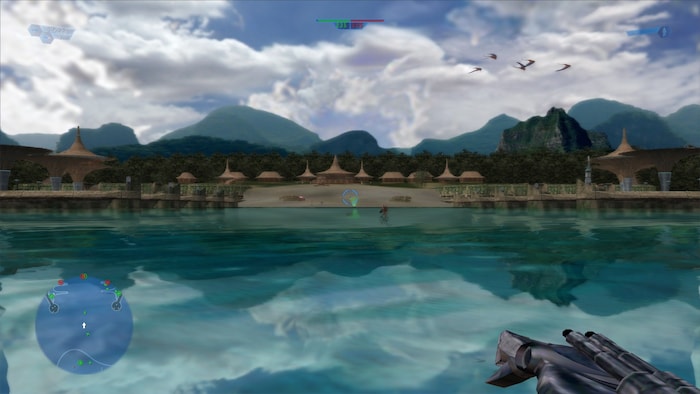 Star Wars: Battlefront is a sci-fi shooter set in the well-known Star Wars universe. Although Battlefront features a single-player mode, it's certainly not the game's strongest element. Multiplayer, on the other hand, is an entirely different story – make sure to give it a whirl. Yes, multiplayer still works, thanks to the Steam platform. Choose your favorite soldier class and pilot a variety of vehicles to battle – there is a huge variety of weaponry to choose from, which adds a lot of replayability to the game. Hone your skills and join the war as one of the Empire or Republic soldiers to thwart the opponents' plans.
Key features
A shooter game set in the Star Wars universe
Dynamic action, several unique playable classes, and vehicles to conquer the battlefield
Iconic environments and planets that are known from the original saga
Puts emphasis on multiplayer mode
The Best PC Games of 2004
The year 2004 brought us numerous great video games, including ones that shaped some branches of the entire video game industry. Take a moment to appreciate what we had back then – this way you'll be able to better understand games that are made these days, as they often draw inspiration from classic titles. Learn old gameplay choices, game mechanics, and intricate in-game systems and compare them to modern cases to see the differences and understand why some things are the way they are today.
If you're looking for some of the best 2004 games, look no further – you will find them on our list above.