Modern games can be extremely fun and addictive, and with the sheer number of new titles that come out on a regular basis, it can be difficult to force yourself to stop following the latest trends even for a brief moment. But we encourage you to do so, as the past holds many video games that are worth playing.
If you'd like to take a look at some of the best 2009 games for PC, you can check out our list down below. Take a break from new games and travel back in time to appreciate the games that shaped the video game industry as we know it today.
Batman: Arkham Asylum
| | |
| --- | --- |
| Release: | 2010-03-26 |
| Genre: | Adventure |
| Developer: | Feral Interactive (Mac) |
Let's start with the adventures of the Dark Knight. Batman: Arkham Asylum is a game that allows players to explore the titular hospital and prison facility that holds some of the most dangerous criminals ever known.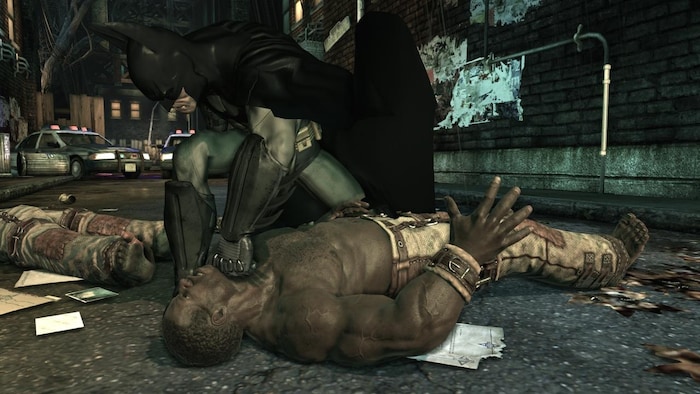 Batman: Arkham Asylum is an action-adventure video game based on one of the popular DC Comics superheroes. The game features many other characters from the Batman universe, including the infamous Joker, who once again tries to outsmart the Dark Knight and threatens the safety of the entire Gotham City. The gameplay offers a lot of action, but it favors a rather silent approach, where you are encouraged to surprise your enemies and use a variety of gadgets to get the upper hand. What makes the game especially fun is its smooth, fluid combat system – it was a truly unique experience back in 2009, and it's still a very satisfying one today.
Key features
An action-adventure game focused on Batman adventures
Gameplay that favors a silent approach, but also offers a lot of dynamic action
Extremely satisfying combat that focuses on melee fights
Tons of returning characters from the DC Comics universe with their original voice actors
Dragon Age: Origins
| | |
| --- | --- |
| Release: | 2009-11-06 |
| Genre: | Action & Shooter |
| Developer: | BioWare |
If you prefer classic fantasy role-playing adventures, then the year 2009 also has something for you in the store – for example, Dragon Age: Origins instantly comes to mind.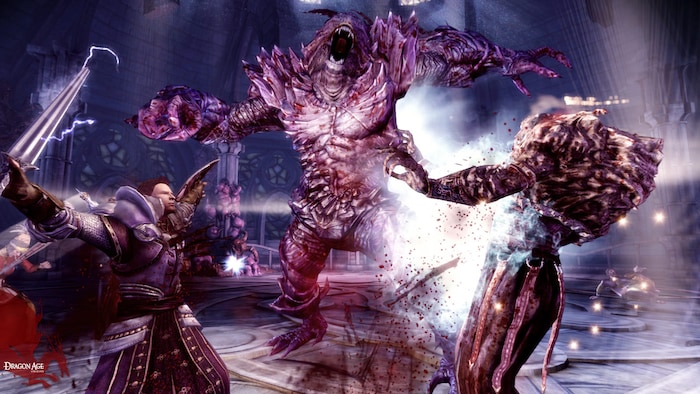 Dragon Age: Origins will take you on an epic adventure to a medieval fantasy world, where magic and dragons are just as common as swords and knights. As a newly recruited member of the Grey Wardens, you will be tasked with mounting resistance and stopping the demon invasion that threatens the existence of the entire world. Choose your companions wisely and form a party of seasoned heroes to face the looming danger. Train your protagonists, choose their equipment, adjust their skills, and come up with new strategies to take out even the fiercest opponents with ease. Do you have what it takes to protect the world from being consumed by darkness?
Key features
An epic fantasy adventure with a believable world and a compelling story
Skill trees that allow you to customize your character and build it the way you want
A fun combat system that encourages cooperation between characters – combine their spells to create additional effects
Difficult moral choices that can have consequences
Plants vs. Zombies
| | |
| --- | --- |
| Release: | 2005-09-05 |
| Genre: | Action & Shooter |
| Developer: | PopCap Games |
On a more humorous side of cool games from 2009, there is Plants vs. Zombies – a game, where you have to use all kinds of plants to defend your house from a seemingly endless horde of zombies.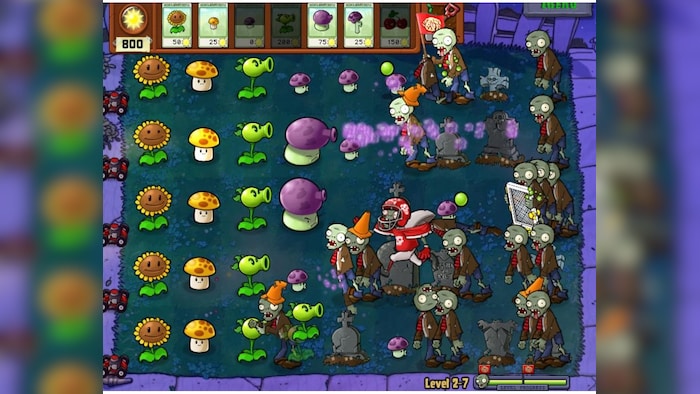 Plants vs. Zombies is a tower defense game where you will be responsible for setting up an impenetrable layer of defense in order to stop zombies from getting through. What makes this game fun is its lighthearted atmosphere. Your towers are not shooting deadly lasers to disintegrate opponents in gore and bloody fashion. Instead, they are actually a bunch of adorable plants and mushrooms. Each plant has its own role to play on the battlefield, and the key to success is to smartly utilize its powers. Zombies also come in all shapes and sizes, and sometimes a certain type of strategy is required to defeat them. Explore the possibilities and give Plants vs. Zombies a try, if you didn't already.
Key features
A fun and lighthearted tower defense with a very casual atmosphere
Dozens of available towers to utilize during play
Cute and adorable visuals
Chill music that further enhances the experience
Borderlands
| | |
| --- | --- |
| Release: | 2009-10-26 |
| Genre: | Action & Shooter |
| Developer: | Gearbox Software |
Speaking of fun and humorous games, one should not forget about Borderlands, which is slightly more mature and serious, but still contains a lot of funny elements, such as dialogues and pop culture references.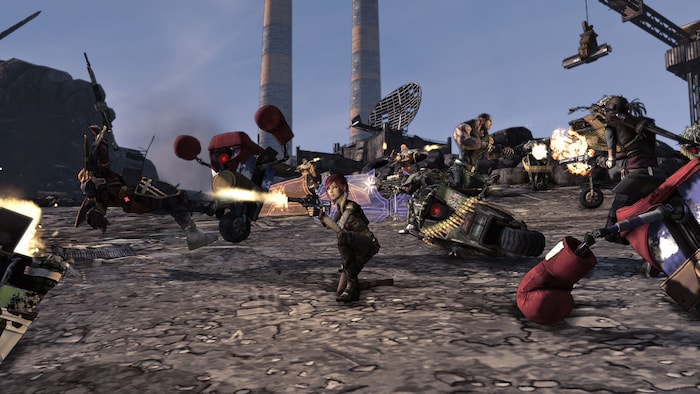 Borderlands is a first-person shooter with role-playing elements and an open-world environment, which means that you will spend most of your play time on exploring a variety of areas while shooting down all kinds of enemies. Killing opponents will reward you with experience points, as well as randomly-generated loot. The experience gets your character new skill points to distribute, and there's a lot of useful stuff to choose from to make your Borderlands adventure easier. Each of the four playable classes has its own pros and cons and gets access to different skills, encouraging multiple playthroughs to try them all. Randomly generated weapons also play a huge role in gameplay. It adds an element of RNG to the game – it may not seem appealing at first, but you won't forget the feeling of finally obtaining the weapon you were longing for. Add funny dialogues and unique art style to the mix and you get a recipe for a bestseller.
Key features
An open-world environment that can be explored freely
Procedurally generated weapons that add a huge variety and possibilities
Four playable classes to choose from, each with its own unique skill trees to upgrade
The unique comic book-inspired art style
Call of Duty: Modern Warfare 2
| | |
| --- | --- |
| Release: | 2009-11-12 |
| Genre: | Action & Shooter |
| Developer: | Infinity Ward |
If you'd like to check out some more serious shooters, Call of Duty: Modern Warfare 2 is something you wouldn't want to miss.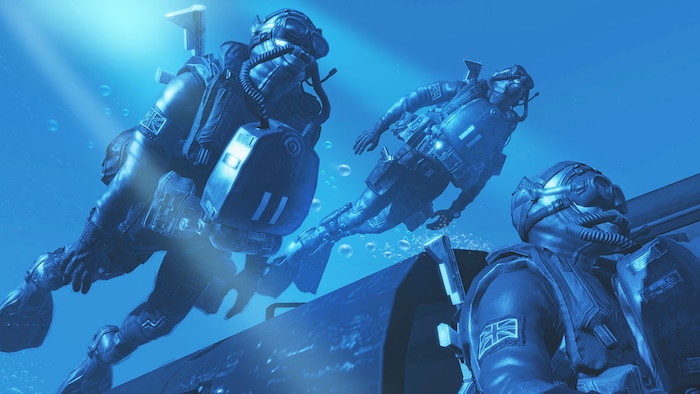 Call of Duty: Modern Warfare 2 is a first-person shooter that takes place in a modern-day world, where the conflict between USA and Russia became much fiercer recently. During the campaign, you will control different people, mostly from special forces units, and your task will be to hunt down Vladimir Makarov, who seems to be responsible for the ongoing chaos and exacerbating the fights. It's worth noting that as with most Call of Duty games, the most fun is to be had in multiplayer mode, so if you have some friends to play with, you will undoubtedly have a great time with CoD: MW2. In this case, you may want to not pick the remastered version, as it doesn't have multiplayer. Unfortunately, PlayStation 4 and Xbox One versions are exclusively available as part of the remastered edition, so you won't be able to play multiplayer on these consoles.
Key features
A first-person shooter from one of the most popular FPS video game series
Addictive gameplay that combines stealth with dynamic action
Dozens of realistic weapons to try on the battlefield, from simple handguns to rocket launchers
Great multiplayer experience with an account progression system
Empire: Total War
| | |
| --- | --- |
| Release: | 2009-03-03 |
| Genre: | Strategy |
| Developer: | Feral Interactive (Linux) |
The year 2009 was also the year when a new Total War game was released – Empire. This time, players will have the unique opportunity to conquer the 18th-century world, when gunpowder was much more common.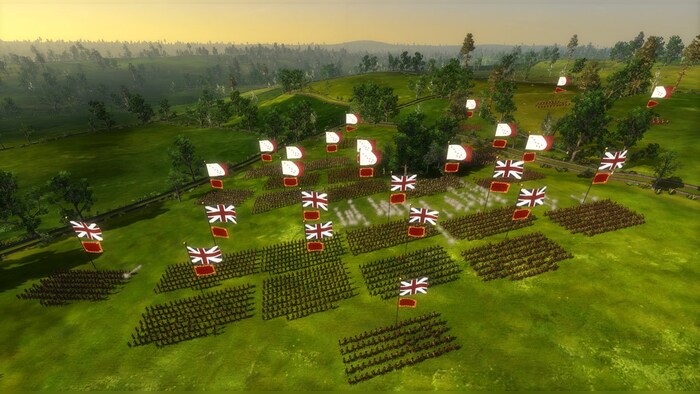 Empire: Total War is a combination of turn-based and real-time strategy genres. As the leader of one of the 18th-century factions, you will be tasked with conquering the enemies and uniting the world under your banner. The game consists of two parts, and achieving success requires mastering them both. Managing your empire, taking care of diplomacy, recruiting troops, and declaring battles and wars are done on a campaign map in a turn-based fashion, but the actual battles are resolved in real time, allowing you to command your troops yourself. This means that you are expected to utilize your personal micromanagement skills to move your units around, make use of the terrain, and manage positioning, so your units can counter the enemy soldiers easier. Naval battles also deserve a mention – they are done incredibly well, both gameplay-wise and visually.
Key features
An amazing combination of turn-based and real-time strategies
Set in the 18th century – gunpowder is commonly used and requires the use of new strategies
Large-scale battles with thousands of soldiers participating simultaneously
Visually appealing – great animations that are a pleasure to watch and admire
Left 4 Dead 2
| | |
| --- | --- |
| Release: | 2009-11-16 |
| Genre: | Action & Shooter |
| Developer: | Valve |
There is also something for the fans of the pure zombie massacre – Left 4 Dead 2 is a sequel to the popular FPS that allows players to have some fast-paced, boundless fun. Together with friends, preferably.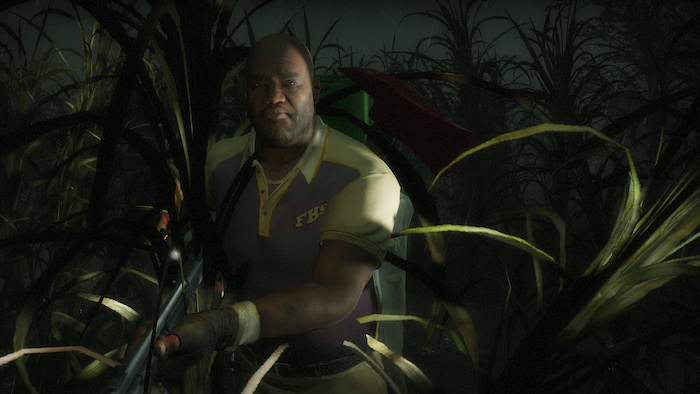 Left 4 Dead 2 is a first-person shooter that favors mindless slaughter over realism – and there's absolutely nothing wrong with that. It's a perfect title to chill and relax after an exhausting day at work. The game's main objective is to survive in a world conquered by zombies. You will have to make use of all kinds of available weapons to slaughter through the enemy hordes and safely reach your destination. The task won't be easy, as there are some special types of zombies that are much fiercer and more durable than your typical living-deads. Thankfully, you're not alone here – up to 3 other characters will support your efforts. Before you jump into the game, though, make sure that you have some friends who could play with you. Although L4D2 can be played as a single-player game, having real human players at your side provides much more fun than allowing AI to control your teammates.
Key features
A first-person shooter focused on fighting hordes of zombies
Dynamic gameplay with constant action and lots of blood
Several great weapons to choose from and utilize during play, including shotguns, rifles, and grenade launchers
Outstanding co-op multiplayer experience for parties of up to 4 players
The Sims 3
| | |
| --- | --- |
| Release: | 2009-06-02 |
| Genre: | |
| Developer: | The Sims Studio |
2009 was also the year when a new release of The Sims franchise came out. The third installment in the series brought a lot of improvements and quality of life additions to this extremely popular life simulator.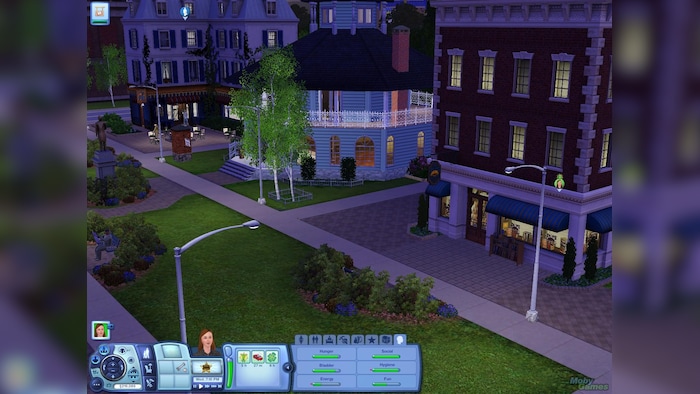 The Sims 3 represents a rather rare life and social simulation genre, where players can create and manage their own virtual family. The sandbox nature of the game combined with open-ended gameplay and no real objectives encourages players to come up with their own ideas on how to enjoy the title and create their own sim stories. Thankfully, there's so much to do that everyone will surely find something fun to focus on. Build your dream house, take care of your sims' careers, create the most popular and influential people in the entire sim world, build long-lasting relationships, become the family guy, celebrate holidays, and participate in a variety of events – this virtual world is your oyster and you are free to do whatever gives you the most joy.
Key features
A third installment in the widely acclaimed social simulation video game series
Sandbox gameplay that allows players to enjoy the game the way they want
Lots of possibilities – tons of available interactions, choices, and leisure activities
Random events that add an element of surprise, ensuring a unique experience every time you play
Assassin's Creed II
| | |
| --- | --- |
| Release: | 2012-11-21 |
| Genre: | Adventure |
| Developer: | Ubisoft Montreal |
Considered by some the best entry in the AC franchise even to this day, Assassin's Creed II starts an epic trilogy focused on the life and adventures of a Renaissance assassin, Ezio.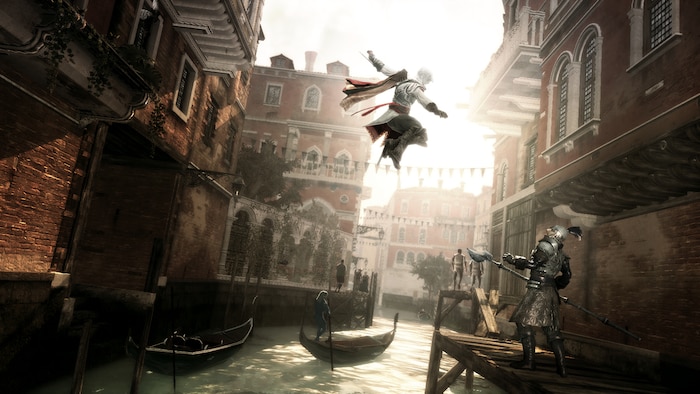 Assassin's Creed II is an action-adventure video game that puts emphasis on stealth and keeping a low profile, but it also gives more freedom in terms of how to approach encounters than it was in the first Assassin's Creed game. The game continues the story of Desmond Miles, descendant of the assassins, born in 1987, who uses the Animus machine to relive the past and bear witness to the experiences of his ancestors in order to find clues that could help him and his friends to thwart the Templar Order's plans in current times. In this installment of the series, Desmond focuses on the character of Ezio Auditore da Firenze, an assassin from Renaissance Italy. The game features a very satisfying parkour movement system and smooth combat, but the plot also deserves praise – developers did a great job at mixing real historical figures and places with a fictional story.
Key features
An addictive action-adventure game that takes place mainly in Renaissance Italy
A well-written story that mixes historical characters and events with fictional ones
Puts strong emphasis on utilizing all sorts of stealth tactics and remaining undetected
Amazing visuals, top-notch voice acting, and a number of gameplay improvements over its predecessor
Saints Row 2
| | |
| --- | --- |
| Release: | 2009-01-28 |
| Genre: | Adventure |
| Developer: | Volition |
Finally, there's also Saints Row 2 – a game that could be best described as a much more humorous and ridiculous version of Grand Theft Auto. Don't get the wrong idea, though, because it's much more than that.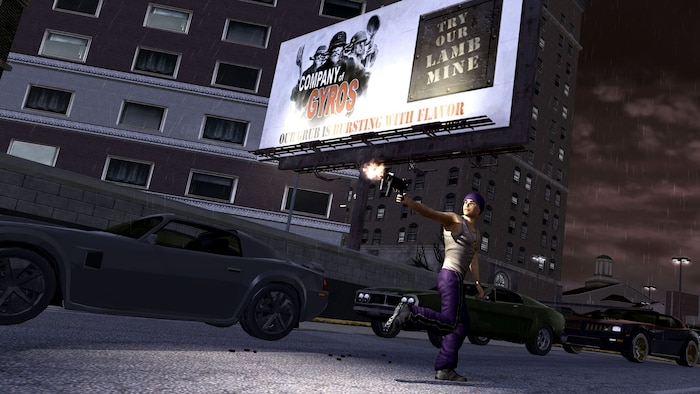 Saints Row 2 is an action-adventure game that continues the story of the 3rd Street Saints gang, this time focusing on rebuilding the gang and retaking the city from the competition. Open world sandboxes are not a new thing in video games, but SR2 does things in its own way, which makes the experience fresh and unique. It's more lighthearted and casual, but not as ridiculous as the most recent installments in the Saints Row series. The gameplay is mostly about exploring the city and conquering the existing neighborhoods in order to reclaim the city and show everyone who's the boss. It surely won't be easy – your rivals won't give up without a fight, so you better prepare for a memorable journey.
Key features
A fun and slightly humorous action-adventure game set in modern times
A large open-world environment that can be roamed and explored freely
Lots of weapons to choose from, vehicles to drive, and minigames to play
A fun multiplayer experience – but 3rd party software may be required, which is the case for a lot of the older games
The Best 2009 Video Games for PC
In 2009 we've been blessed with a multitude of great PC video games that covered a broad range of genres, from action-adventures to tower defenses, strategies, and survival horrors, and even some weird and unusual mixes thrown in between, ensuring that everyone could find something to play in his or her spare time. Some titles were exceptionally good and some were even crowned as games of the year.
We tried our best to choose the most fun and addictive PC games that were released in 2009. Although our list contains some amazing entries, there are surely some good games that didn't make it – what else would you put on it and what, in your opinion, shouldn't appear there?