In the video game industry, some years are better than the others, but even the ones that are considered mediocre usually bring some cool stuff for players to enjoy. Was 2010 a bad or a good year for
games?
We can't answer this question objectively, but we can show you some interesting titles that were released during that time. If you're interested in learning about some of the best 2010 video games, take a look at our list down below.
Mass Effect 2
| | |
| --- | --- |
| Release: | 2010-01-27 |
| Genre: | Action & Shooter |
| Developer: | BioWare |
Let's start with Mass Effect 2 – a game that continues the story of Commander Shepard as he tries to stop the intergalactic crisis.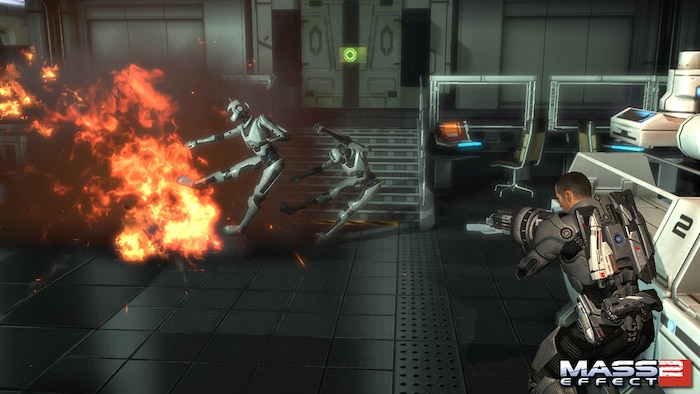 Mass Effect 2 is an action role-playing game that focuses on the character of Commander Shepard – the first human member of the Spectre, special tactics agents of the Citadel Council. As it turns out, the Reapers' threat is not yet gone, and Shepard must assemble a team of trusty companions who will follow him to the decisive battle. As opposed to its predecessor, ME2 is more shooter-oriented, and the role-playing elements were significantly simplified to make the game more accessible for those who are specifically looking for some solid action in space. The story is still on a very high level and you'll see a lot of returning characters during the play.
Key features
A sci-fi action role-playing game that puts a strong emphasis on combat
Several unique classes to choose from, each with its own specializations to further customize gameplay
A morality system that allows you to role-play your character better
Great level design and music that create an amazing atmosphere
StarCraft II: Wings of Liberty
| | |
| --- | --- |
| Release: | 2010-07-27 |
| Genre: | RTS |
| Developer: | Blizzard Entertainment |
If you are even just a casual real-time strategy genre enjoyer, there is no way you didn't hear about StarCraft before – and there's a good reason why the sequel appears on this list.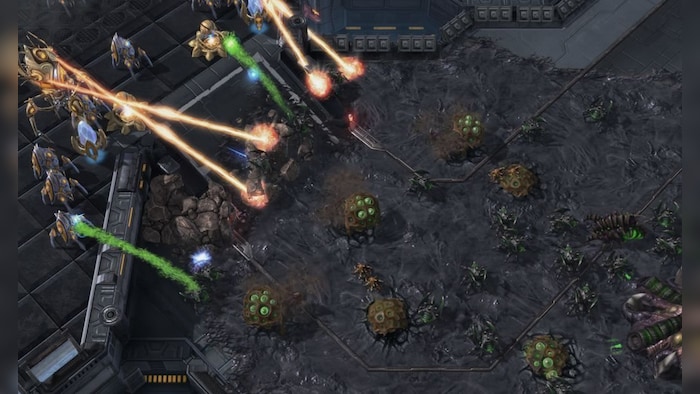 StarCraft II is undoubtedly one of the most popular real-time strategies ever made and a vast number of people play it to this day – modern RTS games rarely come close to the level of awesomeness featured in SC2. The game allows players to pick one of the three distinctive races – Terrans, Zerg, and Protoss – and fight against the opponents. The core of gameplay is to build the base, gather resources, train units, and use micromanagement skills to command an army and outsmart the enemies. StarCraft II managed to balance the races so they're equally powerful, yet they require different tactics – this way everyone can find a race that will suit his or her playstyle best. Although the game offers content-rich single-player campaigns, it's the multiplayer mode that's praised the most – a real treat for those who love some competitive action.
Key features
One of the best and most popular RTS games up to date
Three different playable races to choose from – all equally powerful, but with an entirely different playstyle
Engaging gameplay focused on base building, resource gathering, and managing the troops
Addictive multiplayer mode for those who love competitive action
BioShock 2
| | |
| --- | --- |
| Release: | 2016-09-15 |
| Genre: | Action & Shooter |
| Developer: | 2K Australia |
BioShock received a sequel in 2010 – although it did some things differently, it's still considered a significantly improved game that retained the spirit of the original title.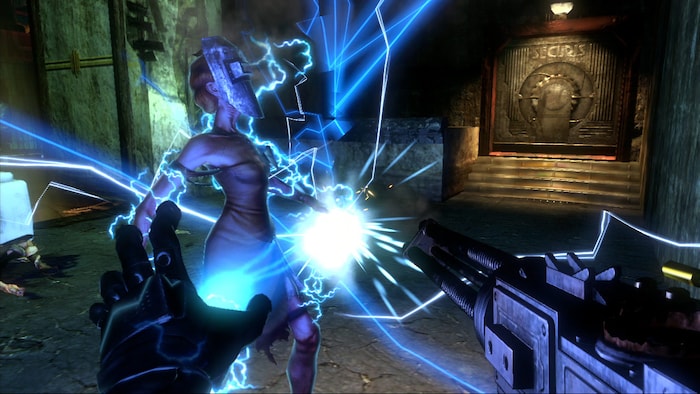 BioShock 2 is a first-person shooter that will allow you to once again dive into the underwater city of Rapture – a dystopian, secluded place, ruined by a mysterious drug that gave people all kinds of superpowers, but also divided the society because of its high addictivity. This time, however, you will be able to control one of the famous Big Daddies – but don't feel too cocky or powerful, because you're about to face dangers, against which even your thick steel armor can prove to be rather ineffective. Explore the obscure city inspired by the architecture from the 1940s and collect powerful plasmids to get the upper hand in the upcoming encounters.
Key features
A first-person shooter set in the underwater dystopian city of Rapture
Gameplay that focuses on combat with the use of a variety of weapons and special superpowers
Character progression with upgradeable skills and abilities
Unforgettable atmosphere and memorable underwater locations
Civilization V
| | |
| --- | --- |
| Release: | 2010-09-23 |
| Genre: | Economy |
| Developer: | Aspyr (Mac, Linux) |
The year 2010 also gave life to a new installment in the Civilization franchise. The new game came with various changes and gameplay improvements that met with a positive response from the community.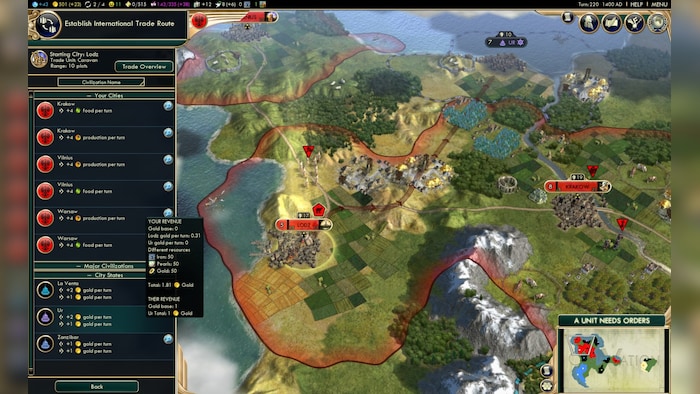 Civilization V is a turn-based strategy that allows people to control one of many available civilizations, help it grow and flourish through millennia, and ultimately lead the commanded nation to a brighter future, where it becomes one of the world's most influential powers. The game features over a dozen playable civilizations, and each has its own unique perks and bonuses that slightly alter the gameplay, which encourages players to try out different strategies. And finding alternative strategies is important because Civilization V, similarly to other Civilization games, allows players to win the game in a variety of ways – conquering the land and wiping out the opponents is not always the most efficient solution.
Key features
A turn-based strategy that allows players to lead their chosen civilization to glory and prosperity
Various playable civilizations to choose from – pick the one that will complement your playstyle
Different ways to win the game – conquer your enemies, build and launch a spaceship, or spread your culture and religion to other countries
Addictive gameplay that will easily rob you of all your free time
Super Meat Boy 
| | |
| --- | --- |
| Release: | 2010-11-30 |
| Genre: | Indie |
| Developer: | Team Meat |
If you didn't hear about Super Meat Boy before, it may not look like one of the best 2010 games at first sight. But there's a good reason why it appeared on the list.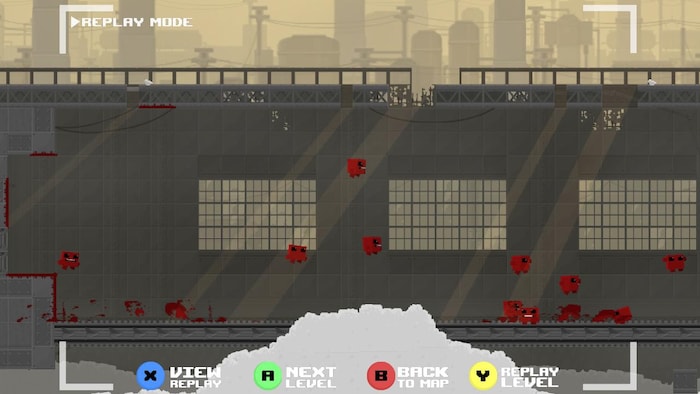 Super Meat Boy is a platform game that will test your reaction time and eye-hand coordination skills to the limit. As an adorable piece of meat, you will have to complete a ton of increasingly difficult levels in order to rescue your character's girlfriend. The game is incredibly hard and it's not uncommon for players to repeat a certain sequence over and over again, so don't get discouraged if you can't pass each level on a first try. Fast hands are undoubtedly a must, especially if you want to complete the entire game and collect everything there is. Thankfully, Super Meat Boy also features some high-quality music that perfectly fits the theme, so hopefully, the pain caused by constant deaths will be slightly more bearable.
Key features
A surprisingly addictive platform game with a fitting, eye-catching background music
Gameplay that revolves around completing hundreds of short levels, where it's expected from you to die and repeat them a lot
Responsive controls, smooth animations, and fluid transitions
Extremely difficult, especially if you want to fully complete the game and unlock everything
Mount & Blade: Warband 
| | |
| --- | --- |
| Release: | 2010-03-31 |
| Genre: | Adventure |
| Developer: | TaleWorlds Entertainment |
If you ever wanted to become a leader of your own private medieval army and personally lead your men on the battlefield, this game is for you.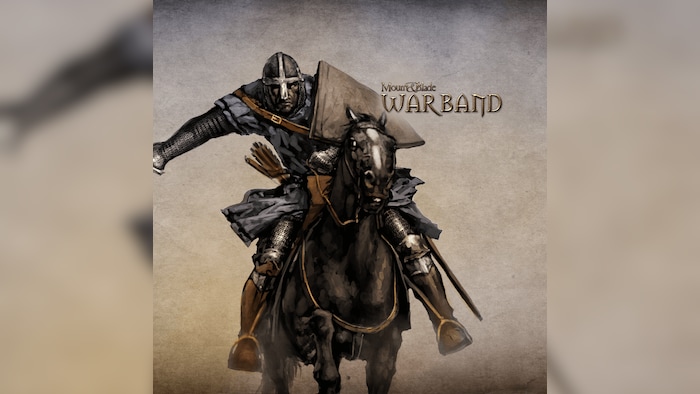 Mount & Blade: Warband is an action role-playing game that allows players to take control over an army of men in a believable medieval setting, where they can do whatever they want due to the game's sandbox nature. After creating your character, you will be spawned into the land of Calradia right away and your adventure will begin. Recruit people to your warband, train your character, upgrade your troops, manage your equipment, battle other armies, and siege enemy castles – you bow before no one, so take the lead and fight your way to fame and glory.
Key features
A great combination of an action role-playing game with a strategy game in a realistic, medieval setting
Sandbox, open-ended gameplay focused on recruiting troops and fighting against other armies in real time
Smooth combat that involves the use of both melee and distance weapons that can be used while on foot or from a horse's back
Multiplayer mode for those who want some extra competition
Dead Rising 2
| | |
| --- | --- |
| Release: | 2010-09-27 |
| Genre: | Horror |
| Developer: | Capcom Vancouver |
2010 was also the year when Dead Rising 2 came out – a slightly humorous take on action games with a zombie apocalypse setting.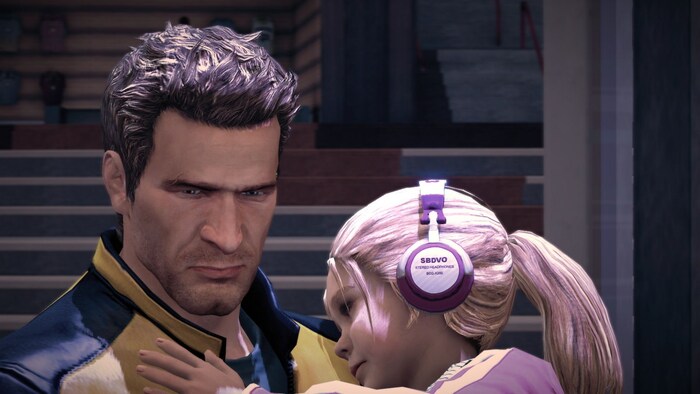 Dead Rising 2 is an action-adventure game where your main objective is to have fun by slaughtering hordes of zombies in a number of different ways. Of course, there are missions that need to be done, and there's even a story, but it's all just a filler and it's there only to justify what you'll be doing during the game. Don't expect too much realism from Dead Rising 2 – it's not there. But it's not a bad thing, as it allowed developers to go full bananas with gameplay, which is much more enjoyable this way. You can use knife gloves as a weapon, for example, making you look like a superhero taken out straight of the Marvel Comics universe. Just remember that melee weapons break easily, so don't get too cocky or you may be left defenseless in the middle of a zombie horde.
Key features
A great action-adventure game that combines a zombie apocalypse setting with a rather light-hearted atmosphere
Gameplay focused on pure, unrestricted fun – kill as many zombies as you can, and get creative while doing so
Hundreds of available weapons to find, discover, and make use of, including some ridiculous ones
Melee combat is highly favored and encouraged
Just Cause 2
| | |
| --- | --- |
| Release: | 2010-03-23 |
| Genre: | Adventure |
| Developer: | Avalanche Studios |
Speaking of rather ridiculous games, one can't forget about Just Cause 2 which adds the element of badassness to the mix.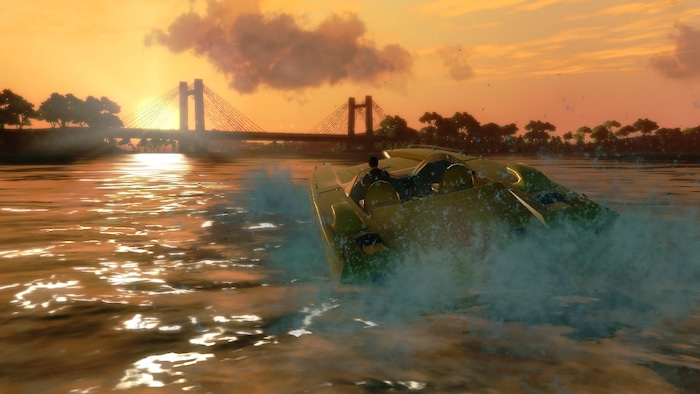 Just Cause 2 is an action-adventure game that is played from a third-person perspective. As agent Rico Rodriguez, you will be tasked with putting an end to the dictator's reign on the huge tropical island of Panau. The game features an open-world environment and allows players to freely explore it all at their own pace. Moving around the playable area can be done on foot, but there are also vehicles for more convenient travel. There is also a grappling hook that can be used to easily attach yourself to virtually any surface you want, including moving vehicles. You can even use the hook to tether two vehicles or people together, which opens up some interesting strategies on the battlefield.
Key features
An extremely fun action-adventure game with a badass protagonist
A huge open-world environment with a variety of landscapes and beautiful views
Gameplay that favors full-blown action and arcade playstyle over realism
A grappling hook and parachute combo that allows players to quickly travel between distant places
Assassin's Creed II
| | |
| --- | --- |
| Release: | 2012-11-21 |
| Genre: | Adventure |
| Developer: | Ubisoft Montreal |
Having a list of the best 2010 PC video games without mentioning Assassin's Creed II on it would be inappropriate – so here it is.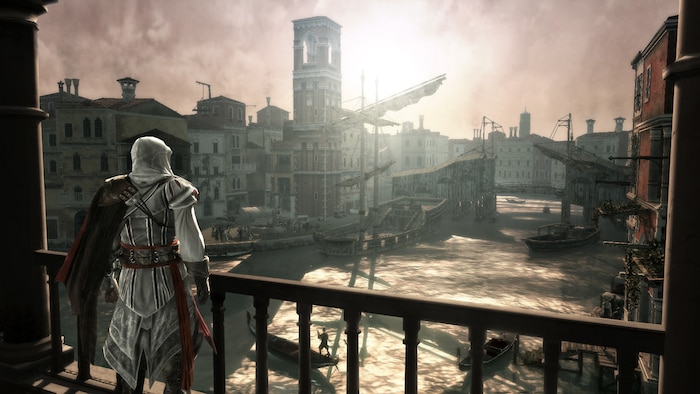 Assassin's Creed II is a sequel to the original action-adventure game, where the descendant of one of the members of the ancient Assassin Brotherhood, Desmond Miles, tries to thwart the plans of the Templar Order. AC2 begins a well-received trilogy in the Assassin's Creed franchise, where Desmond will go back in time and relive the past of Ezio Auditore da Firenze in order to find information that could hopefully help him gain the upper hand in the current times. Gameplay-wise it's still a stealth-heavy title that favors a silent approach and staying low, but it also introduces a variety of ways to fight your way through to your destination. It's also worth noting how well the game blends real-world historical characters and famous places into the fictional world – a true masterpiece.
Key features
An addictive action-adventure game from one of the most popular assassin-related franchises ever made
Smooth and satisfying combat combined with parkour and stealth tactics
A story that focuses on the never-ending conflict between Assassins and Templar Order
Beautiful open-world environment, heavily inspired by the Renaissance architecture
Fallout: New Vegas
| | |
| --- | --- |
| Release: | 2010-10-21 |
| Genre: | Adventure |
| Developer: | Obsidian Entertainment |
The final entry on the list is nothing else but Fallout: New Vegas. You didn't think that we forgot to include something for fans of nuclear wastelands, did you?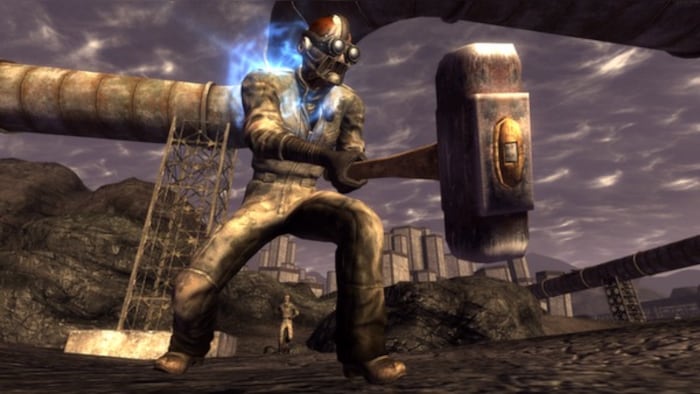 Fallout: New Vegas is an action role-playing game from the popular Fallout series. It is, however, slightly different from its predecessors, mainly because it's a spin-off and not a major entry. Obsidian did a great job and managed to retain numerous qualities of Fallout 3 while adding some new gameplay mechanics and fresh elements, making it a great game not only for newcomers but also for the veterans of the franchise. Among notable improvements and changes, it's worth mentioning overhauled combat, simplified character creation, new weapons, the larger impact of skills on conversations, many more crafting options, reintroduction of reputation, better companions, a slightly altered third-person camera, and an optional hardcore mode.
Key features
An amazing action role-playing game in a nuclear wasteland environment
A huge open world that can be roamed freely
Crafting, companions, character progression, satisfying combat, interesting story, and more
An optional hardcore mode for those who are looking for an extra challenge
The Best 2010 Video Games for PC
2010 was the year when a lot of great video games were released. There were some new series appearing on the horizon, while some others received sequels and spin-offs. Some games were successful, and some were not. But there were also some masterpieces that are worth remembering because they were often an inspiration for future generations of games. In other words – if some of these games weren't made, we wouldn't be able to enjoy what we have today.
If you're looking for some of the best video games released in 2010, our list should give you all the answers you need. Take your time and appreciate all the good stuff we were given back then.