Every year we get at least a few amazing PC titles to appreciate and enjoy. They come in all shapes and sizes, so there's usually something cool for everyone.
2012 was no different – but do you remember what exactly did we play back then and which PC games received the most praise? Let's take a look at some of the best video games that came out in 2012 on the list down below.
Borderlands 2
| | |
| --- | --- |
| Release: | 2012-09-21 |
| Genre: | RPG |
| Developer: | Gearbox Software |
Let's start with Borderlands 2 – a first-person shooter game that allows parties of up to 4 players to cooperate, explore, loot, and level up their characters together.
Borderlands 2 was and still is a widely praised video game – it's one of those titles that aged exceptionally well. Maybe because it used a unique type of art style that didn't try to look realistic and aimed into something like an animated comic book instead, making the game somewhat aging-proof.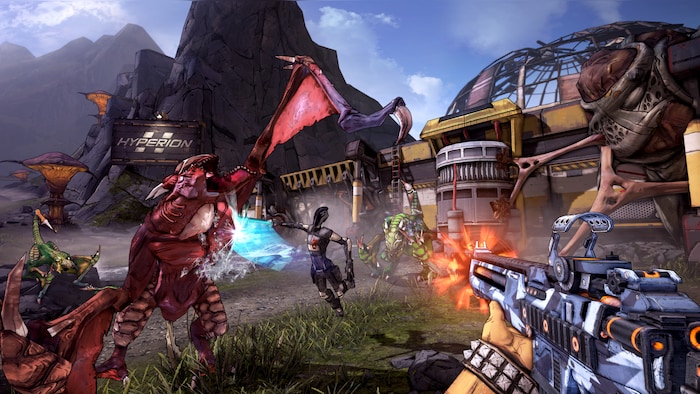 But visuals wouldn't mean a thing if the gameplay was boring – and in the case of Borderlands 2, it's anything but that. There are four classes to choose from, each with its own skill trees to invest in, which means that there are multiple ways to play and enjoy each available character. Add procedurally generated loot and a ton of humorous dialogues and situations to the mix and you get a recipe for a bestseller.
Key features
A combination of an RPG and a first-person shooter with an optional multiplayer co-op for parties of up to 4 players
Four entirely different playable classes to choose from, each with its own unique abilities
Procedurally generated loot that greatly increases the game's replayability
Amazing, a unique art style that combines photorealistic imagery with a comic-book-inspired look
Hotline Miami
| | |
| --- | --- |
| Release: | 2012-10-23 |
| Genre: | Adventure |
| Developer: | Dennaton Games |
If you're a fan of fast-paced arcade-style games, you've surely heard of Hotline Miami. If you didn't, then maybe it's time to fix it and give the game a go.
Hotline Miami is a top-down shooter that sacrifices any kind of realism there potentially is, in favor of pure, unrestricted, intense fun. There is a story, sure, but who cares – we're in for some sweet, bloody massacre accompanied by catchy electronic music. The gameplay revolves around completing increasingly difficult levels by eliminating all targets as fast as possible with the use of whatever items and weapons you can find in the area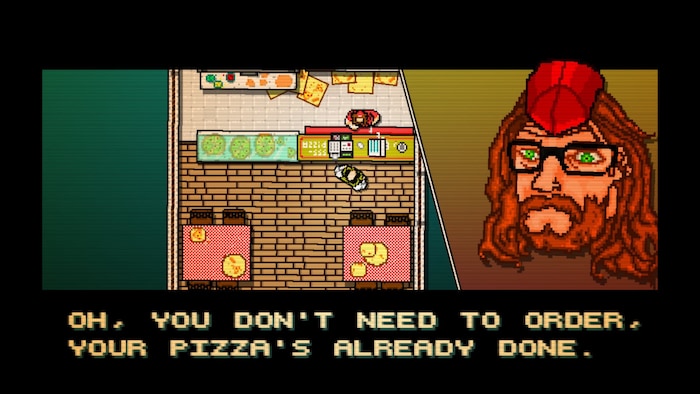 Easier said than done, you will surely die a lot, but that's also part of the fun. Expect to restart certain levels over and over, but don't be discouraged – in fact, it's not as bad as it may sound and it can get extremely addictive. The game is outstanding – it already managed to receive a cult status, which should be enough of a proof.
Key features
A top-down shooter set in 1989 Miami
Fast-paced gameplay that favors quick thinking and good reflex
Top-notch music that perfectly fits the theme
Detailed and eye-catching pixel art visuals that help to build the proper atmosphere
Max Payne 3
| | |
| --- | --- |
| Release: | 2012-05-31 |
| Genre: | Adventure |
| Developer: | Rockstar Studios |
Rockstar also delivered us something great in 2012, and this is Max Payne 3. Although it's drastically different from previous games in the Max Payne franchise, it's still a game you wouldn't want to miss.
Rockstar excels at two things – making incredible, huge, open-world environments, and making compelling stories that feel like a good American movie. Although there's no open world in Max Payne 3, you won't be disappointed by the story part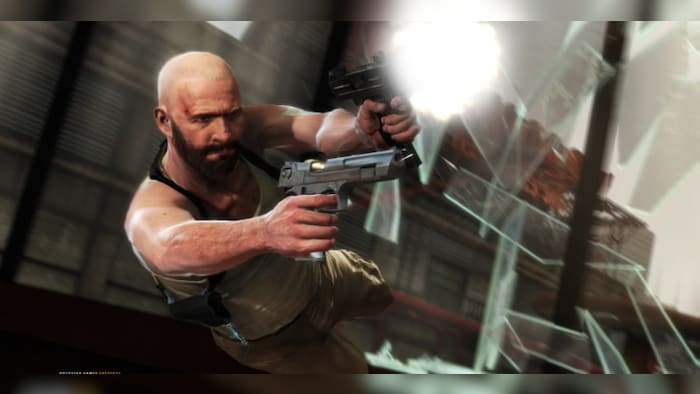 A dark and believable story of revenge and betrayal is what you can expect, but the story is not the only strong point of the title. The gameplay is also incredibly smooth, and there's still this iconic bullet time that allows players to slow the time down to easily dodge bullets and take out dangerous enemies with ease.
Key features
A third-person shooter with a bit of strategy required due to the fact that you can only carry a few weapons
Possibly the most realistic and brutal entry in the Max Payne franchise
A compelling story that will grab your attention for hours to come
A slightly different style when compared to its predecessors – but it's for the better
Dark Souls: Prepare to Die Edition
| | |
| --- | --- |
| Release: | 2012-08-23 |
| Genre: | Adventure |
| Developer: | FromSoftware |
2012 was also the year when we got an enhanced edition of one of the most difficult and unforgiving, yet enjoyable and addictive action role-playing games up to date.
The Dark Souls series is an action role-playing game, best known for its incredibly high difficulty level. It's worth noting, however, that although the game is hard, it's also fair. The difficulty comes mainly from the player's lack of knowledge and understanding of the game mechanics.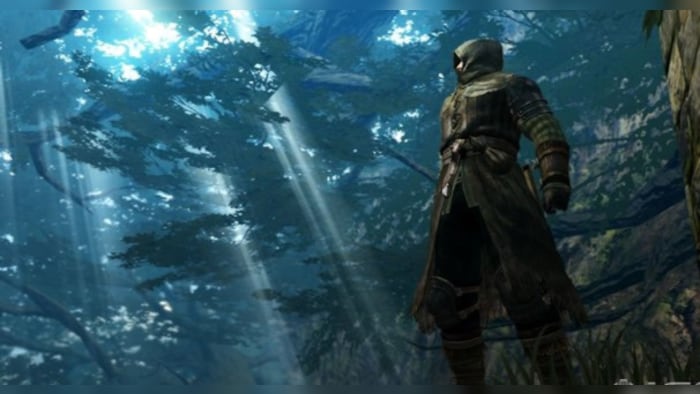 It's easy to die when you don't know the area yet, and you're not sure where the enemies can appear from – they can, for example, hide on a cliff behind a rock, waiting for you to come closer and attempt to push you down. Once you learn enemies' locations and boss attack patterns, the game can be no more difficult than an average RPG. It's also worth noting the game's incredible, dark, sometimes even grotesque atmosphere. Playing at night may result in nightmares. You have been warned.
Key features
An action role-playing game set in a dark and obscure world
Gameplay focused on fighting dangerous bosses, where each one has his own unpredictable skills and attacks
High but fair and rewarding difficulty level
Lots of freedom in terms of character progression and choosing the equipment that would fit one's playstyle
Hitman: Absolution
| | |
| --- | --- |
| Release: | 2012-11-19 |
| Genre: | Action & Shooter |
| Developer: | Feral Interactive (Mac) |
Agent 47 returns in the fifth installment in the Hitman franchise – a much more approachable title that is still challenging enough to not kill players with boredom.
Hitman is a popular stealth video game series and it focuses on the character of Agent 47 – probably one of the most recognizable characters in the video game industry. The ultimate assassin's mission continues, but now his task seems more difficult than ever, as he's ordered to eliminate his former handler, Diana Burnwood, who betrayed the agency and disappeared for reasons unknown.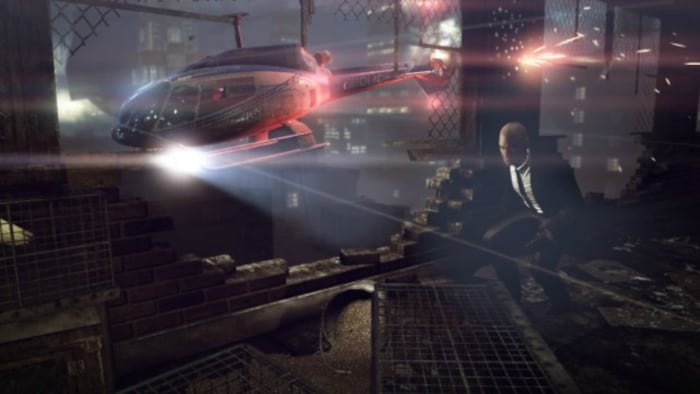 The game is played from a third-person perspective and puts emphasis on stealth play, which means that you will be usually sneaking around while trying to silently complete the job. You can use all sorts of items and weapons during play, and you may even use the environment to your advantage to create a distraction, hide bodies, and so on. And if you're more of a rambo type of player, you can also try to simply fight your way through, but this approach can prove to be unreasonably challenging.
Key features
A game focused on the story of one of the most popular assassins in the history of video games
Encourages stealth play, but open combat can also be utilized to a certain degree
Lots of possibilities – use the environment and disguises to gain the upper hand
Well-thought locations that not only look good but also have a great value in terms of level design
The Walking Dead
| | |
| --- | --- |
| Release: | 2019-09-10 |
| Genre: | Action |
| Developer: | Telltale Games |
Fans of zombie apocalypse settings had a reason to rejoice in 2012, as that's when Telltale Games released their new game that was based on the popular series of comic books.
Telltale Games is best known for making a specific kind of graphic adventure games, where there are not many puzzles to be solved or exploration to be done, but rather there are difficult moral choices to be made, so it's not surprising that their version of The Walking Dead is no different. There are some QTE events here and there, but in general, the game feels more like an interactive show, where you can alter the story according to your preferences.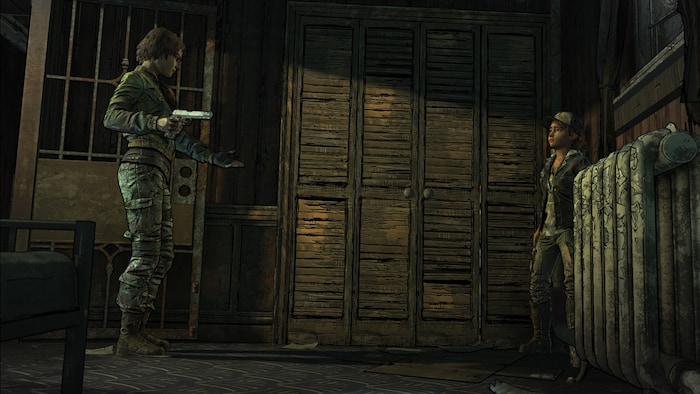 With that being said, the game is of extremely high quality, and the story it presents can make grown-ups cry at times. As the player choices is the most crucial element of the series, developers took it further and made it possible to compare your own choices with those made by other players, so you can see how the rest of the community handled difficult situations.
Key features
A story-driven graphic adventure in the well-known Walking Dead universe
Difficult moral choices that can alter the story and yield different results
Simple gameplay focused on dialogues and quick time events
Great visuals with a comic-book-inspired look
Counter-Strike: Global Offensive
| | |
| --- | --- |
| Release: | 2012-08-21 |
| Genre: | Action & Shooter |
| Developer: | Valve |
Counter-Strike fans also surely experienced a moment of happiness in 2012 – and for some of them, this moment still lasts until this day.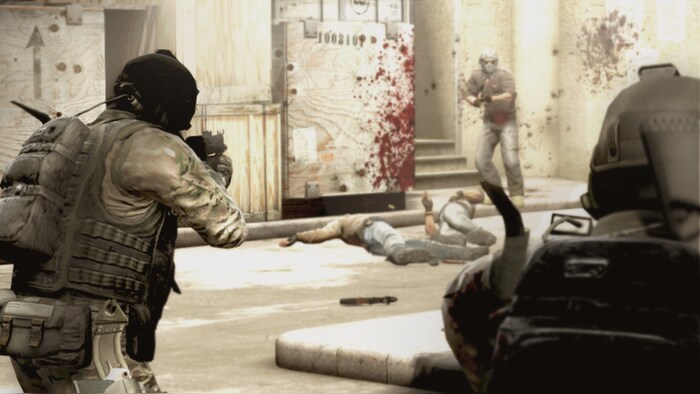 Counter-Strike: Global Offensive is a first-person shooter game and probably one of the most successful releases in the entire Counter-Strike series. Sure, the 1.6 version has its own cult following, but clearly, Global Offensive is Valve's most loved child as of now, especially considering the fact, that it's still being maintained, gets regular updates, and tops the popularity charts on the Steam platform with about one million active users daily. And there's a reason – the game is super easy to start, but it's also hard to master on a professional level. It doesn't matter if you're just looking for some casual fun or a great e-sport title suitable for veterans – CS: GO somehow manages to keep everyone satisfied.
Counter-Strike: Global Offensive is free to play game.
Key features
A hugely popular first-person shooter that puts emphasis on multiplayer and cooperative play
A number of available game modes, with the most recognizable being the Bomb Defusal
Dozens of available weapons and items to choose from, and a few unique ones available for either terrorists or counter-terrorists
Easy to learn, hard to master – a great competitive e-sport title that can also be enjoyed casually
Dishonored
| | |
| --- | --- |
| Release: | 2012-10-11 |
| Genre: | Action |
| Developer: | Arkane Studios |
We already mentioned Hitman on the list, but it's worth noting that 2012 gave life to a number of great stealth games. The other one that deserves a mention is Dishonored.
Dishonored is an action-adventure game that puts emphasis on stealth. It does so to the point that it rewards those who manage to beat the entire game without killing anyone – it's not an easy task, but it's entirely doable and worth trying at least once.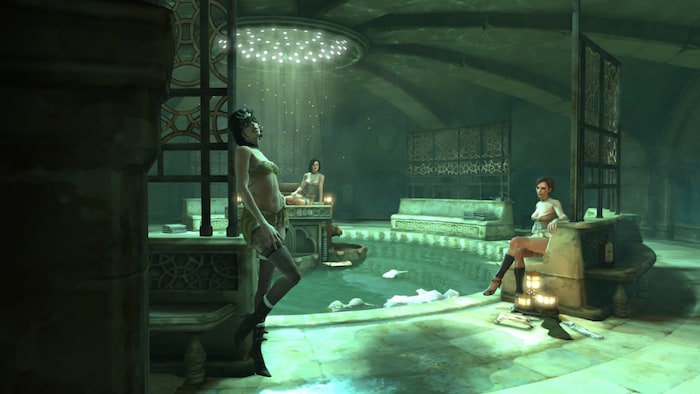 The game features character progression and simple role-playing elements, which means that you will be able to customize your character to a certain degree and unlock new supernatural abilities as you progress through the storyline. There are also moral choices, so keep in mind that your decisions do matter – think twice before you act.
Key features
A compelling story set in the city of Dunwall inspired by the late 1800s architecture of London
Gameplay that encourages stealth and silent approach, as well as the use of environment and gadgets
Character progression and role-playing elements
Useful supernatural abilities that will make your task slightly easier
Mark of the Ninja 
| | |
| --- | --- |
| Release: | 2012-10-16 |
| Genre: | Adventure |
| Developer: | Klei Entertainment |
When we said that there were multiple great stealth games released in 2012, we didn't lie – and here's yet another example.
If you are looking for a game that could be called the game of the year, Mark of the Ninja could easily be considered one of these. It took players by surprise, but let us tell you, how pleasant of a surprise it was. Mark of the Ninja redefines the stealth genre and gives us something new and fresh to try – it's a 2D platform game, where you'll be accompanying a skilled ninja as he tries to stay in the shadows and silently eliminate designated targets.
Some great features that should be noted gameplay-wise are the line of sight and noise mechanics, as well as the possibility to terrify opponents by ruthlessly dealing with their friends. There are also lots of unlockable abilities and weapons, so you're guaranteed to have hours of fun with this title.
Key features
Great quality 2D visuals with hand-painted environments and cartoon-like characters
Responsive controls, fluid character movement, and smooth animations
Customization – earn points as you play and unlock new skills, weapons, and even alternate costumes
Noise, line of sight, and fear mechanics included for a more varied gameplay experience
Diablo III
| | |
| --- | --- |
| Release: | 2016-11-28 |
| Genre: | Adventure |
| Developer: | Blizzard Entertainment |
Finally, there's Diablo III – a game from the franchise that was considered the king of hack and slashes for quite some time.
Although the people's favorite is probably still Diablo II with the Lord of Destruction expansion pack, Diablo III also managed to gain a lot of love from the community, despite being drastically different from its predecessors.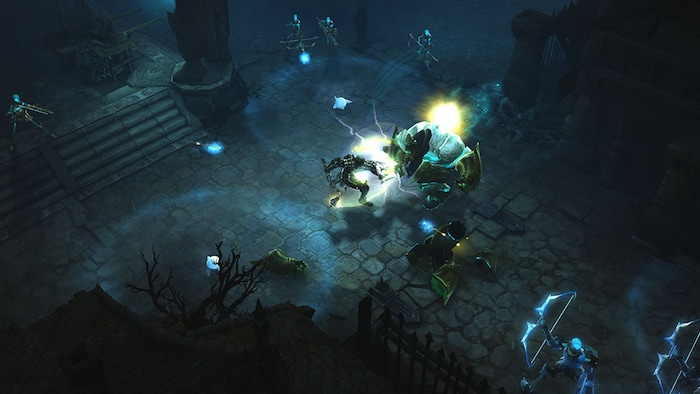 The game became significantly easier in terms of character building, which was considered both a good and a bad thing – D2 was praised for virtually unlimited ways of enjoying the game, while D3 limits the choices to a certain degree. On the other hand, it's also what makes D3 the best game from the franchise to begin the Diablo adventure. The game still looks amazing visually – it's polished to meet modern industry standards and appeal to a new generation of players.
Key features
A game from one of the most popular hack and slash series available
Five playable classes in the base game, each with its own abilities to utilize on the battlefield
Beautiful locations full of hostile creatures, powerful bosses, and randomly generated loot
A hardcore mode with permanent death for those who are looking for an extra challenge
The Best 2012 Video Games
2012 was a fruitful year for the video game industry and it brought numerous great games for players to enjoy. Rockstar came with a new installment of Max Payne, zombie apocalypse and interactive drama fans got The Walking Dead from Telltale Games, and the competitive e-sports scene was assaulted by CS: GO. It was truly a remarkable time, so why not pay the past a visit? Discover the best 2012 video games and pick your favorites from our list.