Games using the third-person perspective come in various genres and playstyles, but there are some things one could reasonably expect.
For instance, TPP works quite well with melee-focused games, especially those which go for spectacular, fun to watch animations instead of hit precision. There's also likely a lot of entertaining traversal, especially climbing and some platforming challenges, because the TPP's big advantage is that it gives you a broader perspective on the environment which makes maneuvers and fighting against multiple opponents much less confusing.
Without much further ado, let's dive into a list of a few awesome TPP games you should absolutely check out.
God of War
| | |
| --- | --- |
| Release: | 2022-01-14 |
| Genre: | Action |
| Developer: | Santa Monica Studio |
2018's God of War for a long time was one of the best PlayStation 4 exclusives, but has since then launched on PC and is now instead one of the best multiplatform third-person melee-oriented, story-driven games. Shifting the action from Ancient Greece to mythic Scandinavia, the story follows an older Kratos…and his son, as they get try to complete a funeral and get tangled in the business of gods.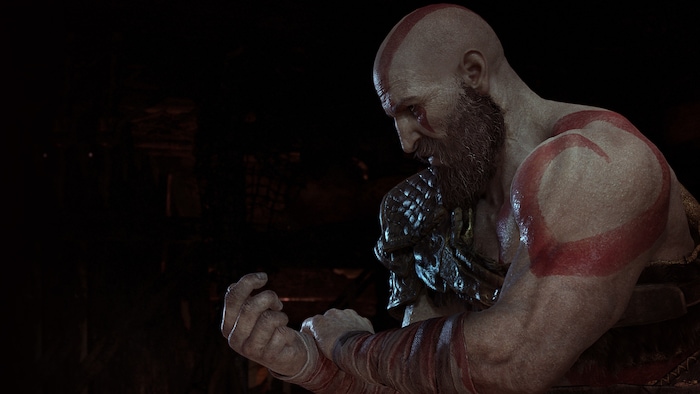 The third-person camera serves God of War quite well, giving a much better look not only at the excellent textures and models, but also puts us right in the splash zone of the polished combat animations and makes the world more immersive, especially with no mid-game loading screens interrupting the exploration.
Key features
Features a much older, grumpier Kratos
A god- and monster-filled adventure inspired by Norse mythology
Great story that is, ultimately, about family
Looks amazing
Darksiders
| | |
| --- | --- |
| Release: | 2010-09-23 |
| Genre: | Adventure |
| Developer: | Vigil Games |
Darksiders is a fruit of various inspirations, including Legend of Zelda dungeons and tools, as well as God of War's fast-paced, bloody melee combat and vicious finishers. It's great game with a fantastic, evocative, distinctive art style of Joe Madureira present in everything from environment to character designs. The story begins with the apocalypse, bringing angels and demons to unprepared Earth.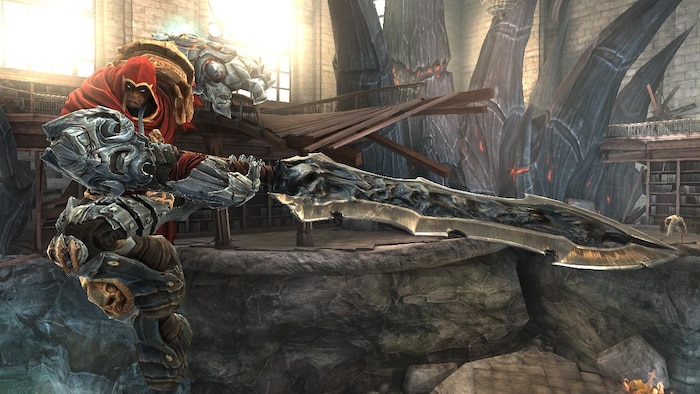 You're following War, a Horseman of Apocalypse unjustly blamed for kickstarting the End Days, looking to find and punish those truly responsible. Along the way he'll clear several dungeons to get at the mighty demons at their center, spill liters of demonic blood, and uncover more answers than he bargained for. Darksiders is a stylish and exciting third-person adventure in a very cool setting.
Key features
Excellent, distinctive designs led by Joe Madureira's art style
Great dungeons filled with enemies and environmental puzzles
Satisfying combat with vicious finishers, especially against bosses
Spawned several games expanding the setting
Horizon Zero Dawn
| | |
| --- | --- |
| Release: | 2020-08-07 |
| Genre: | Adventure |
| Developer: | Guerrilla |
Another, after God of War, PS4 exclusive which ended up on PC after a few years, Horizon Zero Dawn is a stunning third-person action game set in a post-apocalyptic world with humanity reduced to tribes struggling to exist alongside against animalistic robots of unknown origin dominating the Earth. You're playing as Aloy, a young outcast hunter, who is capable of using a powerful piece of old technology.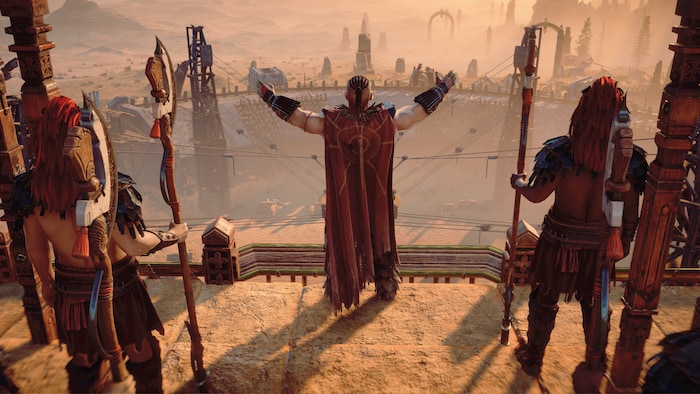 A big draw of HZD is hunting, powered by various gadgets like traps and specialist arrows, but the world is gorgeous and exciting to explore, whether you're investigating every nook and cranny for secrets or climbing towering robots which are a cross between a giraffe and satellite dish. It's one of the best open world games in recent years and has lived to get not only an expansion, but also a sequel.
Key features
Fascinating setting
You'll spend a lot of time fighting against cool robotic animals
Gorgeous graphics
Lots of interesting backstory
Legend of Zelda: Breath of the Wild
| | |
| --- | --- |
| Release: | 2017-03-03 |
| Genre: | Adventure |
| Developer: | Nintendo |
Considered one of the best games of its generation and one of the best open world games in general. Legend of Zelda: Breath of the Wild is set in a Hyrule that offers unprecedented freedom, powered by an engine that is happy to let you come up with complex and bizarre solutions to puzzles which could be solved in a more straightforward manner.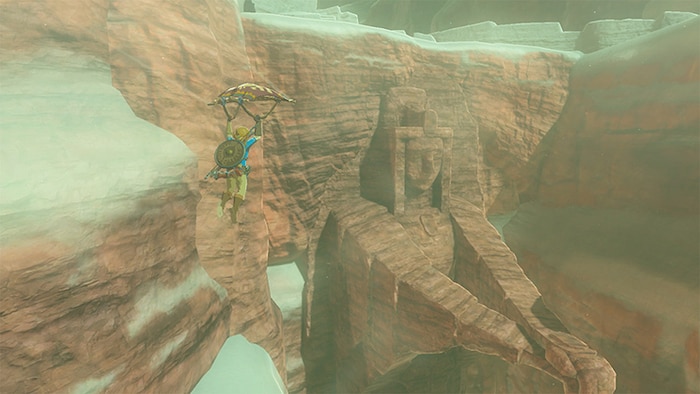 The story involves Link waking up from a hundred years'-long healing sleep to see a world much changed, and Calamity Ganon straining against the bonds upheld by Princess Zelda has been maintaining for a century. That's a lot to deal with, good luck, player. Explore the world, restore Link to his full strength, unite the people of Hyrule, and save the world from Ganon's dark ambitions.
Key features
Immersive, exciting, rewarding exploration
Flexible solutions to fixed problems
Large, diverse map filled with secrets
There's a sequel in the works
Grand Theft Auto V
| | |
| --- | --- |
| Release: | 2015-04-14 |
| Genre: | Adventure |
| Developer: | Rockstar North |
Easily one of the most popular, and profitable, third-person action games of all time, Grand Theft Auto V is a crime story about three criminals trying to make the best of the rough situation they found themselves in. Michael, Trevor, and Franklin each have their own reasons to get on the job, and it's a mix of personalities and backstories which makes for a great plot.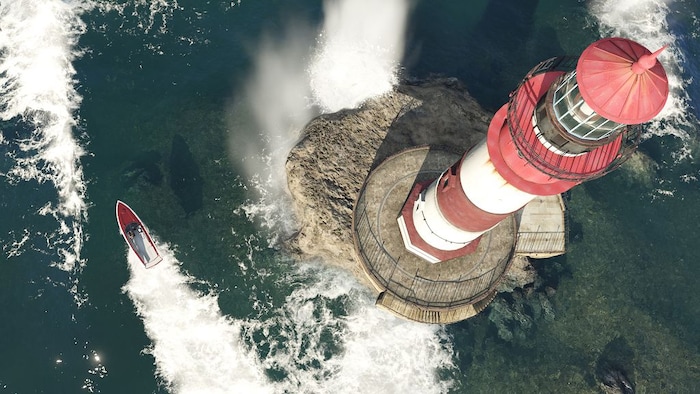 GTA V features a massive open world map you're free to explore at your leisure, on foot or using one of a vast number of diverse vehicles. Most of the time you can also freely switch between the three playable characters, which not only might put you in an interesting situation, but also lets you change playstyles a bit. There are, of course, story missions, but the draw of an open world is powerful.
Key features
Three distinct playable characters with unique abilities
An exciting, dramatic crime story, a third-person shooter, an open world game. Three in one
Vast open world filled with immersive activities and easter eggs
A mighty multiplayer segment, welcoming to both PvP and RP
Sekiro: Shadows Die Twice
| | |
| --- | --- |
| Release: | 2019-03-22 |
| Genre: | Adventure |
| Developer: | From Software |
Sekiro: Shadows Die Twice is in quite a few ways a departure from the kind of games expected from FromSoftware. Not only does it ditch the Gothic European stylings in favor of a mystical version of Japan's Sengoku period, but it also focuses intensely on parrying, a tactic not particularly favored by Soulsborne games. It's a remarkably good game which will test the limits of your reflexes.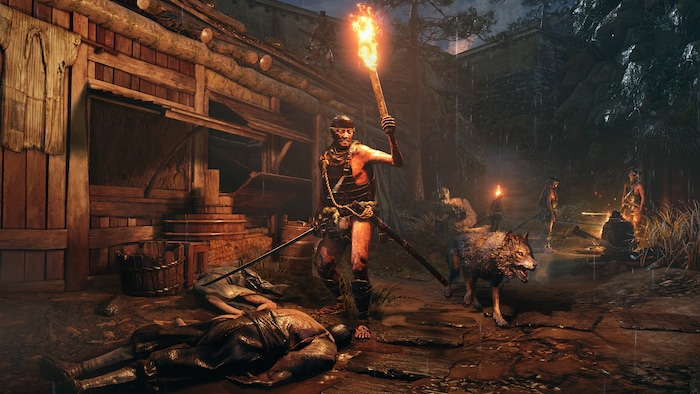 You're playing as a shinobi who failed to protect his lord from kidnapping and works to amend for his mistake…and kills a staggering number of monsters and corrupted people in the process. The combat itself is based mostly on working on good timing for a proper parry to throw your foes off-balance and go in for the lethal blow. It's fast-paced, occasionally frustrating, and inevitably satisfying.
Key features
An exciting third-person melee combat-oriented
Interesting story
Highly challenging boss battles
Several endings
Ghost of Tsushima
| | |
| --- | --- |
| Release: | 2021-08-20 |
| Genre: | Action-adventure |
| Developer: | Sucker Punch Productions |
Ghost of Tsushima is, by all accounts, absolutely stunning. The world looks gorgeous, with vivid colors, realistic-looking humans, and subtle ways the environment guides you towards secrets and collectibles. But the game also stuns with the dramatic story based on a real historical Mongol invasion of Japan, including the eponymous island of Tsushima. And then there's the open world gameplay.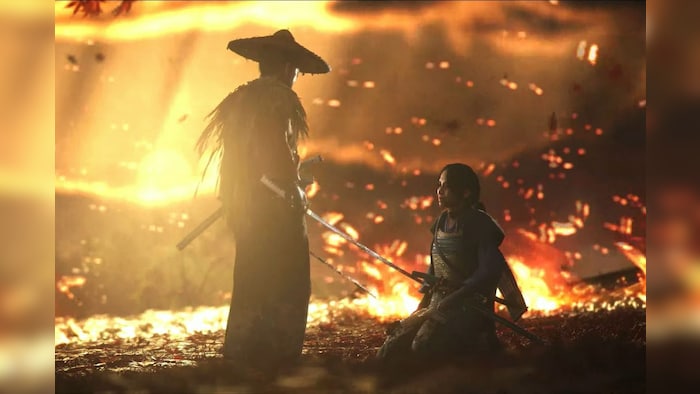 In GoT you step into the shoes of Jin Sakai, a samurai-turned-nightmare plaguing the invaders. You'll face them in open combat using several unlockable fighting stances and use stealth and sabotage, your choice. There are also exciting boss fights against officers, and many side-activities which might improve JIn's traits or provide other minor benefits. It's a must-play TPP game for any PS4 player.
Key features
Gorgeous, engaging open world
Co-op multiplayer modes: story-based missions and a horde mode
Great both in stealth and in open combat
Based on a real historical event
Batman: Arkham Asylum
| | |
| --- | --- |
| Release: | 2010-03-26 |
| Genre: | Adventure |
| Developer: | Feral Interactive (Mac) |
Batman: Arkham Asylum is game which convinced everyone that it is actually possible to make a good game about the Caped Crusader. The story premise is simple, but very effective: the Arkham Asylum has been taken over by inmates, led by the Joker, many of the staff and security died or were captured, but, thankfully, Batman is present on the scene.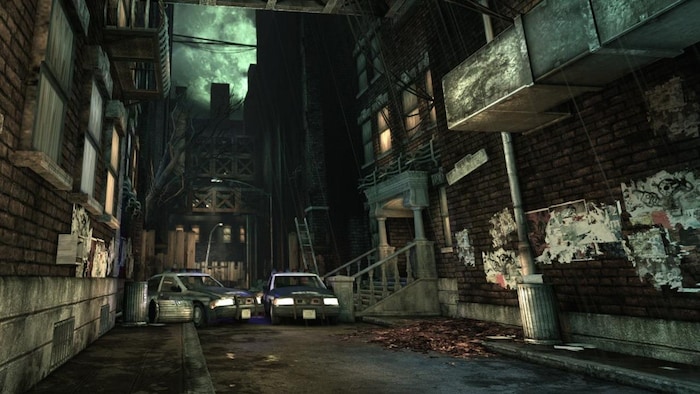 B:AA has all the required elements: There's fluid, spectacular combat using the FreeFlow system, and awesome stealth sections featuring increasingly terrified goons. There's traversal, powered by glider cape and a grappling hook. And there's detective work, enhanced by a special mode of vision which lets you notice many otherwise invisible clues and see just how terrified your enemies are.
Key features
Satisfying combat system
Excellent sequel
Several thematic gadgets which open the way to previously inaccessible secrets
Stealth system which makes you feel awesome
Star Wars Jedi: Fallen Order
| | |
| --- | --- |
| Release: | 2019-11-15 |
| Genre: | Adventure |
| Developer: | Respawn Entertainment |
Jedi: Fallen Order was quite a breath of fresh air: a singleplayer, offline, third-person Star Wars action game. It follows Cal Kestis, a former padawan, who managed to survive Order 66 and hide for a few years, until an unfortunate event which put him on the radar of Darth Vader's inquisitors. And that's just one of all the way Cal's life became very complicated.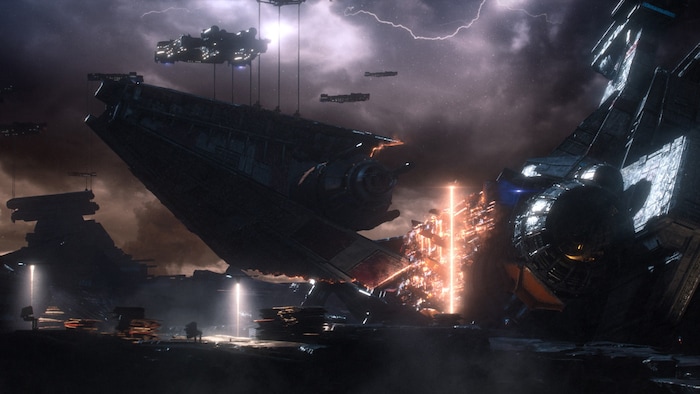 Fallen Order combat system takes some inspiration from the Soulsborne games, even if it's less ruthlessly demanding, but the world structure heaves closer to the metroidvania genre, with mostly open worlds and certain locations being gated behind unlockable abilities. There are tense boss battles, a progression system, some cosmetic customization, and a really good plot pushing you onward.
Key features
An exciting trip through several Star Wars planets
Satisfying combat system and rewarding exploration
An original, interesting plot
Looks great
Uncharted (series)
| | |
| --- | --- |
| Release: | 2007 - 2022 |
| Genre: | Action-adventure |
| Developer: | Naughty dog |
The Uncharted series is based on the adventures of one Nathan Drake, an accomplished, devilishly lucky treasure hunter. Developed by Naughty Dog, all games in the series (especially the last two) feature wonderful graphics, adrenaline-pumping scripted action sequences, cool puzzles, and a very likeable main cast with Drake as the leading loveable rogue.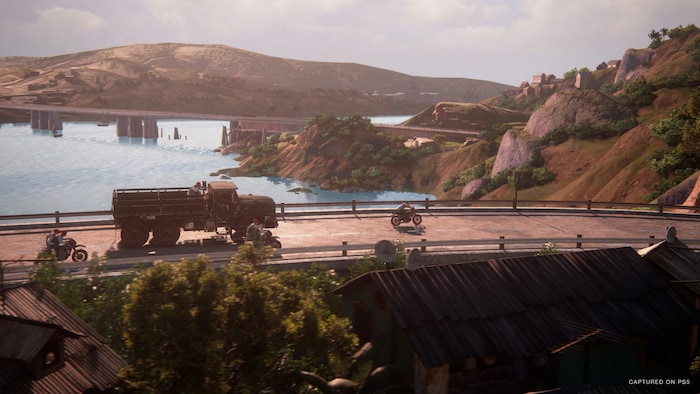 The series debuted and had a long run on PlayStation, but it came to PC in January 2022 through the Uncharted: Legacy of Thieves Collection, which includes Uncharted 4: A Thief's End and the spin-off, Uncharted: Lost Legacy. Whether you choose to play classically, on PlayStation, or dive right into the last game on PC, there's no denying that Uncharted is a class of its own.
Key features
A series of phenomenal third-person action-adventure games
Lovable cast of main characters
Amazing scripted action moments
Now also partially available on PC
A broader perspective on the world
That concludes our list of ten third-person perspective games which are great ambassadors for that particular mode of presenting virtual worlds. Hopefully our list of historical settings, treasure-hunting adventures, fantasy scenarios, and science fiction worlds helped you find something that caught your eye.