Explore, expand, exploit, exterminate! 4X games aren't just entertainment. They represent the absolute freedom of exploring and conquering unknown worlds. And the ability to make the most important decisions that will determine the fate of this world.
If you are an adventurous space traveler – you've come to the right place! Steam is full of good space 4X games. But will they all meet your expectations? Will each of them engage for many hours of fascinating gameplay taking place on the far horizons of space? You can go ahead and end your search. We know which of them are unrivaled best. So sit back and browse our list of the best 4X space games ever.
Stellaris
PC
Xbox One
Xbox Series X/S
PlayStation 4
| | |
| --- | --- |
| Release: | 2016-05-09 |
| Developer: | Paradox Development Studio |
This proposition from Paradox Interactive is famous for being the most popular science fiction space grand strategy production. If you are interested in an incredibly rich space experience and infinite possibilities for exploration – play Stellaris.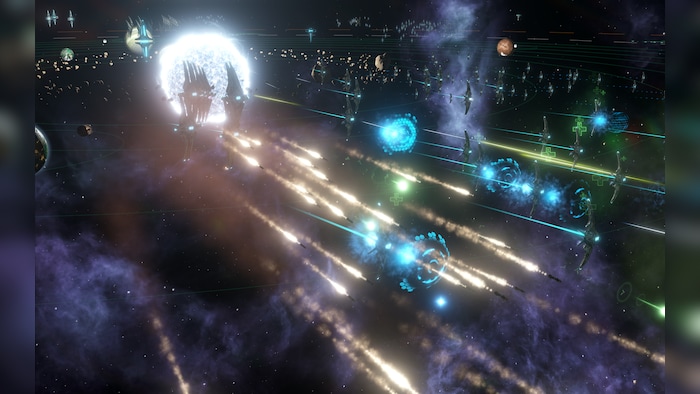 Choose from many races or create your own. Customize not only the appearance of your civilization but also details like their beliefs and history. Ready? Explore! In Stellaris, you can do anything: travel between galaxies, conquer new planets, harvest resources, and discover anomalies. And fight wars or take care of the development of the race, political relations with other inhabitants of space, energy consumption, and finances. This game equals endless strategic possibilities.
Key features
Choose a race or create your own by adjusting it to the smallest detail
Explore to discover new regions of the space and mysterious anomalies
Bet on technological development and develop your nation
Engage in wars and take care of relations with space neighbors
Play solo or in multiplayer with up to 32 players
Endless Space 1 & 2
PC
| | |
| --- | --- |
| Release: | 2016-10-06 |
| Developer: | AMPLITUDE Studios |
It is a turn-based strategy game with RPG elements from Amplitude Studios for PC and a fantastic proposition for 4X fans focused on fighting wars and conquest. Set out to conquer the galaxy and fight to dominate and access resources!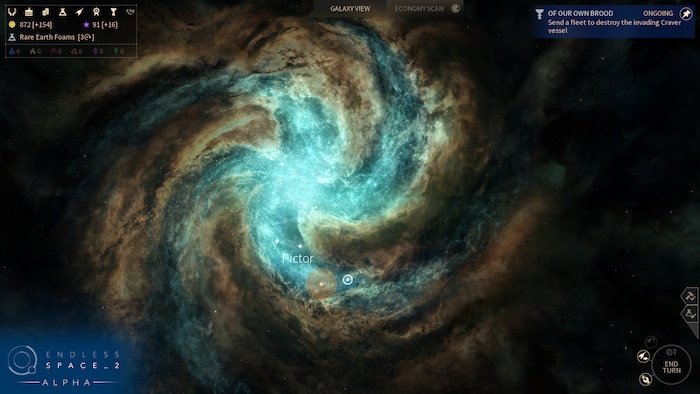 The action of both parts of Endless Space takes place in the distant future. Your task is to manage one of the influential civilizations and lead it to win in every possible gameplay category. Build ships, create a fleet and take the enemy out of space map! Your access to valuable resources will depend on it, as well as the further technological development of the entire civilization. Awake your inner master strategist and become the greatest ruler of the galaxy.
Key features
Take control of one of the most powerful civilizations in the galaxy
Explore, discover, grow a fleet of ships and conquer
Collect valuable resources and manage political relations
Fight in a turn-based system and plan every next move
Play solo or in multiplayer
Age of Wonders: Planetfall
PC
Xbox One
PlayStation 4
| | |
| --- | --- |
| Release: | 2019-08-06 |
| Developer: | Triumph Studios |
Wanna see something awesome? Play Age of Wonders – a series that can into space! Triumph Studio, known for the epic retro fantasy strategy games, this time comes with 4X modern gameplay in style.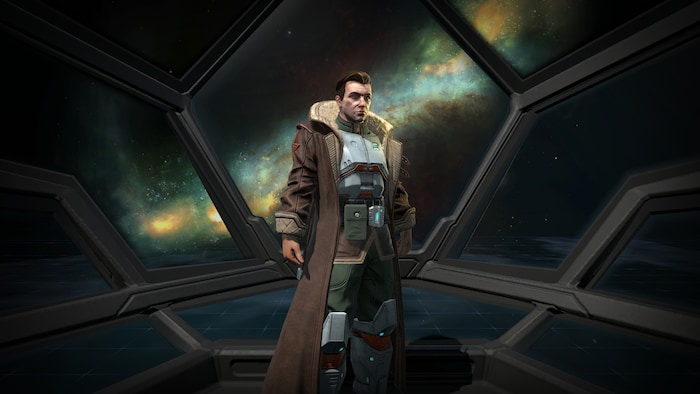 Take charge of the falling civilization and lead it to a golden future! This is a perfect proposition for fans of sandbox city-builders with campaign and elements of tactical gameplay. Establish colonies, develop cities, and forge political alliances. Or go straight to war! Create great combat units and specialized heroes to dominate the map in the turn-based mode. Take the fate of an entire civilization into your own hands and lead it to the top!
Key features
Take control of the falling civilization and manage its development
Build an army and fight in turn-based battles
Explore and conquer regions of the map to gain an advantage over your enemy
Create colonies and expand cities
Play solo or in multiplayer with up to 8 players
Battlefleet Gothic: Armada 2
PC
| | |
| --- | --- |
| Release: | 2019-01-24 |
| Developer: | Tindalos Interactive |
It is a space real-time strategy from Tindalos Interactive, set in the war-torn universe of Warhammer 400,000. Something for fans of fierce armed conflicts!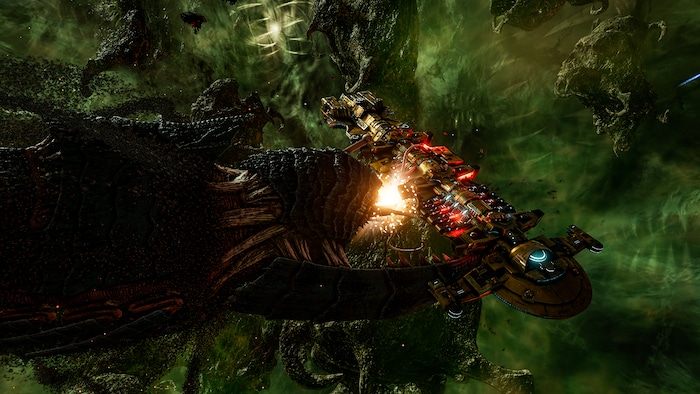 Choose from the twelve most powerful factions in the game: Eldar, Orcs, Empire, Chaos, Marines, and more. Prepare your fearless army for action and battle! The war takes place in the most crucial point on the map – the Gothic system. Your victory or ultimate loss depends on your strategic skills.
Key features
Choose from twelve powerful factions in the Warhammer 40,000 universe
Construct your army and send it into the fierce battle
Develop the skills of your units and gain an advantage
Upgrade your ships and gain access to better and better weapons
Master of Orion: Conquer the Stars
PC
| | |
| --- | --- |
| Release: | 2016-02-26 |
| Developer: | NGD Studios |
The latest installment of the retro game from 1993, created by NGD Studios. It is an ideal proposition for PC users who are looking for the best 4X turn-based space strategy.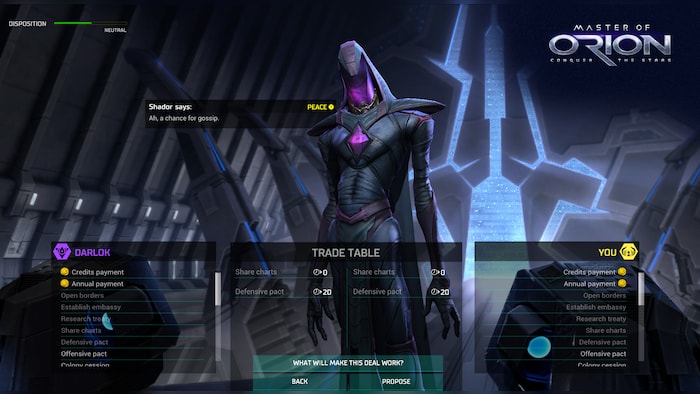 Select one of the ten available races and set out to conquer the universe! The gameplay will guide you through all stages of civilization development. Explore, discover, gain influence and achieve technological success. Master of Orion offers many options to win the game, so you can focus on the aspect of the game that interests you the most. You can play offline and online with friends as well!
Key features
Play one of the ten civilizations
Grow your empire and forge diplomatic alliances
Explore, discover and learn about new development opportunities
Build your army and design your own ships
Play solo or in multiplayer
Sins of Solar Empire: Rebellion
PC
| | |
| --- | --- |
| Release: | 2012-06-12 |
| Developer: | Ironclad Games |
It is a standalone expansion pack for Sins of Solar Empire that delivers brand-new improvements to the epic strategic gameplay from Ironclad Games. Decide your side and fight for the ultimate victory in the galaxy!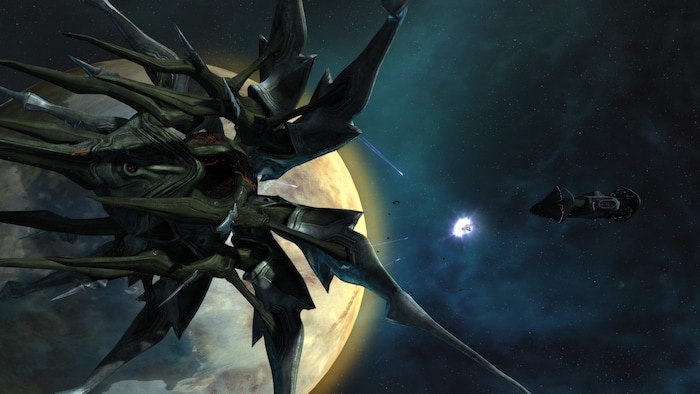 The conflict arises, and the split continues. New factions appear, and it seems that a revolution is coming. Stand on one side and take part in the most massive strategic war to bring things to an end once and for all. See new battle units, upgrade your ships, and discover new good ways to succeed. And above all, try out Titan – the most powerful ship in the game!
Key features
Take part in the massive Sins of Solar Empire conflict
Stand on one side of the rebellion and discover new gameplay possibilities
Try completely new ship classes and win
Play solo or in multiplayer for up to 10 people
Interstellar Space: Genesis
PC
| | |
| --- | --- |
| Release: | 2019-07-25 |
| Developer: | Praxis Games |
It is a strategy game in which you will become an explorer of the farthest galaxies. Lead your civilization and prove your worth as the worthiest ruler!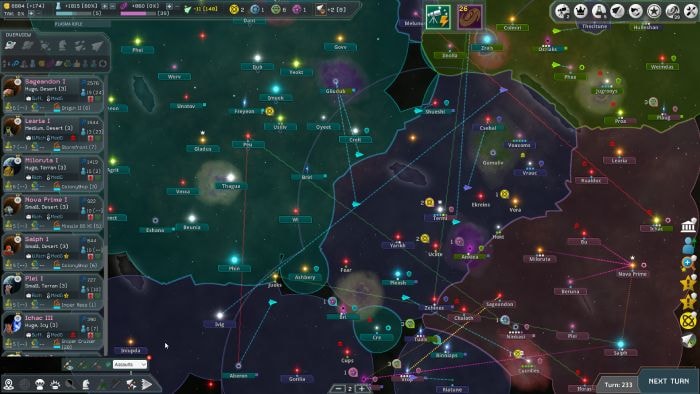 Choose a race and customize its features down to the smallest detail. Forge the cosmic empire and establish your place on the map of the universe. Explore, travel, discover and develop your civilization. Forge diplomatic alliances or go to war. And that's not all because the space is full of ancient secrets. Will you gather the courage in your heart to discover them all?
Key features
Lead a civilization and manage its development
Explore and discover the unknown of distant galaxies
Get involved in diplomacy
Explore ancient ruins and see black holes
Distant Worlds: Universe
PC
| | |
| --- | --- |
| Release: | 2014-05-23 |
| Developer: | Code Force |
It is a science-fiction strategy game in which the concept of large-scale will take on a whole new meaning for you. Play the fourth expansion pack to the grand strategy series of games from Code Force Limited and experience space like in no other 4X title on Steam.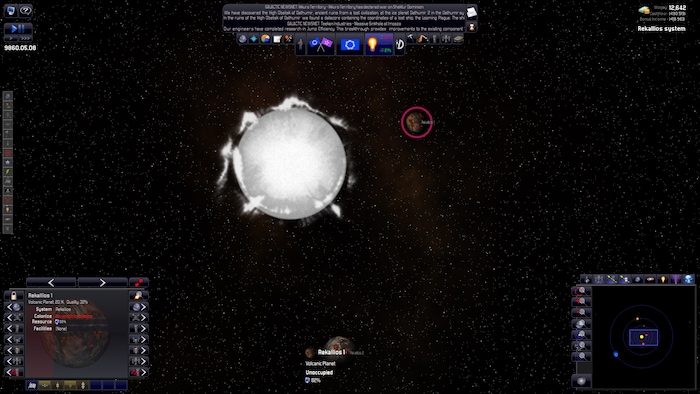 1,400 planetary systems and 50,000 planets are waiting for you! Develop your civilization or start the game however you like and continue in any direction. Bet on aggressive control of as much of the map as possible. Or choose to explore and learn about foreign worlds and cultures. Distant Worlds: Universe is freedom of choice in the magnified version.
Key features
Play the fourth chapter of the Distant Worlds story
Explore new planetary systems and explore distant regions of space
Colonize and manage
Develop a civilization or explore distant galaxies
Sword of the Stars: Complete Collection
PC
| | |
| --- | --- |
| Release: | 2008-10-03 |
| Developer: | Kerberos Productions Inc. |
Play the full version of the strategy game with all the extras. These are new opportunities for conquest, unknown places to examine, and races that you won't play in the base game!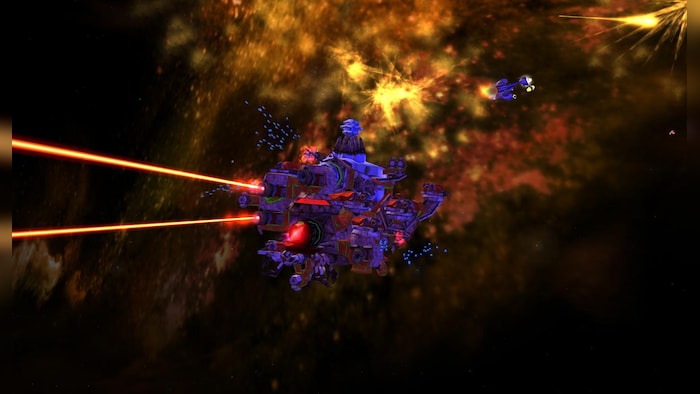 Choose one of the available races and lead your civilization to a promising future of technological development. Take care of every aspect of nation management and take part in the great race for domination. In Sword of the Stars: Complete Edition you will gain access to all-new races, technologies, ships, and more!
Key features
Choose one of the races and rule the galaxy
Bet on the conquest and management of civilization
Get access to many additional technologies, directions of development, war units, and more
Play solo or in multiplayer
Homeworld Remastered Collection
PC
| | |
| --- | --- |
| Release: | 2015-02-25 |
| Developer: | Gearbox Software |
It is a renewed late 90's strategy game from Gearbox Software. Play the classic hit in a completely new version and experience most in depth of 4X space adventure that will fully meet your expectations!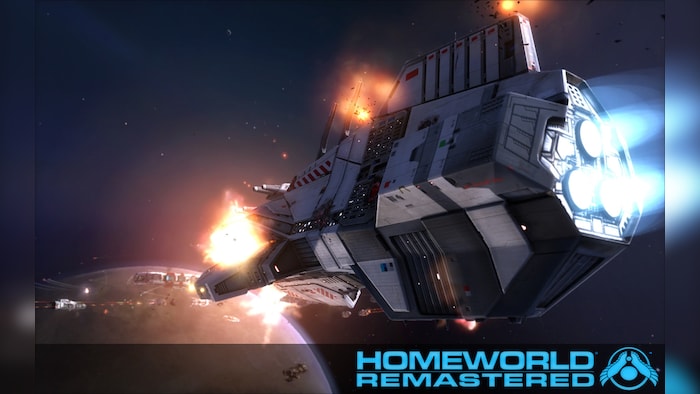 Explore the plot of two classic parts of this hit series. Immerse in a cosmic intrigue and secure your place on the gameplay map. Explore, collect resources and develop your faction. Experience a brand-new great combat system that requires the tactical sense of a born strategist. And all this and more in an improved and refreshed audiovisual setting that you will fall in love with!
Key features
Take part in a space conflict in a remastered version of the game from 1999
Travel the galaxies and discover
Collect resources and gain access to new technologies
See combat in a whole new style
Play solo or in multiplayer
Space Empires IV
PC
| | |
| --- | --- |
| Release: | 2006-02-07 |
| Developer: | Malfador Machinations |
A strategic 4X space game, created with the support and ideas of the most loyal fans of the series. See the unlimited possibilities of gameplay in the best part of Space Empires!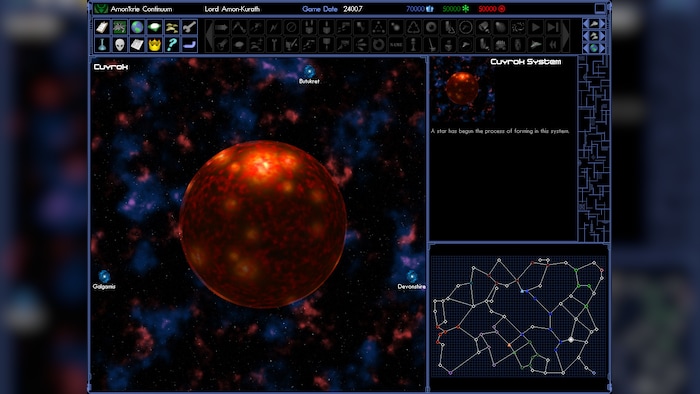 Create a mighty civilization and gain space domination! Space Empires IV is a game that is a classic 4X strategy proposal but with adjusting every aspect of the gameplay. Adapt the game to your needs, face endless challenges and win!
Key features
Create a race and customize it down to the smallest detail
Discover your place in the universe and grow your civilization
Explore, collect resources and develop technologies
Play solo or in multiplayer with up to 16 players
4X space grand strategy is a genre that shines like the brightest star in the morning sky. It is constantly evolving. Always looking for new solutions. Definitely making breakthroughs. There are more and more titles that, learning from the mistakes of predecessors, introduce satisfying improvements. What does this mean for us gamers? Everything! Because by playing space 4X games we can reach for the stars every single day.